Join us at Contagious' Cannes Villa 
/
Coming to Cannes? Visit the Contagious Villa for cocktails, canapés and creative inspiration.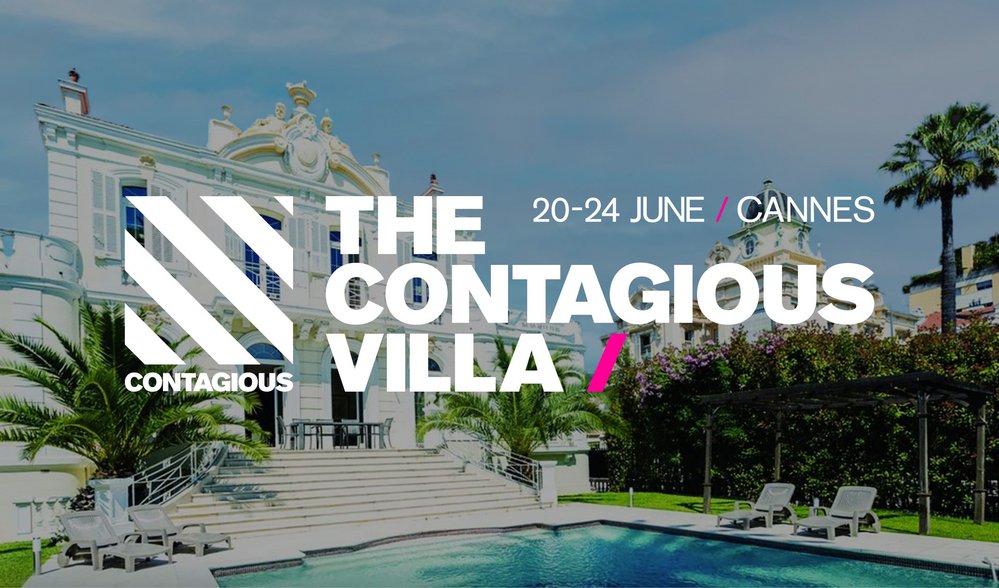 Contagious will be in Cannes in June, and if you are too, we'd love for you to visit our villa for cocktails, canapés and smart conversations.
We've been attending the Cannes Lions International Festival of Creativity since 2005 and by now we know how to put on events that hit the right balance between insightful and entertaining.
Check out the events we have going on at our villa below and follow the links to register your interest.
We can't wait to see you there.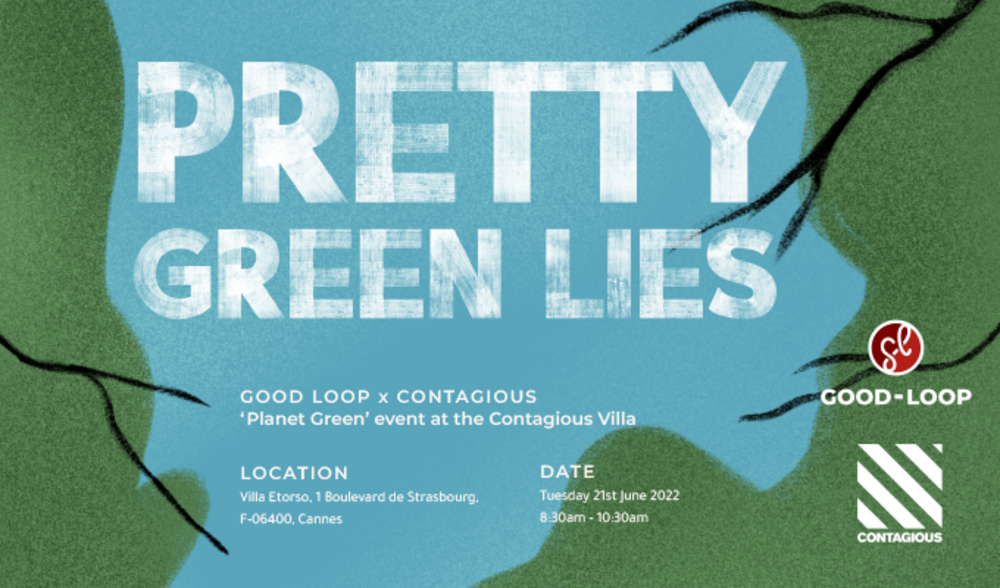 Pretty Green Lies 
/
Good Loop / Tuesday 21 June / 8.30 – 10.30am / The Contagious Villa
Greenwashing is on the rise. Eight out of 10 consumers say sustainable practices and commitments are an important consideration when making purchase decisions, but every day we're bombarded by more and more brands claiming to be greener than they actually are.
So how do we ensure brands are putting their money where their mouths are? How do we stop the brand BS and turn it into real action that's positive for the planet?
Join renowned broadcaster and adventurer Ben Fogle, fashion researcher and fashion psychologist, Shakaila Forbes-Bell, Good-Loop founder and CEO, Amy Williams, Global VP at Dove - Unilever, Firdaous El Honsali and Contagious editor at large, Katrina Stirton Dodd as we discover what we can all do to make REAL change.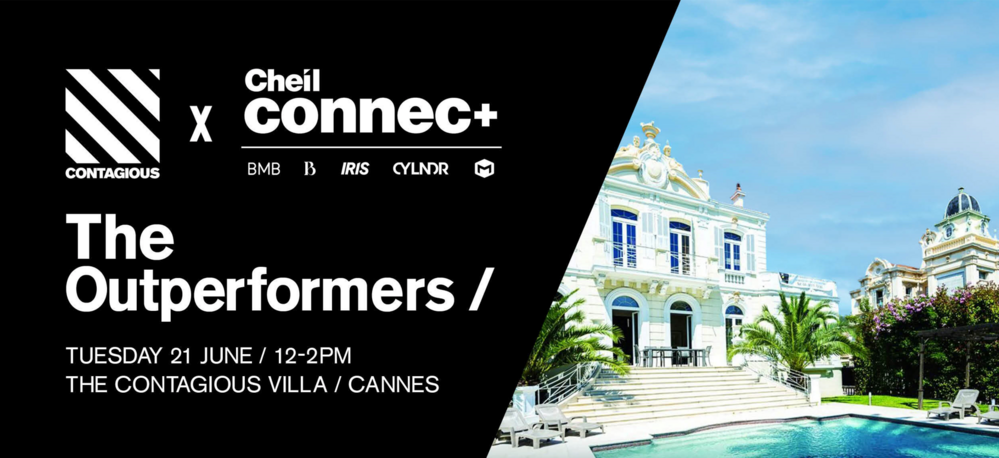 The Outperformers - the new generation of clients re-writing the marketing playbook 
/
Cheil Connec+ / Tuesday 21 June / 12 - 2pm / The Contagious Villa
Something interesting has been brewing, and it's resulted in a new breed of extremely ambitious, high-growth brands that are more demanding than any of the businesses that have gone before them.
These businesses are intense, competitive and in a hurry. They seek tech-level growth no matter what category they operate in. They are start-ups, scale-ups, and turnaround businesses, ready to take advantage of global market forces, innovation, M&A and everything else at their disposal.
These outperformers need more than they ever have from their agency partners. Their CMOs take a holistic approach to marketing to find growth in new markets, segments, products and propositions. This means new skills, new structures and new opportunities. It means a new playbook…
Join us, as we unveil exclusive research on the characteristics of these outperformers, and hear from our panel of brand, agency, and Private Equity/Venture Capital representatives on the new marketing playbook required for success.
The Future of Creativity: Stay human in a digital world 
/
Lively / Tuesday 21 June / 4 - 8pm / The Contagious Villa
We've got an afternoon of cocktails, DJs and fantastic guests on Tuesday 21 June, get yourself on the wait list for one of our famous sundowners in the Contagious villa. Lively Worldwide and guests want to KEEP IT HUMAN with you – come and find out how to deliver human connection in a technological world, and why we're moving from influencer marketing to engaged communities in the metaverse. UNMISSABLE SPEAKERS, plus a live set from DJ, producer and all-round Glitterbox legend, Sophie Lloyd. What are you waiting for?
Kill your Darlings 
/
Togetherr / Wednesday 22 June / 1 – 3pm / The Contagious Villa
"Kill your Darlings" is a film about the world of modern advertising and the creative talent defining it. Produced by Drive Studios and funded by the new creative talent platform, Togetherr, it investigates and examines this 150 year-old industry through the eyes of a young, female creative. Featuring interviews with advertising legends, creative marketers and new entrants including Professor Scott Galloway, Cindy Gallop, Trevor Robinson OBE, Rob Reilly, Jessica Spence, Fernando Machado, Mo Said and many others. See the film for the first time and join the conversation with a panel of the documentary participants.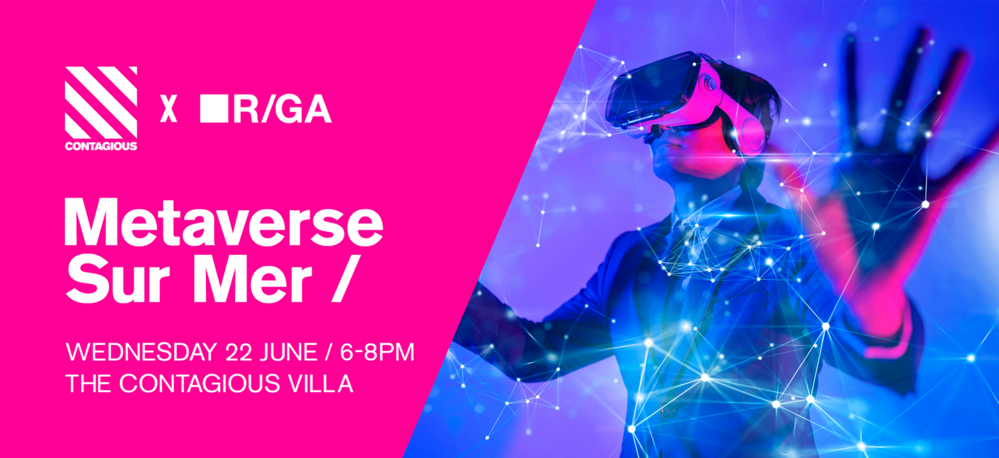 Metaverse Sur Mer 
/
R/GA / Wednesday 22 June / 6 – 8pm / The Contagious Villa
Amidst the speculative rush to make money in the metaverse, the human dimension of this third phase of the Internet is taking shape.
Pioneers are pushing the boundaries for how people present and express themselves, and how decentralized communities will come together to achieve things beyond the capacity of individuals and traditional groups.
Join Tiffany Rolfe, Global Chief Creative Officer, Tom Morton, Global Chief Strategy Officer at R/GA, and Contagious co-founder Paul Kemp-Robertson - plus special guests – Wednesday 22rd June from 6pm-8pm for your introduction to activists, innovators and superusers who are committed to making the metaverse a more human-friendly space.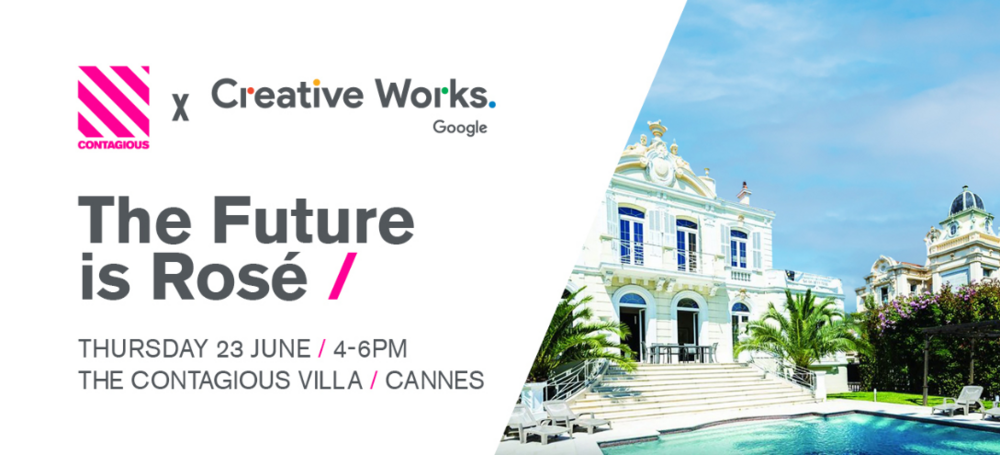 The Future is Rose 
/
Google Creative Works / Thursday 23 June / 4– 6pm / The Contagious Villa
What does the future of creativity look like? How will brands, creators, agencies and data gurus play a role?
Join Google Creative Works at the Contagious villa on Thursday 23 June for a discussion on all things art, science and imagination.
This article was downloaded from the Contagious intelligence platform. If you are not yet a member and would like access to 11,000+ campaigns, trends and interviews, email
[email protected]
or visit
contagious.com
to learn more.