Agenda: Most Contagious 6 December 2018 
/
Here's the full line up of what's in store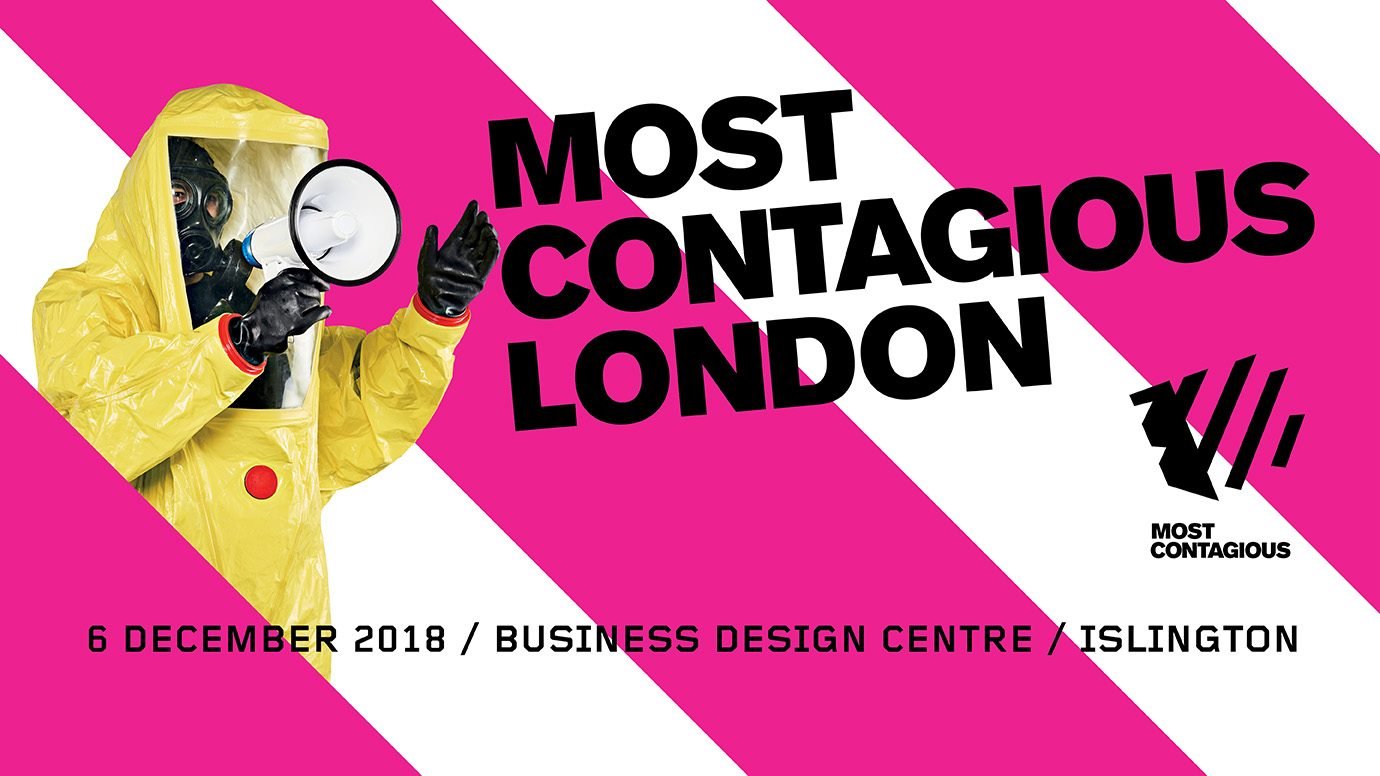 8:30: Registration
9:25: Contagious / Fortune Favours the Brave
Scientific studies prove that standout creative ideas kick the living crap out of ordinary ideas. But science also shows that marketers are subconsciously hardwired to avoid taking risks, which explains a universal tension at the heart of the ad industry. Referencing their new book, The Contagious Commandments, Paul Kemp-Robertson and Chris Barth will issue a rallying cry for calculated bravery.
9:40: Campaign Focus / KFC / FCK / Mother
KFC's print ad apologising for the logistical mess that led to restaurant closures across the UK in February was a masterclass in crisis communication and brand bravery. Meg Farren, KFC's UK and Ireland CMO, and Hermeti Balarin, Co-ECD at Mother, will talk about how they rapidly salvaged a reputation with creativity, humility and self-effacing humour.
9:55: Facebook / Age of Conversation; The disruption of the customer journey
The most Contagious idea of 2019 will be messaging. There are around 100 billion messages sent every day across the Facebook family of apps and services; that's five times more than when SMS was at its peak. Hear how this is disrupting every element of the consumer journey and having a profound effect on how brands can engage with their audiences..
10:10: Contagious / Machine Vision
As the industry gets to grips with the current wave of AI – smart speakers and voice assistants powered by natural language processing – we look to the next great technological evolution on the horizon. We'll break down how machine vision is already impacting certain sectors and assess what it means for marketers in 2019
11:05: The Economist / The World in 2019
What can you and your business expect from 2019? What will happen in politics, how will new technology change the world, which cultural events will matter most? Tom Standage, deputy editor of The Economist and The World In 2019 offers his predictions for next year's global trends that will shape culture and business.
11:25: Campaign Focus / Bodyform / Blood Normal
If you want to talk about one campaign that shattered category conventions (while also stealing all the share of voice), this is the one. You'd expect the tampon industry to be a big supporter of menstruation, but – until now – sanitary pad advertising only reinforced periods as a taboo subject. Blood Normal rewrote the rules. Martina Poulopati, from Bodyform's parent company Essity, will be joined by the team at AMV BBDO to deliver the key insights into the blue-liquid-ending triumph.
11:45: Richard Shotton / The Choice Factory
Creative excellence leads the way at Most Contagious but that doesn't mean we've forgotten about its forebear – strategic excellence. Richard Shotton, head of behavioural science at Manning Gottlieb OMD, will be on hand to discuss insights from his book, The Choice Factory: 25 Behavioural Biases That Influence What We Buy.
12:05: LadBible / The World's Biggest Social Publisher
In only six years, LADbible Group has transformed from a single Manchester-based Facebook page into the biggest social media publisher in the world, mixing the best viral entertainment content, forward-thinking brand partnerships and award-winning social good campaigns. LADbible's Karina Liantara will bring us up to speed on the company's epic rise and where it's heading at the tail end of an extraordinary 2018.
12:20: Contagious / Divisive Values
The collision of culture and politics has created a tricky playing field for brands. Some have stood up for contentious issues and have risked dividing their audience in the process. Others have kept quiet and, in so doing, have lost relevance entirely. In this session, we'll offer clear and practical advice to help brands make the correct decisions in 2019.
14:10: Brand Focus / Lacoste / BETC Paris / Save Our Species
Earlier this year, Lacoste threw caution to the wind and removed its iconic logo from a special edition line of polo tops. In the crocodile's place, the brand embroidered different, endangered animals. As well as selling out in 24 hours, the Save Our Species collection got the brand €9.9m of earned media. At Most Contagious, Lacoste's agency, BETC Paris, will explain how getting rid of the crocodile actually made people pay more attention to it.
14:35: Twitter / The Speed of Culture
The Speed of Culture analyses how language trends and audience behaviours power the launch of movements and messages on Twitter, and beyond Twitter - from grassroots to Wall Street - and explores how marketers are harnessing these insights to shape conversation and culture.
15:00: Brand Focus / Bumble
Bumble started out as just another dating app, but smart brand building, emphatic female empowerment and deft marketing have set it up to become the next big social player. Louise Troen, Bumble's VP of international marketing and communications, will talk through the insights and campaigns that have helped make this billion-dollar brand so successful.
15:15: Contagious / Retail Renaissance
There's no doubt that 2018 has been another turbulent year on the high street, but while some have struggled, news of retail's death has been greatly exaggerated. In this session we'll examine the green shoots amongst the dead wood, spotlighting the key trends reshaping the shopping experience.
16:00: Campaign Focus / Palau Pledge
The Palau Pledge was the big winner at Cannes this year, taking home more Grands Prix than any other campaign. Laura Clarke, who co-founded the Palau Project to protect the island nation of Palau from the ravages of tourism, will discuss how the idea for the campaign was born, how they made it real, and the effect it's had on the island.
16:15: Campaign Focus / Nike / Nothing Beats a Londoner
Nike's Nothing Beats A Londoner campaign took the internet by storm earlier this year, helping the brand to reconnect with youngsters in the city and beyond. Nike's senior marketing director, Jamie McCall, will be joined by Wieden+Kennedy's Paula Bloodworth and Paddy Treacy to outline how a fresh insight combined with social savvy and a host of celebrity cameos created a winning campaign.
16:30: Brand Of The Year / Burger King
In this flame-grilled session, we'll hear from everyone's favourite challenger brand. Burger King's global CMO, Fernando Machado, will take to the stage to discuss Burger King's marketing strategy, boundless creativity and all the great ways they've trolled McDonald's. And don't worry, we'll try to make sure he doesn't set fire to anything.
17:00: Wrap-up
17:10 - 19:00: Networking drinks
BUY TICKETS /
Not got a ticket yet? You'll regret it if you don't get one, and we hate to say we told you so...
This article was downloaded from the Contagious intelligence platform. If you are not yet a member and would like access to 11,000+ campaigns, trends and interviews, email
[email protected]
or visit
contagious.com
to learn more.