Most Contagious 2019, London 
/
5 December 2019 / Business Design Centre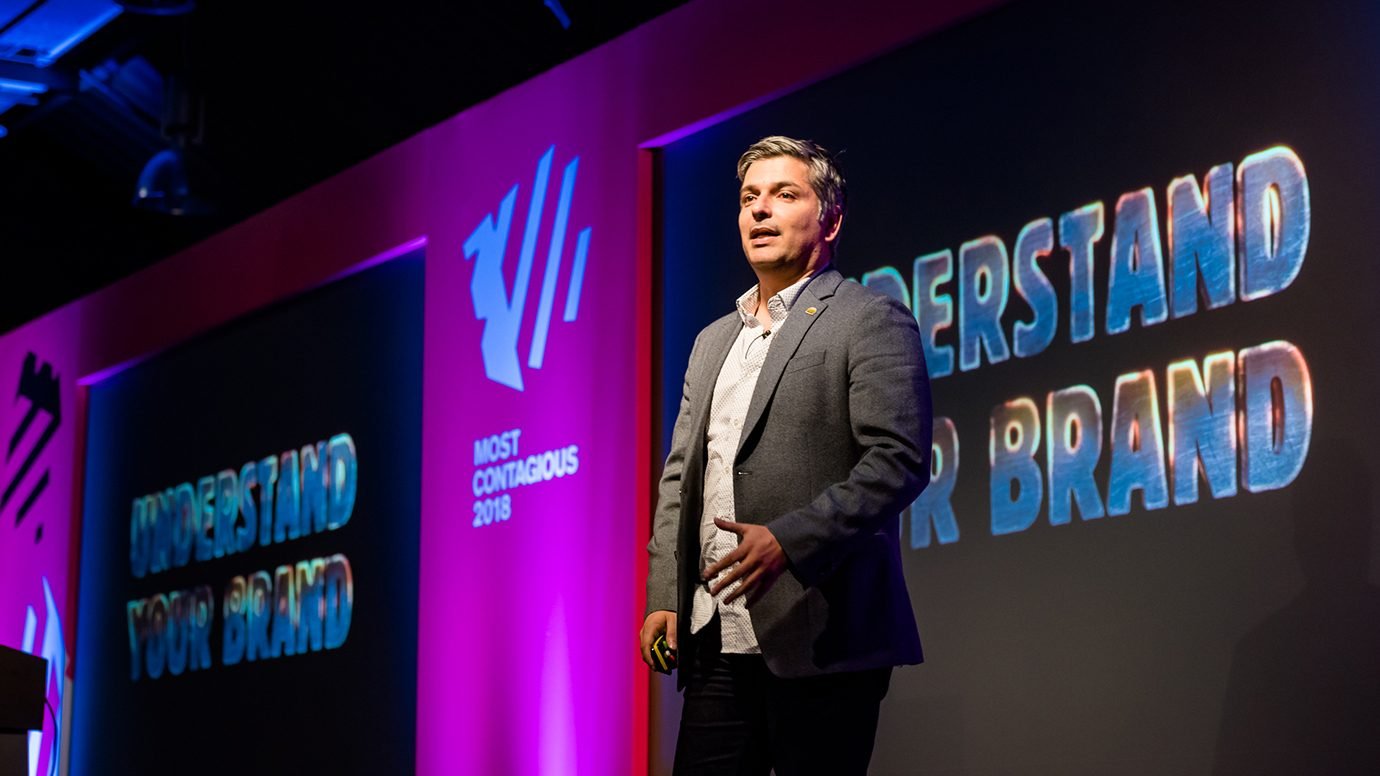 In just one day we'll deliver the insights behind the year's best campaigns and uncover the most important trends for the year ahead.
Join us in London on December 5 for Most Contagious, an event designed for anyone hungry for insights about how to make world-class, future facing marketing campaigns.
Attendee information 
/
This is a ticketless event. Name badges and all event material will be provided upon arrival at the event – nothing will be sent in the post. One week before the event we will email to provide final information regarding your attendance. You will be required to show valid I.D. to gain entry to the event.
A ticket is entry for one person only, tickets cannot be shared. A name change is welcome at any time prior to the event, provided the request is made in writing to [email protected]
See the 2019 agenda and speakers below 
/
8:15 / REGISTRATION
9:15 / TALKS START
CONSUMPTION CRISIS / CONTAGIOUS
Adland exists to drive consumption, but how do we reconcile that mission with legitimate and pressing concerns about the climate crisis, plastic pollution and diminishing resources? How do brands thrive in a world that wants less, not more? In this session we'll look at the startups – and the established players – committed to being part of the solution, rather than part of the problem.
adDRESS THE FUTURE / CARLINGS
Kicki Persson & Ingeline Gjelsnes, Marketing Directors, Carlings & Morten Grubak, Executive Creative Director, VICE/VIRTUE, Northern Europe
Selling virtual outfits for real-world money is the kind of business model we should all be getting excited about. In this session you'll hear how a paradigm-shifting campaign used digital dress-up to win a small Norwegian fashion retailer a global audience, a new revenue stream and a shiny Cannes Grand Prix for 'confusing the jury in the most interesting way'.
THE NEW RULES OF CONNECTION / FACEBOOK
Dr Dimitrios Tsivrikos, Consumer and Business Psychologist, University College London (UCL)
Artificially intelligent encounters, ephemeral messages, anonymity, authenticity and multi-communication - how we connect is changing. As language, social norms, expectations, platforms and actions shift, consumers are rewriting the rules of communication. Averse to calling. Allergic to waiting. We explore what the new rules of connection mean for the next decade of digital business in the era of messaging.
WE HAVE TO SEE MORE OF EACH OTHER / RUAVIEJA
Gaston Guetmonovitch, Creative Director, Leo Burnett, Madrid & Juan Frías, Art Director, Leo Burnett, Madrid & Daniel Saenz, Creative Director, Leo Burnett, Madrid
If 'high emotional arousal' is the type of marketing language that turns you on, then join us to discover how this tear-jerking campaign transformed the fortunes of an unassuming, undifferentiated Spanish liqueur brand. Learn how data created the emotional soul of an idea that got a whole country talking – and crying. Kleenex and emotional support will be provided…
10:55 – 11:25 / MORNING BREAK
GO BACK TO AFRICA / BLACK & ABROAD
Ian Mackenzie, CCO, FCB/SIX Toronto & Eric Martin, Co-Founder, Black & Abroad
It takes a special kind of chutzpah to hijack hate-speech. And it takes a particular understanding of data and social to flip a provocation like 'Go back to Africa' into a tourism campaign and community. Join the founders of Black & Abroad and FCB/SIX, Toronto to hear how nailing both won them a Grand Prix – and the moral high ground.
SLEEPING GIANTS /
Matt Rivitz, Founder, Sleeping Giants
Is your media budget funding extremist content? Are you sure? Sleeping Giants has spent three years alerting household brands when their ads appear on sites pushing hate speech and alt-right agendas. Join founder Matt Rivitz to hear how the simplest acts of ad spend activism have created a force for change that should inspire the entire industry.
VENI, VIDI, CREATIVITY / CONTAGIOUS
Roads, aqueducts, sanitation… but what can the Romans teach us about creativity? Many brands can deliver one-off sparks of creative brilliance. But the real challenge is to make creativity repeatable and scalable. In this session, we will look at what we can learn from the Roman Empire about how to develop a more systematic and deliberate practice of creative excellence.
12:45 – 14:15 / LUNCH​​​​​​​
13.45 – 14.15 / VIP THOUGHT LEADER LUNCH (by invitation only)
Hosted by Karen Boswell, CXO and founder of tech start-up THEI.A Cognition, Jamie Mandelbaum, CCO VMLY&R and Dan Southern, Strategy Director, Contagious, this lunch time session will explore how, in an age of distrust, brands can create an emotional connection with people and communities.
BRAND FOCUS / OATLY
John Schoolcraft, Global Chief Creative Officer, Oatly AB
Oatly was already 30 years old when it became one of the hottest challenger brands in food. Oatly's creative director John Schoolcraft will be at Most Contagious to discuss how to spark change, why you might not need a marketing department, and what it takes for a brand to prioritise curiosity and creativity over convention.
VISUAL CULTURE / RANKIN
Photographer. Entrepreneur. Provocateur. Rankin has spent years at the pointy end of popular culture, defining and influencing the visual identity of brands and capturing some of the most iconic images of our time. Learn from the master what visual impact means in a world where image-making is instant and creativity is in the hands of the many, not the few.
THE WORLD IN 2020 / THE ECONOMIST
Tom Standage, Deputy Editor, The Economist
Advertising does not exist in vacuum, and no-one puts the forces shaping commerce, culture and communication into context quite like The Economist. Deputy Editor Tom Standage will share his take on the bigger picture in 2020 and what we can all expect from the year ahead. Early prediction: the words 'plain sailing' are unlikely to be part of this session.
DIGITAL REBOOT / CONTAGIOUS
For all its promise, our digital technology has overdelivered on all the wrong KPIs. Shady programmatic. Insecure data. Privacy concerns. Obfuscation and complexity. We're getting digital wrong and and it's time for a hard reset. As good digital stewardship becomes crucial to every brand's reach and reputation, we'll ask what it takes to get it right.
15:45 – 16:15 / AFTERNOON BREAK
THE BEST MEN CAN BE / GILLETTE
John Patroulis, Worldwide Chief Creative Officer, Grey & Pankaj Bhalla, VP, Europe Shave Care, P&G Int'l Operations
What do you do when your brand represents the manliest of men and the cleanest of shaves in a world that's scrutinising toxic masculinity and growing extravagant facial hair? Launch a campaign that stirs fierce debate about modern manhood - and gets millions of women talking. Hear P&G's Pankaj Bhalla (VP, Europe Shave Care, P&G Int'l Operations) and Grey's Worldwide Chief Creative Officer John Patroulis explain why.
KEEPING FORTNITE FRESH / WENDY'S
Matt Keck, Associate Director of Conversation Design & Jeremy Cline, Senior Analyst, Strategy & Insights, VMLY&R
Spontaneously smashing-up pixellated freezers on hit game Fortnite won Wendy's the Social & Influencer Grand Prix in Cannes this year. But it takes effort to look effortless, Wendy's and agency partner VMLY&R have put in the hard yards to make this mid-western burger chain a celebrated social media savant. Join us to find out how they did it.
THE JOHN LEWIS & PARTNERS CHRISTMAS ADVERT / JOHN LEWIS & PARTNERS
Martin Beverley, Chief Strategy Officer, adam&eveDDB & Charlotte Wood, Senior Planner, adam&eveDDB
Once a year, John Lewis & Partners makes a perfect advert. The multi-award winning campaign has become as traditional and beloved in the UK as Christmas trees and mince pies. In this session, Adam&EveDDB's chief strategy officer and senior planner will reveal the insights, strategy, creative process and effectiveness data behind the campaign that won Christmas for over a decade.
ADVICE FOR THE NEXT DECADE / CONTAGIOUS
Most company's '2020 Vision' statements will turn into pumpkins as the clock strikes midnight on 31/12/2019. As we teeter on the brink of a new decade, it's fair to assume what got us all here won't necessarily cut it for the ten years ahead. To help you prepare, Contagious will outline how to think about the future as well as the traits, attitudes and knowledge required to set you up for success in the Twenties - the 2020s.
17:30 – 18:30 / DRINKS RECEPTION
Join this years brands and agencies 
/
Most Contagious is the perfect chance to network with some of the biggest brands and agencies from around the world
Our partners 
/
To learn more about how your company can become an official event sponsor for Most Contagious 2019, email [email protected]
Venue 
/
The Business Design Centre, 52 Upper Street, London N1 0QH.
Should you require accommodation, click here to get a 12% discount off BB rates at the Hilton Hotel (at the doorstep to our event venue).
If you have any questions or require any further information, please email [email protected]
Highlight Reel 2018 
/
Most Contagious is designed to give attendees a rapid understanding of how to create effective, modern marketing and steal a march on the coming year. Last year we had 28 speakers delivering 20 different sessions, all on one stage in one day. This is what it looked like:
Like this article? Share with your network: