May 27 / Ask Heretical Questions: Free Livestream sessions 
/
Discover the power of asking the unaskable: find out why heretical questions could be the answer to unlocking a more creative approach to your brand or business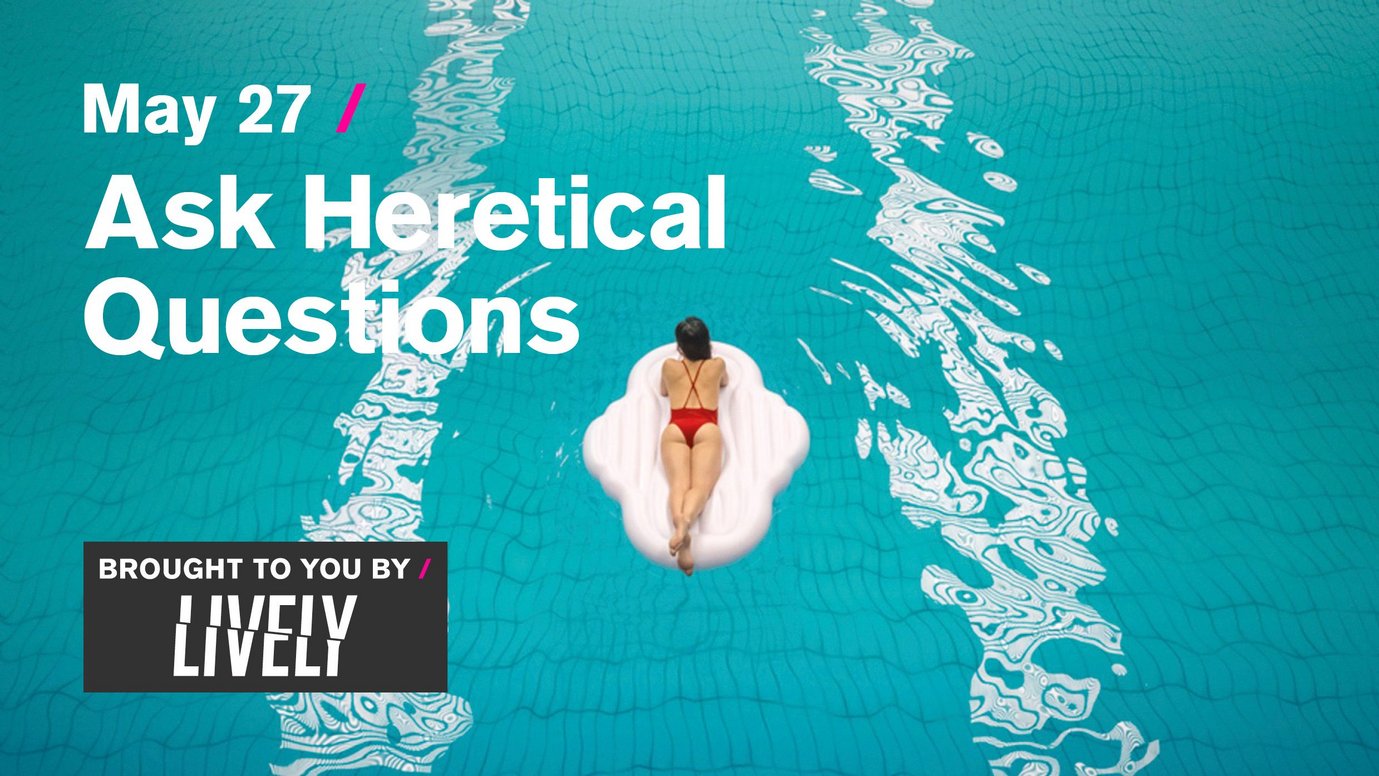 Over the coming weeks we're livestreaming Lockdown Learning presentations tackling the most pressing issues facing brands every Wednesday. Each session lasts between an hour and 75 minutes, and is packed with data and best-in-class examples.
Thanks to the largesse of our brilliant partners Lively, this edition of Lockdown Learning will be brought to you completely free of charge. Can't make the live date? Sign up anyway – all attendees and registrants will also receive on-demand access to the video of the presentation and Q&A, available to view (or re-watch) for one month following the session.
Week 7 / Ask Heretical Questions, Wednesday 27 May at 2.30pm (UK) & 6pm (UK) – in partnership with Lively
Businesses love certainty. They tend to focus on answers, not questions. But we believe creative companies in uncertain times should flip that mindset and question everything, even the staunchest beliefs and practices. Heretical questions can cause schisms. They don't always lead to fun conversations. But in this session we'll explain why these are the interrogations that could protect your business and invigorate your marketing.
You'll learn:
How a question-led culture can help businesses identify opportunities and unlock creativity
How and why leading experts and organisations have developed an approach that exalts questions
The questions that led to some of the world's most successful advertising campaigns
How human nature inhibits the impulse to ask, and the risk that creates for companies
We will also be joined by live-marketing specialists Mike White & Mark Mitchell –founders of creative agency Lively – who will present a 10-minute provocation: 'Events are dead, long live events.'
Click HERE to register for the 6pm (UK) session.
Like this article? Share with your network: