Contagious at Cannes 
/
The Contagious team had a packed schedule at last year's 2019 Cannes Lions festival. Here's a quick snapshot of what we got up to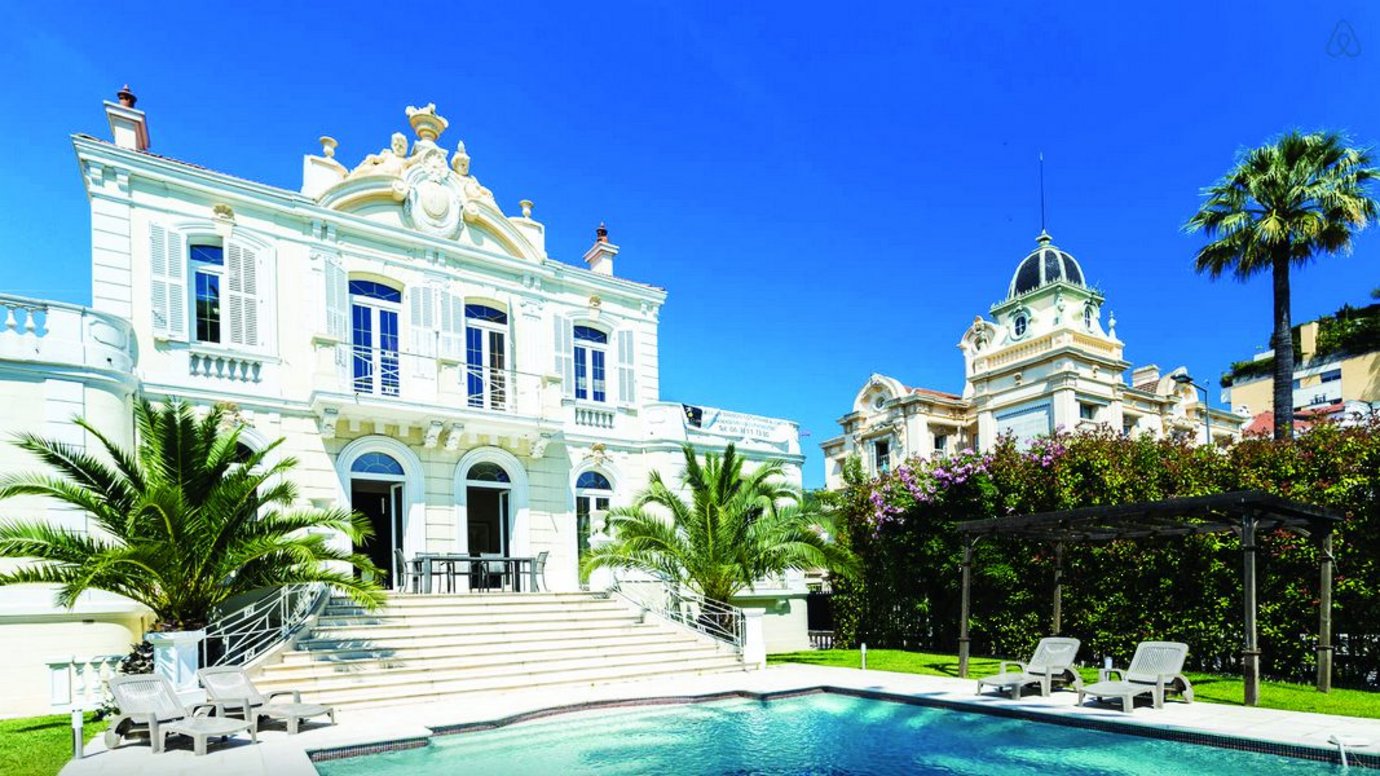 If you're looking for an expert partner to collaborate with at this year's Cannes then email [email protected]
Twitter / Conversations That Shape Culture: The Participation Playbook / Monday 17 June, 11-11.30am 
/
On 17 June Twitter's global head of brand strategy, Alex Josephson, and Contagious' head of trends, Katrina Stirton Dodd, will be at the Contagious villa to reprise their Cannes Lions main-stage talk, Conversations That Shape Culture: The Participation Playbook.
Nobody knows what fuels today's conversations better than Twitter and nobody understands the value of creativity like Contagious. Together, we have analysed five years of Lion-winning campaigns to find out what compels audiences to participate with an idea.
LADbible / Villa Party / Tuesday 18 June, 6pm-1:30am 
/
It was the talk of Cannes last year, and this year the LADbible Group Villa Party returns with a bang (and plenty of rosé). Expect cocktails, live music and some very special guests that will get everyone dancing like no one's watching. Don't miss out. Get yourself on the wait list.
PHD / Overthrow II Book Launch / Wednesday 19 June, 8:30-10am 
/
Overthrow II – 10 strategies from the new wave of challengers
Join PHD and eatbigfish at Cannes Lions for the exclusive launch of Overthrow II – 10 Strategies from the New Wave of Challengers and receive a free copy from the first print run of the book.
Hear directly from the authors of Overthrow II, Adam Morgan, founder and partner of eatbigfish, and Malcolm Devoy, chief strategy officer of PHD EMEA, as they invite guests from the leading disruptor brands challenging the status quo to discuss and debate what it means to be a challenger. The panel will cover the secret recipe to success – the five commonalities in marketing and media behaviours challenger brands seem to use.
Find your own challenger type and more information on overthrow2.com, and join the conversation using #LiveMoreChallenger.
Agenda:
0900 - Introduction from Philippa Brown, incoming CEO of PHD Worldwide
0905 – Adam Morgan and Malcolm Devoy introduce Overthrow II and the key learnings you can adopt to transform your business strategy
0920 – Panel discussion led by Adam Morgan with: Elio Leoni Sceti, co-founder & chief crafter of The Craftory, Pascal van Ham, marketing director of Tony's Chocoloney, John Schoolcraft, global chief creative officer of Oatly, Simon Joyce, global head of brand partnerships at COPA90
Breakfast canapés and refreshments provided poolside
Isobar / Walk the Work at Dentsu Beach / Thursday 20 June, 4-5pm 
/
Contagious strategists Katrina Stirton Dodd and Patrick Jeffrey, and Isobar's global CCO, Ronald Ng, will host a Walk The Work session taking attendees on an inspirational journey through the exceptional work winning at the 2019 Cannes Lions International Festival of Creativity.
The exclusive panel will talk attendees through the unique strategies behind the campaigns winning at Cannes and introduce the key themes and trends on display at the festival – and then tell you how you can implement these insights upon your return to the office.
This is a one-hour beach-front workshop that includes a 15-minute interactive Q&A.
GPJ X Contagious / Is Experiential set to be Cannes' 'Next Big Thing'? / Thursday 20 June, 12-2.00pm 
/
In partnership with leading experience marketing agency George P. Johnson, Contagious is hosting its first ever Walk The Work session on the Brand Experience and Activation category to take guests through the newly announced award nominees for 2019.
Contagious Strategists Dan Southern and Patrick Jeffrey, alongside Jonathan McCallum, Vice President, Chief Strategy Officer at George P. Johnson, will use the invite-only lunchtime session to explore the exciting category in more detail and dig into the opportunities that lie ahead for brands.
Together they will examine the changing role of Brand Experience at Cannes over the past few years, and explain why they predict an acceleration in the volume of impressive work on show ahead of the announcement of the Brand Experience and Activation winners. It's the ideal session for those looking to get the inside track on the increasingly influential category at Cannes.
The two-hour workshop at the Contagious Villa (just a 10-minute walk from the Croisette) includes lunch and a Q&A session, and concludes with networking.
Mano X Contagious / The Corporate Barriers to Creative Excellence Roundtable / Monday 17 June, 11.30-1.30 
/
Eight top brand thinkers will be exploring the corporate barriers that stand in the way of creating Brand Defining Moments. These are campaigns and projects where brand purpose and creativity are truly brought to life through content and experiences that affect culture and build brand equity. This is where brands can realise and leverage the full potential of their creative ideas and investment. Highly desirable… yet highly challenging to pull off. So how do we break the corporate barriers of creative excellence? We'll be reporting on the discussion that takes place behind closed doors at the Contagious Villa in the weeks after Cannes. Look out for more news on this Mano and Contagious collaboration in the coming weeks.
When Data Meets Creativity / Thursday 20 June, 2:30-3pm 
/
Join Dentsu for When Data Meets Creativity, a panel discussion moderated by Contagious Co-founder Paul Kemp-Robertson with three global leaders in the creative industry. They will share their views on how data meeting creativity can create strong, sustainable value for brands; the roles data, media, strategy, creative and technology play in business; and the fascinating story behind the life-changing Project Revoice.
Speakers
Yasu Sasaki, Head of Digital Creative at Dentsu Inc. & Jury President of Creative Data Lions 2019
Ted Lim, CCO of Dentsu APAC & Jury President of Direct Lions 2017
Asheen Naidu, ECD of BWM Dentsu & Juror of Industry Craft Lions 2019
Moderator: Paul Kemp-Robertson, Co-Founder & Chief Brand Officer, Contagious
Space, the Final Frontier - New Business Model with Space Startup / Wednesday 19 June, 11:00-11:30am 
/
Dentsu is causing a stir in industrial circles by collaborating with startups in bold new ways, as the established order in the advertising industry disintegrates and the search for new business models ensues.
What's going on in the space biz now, and where are the opportunities? Find out at Dentsu's 30 minute presentation in Cannes.
Speakers
Aaron Sorenson /Global Communications Specialist, ispaceAaron is responsible for global outreach efforts spanning international media, government relations and strategic partnerships. Prior to joining ispace in February 2018, he spent five years working in both the US and Japan at Edelman, a leading global public relations firm, where he advised multinational companies and government organizations on their communications objectives in various markets.
Hideyuki Hirai /Executive Director, Global Business Center, Dentsu Inc.Hideyuki is Executive Director at Dentsu Inc.'s Global Business Center, responsible for developing global client businesses leveraging solutions from both Dentsu Inc. and Dentsu Aegis Network. He also leads Global Business Design Hub, an internal unit at Dentsu aimed at helping clients develop new products and services beyond marketing through use of the agency's unique assets. Also winner of various advertising awards including Cannes Lions as client lead.
Mitsuhiko Goto /Senior Solution Director, Senior Solution Director, Solution Intelligence Center, Dentsu Inc.With 10 years' experience as Account Executive for Toyota and Lexus, Mitsuhiko has been developing new business models to boost client growth through collaboration with various partners using contents such as movies, animations, characters and games. Adding to this content as a brand new solution is the lunar start-up ispace, for which he acts as Chief business-partner developer. Also winner of various advertising awards such Cannes Lions Gold Award.
Sushi Singularity / Wednesday 19 June, 2:45-3:15pm 
/
The OPENMEALS project aims to digitize the whole palate of sushi available and create a world that can be shared by all. It's a challenge that will drastically affect the dietary habits of 8 billion people, in so doing give birth to radically new concept of food – data food.
Combining the technological prowess from various fields, it provides both an unprecedented business model and new type of industry. The OPENMEALS project, driven by agency creatives, also gives us a taste of the creative power of the next generation and glimpse into the future of the advertising agency business.
SpeakerRyosuke Sakaki /Art Director, Dentsu Inc & Founder, OPEN MEALS Joining Dentsu in 2004, Ryosuke has been in charge of advertising campaigns as Art Director. He believes his mission is to "expand the abilities of advertising creatives to society", and is reflected in his business domain. Major recent projects include the revolutionary "OPEN MEALS" project, which is gaining worldwide attention, "Hokkaido Ballpark" slated to open in 2023, "Tokyo Bosai", a disaster prevention book distributed to all Tokyo residents, and "Space Food X", a co-creation project for the space food market. His accolades include Gold at the Good Design Award, and many creative awards such as D&AD and Cannes Lions. Ryosuke was chosen as one of the "20 Top Hit Makers of the New Age" by Nikkei Trendy magazine, and he continues to work beyond the boundaries of advertising.
If you're looking for an expert partner to collaborate with at this year's Cannes then email [email protected]
Want more Contagious thinking? 
/
Subscribe to the Contagious newsletter to receive a weekly dispatch of campaigns, opinions and research, curated for strategists, creatives and marketers.
Contagious thinking delivered to your inbox 
/
Subscribe to the Contagious weekly newsletter and stay up to date with creative news, marketing trends and cutting-edge research.