Event Debrief: Most Contagious 2017 
/
Almost 700 people gathered at Most Contagious 2017, to hear about the trends shaping marketing and get a glimpse of the future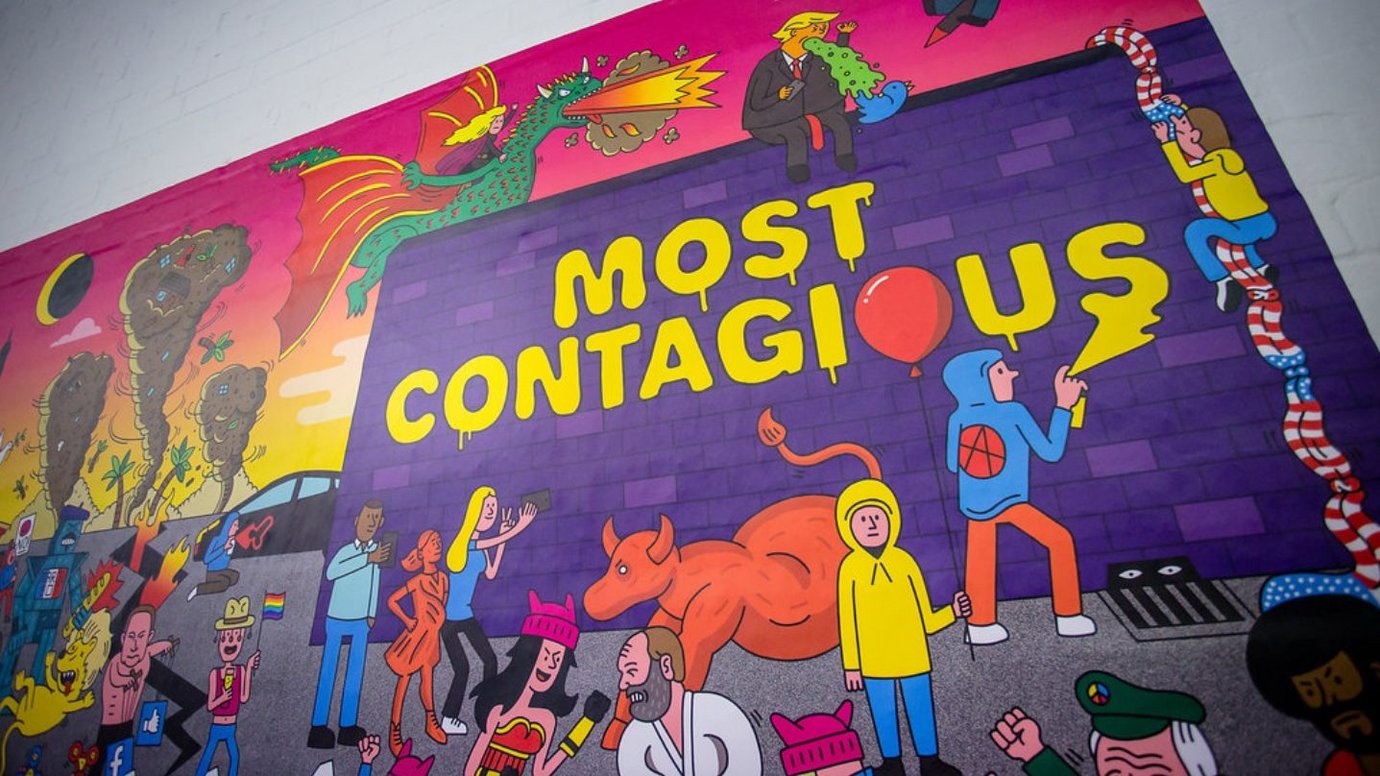 Contagious editorial director Alex Jenkins opened by the day by looking at how the constant presence of divisive politics has influenced culture over the past year. 'The challenge we're facing as brands and marketers is that this angry political sentiment is being brought to our door, whether we want to make a political stand or not', he observed, citing the work of organisations like Stop Funding Hate in the UK and Sleeping Giants in the US to channel that sentiment in order influence marketers.

Using examples of companies including Uber, Google, United Airlines, Pepsi and Papa Johns, he showed how brands have fallen foul of a more divided and angry world. Looking to the future, Jenkins suggested that the greatest challenges to be dealt with in 2018 may not be in beating competitors, but in simply being able to navigate a fast-paced, uncertain and complex landscape.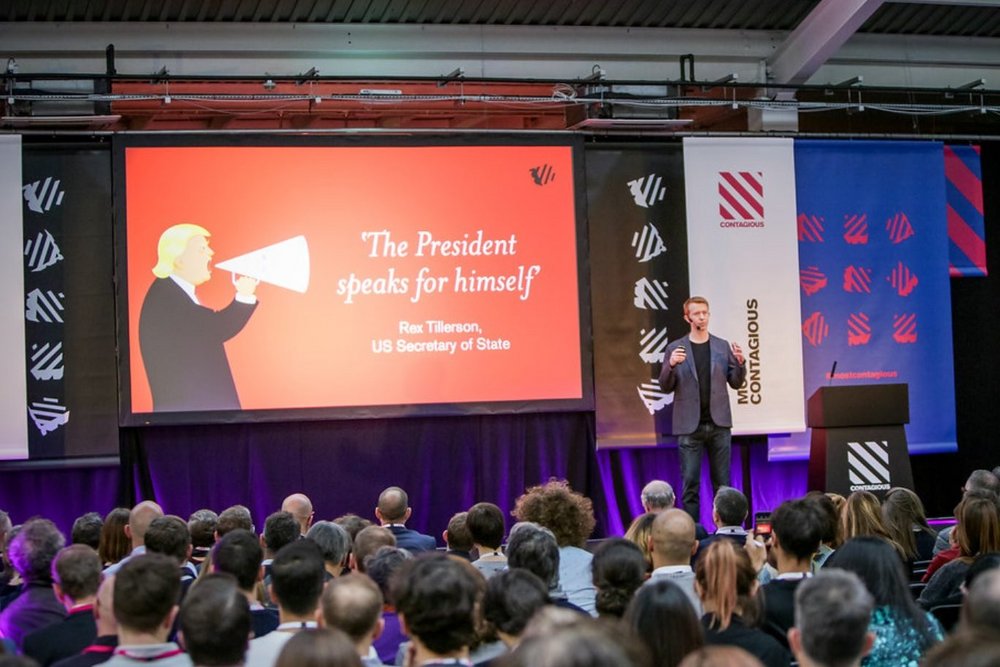 Sharing the story of their Heart Immigration campaign, Jigsaw CEO Peter Reid and The Corner founding partner Tom Ewart talked about taking a stand for brand beliefs. Their campaign, which positioned fashion brand Jigsaw as staunchly pro-immigration, was painted by many as a political act. In reality, said Ewart and Reid, it was an articulation of the beliefs at the center of a venn diagram between what the brand cares about and what their customers care about. 'The bigger the issue, the more rewarding it can be for you,' they said. 'As long as you have legitimate reason to talk about it.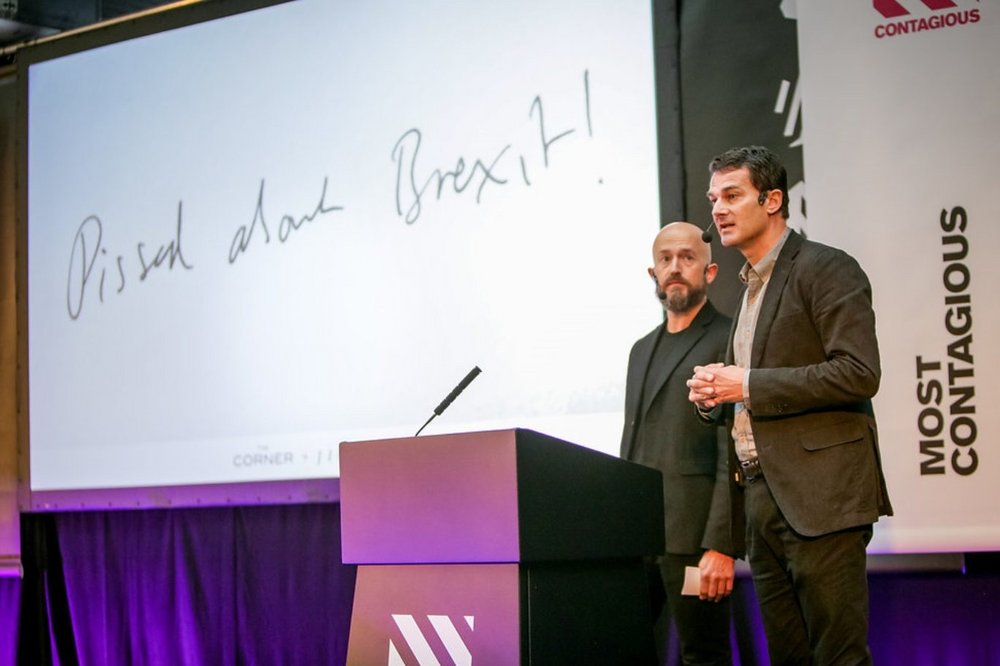 Next up, the acting editor of Contagious, Patrick Jeffrey, discussed the need for brands to wholeheartedly embrace transparency in 2018. Jeffrey highlighted three key factors – a sharp decline in trust, a series of new benchmarks being set by startups and the disruptive potential of the blockchain – as the drivers behind this trend. And he explained how marketers must play a crucial role in helping companies prepare for this future. On one level, transparency can be used as a marketing tactic, but on a greater level, marketers can use the threats of transparency to compel entire organisations to change, fast.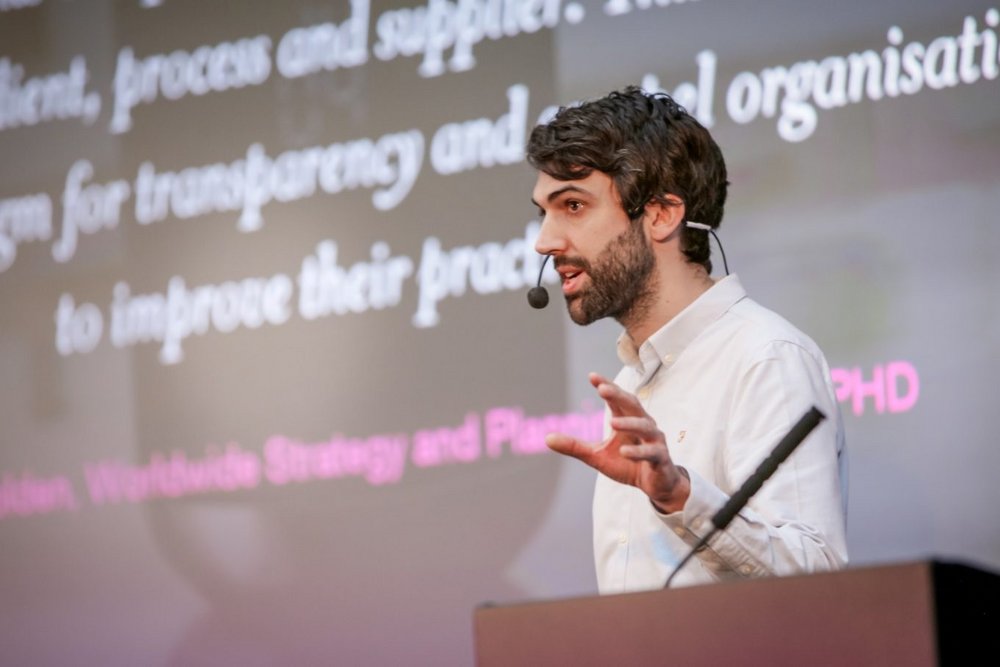 Taking us on a whirlwind tour of the world in 2018, The Economist's executive editor Daniel Franklin presented a sort of Twelve Days of Christmas -- twelve people potentially on their way out in 2018, eleven upcoming anniversaries, ten fastest growing economies, etc. Of note: changing regulations (for example, GDPR incoming in Europe while decreased regulation is on the horizon in the US), potential tech backlash, two major global sporting events, and the looming elephant in the room of a potentially nuclear-capable North Korea. Said Franklin: 'Beyond a need to understand what's going on, there's an opportunity for brands to help their customers navigate a very complex and complicated world. Which is a very, very powerful thing.'

Emily Hare spoke about Modern Masculinity, addressing the worrying statistic that 52% of UK men don't feel represented in ads, according to the fashion brand Jacamo. Although 84% of UK men say they bottle up their emotions – according to a survey by Topman and the charity, Calm – masculinity is evolving, and guys are turning to Google with their questions. Progressive brands such as Lululemon, LadBible and Rowse Honey are championing progressive notions of masculinity by celebrating behaviours that aren't traditionally masculine and showcasing alternative male identities. Make up brand Sleek, for example, generated a 759% increase in positive comments, according to agency Forsman & Bodenfors, following its progressive film My Face. My Rules, which showcased a diverse selection of the brand's followers using its products.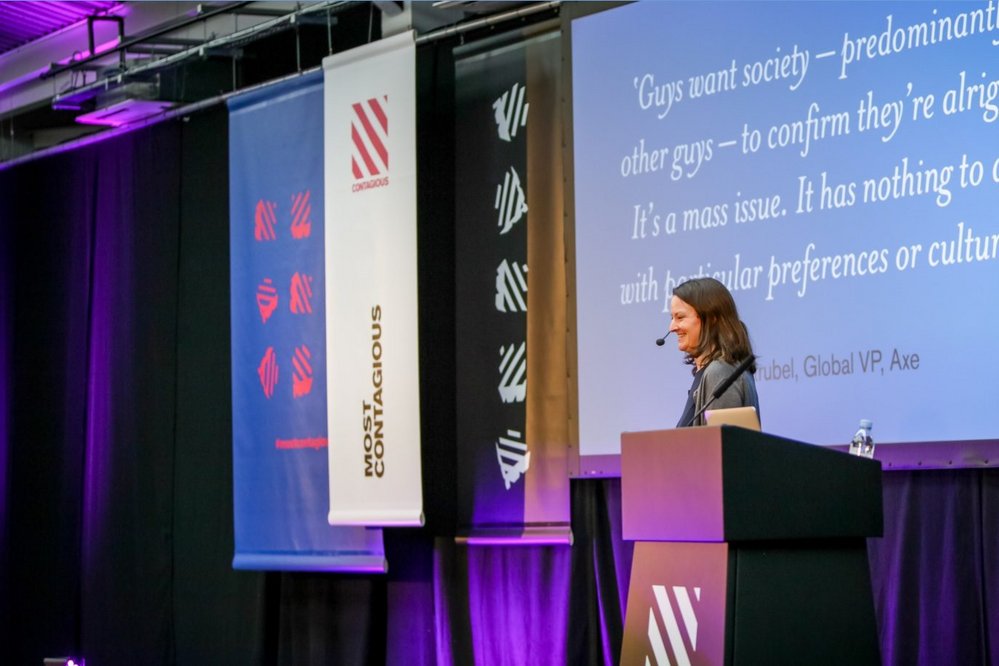 BETC Paris chief creative officer Stéphane Xiberras then took us on a behind-the-scenes tour of one of our favorite campaigns of 2017, AiMen, made for Canal+ to launch the Young Pope series. Faced with a brief to 'make a digital campaign as crazy as this series,' BETC developed a Watson-based Twitter bot that directly responded to sinful tweets with verse from the bible. Xiberras talked through the process of getting client feedback ('you're the CCO of BETC not NASA'), developing the tech behind the execution and the hard task of improving the bot's efficiency and comprehension. The results were as successful as they were fun, leading to the biggest series launch in France's history. 'If we wait for technology to be mainstream, we'll never be innovative,' said Xiberras of the work that went into the campaign.

Havas Lemz founder Mark Woerde spoke about his extraordinary campaign to collect messages of inter-faith harmony from religious leaders – an idea that was sparked by a conversation at Most Contagious 2014. The #MakeFriends campaign sought to promote understanding by getting the world's most prominent religious leaders to encourage their followers to engage with people of different faiths. Along the way, Woerde as his team had to pester the Dali Lama to the point of frustration, sneak into the Vatican to secure time with the Pope and interview the Archbishop of Canterbury on the same day as a terrorist attack on Westminster. Woerde's message to those in the audience was succinct and ambitious: 'forget about the advertising awards, try to win a Nobel Prize instead'.

Researcher and writer Kristina Dimitrova gave an insight into the thorough process of how Contagious selects campaigns for its I/O platforms. She then highlighted three standout campaigns that truly made an impression. To overcome concerns around food safety, Tesco in China developed plastic bags which, when exposed to light, decompose pesticides found in fruit and vegetables. Another project that stood out was Sanlam's Uk'shona Kwelanga – a WhatsApp soap opera created by agency King James to promote the insurer's funeral cover. Finally, she spoke about CCCP's humorous awareness campaign, which increased conversations about sextortion globally by 649% in one week.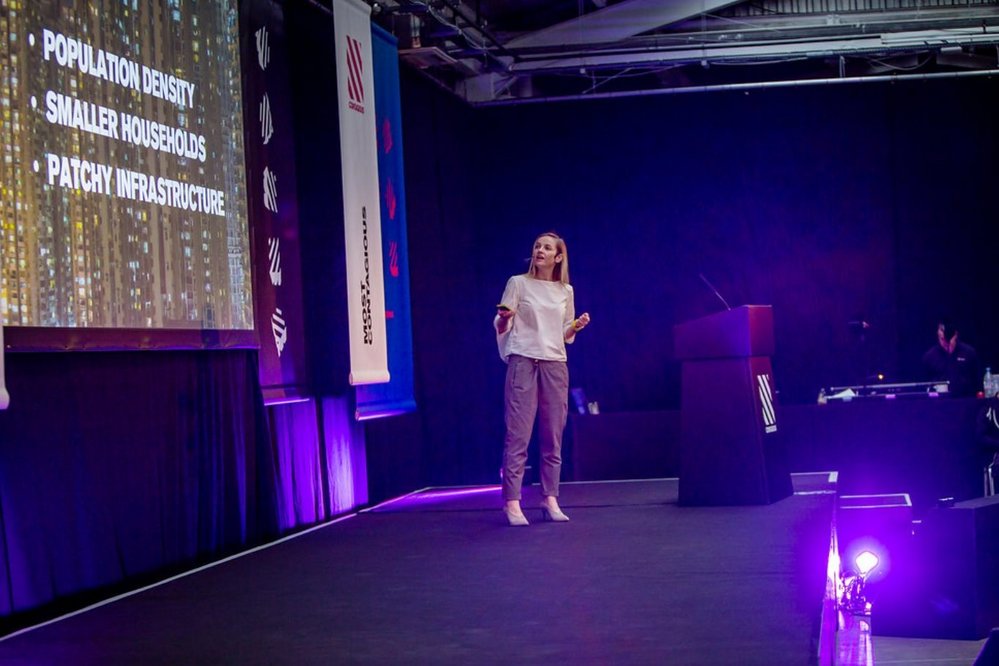 In her presentation on Automated Retail, Katrina Dodd explored the factors driving the current fascination for automation in China's retail scene. While startups like BingoBox are making an impression with super-efficient portable stores, other forces are at work. Although shopping online has seen high growth, a massive 85% of retail still takes place in stores. Among the players pioneering the use of technology to streamline the customer experience are data giants like Alibaba, intent on adding data gathered on the shop floor to the online profile they maintain for each customer. If they succeed in persuading retailers to partner-up, the beginning of a framework for Jack Ma's 'New Retail' will start to take shape.

Contagious writer Sophia Epstein discussed two new types of intricate data that brands should be taking advantage of. The first was Genomic data, which includes some the most intimate data you can learn about a person – namely, their DNA profile. As the price of genome sequencing drops and consumer interest in personalised products and services increases, this new wave of data opens up a huge business opportunity. The second type was product data. Innovations from startups are giving brands the ability to track how their products are being used without the need for surveys, giving these businesses another way to maintain relevance in consumers' lives.

Linda Bernardi, the author and chief strategy officer at AI solutions company Element AI, single-handedly raised energy levels at Most Contagious with her inversion strategy talk. The topic of her latest book, the inversion strategy commands companies to upend traditional business practices by putting customers' needs and experiences before products. Pointing out how companies like Nokia, Blackberry and Honeywell have all been shunted into irrelevance by rivals with a better understanding of consumer needs, Bernardi urged brands to ditch their rigid and expensive product-first mindset and embrace disruption, consumer co-innovation, and bold visions, saying: 'culture is the new brand'.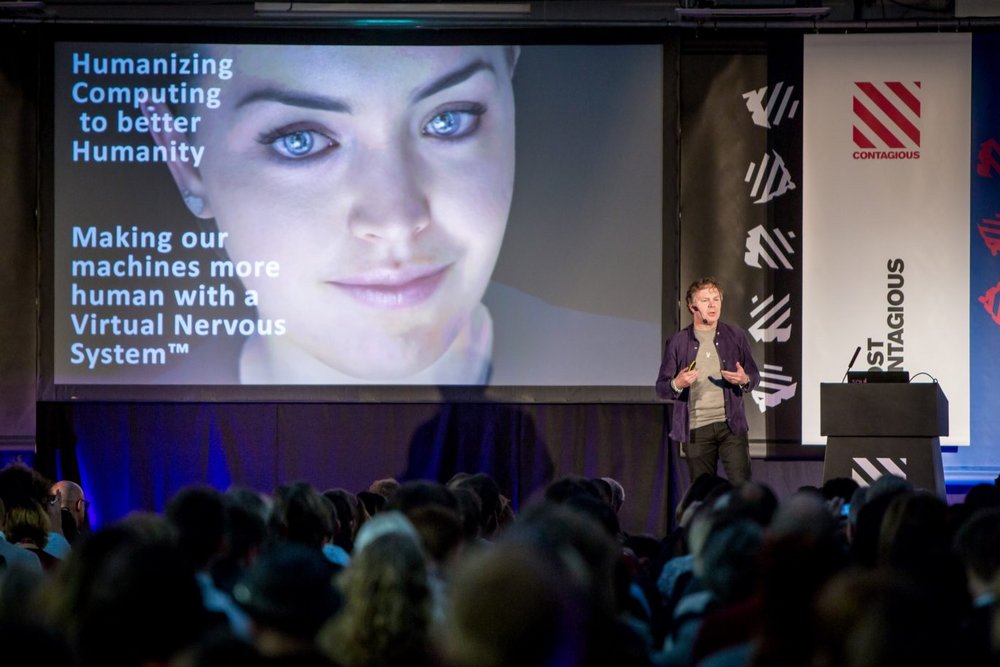 Flying in from New Zealand was Greg Cross, the chief business officer at Soul Machines, a company that boasts two professors and 15 PHDs among its staff, as well as two Oscars on its awards shelf. Soul Machines creates human-like avatars, built with a virtual nervous system, that inject empathy into online interactions. Cross brought along Rachel, his digital assistant, to help explain the technology and crack jokes. Cross also explained his vision of the future, with reference to what's available to rich people today. While only the 1% can afford their own personal bankers, tutors and private coaches, these things could be available to everyone at a fraction of their cost today, thanks to the technology that Soul Machines is building.

Sarah Warman, BrewDog's global head of marketing, shared the craft beer brand's charter and explained how the brand uses it to frame everything they do. To ensure that the brand remains true to its punk ethos, before embarking on anything, it asks: 'Is it good for the beer?' and 'Could any other business do this?' Warman shared how this has led to initiatives such as Vote for Punk, where the brand gave 13,000 pints to people who had voted in the UK election and showed up at a BrewDog bar with photographic evidence; the beer Make Earth Great Again, brewed in protest at the USA pulling out of the Paris Climate Accord, created with glacier water and arctic berries; and the Unicorn Fund, which will see the brand split 10% of its profits equally between its staff, and donate a further 10% of profits to charities chosen by its staff and community.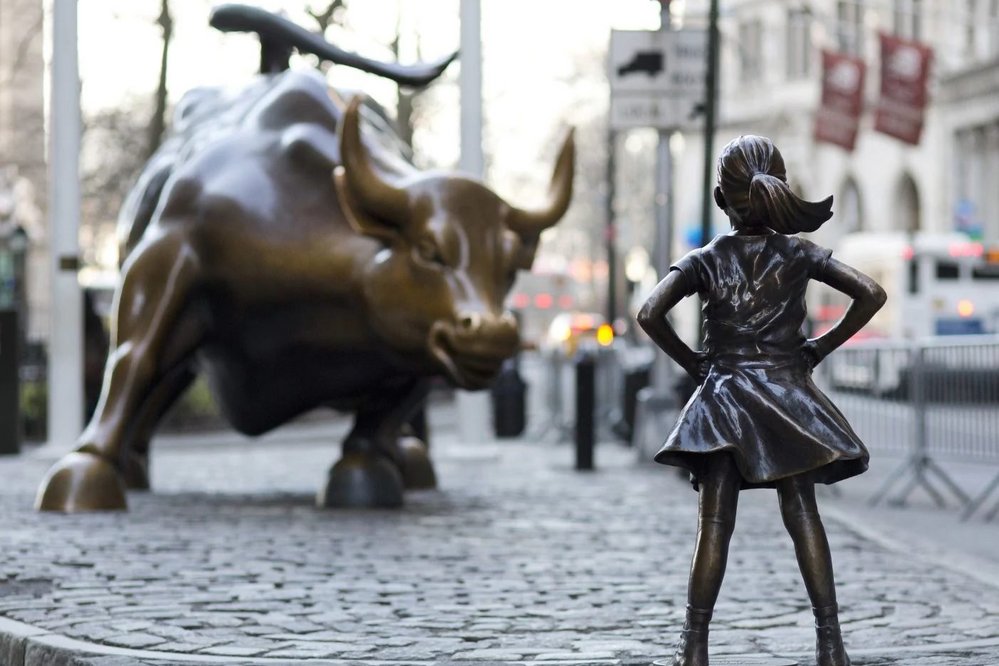 A team from McCann New York spoke about one of the year's best known campaigns, Fearless Girl, created for State Street Global Advisors. Gemma Curzon, McCann New York's director of social and mobile, and chief creative officer, Tom Murphy, explained how they transformed a brief for a print ad and a couple of banners into a beautifully crafted statue. They overcame last minute legal concerns and captured the perfect iconic image to ensure that the work could be shared not only in national papers, but also digitally and socially. The pair also explored how, more recently, State Street responded to revelations that it had underpaid women by discussing its structures to help women advance in leadership and explaining how the company was improving.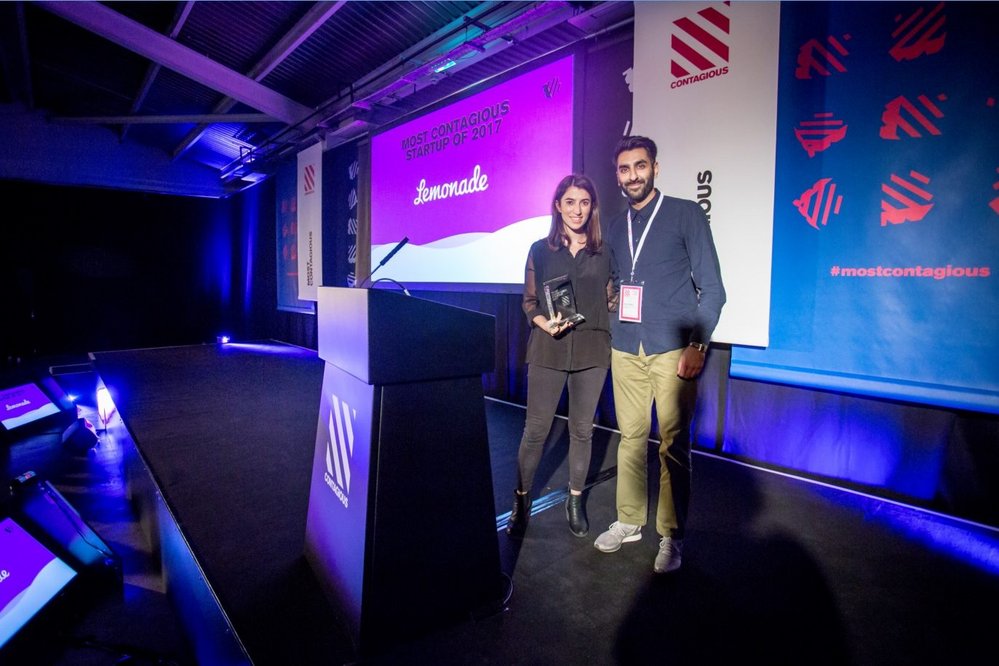 In the final talk of the day, Contagious senior strategist Chris Barth brought together the most salient points from Most Contagious and laid out a manifesto for how brands can win the year to come. He argued that first and foremost, modern marketers must understand their brands' fully articulated values and hire diverse employees who believe in those values. He advised attendees to prepare for the changing landscape created by the onward advance of Amazon, the growth of artificial intelligence and the increasing scalability of disruptive technology. Beyond that, he urged attendees to empower people within their organisation to ask questions and sense-check decisions on a regular basis. Most importantly, his talk outlined how brands must maintain the viewpoint of an agile long-termist: focused on long-term goals but flexible and adaptive in the face of short-term opportunities.

Lemonade, a innovative startup that has used behavioural economics to upend the insurance industry, beat a variety of tough competitors to win our Most Contagious startup award.
Want more Contagious thinking? 
/
Subscribe to the Contagious newsletter to receive a weekly dispatch of campaigns, opinions and research, curated for strategists, creatives and marketers.
Contagious thinking delivered to your inbox 
/
Subscribe to the Contagious weekly newsletter and stay up to date with creative news, marketing trends and cutting-edge research.