Research
James Swift
/
23 June 2020
Strategist's Digest: June 2020 
/
Contagious digests the most interesting and relevant research from the world of advertising and beyond, because there's just too much to read and too little time.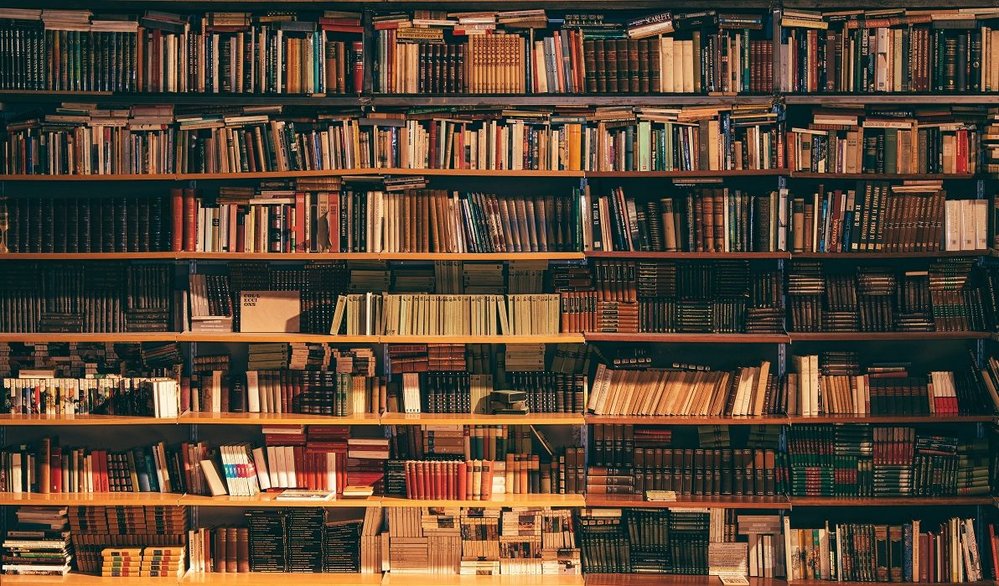 In this month's Strategist's Digest:
1) Why micro-influencers aren't better brand ambassadors
2) Can billboards do more than just grab attention?
3) Why CMOs say their role has become more vital amid the pandemic
4) When cause marketing can backfire for brands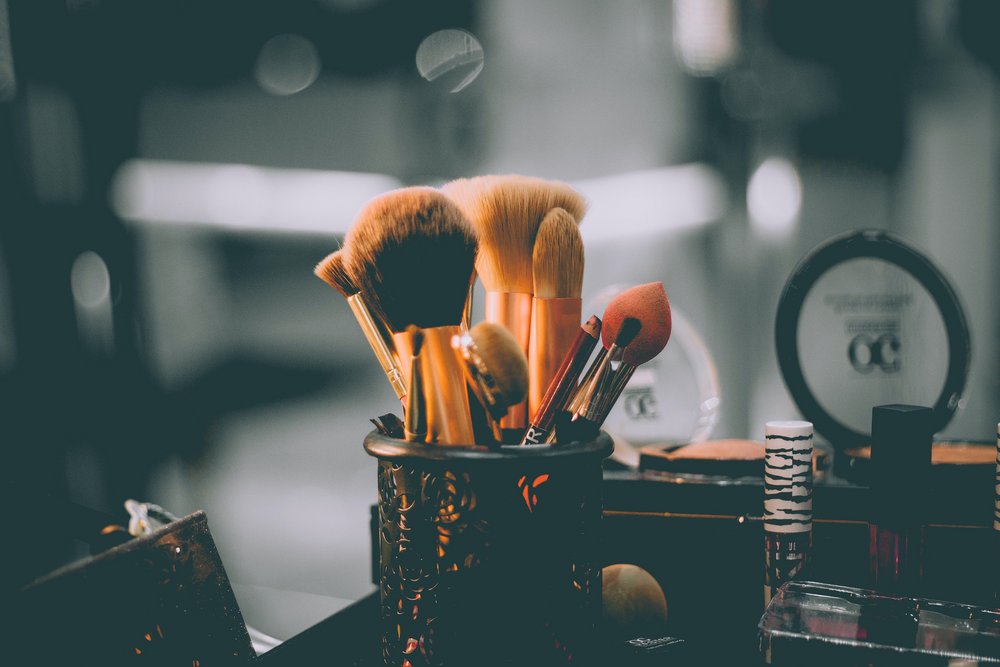 Too Big to Sell? A Computational Analysis of Network and Content Characteristics Among Mega and Micro Beauty and Fashion Social Media Influencers 
/
Rebecca Britt, Jameson Hayes, Brian Britt and Haseon Park at the University of Alabama
Give it to me in one sentence.
Contrary to what you might have read, social media micro-influencers don't make better brand ambassadors than mega-influencers.
Give me a little more detail.
The researchers used computational methods to analyse Twitter messages made by or mentioning mega-influencers (those with more than a million followers) and micro-influencers (those with fewer than 10,000 followers) within the fashion and beauty sector.
Over the course of a month (August 2019) the researchers analysed 512,732 Twitter messages pertaining to six social media influencers, such as @JeffreeStar and @japanslayzz.
Why is this interesting?
The study casts doubt upon the popular narrative that micro-influencers make better brand ambassadors because they are more trusted and more engaged with their followers.
The computation analysis revealed that affective (ie, emotional) messages in general receive fewer retweets, but the trend was more pronounced among the micro-influencers than it was with mega-influencers.
This suggests mega-influencers have established a credibility that insulates them from mistakes to a degree not shared by micro-influencers.
And although there was no difference in how often micro- and mega-influencers posted affective messages, tweets mentioning mega-influencers were substantially more affective than those mentioning micro-influencers.
Again, this is incompatible with the idea that micro-influencers enjoy a more intimate and personal relationship with their followers and networks.
As the authors state: 'The results of this study suggest that mega-influencers' greater history of ongoing interactions with followers may lead to greater trust and more affect being shown toward them, which could, in turn, further bolster the influencers' consumer-brand loyalty.'
The authors of the study also advise brands to invest in micro-influencers who post more information-based product messages and engage in dialogue with their followers, as these are the behaviours that 'lead to sustainable influencer value'.
Any weaknesses?
It's hardly the fault of the researchers but it's worth pointing out that the study only looks at engagement; there's no analysis of how influencer behaviour correlates with sales.
Where can I find the whole report?
Here, but it's not free.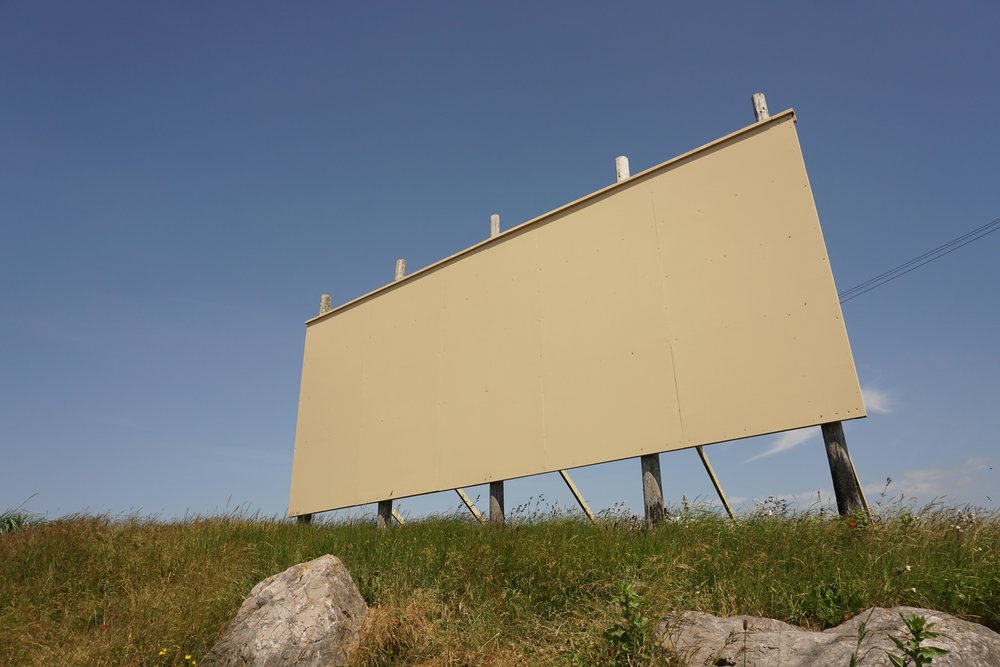 Do Billboard Advertisements Drive Customer Retention? 
/
John L Fortenberry (Louisiana State University), Peter J McGoldrick (University of Manchester)
Give it to me in one sentence.
Billboards aren't just good for grabbing attention, they can help with customer retention, too.
Give me a little more detail.
The researchers tracked a month-long billboard campaign for urgent-care health centres in two US cities. They surveyed patients (1,640 of them) on arrival to the urgent care centres and found 72.6% had noticed the billboards. Breaking this figure down, 79.5% of returning customers had noticed the billboards, compared with 65.4% of new customers.
Returning customers rated the billboards slightly more informative than new customers, but the latter were more likely to admit being influenced by them. That said, a significant number of returning customers still reported being influenced, implying the billboards possessed 'valuable retention effects', according to the researchers.
In a second survey, the researchers interviewed health-care marketing executives across the US about their views on billboards and found that they rated them most highly for pre-action stage effects (awareness, etc).
Why is this interesting?
The two studies show that marketers largely do not appreciate the full range of capabilities of billboard advertising.
Going wide with their research, the authors suggest updating the AIDA (attention, interest, desire, action) model of advertising effects to AIDAR, to include retention.
Any weaknesses?
It was quite a limited study, in terms of size and scope.
Where can I find the whole report?
Here, and it's free to read.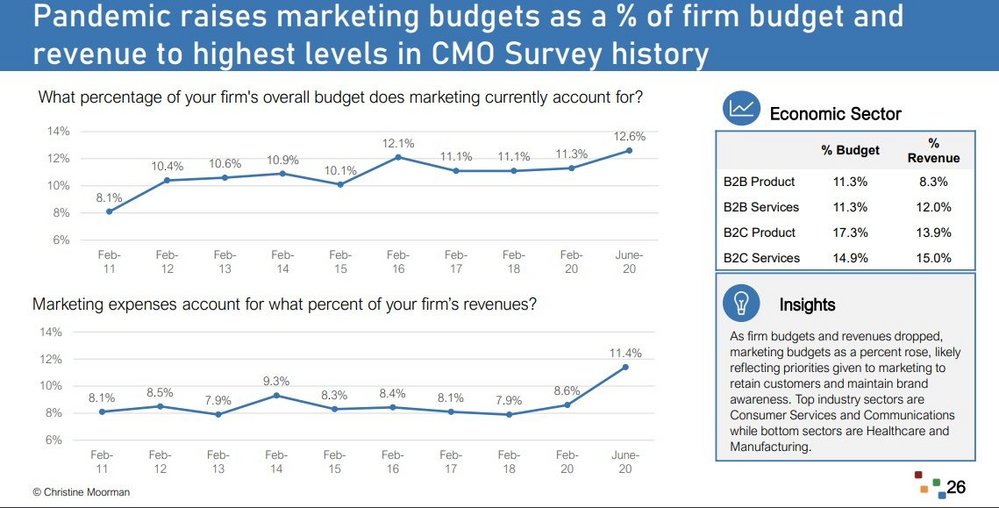 The CMO Survey: Special Edition – June 2020 
/
Christine Moorman, Fuqua School of Business, Duke University
Give it to me in one sentence.
Marketers say their function has become more important amid the pandemic, with budgets increasing as a percentage of total company spend.
Give me a little more detail.
Duke University quizzed 274 US marketers in May and found that their budgets had increased as a proportion of total company budgets, to 12.6%, the highest it's ever been in the history of the survey. Perhaps related to this figure, 62.3% of respondents say marketing has become more important in lockdown.
But that's not to say marketing teams have been spared from Covid-related cuts. According to the survey 9% of marketing jobs have been axed as a result of the pandemic, and 24% of respondents believe these jobs will never return (only 19.9% believe they will return within two years).
Consequently, 85.3% of marketers are less optimistic about the overall economy, the highest level ever recorded in the survey.
Amid the uncertainty of lockdown and the pandemic, 62.7% of respondents report customers are now less likely to buy their products and services. In terms of their own priorities, marketers are focused on 'building brand value that connects with customers' (34%) and retaining customers (33.5%) more than winning new customers (14%).
Why is this interesting?
The Duke CMO survey is well established and thorough. And as well as being a good barometer for attitudes, it delves into more concrete subjects such as spend, picking up trends like a 74% spike in social media spend (to 23.4% of total marketing budget) amid the pandemic. There's much more detail in the report than can be summarised here.
Any weaknesses?
All respondents are based in the US and so the findings might not apply in other jurisdictions.
Where can I find the whole report?
Here, and it's free.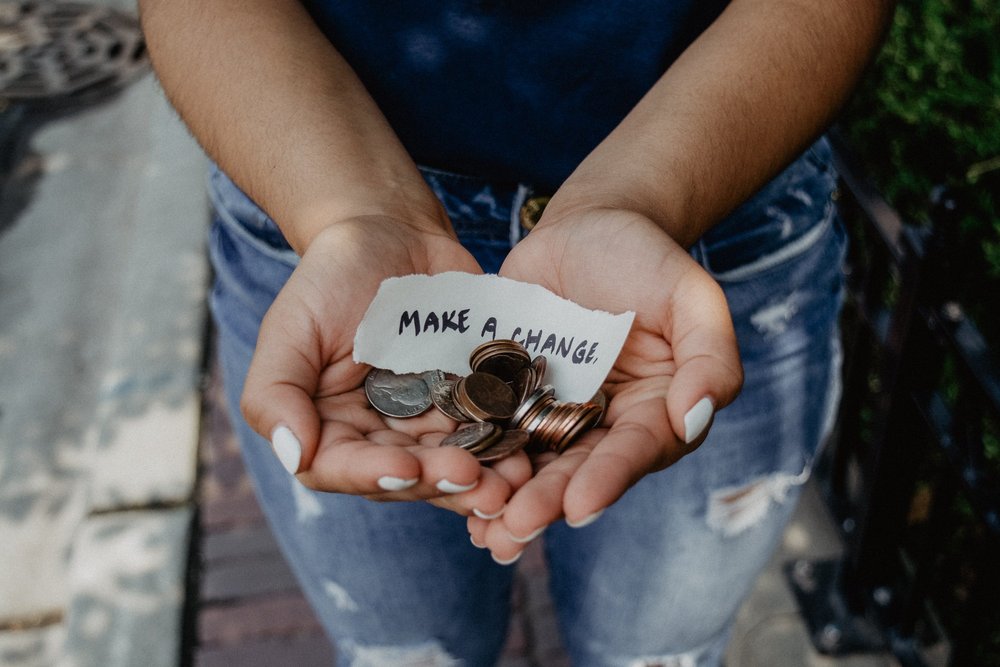 How Intensity of Cause-Related Marketing Guilt Appeals Influences Consumers 
/
Jaywant Singh (Southampton Business School), Benedetta Crisafulli (Birkbeck, University of London), La Toya Quamina (Westminster Business School)
Give it to me in one sentence.
People are put off by brands that make intense, guilt-inducing cause-marketing ads.
Give me a little more detail.
The researchers created cause-marketing video ads for real brands (H&M, Samsung and Subway) and showed them to participants. In the high-intensity condition, the participants were shown ads with severe imagery (eg, starving children) and language, and haunting music. In the low-intensity condition, the participants were shown ads that were less grave, for instance with imagery 'depicting brighter days for children fighting cancer, and less melancholic music and language'.
The participants (all from the UK and skewing young) shown low-intensity ads were more likely to view the brand positively and more likely to trust its motives were pure (ie, they were more likely to believe the brand truly cared about the cause, and was not merely using it to manipulate consumers). The participants also claimed they were more likely to buy from the brand in the future.
Why is this interesting?
The researchers attribute their findings to social identity theory. They posit that people dislike and distrust the brands behind intensely guilt-inducing ads because they are unwilling or unable to identify with them.
One apparent exception to this rule emerged when the researchers showed participants a high-intensity cause-marketing ad from Subway about child hunger. In this condition, participants did not doubt the motives and intentions of the brand. The researchers suppose this is because the cause was so closely tied to the brand's business, and 'perceived cause-brand compatibility likely outweighed the effect of guilt-appeal intensity.'
Any weaknesses?
This is not a weakness of the experiment, but it would be helpful to know a little bit more about the ads shown to participants, what they looked like and the messages they contained.
Where can I find the whole report?
Here, but it's not free.
Like the way we think? Find out more about the information and analysis available with a Contagious membership, here.
Want more Contagious thinking? 
/
Subscribe to the Contagious newsletter to receive a weekly dispatch of campaigns, opinions and research, curated for strategists, creatives and marketers.
Contagious thinking delivered to your inbox 
/
Subscribe to the Contagious weekly newsletter and stay up to date with creative news, marketing trends and cutting-edge research.