Vacancy: Strategist 
/
We're looking for a strategist to join our Advisory team in the UK. Are you passionate about pushing the industry to do better and be better? Contagious, the world's leading authority on creativity and effectiveness, might be the spot for you.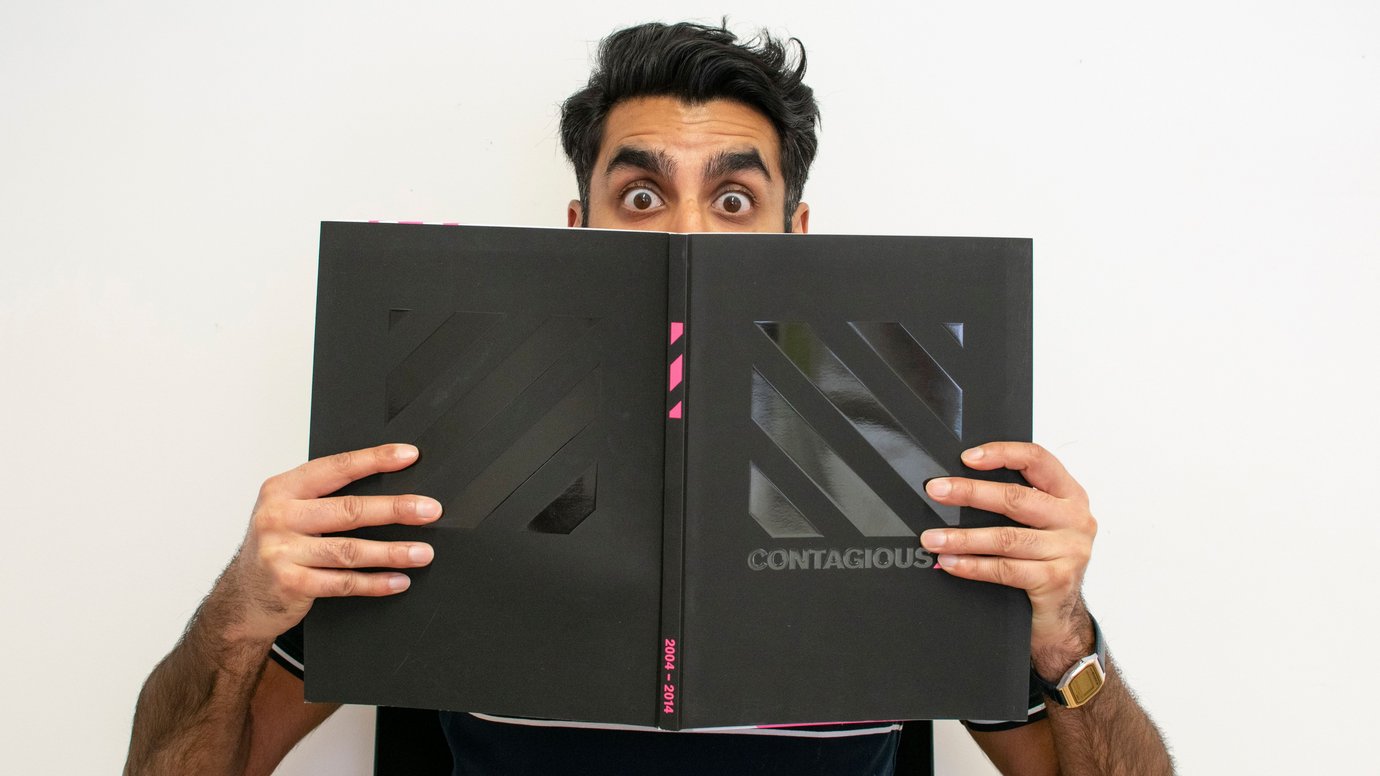 We're on the hunt for someone who;
Would revel in advising marketing teams about creativity, innovation and trends

Is fascinated by the future of advertising and marketing

Has brilliant presenting, writing and facilitating skills

Could join our London-based team on a full-time basis

Wants to be part of a collaborative, dynamic and hard-working team
If you'd like to apply, please carefully read the outline below and then send a cover note and CV to [email protected]. Applications close on Friday 4th June.
Overview /
We strive to inspire marketers to do the best work of their lives. And so we're looking for someone with a good gut, a sharp brain and on-point communication skills to bring Contagious insights and perspective to our growing roster of agencies and clients through our advisory team.
This is an ideal role for someone interested in the future of marketing & advertising, who wants to work as part of a London-based team of agile group thinkers.
The Role /
Strategists at Contagious advise marketers on creative effectiveness, trends and innovation. Working at the heart of our Advisory team, our Strategists are central to everything we do in this area of our business.
You'll use your experience and knowledge in tandem with Contagious research, tools and services to help our clients create more effective work, supporting other members of the Advisory team in both the US and UK with research, analysis and organisation.
And there will also be opportunities to contribute to other parts of the business such as writing for Contagious Magazine, speaking at our events (e.g. Most Contagious, Contagious Livestream) and delivering Contagious briefings.
Context /
There are five levels within our Advisory operation: Assistant Strategist, Associate Strategist, Strategist, Senior Strategist and Lead Strategist, and this opening is for a mid-level strategist

Strategists report directly into the Head of Advisory, but you will be expected to support the senior team members on major projects and when ready, steer your own projects too.

Developing effective, positive working relationships with your immediate colleagues as well as the members of our content, commercial & operations teams is a must

The role demands breadth and depth of knowledge of the business of brands, marketing and the media/tech ecosystem, and the role of creativity

While we are working remotely at present, domestic and international travel will be expected

In addition to client work you will have the opportunity to represent and promote Contagious at industry events and in guest articles

The role requires that you act as an ambassador for Contagious at all times
Responsibilities /
Presenting, Writing, Facilitating
Writing, building and delivering best-in-class presentations to Contagious style and standards

Writing thought leadership articles and reports for clients

Constructing clear and engaging narratives throughout

Participating in workshops as a second facilitator and playing an active role in workshop design
Research, Analysis, Problem Solving
Staying abreast of Contagious content and aware of the key themes the content team is pursuing at all times

Clear understanding of the basic working of clients - both agency and brands - in order to provide topline guidance and advice

Deconstructing campaigns and brand strategy at a granular level, explaining articulately why insights, strategy and executional ideas are crucial to the success of the work, referencing category dynamics and trends

Joining the dots between Contagious Intelligence and knowledge, and client challenges in order to help solve problems and identify opportunities
Project Delivery and Client Relationships
Driving and delivering small and medium sized projects to time and from end-to-end with minor involvement from senior members

Playing a supporting role on larger projects, helping senior team members optimise their workload

Driving projects so that clients expectations are met and surpassed.

Building project plans that outline timings and deliverables

Creating effective working relationships with key managers and the other operating teams within the business
The ideal skills, experience and attitude for this role include /
High attention to detail

Knowledge of key marketing theory

Confident communicator; in person, on screen, on stage, on paper

Excellent Microsoft Office skills – particularly PowerPoint

Two to three years' relevant experience

Team Player

Enthusiastic about our subject matter and always curious to learn more
Additional Skills /
Industry qualifications with IPA / APG / CIM etc. looked upon favourably

Experience of writing for industry titles a bonus
Why Join Us? /
The world's leading authority on advertising creativity

The opportunity to progress your career at a fast growth company

A dynamic working culture that values hard-work and respects work-life balance

A truly positive, thoughtful, brave & collaborative organisation
The ideal mindset to thrive at Contagious /
Highly collaborative – understands the value of being part of one team

Helpful & considerate towards managers, colleagues & all team members

Share thoughts & opinions constructively

Take personal responsibility

Solve challenges

Share solutions

Be hungry to learn & improve

Seek help & feedback – readily and in good time​​​​​​​
About Contagious /
At Contagious we are on a mission to inspire and enable contagious creativity. The kind that adds value to people's lives, grows brands and spreads like wildfire.
Through objective advice and analysis of the world's very best marketing ideas we help deliver the knowledge, culture and skills required for our customers to see creativity thrive across their businesses.
Delivered via our online intelligence platform, advisory services and events, our insight helps marketers learn from the best, so that they can be the best.
Put simply, we believe that creativity kicks the living crap out of non-creative work when it comes to selling stuff.
To apply, please send a cover note and CV to [email protected].
For a flavour of what it's like to work at Contagious check out the video below!
Want more Contagious thinking? 
/
Subscribe to the Contagious newsletter to receive a weekly dispatch of campaigns, opinions and research, curated for strategists, creatives and marketers.
Contagious thinking delivered to your inbox 
/
Subscribe to the Contagious weekly newsletter and stay up to date with creative news, marketing trends and cutting-edge research.