Report
James Swift
/
11 February 2020
Contagious Pioneers 2020: the best and bravest agencies on the planet 
/
Contagious names the agencies consistently setting the standard for excellence in marketing.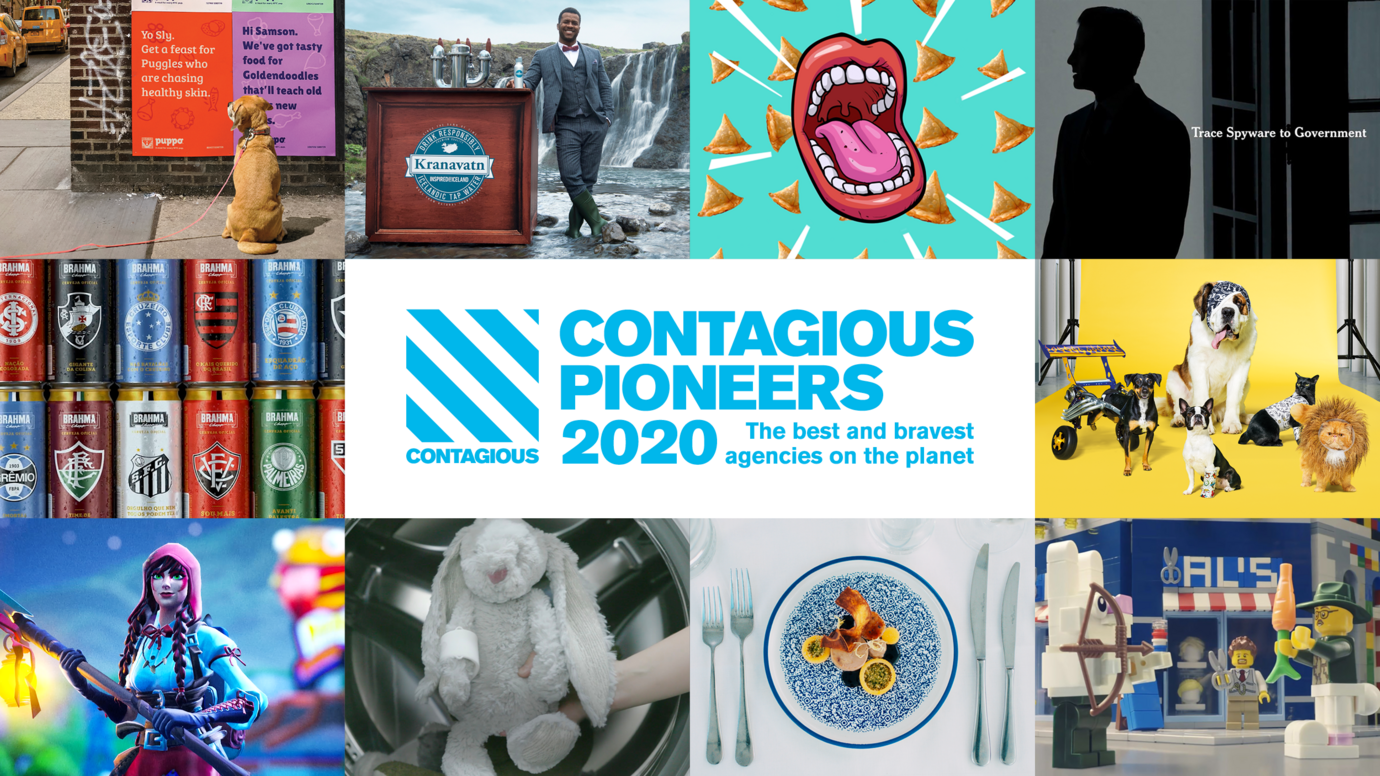 Contagious has once again rounded-up the 10 best and bravest agencies on the planet for our annual Pioneers list.
We create this list by rigorously analysing the campaigns featured on Contagious I/O, our online intelligence tool.
Agencies are evaluated on a range of metrics, including the number campaigns featured on I/O over the past year and whether the agencies are represented by work for numerous clients or just one.
But it all comes down to the work, as it should.
The 2020 Contagious Pioneers (in alphabetical order) are:
Africa, São Paulo

BETC, Paris

CHE Proximity, Australia

Colenso BBDO, Auckland

Dentsu Webchutney, India

Droga5, New York

Happiness, Brussels

McCann, New York

The Brooklyn Brothers, London

VMLY&R, Kansas City
Commenting on this year's Pioneers list, Alex Jenkins, Contagious' editorial director, said: 'We only cover a small proportion of the campaigns that we see. To make it onto I/O consistently, to create campaigns that serve as inspiration for the industry, and to do it for numerous clients, takes dedication and talent. That's what we're recognising and rewarding with our Contagious Pioneers list.'
Paul Kemp-Robertson, co-founder and chief brand officer of Contagious, said: 'If Contagious is a navigation guide for the future of the marketing industry, then these Pioneer agencies are the ones building new roads and pathways for others to follow.'
You can read Contagious analysis of Pioneer campaigns, and strategy interviews with Pioneer agencies, by downloading our free Contagious Pioneers report.
All the articles contained in the report are taken from Contagious I/O, an online resource that is constantly updated with the best examples of commercial creativity from across the world, as well as rigorous analysis and in-depth interviews uncovering what makes them great.
To download your free Contagious Pioneers report, fill out the form below.
Like this article? Share with your network: