Download
Contagious Team
/
4 February 2021
Contagious Pioneers 2021 
/
The agencies that set the standard for excellence in marketing over the past year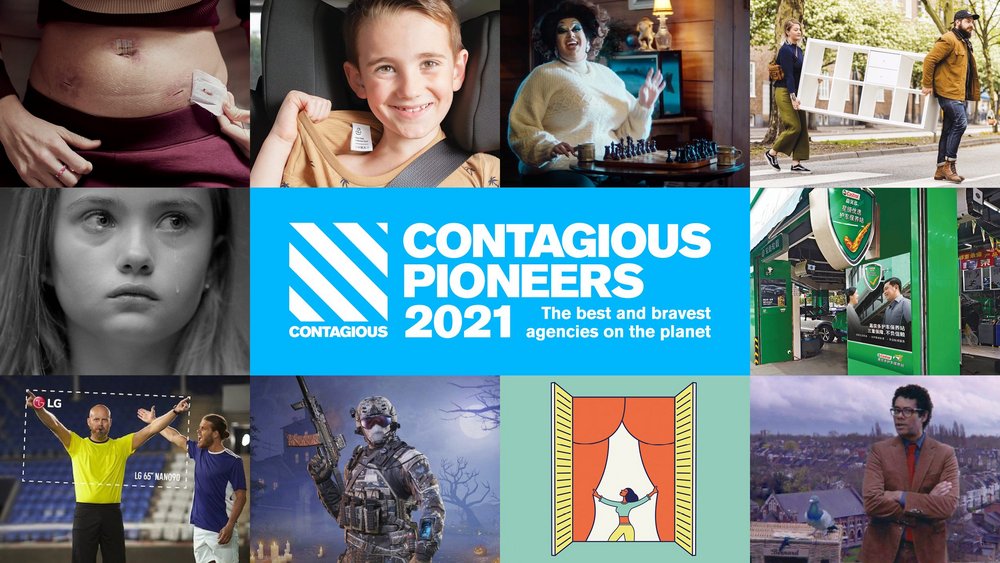 We're pleased to announce our 2021 Contagious Pioneers list celebrating the best and bravest agencies on the planet.
There is no entry process for the Pioneers list and no way for agencies to argue their case. We select Pioneers by analysing a year's worth of campaigns on Contagious I/O, our online intelligence platform. The winners are those that perform the best against a range of metrics, including the number of campaigns featured on I/O, the number of clients represented in their work, and the nature of the coverage.
Alex Jenkins, Contagious' editorial director, said: 'Our goal is to inspire and enable Contagious creativity. As such, we set our quality threshold unashamedly high. We've got no time for the average, the bland, the forgettable, the ignorable or the ineffective. Consumers don't want to see it and neither do we.
'We believe that having your agency's work featured by Contagious is to be recognised as having produced something creatively outstanding. And doing that consistently, across a range of clients, in a normal year is worthy of recognition. But to do that during a year that saw marketing spend delayed or cut, and huge upheaval in consumer behaviour – well, that's genuinely remarkable.
'So this year's Contagious Pioneers list is not just a form of congratulation but a recognition of the determination and effort of all the people that set their creative aspirations and standards to the highest level during some of the most turbulent working conditions in living memory.'
The 2021 Contagious Pioneers (in alphabetical order) are:
AMV BBDO, London

CHE Proximity, Melbourne

Colenso BBDO, Auckland

Edelman, London

Forsman & Bodenfors, Sweden

Mindshare China

Nord DDB, Stockholm

Sancho BBDO, Bogotá

Uncommon Creative Studio, London

Wunderman Thompson, London
Want to read more about our Pioneer agencies? Download our free report, which is packed with interviews and analysis.
All the articles contained in the report are taken from Contagious I/O, which is constantly updated with the best campaigns from around the world, as well as rigorous analysis and in-depth interviews uncovering what makes them great.
To download your free Contagious Pioneers report, fill out the form below.
This article was downloaded from the Contagious intelligence platform. If you are not yet a member and would like access to 11,000+ campaigns, trends and interviews, email
[email protected]
or visit
contagious.com
to learn more.