Contagious Pioneers 2022 
/
Contagious reveals the creative agencies that set the standard for excellence in marketing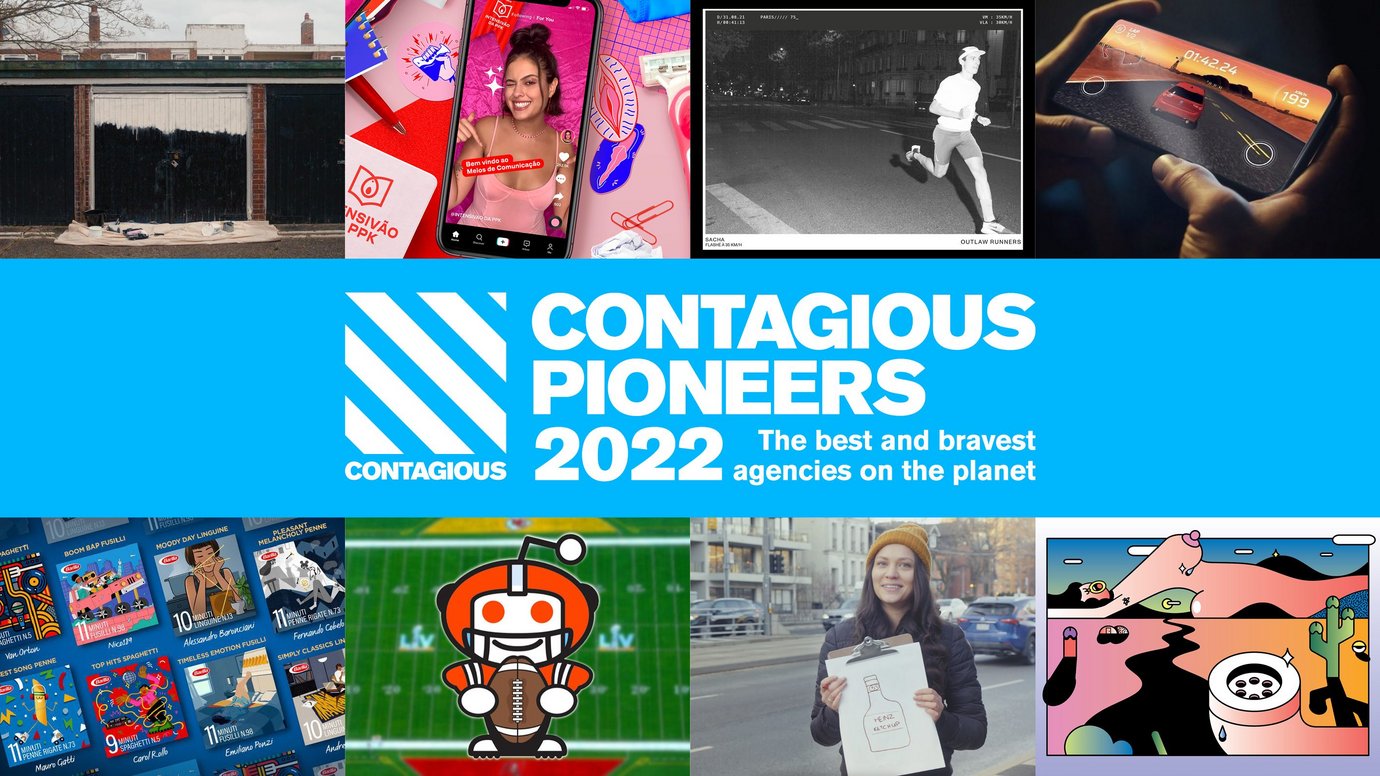 We're pleased to announce our 2022 Contagious Pioneers list celebrating the best and bravest agencies on the planet.
We select our Pioneers by analysing the work we write about on our intelligence platform, Contagious Online.
The winning agencies are those that performed the best against a range of metrics, including the number of campaigns featured on our platform, whether agencies are represented by one or multiple clients, and the nature of our coverage.
Contagious editor Chloe Markowicz said: 'At Contagious, we're laser-focused on the best of the best marketing. We don't discriminate based on region, product sector or media channel as long as the work showcases incredible creative and super-smart strategic thinking. And this year's Pioneer agencies exhibited a real breadth of capabilities. They produced everything from ground-breaking digital campaigns to stop-you-in-your-tracks outdoor ads and TV campaigns that challenged the rules of the medium. A host of clients were represented across sectors as varied as personal care and automotive, financial services and food.
'But what unites each one of the 2022 winners is that they created work that was bold, ambitious, and memorable, the kind of advertising you see and wish you had come up with. This year's crop of agencies created trailblazing work that stands out, truly fitting the accolade of a Contagious Pioneer.'
The 2022 Contagious Pioneers (in alphabetical order) are 
/
AMV BBDO, London

Analog Folk, London

BETC, Paris

DDB, Sydney

Publicis Italy, Milan

R/GA, New York

Rethink, Canada

Uncommon Creative Studio, London
Want to read more about our Pioneer agencies? Download our free report, which is packed with interviews and analysis.
All the articles contained in the report are taken from Contagious Online, which is constantly updated with the best campaigns from around the world, as well as rigorous analysis and in-depth interviews uncovering what makes them great.
To download your free Contagious Pioneers report, fill out the form below.
This article was downloaded from the Contagious intelligence platform. If you are not yet a member and would like access to 11,000+ campaigns, trends and interviews, email
[email protected]
or visit
contagious.com
to learn more.