Most Contagious 2020, New York 
/
29 January 2020 / The Altman Building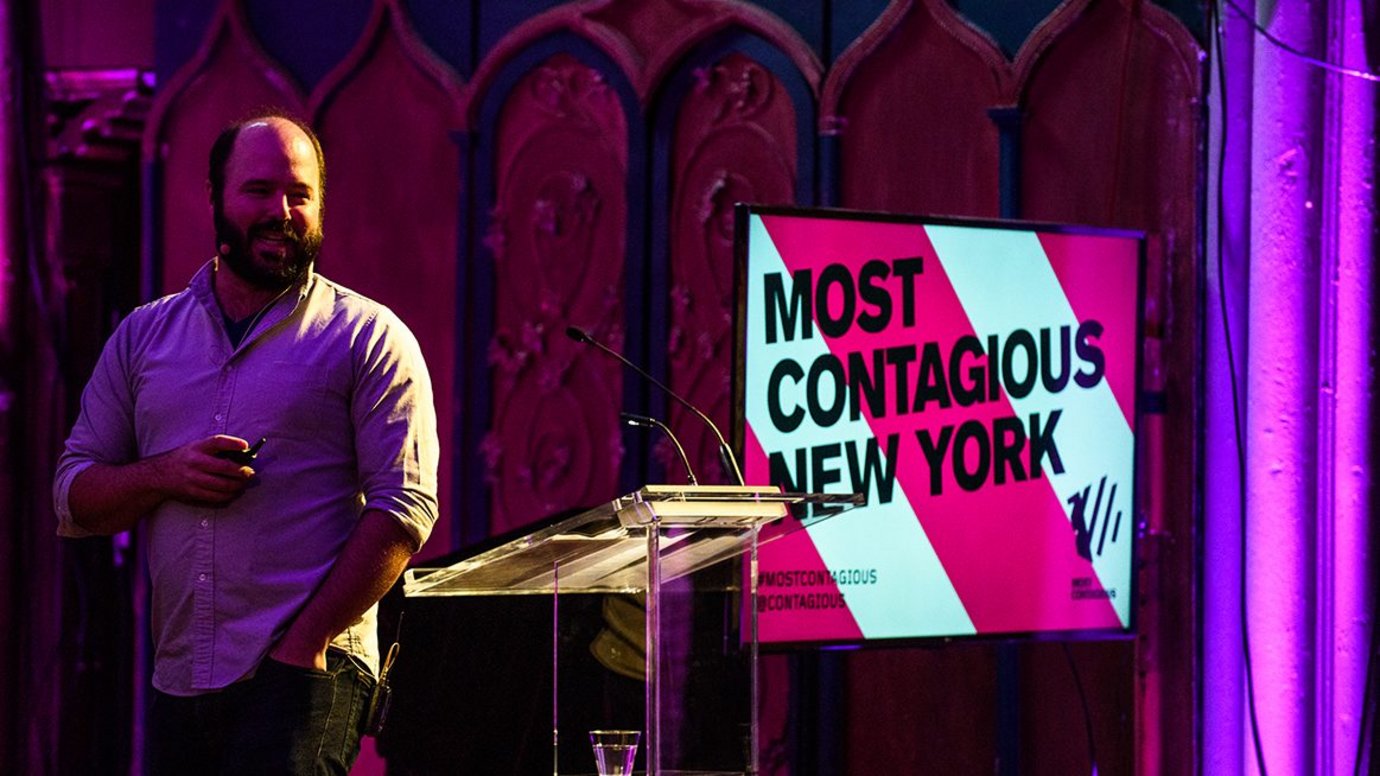 Most Contagious is for anyone who knows creativity is a brand's last legal unfair advantage and who wants to know about the ideas, trends and tech that will shape marketing in the year ahead. We take a year's worth of campaigns, trends, insights and technologies and distill it into a single event, to help you hit the ground running in 2020.
Agenda & Speakers 
/
8:30 REGISTRATION /
9:00 TALKS START /
CONSUMPTION CRISIS / CONTAGIOUS
Adland exists to drive consumption, but how do we reconcile that mission with legitimate and pressing concerns about the climate crisis, plastic pollution and diminishing resources? How do brands thrive in a world that wants less, not more? In this session we'll look at the startups – and the established players – committed to being part of the solution, rather than part of the problem.
CHANGING THE GAME / MICROSOFT
Kathleen Hall, Corporate Vice President of Brand, Advertising and Research, Microsoft & Shayne Millington, EVP & Executive Creative Director, McCann
Niche product. No athletes. No stars. The most effective Super Bowl spot of 2019 launched the Xbox Adaptive Controller with a lesson on empowerment that raised the bar for everyone. Find out why brands have a responsibility not just to support inclusivity but to be inclusive – and why there's value in Values.
GO BACK TO AFRICA / BLACK & ABROAD
Ian Mackenzie, CCO, FCB/SIX, Toronto & Kent Johnson, Co-Founder, Black & Abroad
It takes a special kind of chutzpah to hijack hate-speech. And it takes a particular understanding of data and social to flip a provocation like 'Go back to Africa' into a tourism campaign and community. Join the founders of Black & Abroad and FCB/SIX, Toronto to hear how nailing both won them a Grand Prix – and the moral high ground.
LEGAL-ADE / COUNTRY TIME
Jordan Doucette, CCO, Leo Burnett, Chicago & Country Time's Creative team
Lemons, lawyers and little kids. This deliciously simple recipe was all it took to whip up $10 million of earned media, refreshing a tired brand and protecting America's most vulnerable entrepreneurs along the way. Learn how Leo Burnett Chicago helped Country Time Lemonade fight injustice – and regain its relevance – with Legal-Ade, the feelgood hit of the summer.
VENI, VIDI, CREATIVITY / CONTAGIOUS
Roads, aqueducts, sanitation… but what can the Romans teach us about creativity? Many brands can deliver one-off sparks of creative brilliance. But the real challenge is to make creativity repeatable and scalable. In this session, we will look at what we can learn from the Roman Empire about how to develop a more systematic and deliberate practice of creative excellence.
10:40 – 11:10 MORNING BREAK /
DIGITAL REBOOT / CONTAGIOUS
For all its promise, our digital technology has overdelivered on all the wrong KPIs. Shady programmatic. Insecure data. Privacy concerns. Obfuscation and complexity. We're getting digital wrong and and it's time for hard reset. As good digital stewardship becomes crucial to every brand's reach and reputation, we'll ask what it takes to get it right.
BRAND FOCUS / OATLY
John Schoolcraft, Global Chief Creative Officer, Oatly AB
Oatly was already 30 years old when it became one of the hottest challenger brands in food. Oatly's Global CCO John Schoolcraft will be at Most Contagious to discuss how to spark change, why you might not need a marketing department, and what it takes for a brand to prioritise curiosity and creativity over convention.
THE TRUTH IS WORTH IT / THE NEW YORK TIMES
Amy Weisenbach, SVP Marketing and Media Strategy, The New York Times & Droga5's Creative Directors, Laurie Howell & Toby Treyer-Evans
What happens when free content threatens not just your whole business, but how the world perceives reality? The culture of fake news and failing trust affects the entire brand and business landscape, especially the organisations that keep us informed. Learn how a mission to change consumer attitudes may just have saved The New York Times – and why it matters.
BURGER KING /
Fernando Machado, Global CMO, Burger King
Burger King scooped a staggering 41 Lions at Cannes this year, including three Grands Prix for Whopper Detour. In this session their global CMO, the award-winning, flame-grilling, McDonald's-trolling Fernando Machado will explain the culture, the cojones and the creative ambition driving a brand that is unmistakably, so hot right now. Just don't ask him for a cheeseburger.
13:00 EVENT CLOSE /
More about our speakers 
/
Find out a little more about the fantastic speakers hitting the stage at this year.
Join this years brands and agencies 
/
Most Contagious is the perfect chance to network with some of the biggest brands and agencies from around the world
Our 2020 partners 
/
To learn more about how your company can become an official event sponsor for Most Contagious 2020, email [email protected]

Like this article? Share with your network: