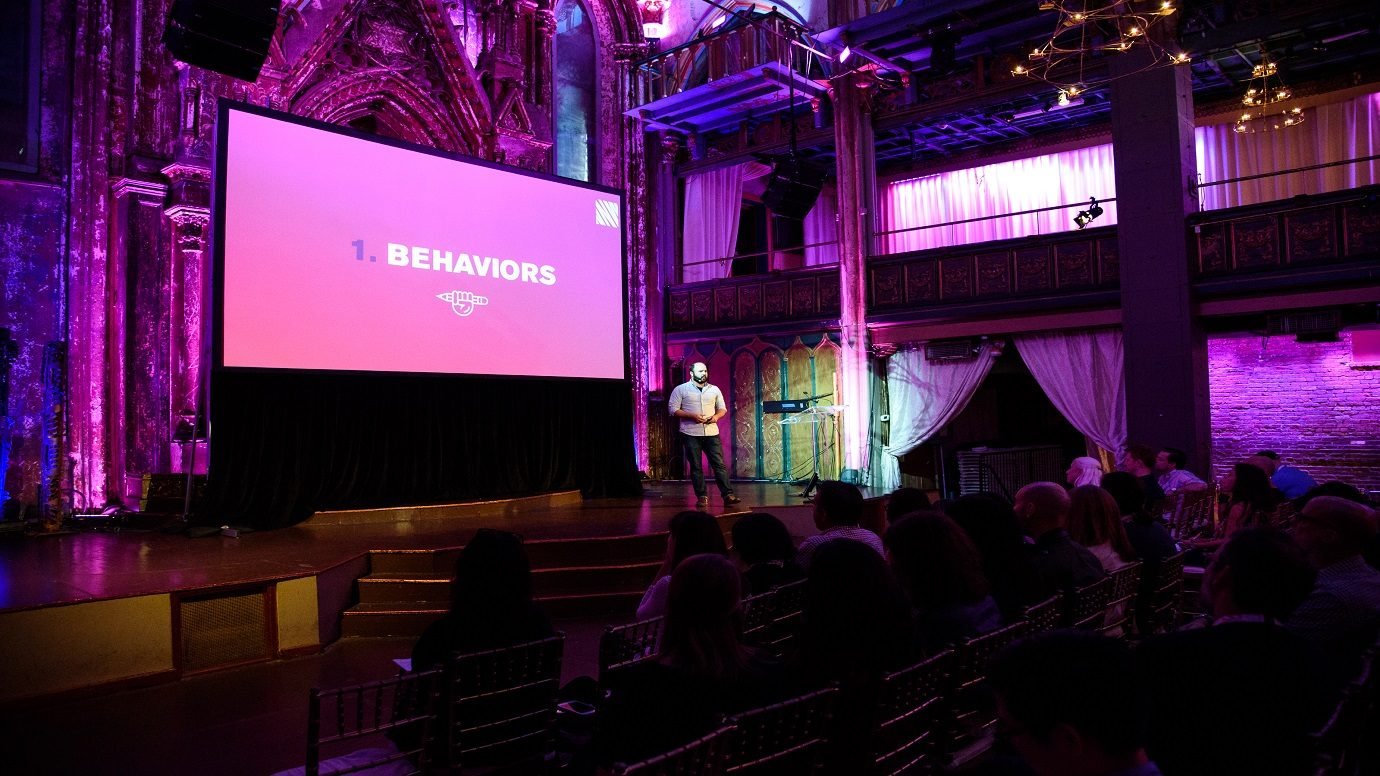 Most Contagious NYC, 12 December 2018 
/
Most Contagious delivers a year's worth of marketing insights, innovation and inspiration in an action-packed half-day.
Get fit for the future by joining us in New York on 12 December 2018, at The Angel Orensanz Centre in the Lower East Side of Manhattan. Registration will open at 8:30am. The day will then start at 9am and talks will finish at 1pm.
Most Contagious is designed to give attendees a rapid understanding of how to create effective, modern marketing and steal a march on 2019.
LEARN the Contagious perspective on the most important trends for marketers in the year ahead
UNDERSTAND the strategies behind the world's best campaigns, as told by the brands and agencies that created them.
Steal your competitive advantage now.
Our line-up of speakers includes international heads of brands and agencies, as well as our own Contagious experts. Hear from the founders behind the most-awarded idea of the year – The Palau Pledge; learn the strategy behind the two biggest Superbowl spots of 2018 – Tide's 'It's a Tide Ad' and Skittles' 'The Most Exclusive Ad'; and understand the thinking that underpinned Diesel's headline-grabbing Canal Street pop-up shop.
Buy a year's worth of insights and inspiration here
JOIN THESE AMAZING BRANDS, AGENCIES AND MANY MORE 
/
CHECK OUT OUR LINE UP OF 13 SPEAKERS 
/
AGENDA 
/
8:30: Registration
9:00: Intro
9.10: Contagious / Fortune Favours The Brave
Scientific studies prove that standout creative ideas kick the living crap out of ordinary ideas. But science also shows that marketers are subconsciously hardwired to avoid taking risks, which explains a universal tension at the heart of the ad industry. Referencing his new book The Contagious Commandments, co-authored with Contagious co- founder Paul Kemp-Robertson, Chris Barth will issue a rallying cry for calculated bravery.
9:25: Campaign Focus / Diesel / Go with the Fake
Diesel made headlines last year when it launched a fake Canal Street pop-up selling seemingly counterfeit 'Deisel' items during New York Fashion Week. The campaign drove home the brand's overarching mission to celebrate imperfections and go against conformity. Diesel CMO Dario Gargiulo and Publicis' global CCO Bruno Bertelli will share their warts-and-all perspective on what it takes to keep a fashion brand in the hearts and minds of consumers.
9.40: Twitter / The Speed of Culture
The Speed of Culture analyzes how language trends and audience behaviours power the launch of movements and messages on Twitter, and beyond Twitter - from grassroots to Wall Street - and explores how marketers are harnessing these insights to shape conversation and culture.
10:00: Contagious / Machine Vision
As the industry gets to grips with the current wave of AI – smart speakers and voice assistants powered by natural language processing – we look to the next great technological evolution on the horizon. We'll break down how machine vision is already impacting certain sectors and assess what it means for marketers in 2019.
10:15: Campaign Focus / Palau Pledge
The Palau Pledge was the big winner at Cannes this year, taking home more Grands Prix than any other campaign. Laura Clarke, who co-founded the Palau Project to protect the island nation of Palau from the ravages of tourism, will discuss how the idea for the campaign was born, how they made it real, and the effect it's had on the island.
11:00: Campaign Focus / Skittles / Exclusive the Rainbow
At the 2018 Super Bowl, Skittles took personalisation to the extreme by making an ad that only one person – California teenager Marcos Menendez – could watch. The Most Exclusive Ad resulted in a 7% sales uplift and 1.35 billion media impressions. Ari Weiss, chief creative officer at DDB North America, will break down why Skittles departed from convention and decided to make the most invisible ad of the Super Bowl.
11:15: Contagious / Divisive Values
The collision of culture and politics has created a tricky playing field for brands. Some have stood up for contentious issues and have risked dividing their audience in the process. Others have kept quiet and, in so doing, have lost relevance entirely. In this session, we'll offer clear and practical advice to help brands make the correct decisions in 2019
11:30: Campaign Focus / P&G / The Talk
Against a backdrop of heightened racial tension in America, P&G launched The Talk, a film portraying a rite of passage that every black mother in the US would recognise. Find out why one of the world's largest FMCG companies decided to tackle racial bias from brains behind the campaign: Liv Lewis, SVP client experience at Egami and JD Michaels, director of diversity and creative engineering BBDO New York.
11:50: Contagious / Retail Renaissance
There's no doubt that 2018 has been another turbulent year on the high street, but while some have struggled, news of retail's death has been greatly exaggerated. In this session we'll examine the green shoots amongst the dead wood, spotlighting the key trends reshaping the shopping experience.
12:05: Campaign Focus / Tide / It's a Tide Ad
This year Tide released a Super Bowl campaign that over-delivered on clean-clothes, advertising tropes and results. Sundar Raman, vice-president of North America Fabric Care at P&G and Wanda Pogue, chief strategy officer at Saatchi NY will take to the stage to explain how the laundry detergent brand's audacious strategy to claim every ad for Tide led to a 35% sales boost.
12:20: Wrap-up
GETTING THERE 
/
Most Contagious takes place at the The Angel Orensanz Centre which is located in the Lower East Side of Manhattan. If travelling by subway, take the F train to Delancey street, followed by a five minute walk to the venue. If driving to the event, the nearest parking lot is located on Essex Street. If you have any other questions, issues or queries please feel free to email [email protected] and somebody will get back to you ASAP.
Like this article? Share with your network:
Sign up to our weekly newsletter