Campaign of the Week
Contagious I/O
/
11 May 2021
Barbie claims dolls boost empathy in year-long global campaign  
/
The Mattel-owned doll brand highlights the emotional and social benefits of playing with dolls in new campaign
Mattel-owned doll brand Barbie has released a global campaign that conveys the emotional benefits of playing with dolls.
The campaign, created with agency BBH Los Angeles, launched on 3 May with a one-minute ad showing boys and girls playing with Barbie dolls in different scenarios – such as reading to them or washing them. The commercial goes on to explain how Barbies can help children develop empathy and generosity.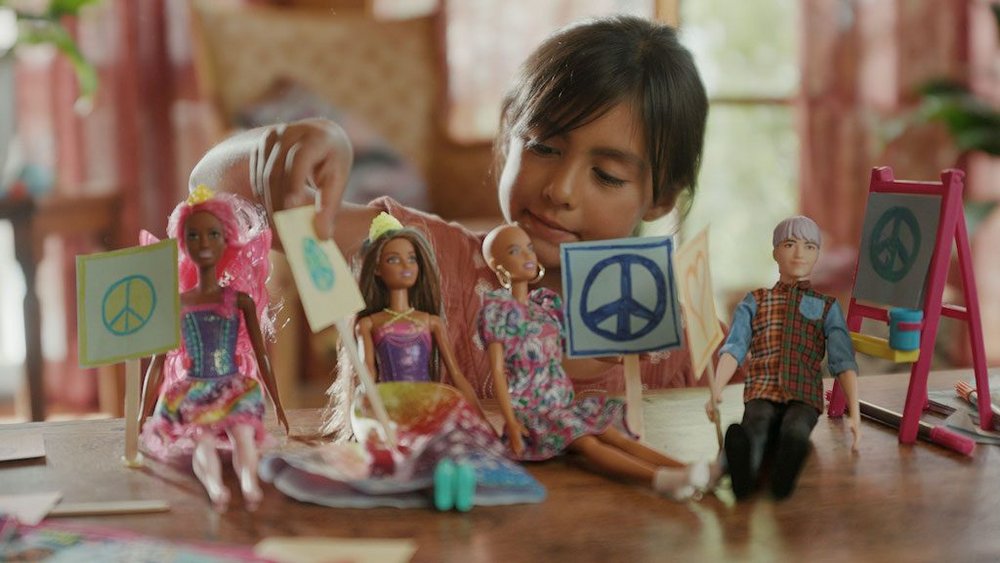 A Doll Can Help Change The World was sparked by recent research by Cardiff University, conducted by Barbie, that proves doll play allows children to develop social information processing skills. In the 18-month study, a team monitored the brain activity of 33 children, aged between four and eight, as they played with dolls versus tablets.
The results were impressive, according to Dr Sarah Gerson, lead author of the research. She said: 'The fact that we saw the posterior superior temporal sulcus to be active in our study shows that playing with dolls is helping them rehearse some of the social skills they will need in later life. Because this brain region has been shown to play a similar role in supporting empathy and social processing across six continents, these findings are likely to be country agnostic.'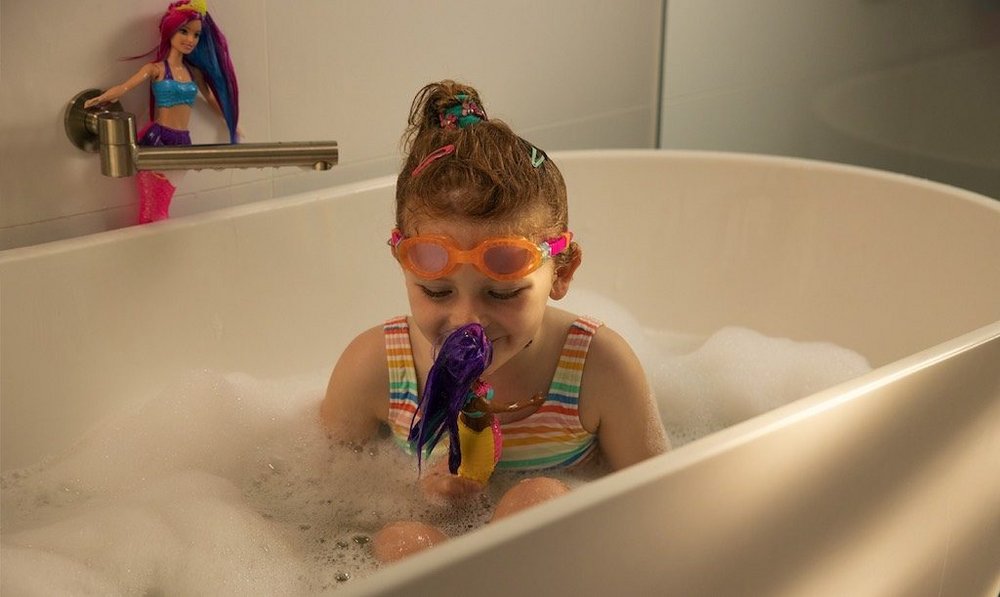 Aimed at parents, the spot employs similar tactics used for toys that support science, technology, engineering and mathematics (STEM) learning, which also stress developmental benefits. 'We know that parents don't readily associate doll play with the same tangible, developmental benefits that they might associate with rival STEM toys,' said Lisa McKnight, Mattel's senior vice president and global head of Barbie. 'We wanted to highlight the research while reinforcing how Barbie inspires kids to be anything they want to be.'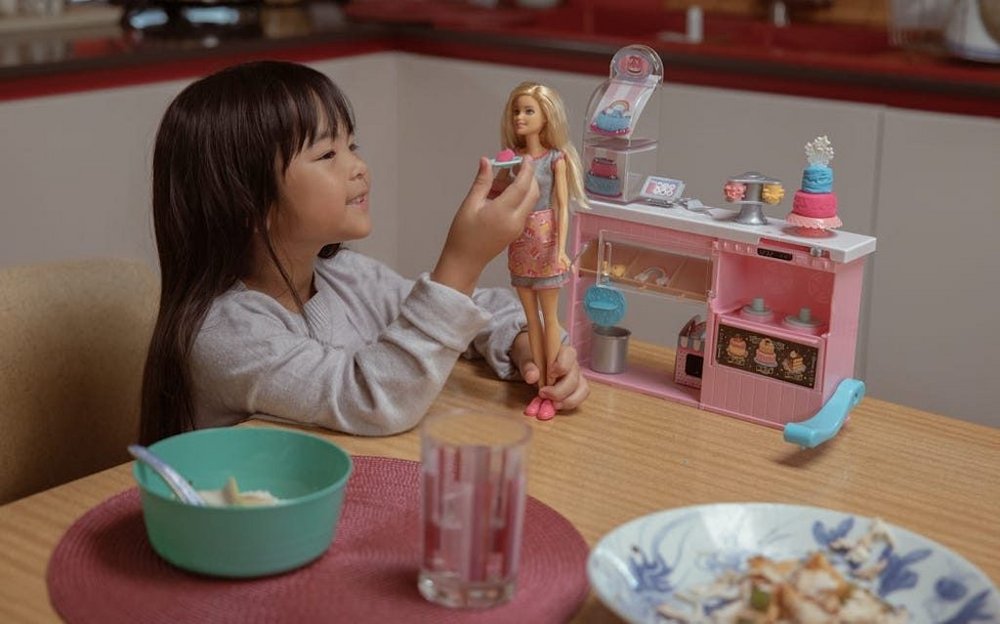 The ad aired across TV, streaming sites and social channels. It will be translated in 12 languages and run for one year. The campaign will also include a partnership with The Washington Post, Hulu, a sponsorship of the US Billboard Music Awards and a Barbie microsite where children can learn more about empathy.
Contagious Insight 
/
The doll evolves / At the end of 2015, Barbie had experienced 10 quarters of sales decline. The doll was a symbol of the damaging body expectations that girls face in society and the brand was widely criticised for its heteronormativity and lack of diversity. To change perceptions, Mattel launched a series of campaigns that focused on empowerment and inclusivity, including changing Barbie's body shape. In late 2015, the brand's Imagine the Possibilities campaign was pivotal in repositioning Barbie as a doll that helps girls realise their potential. The result? Mattel successfully transformed Barbie into a suitable role model for the 21st century and, following the communications shift, experienced tremendous growth by early 2016.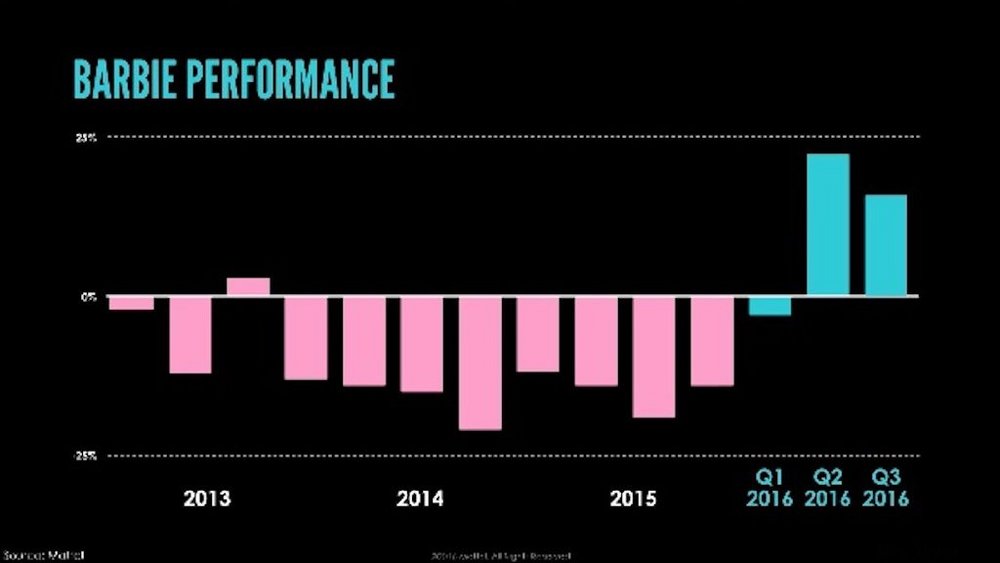 While some more conservative countries were less emphatic about Barbie's modernisation, there is no doubt that the toy industry was heading in a more progressive direction. In 2019, Hasbro in South America released a simple yet sweet ad that shows boys playing with dolls and the emotional benefits of doing so. Barbie's more recent products feature a range of differently abled dolls, varied body sizes and gender neutral models. And now, representation in toys has gone from a nice-to-have to the expected norm, and we can thank Mattel for helping pave the way.
Scary sequels / Finding engaging ways to communicate product benefits is a problem commonly faced by brands. We've seen brands in the past go to unusual places to deliver the same message in fresh, interesting ways. Here, Mattel has repackaged the idea that playing with Barbies has a positive impact on children's wellbeing and delivered it at a perfect time – when parents are especially nervous about the emotional impact lockdown has had on kids.
A Doll Can Help Change the World is the brand's biggest ad campaign in five years. Mattel hasn't released exact figures but, according to Kantar, it has doubled Barbie's year-on-year ad spend in 2021 and Mattel spent $53m on advertising (excluding social) on its brands in 2020. Barbie's sales rose 87% in the first quarter of 2021 compared to last year and this campaign is a clear effort to keep that momentum going.
To find out more, listen to Mattel's senior vice president Lisa McKnight tell the transformative story of how the brand reclaimed its relevance at Most Contagious.
Want more Contagious thinking? 
/
Subscribe to the Contagious newsletter to receive a weekly dispatch of campaigns, opinions and research, curated for strategists, creatives and marketers.
Contagious thinking delivered to your inbox 
/
Subscribe to the Contagious weekly newsletter and stay up to date with creative news, marketing trends and cutting-edge research.