Campaign of the Week
21 September 2021
Athletics store challenges runners to break the speed limit in PR stunt 
/
Distance recruited professional athletes to trigger a speed camera by running faster than Paris' new speed limit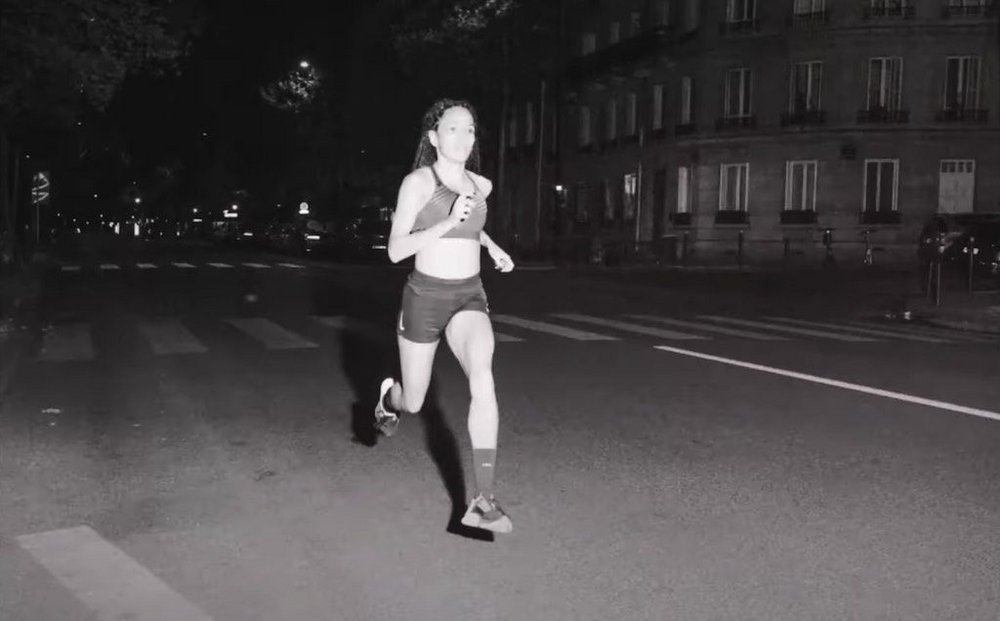 Last month the speed limit in Paris was lowered to 30km/h in a bid to reduce accidents, noise and pollution. Those who exceed the limit can receive a fine and two points on their driving licence. The new limit was somewhat divisive, with 59% of residents in favour, while other groups, such as taxi drivers, opposed the idea.
Working with agency BETC Paris and Soldats Films, the boutique Parisian running store Distance launched a stunt on 31 August inspired by the new speed limit. The brand recruited professional athletes including Lena Kandissounon (800m champion) and Quentin Malriq (1,500m champion), and challenged them to trigger a speed camera and get snapped going faster than 30km/h.
Distance used the speed camera pictures in an outdoor guerrilla campaign called Outlaw Runners, displaying the black-and-white images on social media and in its store windows.
Guillaume Pontier, co-founder of Distance, said in a press release: 'This new law got everyone talking in Paris. We thought it was the perfect opportunity to showcase our store and our vision of running. We believe in a running that is urban, doesn't obey old traditions and uses modern codes.'
Stephane Xiberras, president and executive creative director of BETC, said, 'Normally in advertising, when you want to create a print campaign, you call a photographer. Here, for the first time, the photographer is a robot, and more accurately, a speed camera.'
The running brand also installed its own speed camera outside its store during the weekend of the 2021 Paris Half Marathon (Sunday 5 September), issuing a challenge to runners to push their boundaries and test their speed.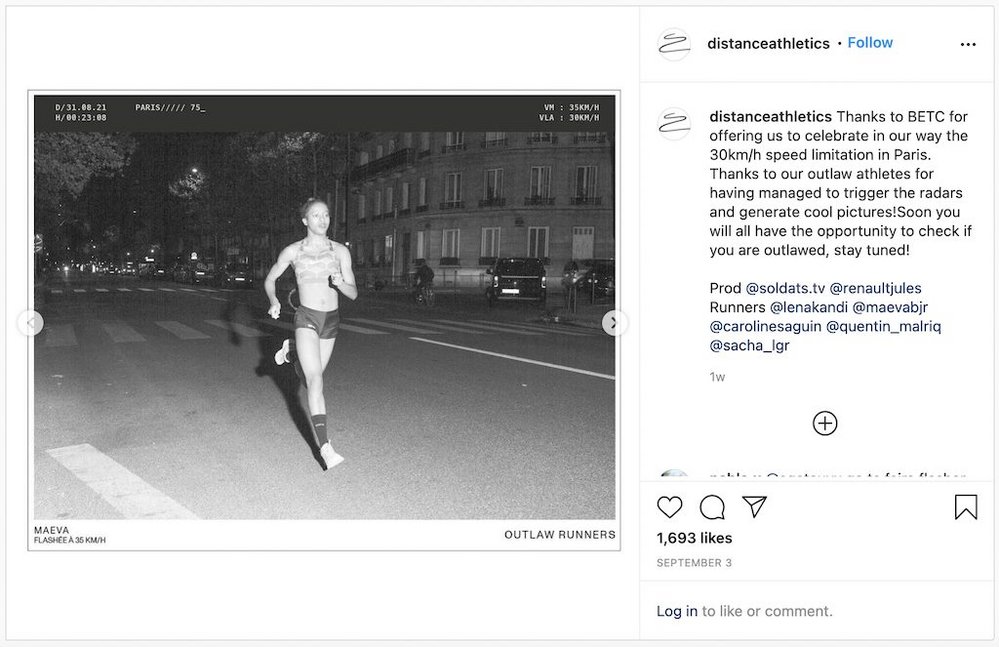 Contagious Insight 
/
Go off-book / This campaign's use of an unorthodox media channel makes it stand out from other self-proclaimed guerrilla marketing. The overexposed, black-and-white aesthetic of the speed camera images lends an edginess to the creative, presenting the brand as one for rule-breakers. In fact, no laws have been broken, and the stunt was a low-stakes bit of fun, for which no one was fined – but the idea is impactful all the same. Further, working with seasoned athletes earns Distance some credibility as a specialised running brand and may have inspired amateur runners at other levels to make their own attempt at beating the speed limit. The boutique store, launched in 2018 and based in Lyon and Paris, has a history of collaborating with elite runners and has published books documenting running adventures to inspire its community of runners.
Newsjacking / It's no secret that the French love a protest, and although Mayor Anne Hidalgo's 30km/h speed limit is already in place on 60% of the capital's streets, the reduced speed limit caused a stir. Paris councillor Aurélien Véron called the law 'a brutal announcement' and said that going at 30km/h would be like 'driving a hearse', reports the Financial Times. By reacting quickly to the news, Distance rode the PR wave of the story and found a way to link it back to its 'rule-breaking ethos' around running. Crucially, the brand didn't (and didn't need to) take a stance on the law, but leveraged the conversation around it to draw attention to its brand and store. And as a bonus, Distance also neatly launched its own speed camera installation in time for the weekend of the Paris Half Marathon, further extending the momentum of the campaign.
Contagious thinking delivered to your inbox 
/
Subscribe to the Contagious weekly newsletter and stay up to date with creative news, marketing trends and cutting-edge research.