Campaign of the Week
Contagious I/O
/
26 January 2021
Dettol creates fake 'Fe-Cál' fashion label for laundry sanitiser push 
/
'Mummy influencers' promote Dettol's fake fashion label to spread awareness about harmful bacteria on 'clean' clothes and boost laundry sanitiser category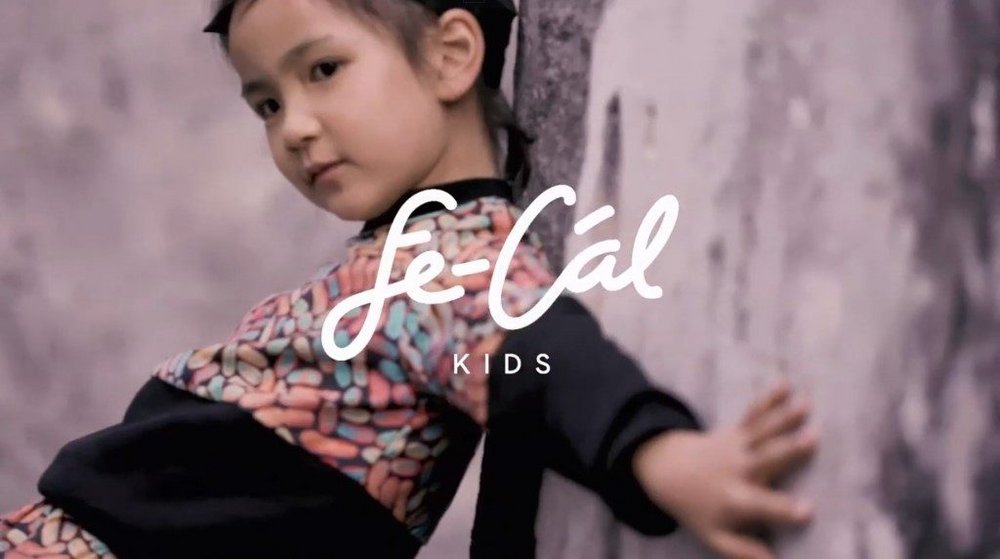 Challenge / In 2019, the laundry sanitiser segment in New Zealand was estimated to be worth just over $1.4m, with only two key players in the market, Dettol Laundry Sanitiser and Canesten Hygiene.
Although being the market leader in this category, Dettol wanted to reach new audiences outside of its small but loyal userbase to grow the whole category, which had remained stagnant for a number of years.
The brand discovered that there were two main reasons for consumers changing their washing behaviour, either doing your own washing for the first time, or more crucially, a significant life event, such as having a baby. As a result, Dettol identified New Zealand mums aged over 25 as an effective demographic to target and drive category growth.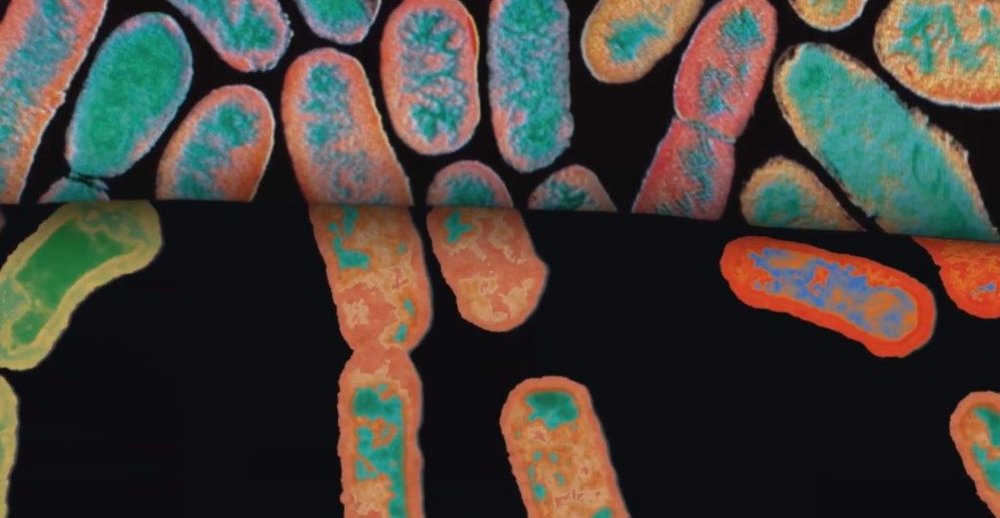 Despite research into clothes cleaning rituals being available for American consumers, Dettol commissioned its own research into New Zealand families to make the findings relevant and applicable to Kiwi households. After assessing the washing of 60 families to investigate the cleanliness of their clothes, associate professor Donnabella Lacap-Bugler at the Auckland University of Technology, discovered traces of E. coli on 78% of clothes straight from the washing machine.
E. coli is a potentially harmful bacteria that is commonly found in human faeces, which families with young children come into close contact with on a daily basis through changing nappies and while potty training. Equipped with this insight, Dettol needed to communicate to parents the prevalence of this hidden enemy on clothes and position its Laundry Sanitiser as a front-of-mind solution for tackling germs such as E. coli.
Solution / To evoke a strong emotional response and help New Zealand mums reappraise clean, Dettol worked with FCB New Zealand and partnered with mummy influencers to launch a fake children's clothing line, Fe-Cál.
The garments featured colourful designer prints, which were actually enlarged images of the E. coli bacteria. Dettol created a dedicated website and Instagram page to create the illusion of a real clothing brand, which was then promoted by the two partner influencers @rebeccajkeil and @blessedindoubles on Instagram.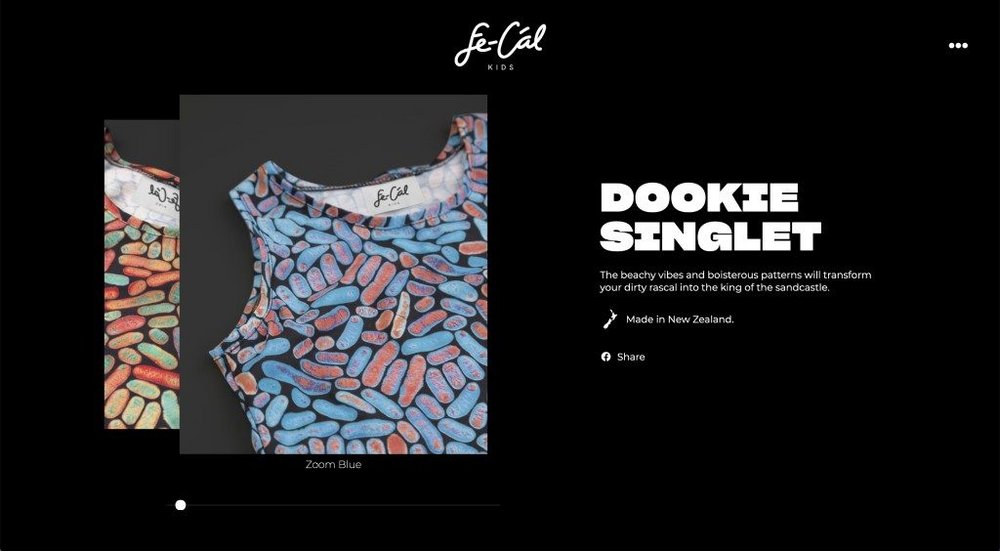 These influencers filmed unboxing videos and their kids dressed up in the clothing, acting seemingly unaware of the Fe-Cál name or the E. coli print. The idea being to either trick unaware parents who liked the designs, or to shock those who thought the brand was a huge blunder, driving conversation around the Fe-Cál collection on social media.
As more people started to notice the hidden message of the campaign, the influencers came clean, opening up about the stunt and promoting Dettol Laundry Sanitiser as the solution to ensuring that washed clothes are free from harmful bacteria.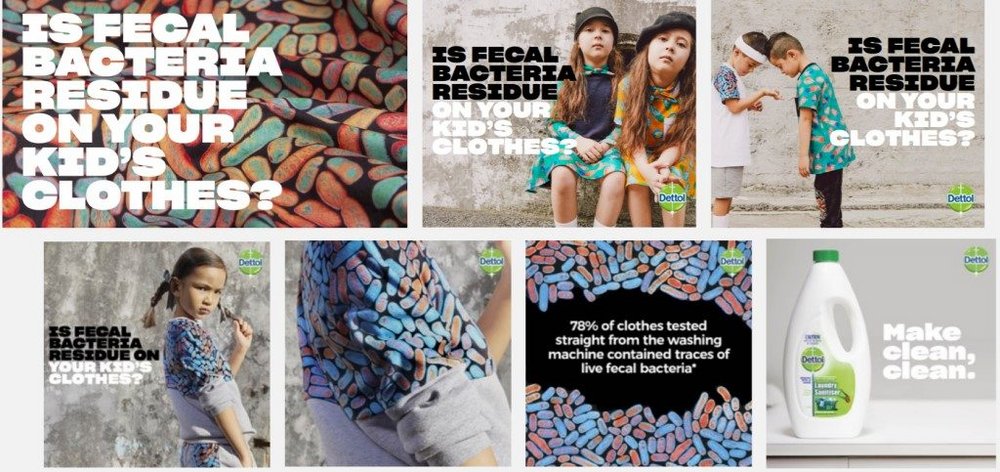 Results / According to the brand, measuring both pre and post the campaign launch, there was a 300% increase in awareness for Dettol Laundry Sanitiser in New Zealand – brand recall for its main competitor Canesten Hygiene was 11% compared to Dettol's 48% following the campaign launch.
The brand's case study film also details that sales of the product increased 33% in the first week following the campaign. The brand also experienced overall category growth with Dettol's market share peaking at 70.3%.
Across Dettol's owned Facebook and Instagram pages, the campaign earned 3.7 million impressions, while the story was covered by MSN, Yahoo and Huffpost for a total of 859,000 impressions.
Contagious Insight 
/
The influence of influencers / According to Influencer Marketing Hub's 2020 Benchmark Report, influencer marketing is expected to grow to be worth $9.7bn in 2020. The report also details that across 2,000 influencer campaigns analysed in 2019, the average ROI was $5.78 for every $1 spent.
Influencer marketing is designed to imitate the organic recommendations of friends and family members, but delivered by a celebrity or micro influencer the consumer already trusts. This is effective because according to the Nielsen 2015 Global Trust in Advertising Report, 'recommendations from people I know' is the most trusted form of advertising, with 83% of the 30,000 online respondents across 60 countries saying they completely or somewhat trust this format.
By using mummy influencers who are trusted for their advice and guidance, Dettol enhanced the integrity of its message and made the importance of purchasing Dettol Laundry Sanitiser all the more imperative.
Stand out from the packs / Fe-Cál is a strong example of a brand breaking category norms to stand out from its competitors. Laundry detergents and cleaners are fairly homogenous goods, with often the same differentiators of smell, size, price and cleaning effectiveness being advertised. But Dettol has created a new distinct selling point by magnifying the importance of the dirt people can't see. This new positioning enables the brand to tap into the fears of parents and present Dettol Laundry Sanitiser as the superior option at targeting and removing this potentially harmful bacteria.
Contagious covered a similar story in 2019 from cleaning brand Lysol, that also targeted the fears of parents by targeting the beloved stuffed animals of their children. The brand created a Teddy Repair hospital that would clean and restore the child's favourite toy, and the campaign drove a sales increase of 52% for Lysol Laundry Sanitizer. You can read more about this story here.
The motion of emotion / One of the clever components of this campaign is using shock tactics and tapping into feelings of disgust to help share the message. Research from Karen Nelson-Field in her book Viral Marketing: The Science of Sharing, discusses how advertising that invokes strong arousal is more likely to be shared organically by consumers. Although negative emotions are not as strong as positive ones at driving this reaction, what is important is that your creative makes people feel something if you want to maximise how much it is shared by the consumers that it reaches.
Given the media strategy of the Fe-Cál campaign was an influencer-led activation, Dettol and FCB New Zealand needed people to organically share the content for the idea to work. Therefore baking in the strong disgust emotion and shock factor were useful for achieving this result.
Similarly to Fe-Cál, Burger King's Moldy Whopper campaign was designed to evoke levels of disgust to encourage recall and shareability, with Moldy Whopper achieving 8.4 billion organic impressions. You can read more in our Insight & Strategy here.
Contagious thinking delivered to your inbox 
/
Subscribe to the Contagious weekly newsletter and stay up to date with creative news, marketing trends and cutting-edge research.