Campaign of the Week
18 June 2018
Campaign of the Week: Domino's Pizza, Paving For Pizza 
/
How Domino's builds it brand by filling potholes
Domino's Pizza has turned to public infrastructure for its latest brand campaign, partnering with cities to fill in potholes.
The Paving for Pizza campaign will see Domino's give grants of up to $5,000 to around 20 public bodies in the US, to fill in potholes and repair cracks in roads.

Four municipalities have already taken Domino's money and, in return, agreed to spray paint the brand's logo, along with the message 'Oh yes we did,' on the repaired bits of road.
Domino's has also created a website for people to nominate a city or town that they'd like to receive a paving grant.
The pizza brand has said that it started the campaign to improve roads for the sake of the people driving home from one its outlets with a freshly baked pie, because a bumpy car ride could spoil its products.
Domino's worked with Crispin Porter & Bogusky, Boulder, on the campaign.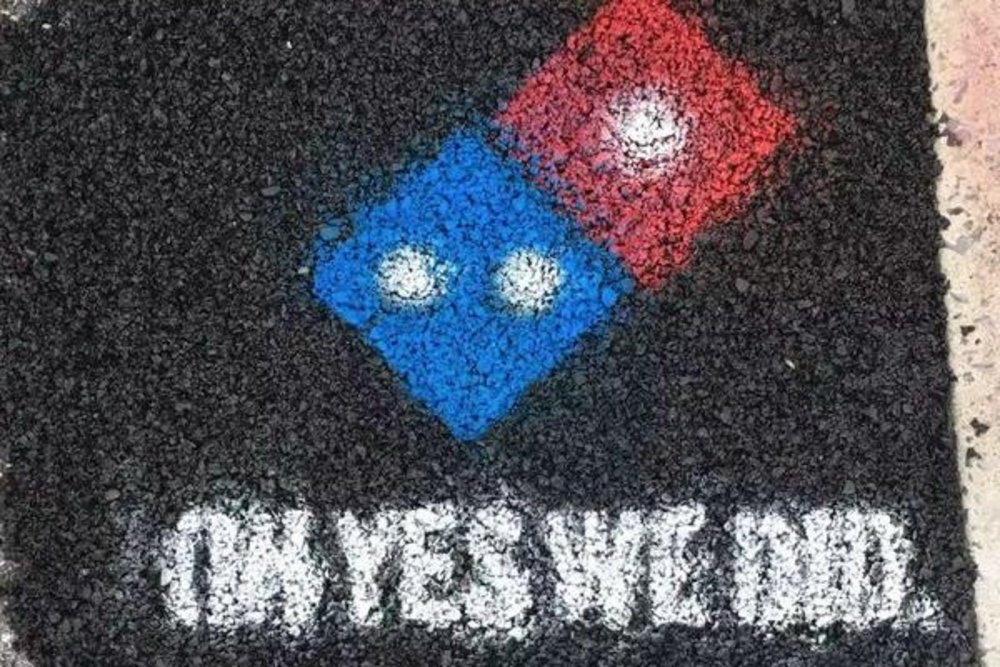 Contagious Insight 
/
Paving the way / On one level, Domino's Paving for Pizza campaign is simple publicity stunt. On another, it's the logical conclusion of a journey that brands have been on for decades.
Not so long ago, if a business wanted to do some good in the world it would do so under the banner of corporate social responsibility. This meant charity work undertaken in the name of the company but that was not an integral part of the brand identity.
Over time, brands muddied this distinction. Within the past decade the concept of purposefulness has permeated marketing. This is the idea that for a brand to be successful it must embrace a higher purpose than selling products, and that this purpose must be evident at every touch point.
Marketers were encouraged to think about purpose by exceptional pieces of work (such as Dove's Real Beauty Sketches), and research published by Millward Brown and Jim Stengel. This research, based on 10 years of data from 50,000 brands, claimed that 50 purposeful brands collectively outperformed the S&P 500 by 400% in the space of a decade.
More recently, as societies across the world have endured fractures on difficult topics such as immigration, brands have waded into (or been dragged into) politicised issues, most notably in the US under the Donald Trump administration.
There's evidence that consumers are increasingly accepting of brands intervening in public issues, and in some cases even demand it. Havas Worldwide's 2015 survey of more than 10,000 people across 28 countries revealed that '65% of respondents said businesses bear as much responsibility as governments for driving change'.
As such, it feels like it was only a matter of time before a private company took the next step tried to build its brand by funding government services, and Domino's earned a lot of media coverage by being a first mover. But brands who wish to follow its lead in the future must consider the possibility of a backlash if they are too aggressive with branding public infrastructure.
Want more Contagious thinking? 
/
Subscribe to the Contagious newsletter to receive a weekly dispatch of campaigns, opinions and research, curated for strategists, creatives and marketers.
Contagious thinking delivered to your inbox 
/
Subscribe to the Contagious weekly newsletter and stay up to date with creative news, marketing trends and cutting-edge research.