Campaign of the Week
30 August 2022
Retailer rails against recommendations with horizon-broadening ads 
/
Cultural retailer Fnac uses algorithm to target people with ads for books and movies that don't match their taste profile
According to the French books, music and electrical equipment retailer Fnac, 80% of what we read, watch and listen to is determined by recommendation algorithms.
In June 2022 the brand launched a campaign aiming to subvert this by offering people the opposite of what their browsing history suggests they are likely to enjoy.
Unrecommended by the Algorithm, created by Publicis Conseil, Paris, matches people with books, CDs and movies that contradict their interests, according to their ad server profile.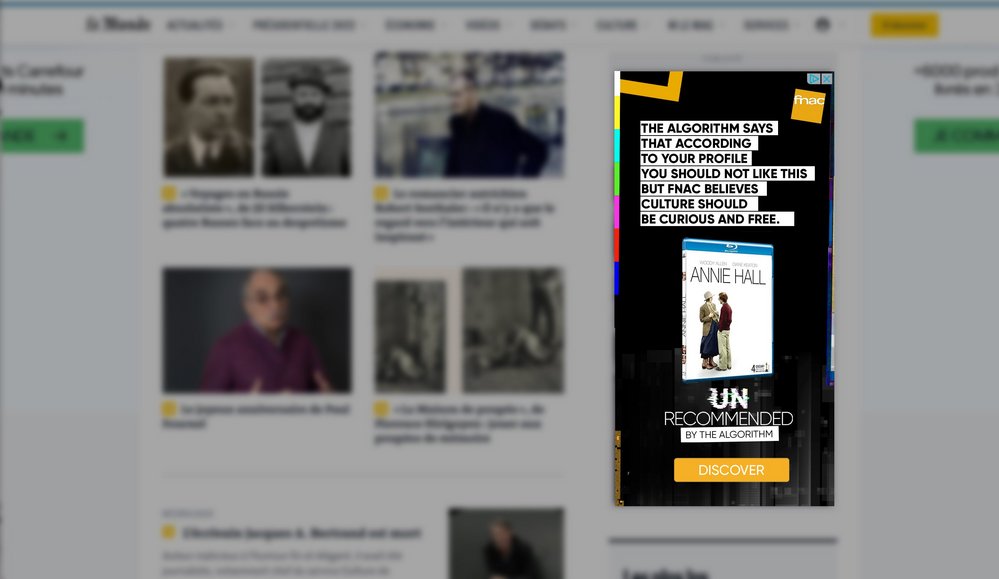 Recommendations were served on digital banners across different websites, and through a Twitter bot that responded to certain tweets about favourite books, films or albums. Culture fans could also access a dedicated microsite to receive their custom anti-recommendations.
The brand also deployed billboards bearing messages about the importance of cultural freedom.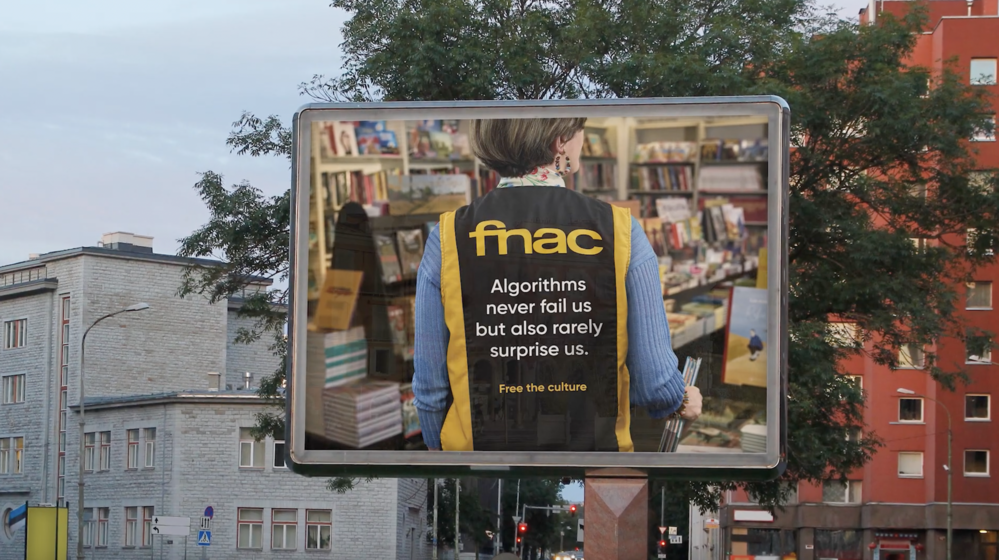 Marco Venturelli, CEO/CCO Publicis Conseil and CCO Publicis Groupe France, said in a statement: 'We are living in the age of the algorithms. It's never been so important to nourish the unexpected, search for serendipity and to escape from the recommendation bubble. It's a cultural battle, and a human battle after all.'
Contagious Insight 
/
Computer love / The shift away from physical media to digital downloads, along with the ease of online shopping has meant bricks-and-mortar retailers have had to seriously up their game to survive. Operating in the books, music, film and electricals space, Fnac has embraced digital retail realities and found new ways to thrive. Reporting its 2021 full-year results, the company revealed that it gained 5 million active online customers, with online sales accounting for 26% of its total turnover of €8bn ($8.1bn). Meanwhile, its stores are bouncing back after a tough two years impacted by lockdowns: 'Revenue growth in 2021 is based on solid sales momentum in stores, driven by a higher conversion rate and average checkout value, while store traffic is gradually returning to normal.' A digital-first campaign that showcases Fnac's alternative approach to culture in the age of automated curation is timely and likely to attract attention by standing out.
Finding Fnac / Customer service and informed staff advice has long been key to the brand's success – this has been a fundamental pillar of its business model since its creation in 1954, evidenced in such initiatives such as independent product testing lab Labo Fnac or bimonthly emerging artist compilations Fnac Indétendances.
This emphasis on people is carrying over into the 21st century. Unveiling a new strategic plan in February 2021, Fnac set out an approach to its digital operations that focuses on what it deems to be the brand's strongest assets - 'recommendations and advice'. In practice, this has seen the retailer bring the customer service benefits of shopping in its physical stores to online, rolling out offerings such online video advice and live shopping. This campaign expands on this, providing a new angle to their messaging emphasising the benefits of getting a leftfield recommendation.
It also plays out as neat reminder of both Fnac's cultural expertise credentials and its positioning of helping customers navigate the overwhelming amount of choice they face online – something the brand excels at online via its L'Eclaireur Fnac website, with informed insight and opinion on the top topics of the day.
Algorithmic anxiety / Although ecommerce giants have found huge success using recommendation algorithms to influence purchases, there is a growing uneasiness about the power platforms have to manipulate our preferences, a phenomenon that has been dubbed 'algorithmic anxiety' by journalists.
As New America notes in its report on how algorithms work: 'There is little visibility into how platforms have developed and crafted these recommendation systems, how they operate, and how they make decisions. This makes it very difficult to analyse and combat the problematic recommendations that come from these systems.'
Fnac is able to intervene in conversations around this cultural moment because of its position in the retail landscape, adapting to the digital present without sacrificing its human touch.
Contagious thinking delivered to your inbox 
/
Subscribe to the Contagious weekly newsletter and stay up to date with creative news, marketing trends and cutting-edge research.