Campaign of the Week
Contagious I/O
/
20 July 2021
Ikea heroes junked furniture in sustainability campaign 
/
Furniture retailer reclaims junked products to raise awareness of buy-back and refurbishment scheme
Each year in Norway, 3 million pieces of furniture are thrown away. Ikea, as the world's largest furniture retailer, is tackling furniture waste in its latest sustainability push.
The brand teamed up with Oslo-based creative agency Try to create an ad campaign featuring pieces of Ikea furniture found in trash piles in Norway. Try created a TV spot and out-of-home to promote The Ikea Trash Collection, a series of Ikea items found on street corners and in junk yards across the country.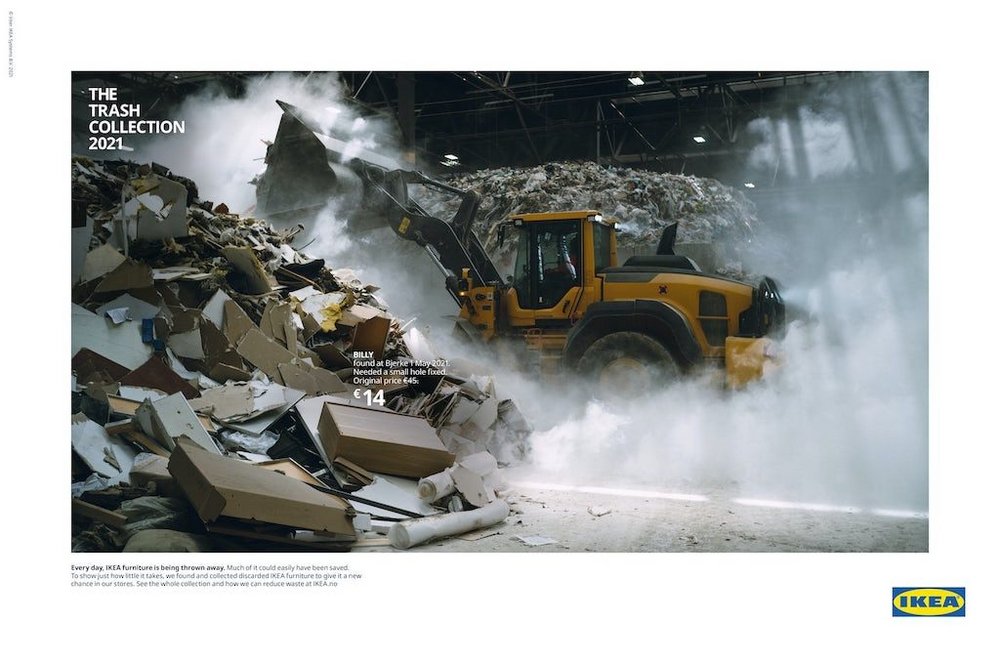 The creative highlights discarded Ikea products and says where they were found, what was done to refurbish them to working order, and their secondhand price compared with the original. The items are also highlighted on the campaign website, where visitors can find out how to order spare parts for Ikea items, learn more about Ikea's buy-back scheme and get price quotes for specific pieces of furniture, and read about Ikea's pledge to achieve zero waste and become 100% circular and climate-positive by 2030.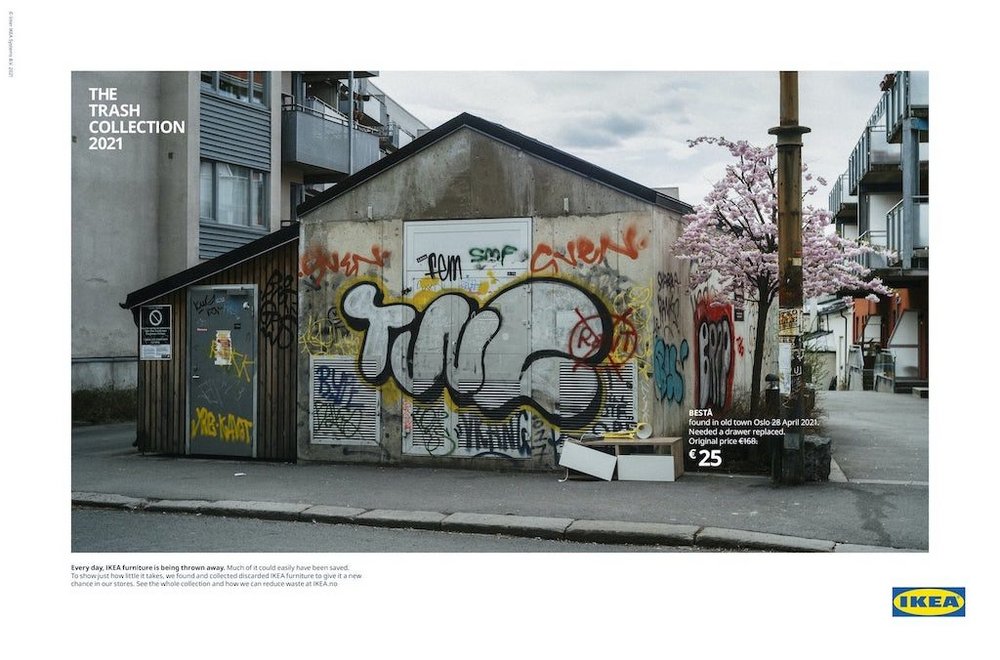 'Too much of our furniture ends up in the trash, and with this campaign we wanted to show how it doesn't need to,' said Tobias Lien, marketing communications manager at Ikea, in a press release. 'Often, the products are just fine or maybe they just need a few small spare parts. To show how little it takes, we have therefore collected some of them and given them a second chance.'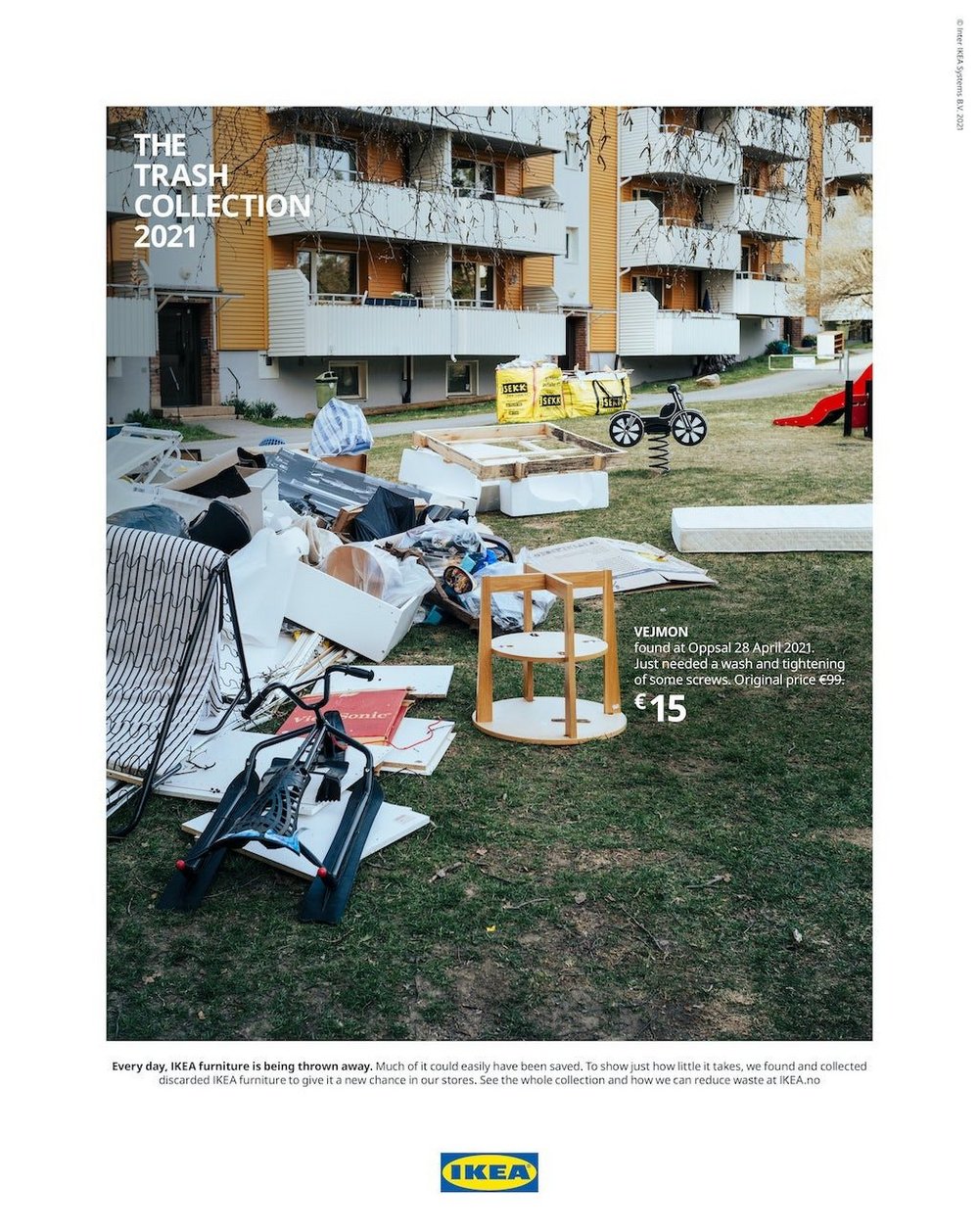 Contagious Insight 
/
Visual reminder / Although this campaign is part of a wider sustainability push from Ikea, the creative feels distinctly different to previous campaigns. It feels subversive for Ikea, a brand that so expertly curates and builds aspirational furniture displays around lifestyles and trends, to show its products in this unvarnished, unglamorous setting. The ugly images of discarded furniture in ditches or by the side of a road make such waste hard to ignore, and the signature addition of the Ikea product name and price shows the retailer taking accountability for its role as a brand of affordable mass-made furniture. Recontextualising familiar items that many people know and own – a Malm bedside table, a Franklin fold out chair – is a stark reminder to viewers of where their tossed away furniture ends up, and why a simple repair or selling back to Ikea is a better option.
Shifting perceptions / Furniture is a forgotten waste stream. In the US, more than 9 million tons of furniture goes to landfill each year; in the UK, a third of adults throw away furniture that could be recycled or reused. Ikea's campaign has one obvious takeaway – that we must take care of our belongings to prevent salvageable furniture ending up in landfills – but it also sends the message that Ikea products are not disposable. If customers can easily access spare parts, make repairs, or sell unwanted items back to the retailer, the lifespan of a piece of furniture is significantly expanded.
The halo effect of the campaign is that it pushes back against perceptions of low quality linked to Ikea's affordable price points, which builds on the brand's 2019 Stuff Monster campaign in Canada. As Joel Holtby, creative director at Rethink, the agency behind the campaign, told Contagious at the time, 'Ikea recognised that they started a disposable furniture movement. Recently, when we interviewed Canadians, 40% of them thought of Ikea furniture as disposable. As our furniture is so affordable, people assume that it is made cheaply or is bad for the planet, this quality perception is a barrier for our work. We saw this campaign as an opportunity to shift those perceptions by showing that the products can withstand many lifecycles.'
Resale opportunity / We often point to the growing opportunity in the resale market, which is particularly apparent in the fashion and apparel sector (its global resale market is estimated to be worth $40bn) and driven by sustainably minded consumers. The furniture resale market is also thriving, with the 'living room off-the-shelf secondhand furniture market' (living room furniture occupies the largest portion of sales) anticipated to be worth $16.55bn by the end of 2025. Rather than stand by and watch, Ikea is cutting itself a slice of the lucrative resale space by making it convenient for consumers to return old items to Ikea, which then sells them on for a tantalisingly low price secondhand, all in the name of circularity.
Contagious thinking delivered to your inbox 
/
Subscribe to the Contagious weekly newsletter and stay up to date with creative news, marketing trends and cutting-edge research.