Campaign of the Week
28 June 2022
Ikea stunt turns Canadians' homes into showrooms 
/
Furniture retailer promotes new store with signs that turn people's homes into living catalogues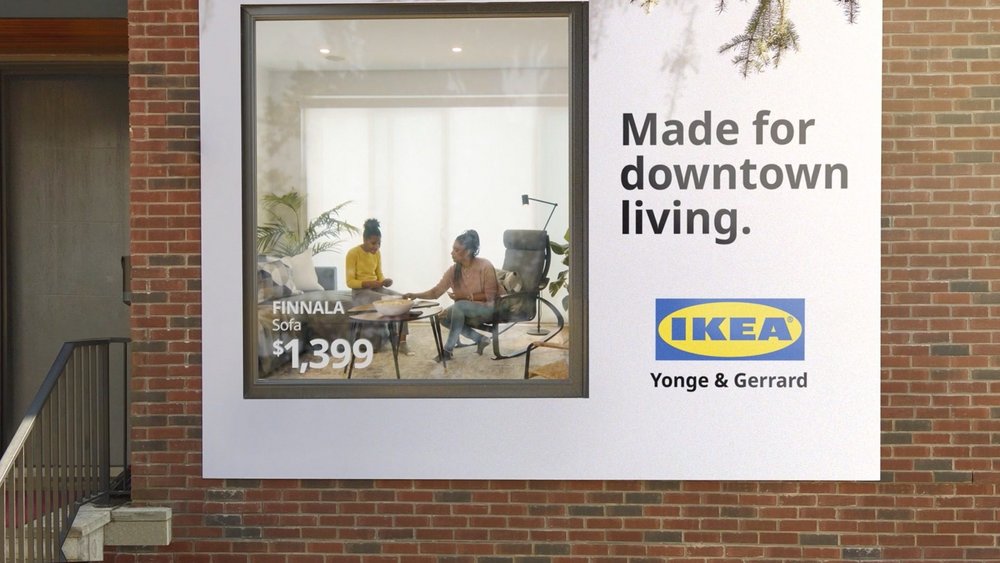 To promote its new store opening in downtown Toronto at the end of May, Ikea Canada turned people's real homes in the city into showrooms.
The retailer fitted urban apartments and houses with Ikea furnishings and homeware and then placed signage around the windows with the slogan 'Made for downtown living' and the location of the new store.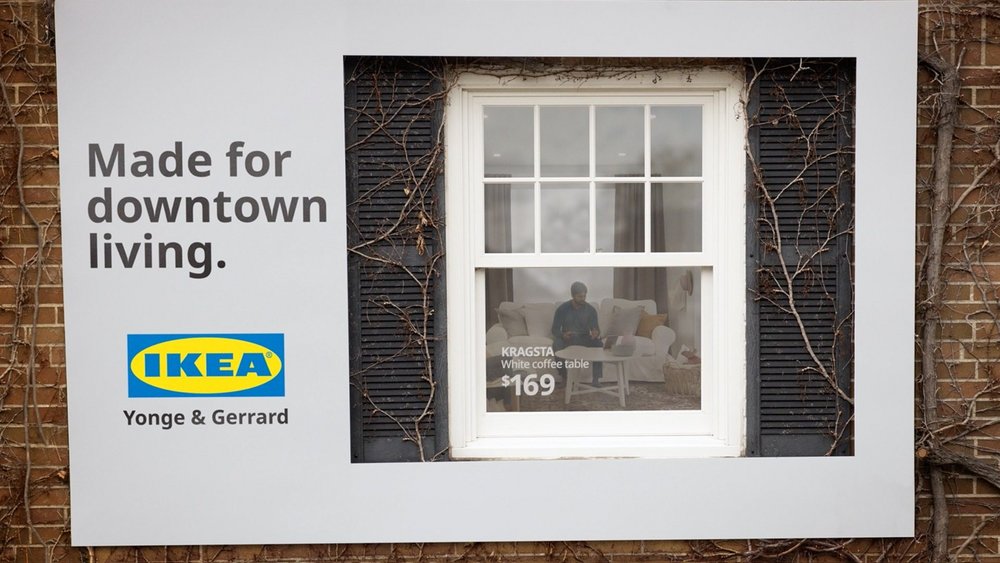 The homes cum showroom were designed to look like an Ikea catalogue down to the signage in the window calling attention to a particular product (eg, Gradvis, Vase, $15.99).
According to Rethink Toronto, the agency behind the Window Shopping campaign, the homes were selected to represent different neighbourhoods and lifestyles.
As part of the campaign, Rethink created an online film showing the different homes and the real people who live there.
Contagious Insight 
/
Building buzz / At its heart, this campaign was designed to build excitement around and drive footfall to Ikea's new store. The novelty of using homes as the advertising medium helps Ikea catch the attention of passersby while the billboards don't have to compete with the marketing messages of other brands. It's an original PR stunt, ripe for being shared on social media and getting picked up by the local press. It's also noteworthy that Ikea is instantly identifiable as the brand behind the ads through the prominent logo and the familiar Swedish product names in the windows.
There's a definite voyeuristic element to this campaign that captivates attention. This harks back to past Ikea campaigns, for instance the brand created an apartment in the Paris metro in 2012. But what takes this campaign to another level is the authenticity here: these are real apartments with real people who live there.
City spaces / Ikea isn't just grabbing attention for the sake of it: the brand is spreading a clear message about its arrival in downtown Toronto. By turning a variety of urban homes into showrooms, Ikea is showing its versatility and appropriateness within this setting. In essence, this is a type of product demo, showing that Ikea can cater to urban living. As a retailer with a history of large footprints outside city centres, the brand has to change consumer perceptions and prove as it says on the billboards that it's 'made for downtown living'.
This new store in downtown Toronto is just one example of how the brand is shifting its focus to urban centres. 'Opening our first store in the heart of Toronto's vibrant downtown core is an important milestone in our retail transformation to bring Ikea closer to where customers live, work, shop and socialise,' said Ikea Canada CEO and chief sustainability officer Michael Ward in a press release. Earlier this year, Ikea opened its first store on the UK high street and this latest London store is just over a third of the size of its typical retail sites. Cindy Andersen, managing director of Ikea's parent group's property arm, told the Guardian that the brand is actively searching for sites to open more city centre locations around the world. Construction is already underway on the next store set to open in downtown San Francisco.
Given that global urbanisation is set to dramatically increase, it's no wonder that Ikea is reconfiguring its retail strategy. According to the World Bank, today 55% of the global population lives in cities and by 2050 the urban population will more than double its size with almost seven out of 10 people living in cities around the world.
Get Contagious Membership 
/
This article was taken from Contagious Online, a constantly updated and fully searchable repository of advertising case studies, in-depth strategy interviews and other resources. To find out more about Contagious Online or to arrange a free trial, click here.
Contagious thinking delivered to your inbox 
/
Subscribe to the Contagious weekly newsletter and stay up to date with creative news, marketing trends and cutting-edge research.