Campaign of the Week
27 August 2018
Campaign of the Week: JAT Holdings, Petal Paint 
/
Sri Lankan conglomerate turns flower waste into symbolic temple paint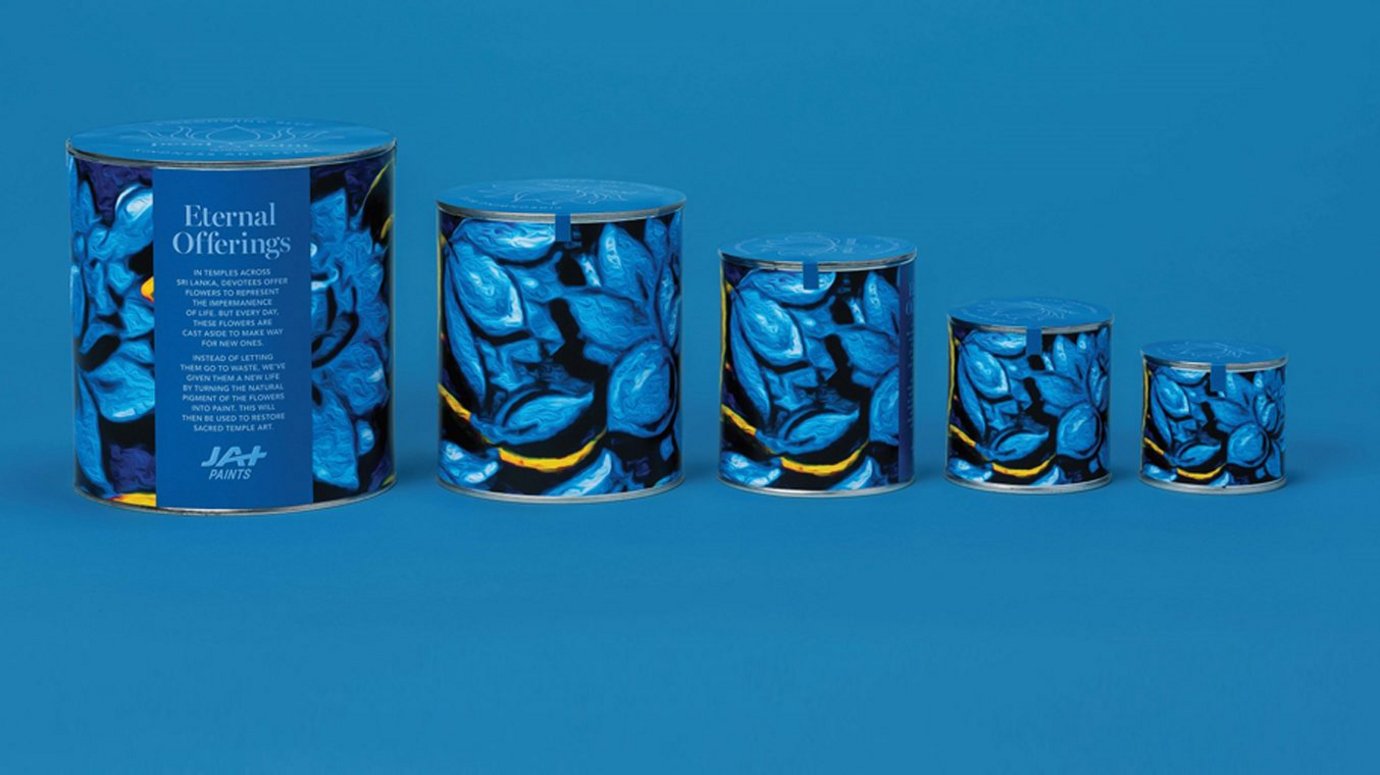 Paint company JAT Holdings has created a new line of colourful paints made out of the waste from Buddhist flower offerings.
One way Buddhists express their devotion is by placing flowers at temples or shrines. This act symbolises the impermanent nature of life or samsara.
We created Petal Paint to give something back to Sri Lanka's heritage and culture
Richard Gunawardene, JAT Holdings
Ordinarily, the flowers are thrown away. Working with Leo Burnett Sri Lanka, Colombo, JAT Holdings collected kilos of the discarded flowers and used their pigmentation to create new paints.

The Petal Paint comes in five shades, each one designed to reflect a different ring in the Buddha's halo. The colours include Lotus Red, Pigeonwing Blue, Trumpet Yellow, Marigold Orange and Temple Flower White.

JAT is selling Petal Paint in its own stores and is also donating the product to temples for local artists to restore the colourful art on the ceilings and walls.

The packaging imitates temple artwork, so that when the cans are stacked in store it creates the impression of a temple wall.
'We created Petal Paint to give something back to Sri Lanka's heritage and culture,' Richard Gunawardene, head of marketing at JAT Holdings, told Sri Lankan newspaper Lankadeepa. 'Petal Paint combines the best of our traditional culture – the use of pigments from nature – with the most advanced technology in paint manufacturing, to create a paint that matches the traditional temple mural colours and also provides a more long-lasting solution to temple artists.'


Contagious Insight 
/
Cultural meaning / JAT Holdings' cultural sensitivity and careful consideration of its audience's needs has enabled it to create a new product that will help embed the brand deeply in Sri Lankan culture. Infused with layers of meaning, the paints extend the symbolism of the flower offerings by 'reincarnating' the discarded plants into another tool for displaying religious devotion. And, by matching the hues to that in the Buddha's halo, JAT Holdings made sure the colours would be appropriate for temple restoration.

Getting the tone right on a campaign that involves people's spiritual practices is no mean feat. JAT Holdings has been successful because it has helped facilitate and enhance tradition, rather than interfere with it. Its own brand message is secondary to the symbolic meaning of the flowers – for example, the new packaging is unrecognisable. The fact that paint was donated to temples further enforces the fact that the company is authentic in its desire to give back to Sri Lankan society.

Stimulating sales / From a business standpoint, the products give people a new reason to buy JAT Paints over competitors. The brand might normally compete according to price, quality, or colour range – but adding 'religious meaning' as a key selling point moves the brand into uncontested waters.

By creating paint designed specifically for temples, JAT Holdings has also created another occasion customers might use its products, as they can use them to decorate their personal shrines.

It wouldn't be the first time a brand increased sales by adding an element of cultural significance to its products. In 2016, Indian motorcycle company Bajaj built a range of bikes (paywall) out of scrap metal from a decommissioned warship. Bajaj sold 11,000 of the bikes on launch day, a record for the company. Between the second quarter of the 2016 financial year and the second quarter of the 2017 financial year, Bajaj increased its share in the premium commuter motorbike segment from 9% to 13%. While boosting sales might not have been JAT Holdings' primary intention (so it says), it could well be a welcome result of campaign.
Want more Contagious thinking? 
/
Subscribe to the Contagious newsletter to receive a weekly dispatch of campaigns, opinions and research, curated for strategists, creatives and marketers.
Contagious thinking delivered to your inbox 
/
Subscribe to the Contagious weekly newsletter and stay up to date with creative news, marketing trends and cutting-edge research.