Campaign of the Week
10 May 2022
Snapchat lens turns Jeep grilles into barcodes 
/
Jeep Canada creates grille-scanning Snapchat Lens to aid discovery
Jeep in Canada has created a Snapchat lens that allows users to find out information about any Jeep they see on the street by scanning the car's distinctive seven-slot grille with the Snapchat app.
The Jeep Code Snapchat lens, developed by Publicis, Toronto, uses machine vision to detect the model. It then opens a microsite that provides information about the particular Jeep model and directs users to the nearest dealer.
The microsite allows visitors to customise their own version of the car, and even start the buying process online.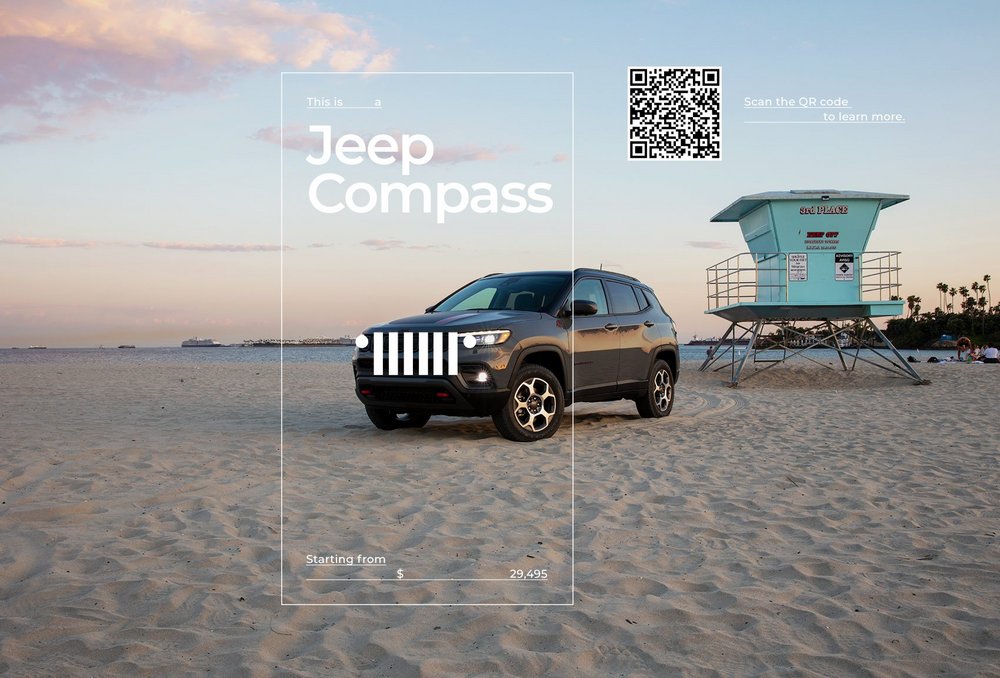 The lens was promoted by Starcom Canada, Toronto, with paid ads on Snapchat, as well as Facebook, Instagram, Pinterest, and TikTok.
William Levasseur, vice president sales and marketing, Jeep Canada, said: 'More and more, vehicle purchases are being conducted in the digital realm and this is a great way for new or potential customers to instantaneously experience the Jeep showroom at their convenience, learn about our exciting vehicle lineup, search available inventory and connect with a local dealer.'
​​​​​​​Results / The campaign, which launched at the end of April and is still ongoing, has so far received 16 million impressions, with a click-through rate of 0.41%.
Contagious Insight 
/
See it, snap it / Contagious has written extensively on how machine vision technology can be a powerful tool when it comes to product discovery (see our trend for more). As we've noted, visual search enables a more human and personalised way of helping customers find the products they're looking for. We've seen several examples over the years of beauty and fashion brands take that moment of inspiration when they see something they like out in real world and convert into purchase, but this campaign shows how a Snapchat lens could be to bring some fun to the car buying experience.
According to a recent Autotrader report, the process of buying a car is not a linear journey: buyers often change their minds right up to the last moment. Furthermore, the report argues that stumbling across a car on the street is a potential point at which the car buyer might reconsider their purchase. Making that moment more interactive is a great opportunity to grab the customer's attention.
​​​​​​​Staying on Snapchat / But this campaign is not just about making the car buying experience more interactive, but more convenient too. Making it as easy as possible to convert that moment of inspiration into an opportunity to provide more information about the vehicle, driving people to dealerships, and ultimately influencing purchase. As the brand said in its press release, the campaign is about 'streamlining the buyer's journey, particularly for younger consumers'. And that's why it's crucial that the brand is meeting these target younger consumers where they already are. This campaign crucially doesn't require users to download a bespoke app, but taps into existing behaviour: using the Snapchat Lens.
Snapchat, previously thought to have been eclipsed by Instagram and TikTok, has shown itself to be a steady favourite among Gen Z and millenials. A 2021 survey carried out by Pew Research Center found that 65% Americans aged 18-29 use Snapchat.
Reducing friction is key to influencing behaviour, in this case, engaging with Jeep's products. Behavioural economist and best-selling author Richard Thaler revealed his mantra to the Financial Times in 2019: 'If you want people to do something, make it easy.'
Get Contagious Membership 
/
This article was taken from Contagious Online, a constantly updated and fully searchable repository of advertising case studies, in-depth strategy interviews and other resources. To find out more about Contagious Online or to arrange a free trial, click here.
Contagious thinking delivered to your inbox 
/
Subscribe to the Contagious weekly newsletter and stay up to date with creative news, marketing trends and cutting-edge research.