Campaign of the Week
Contagious I/O
/
2 February 2021
KFC China redesigns online ordering for rainy days 
/
Fast food chain simplifies online ordering on rainy days to cope with demand spike, cuts meal prep time 25%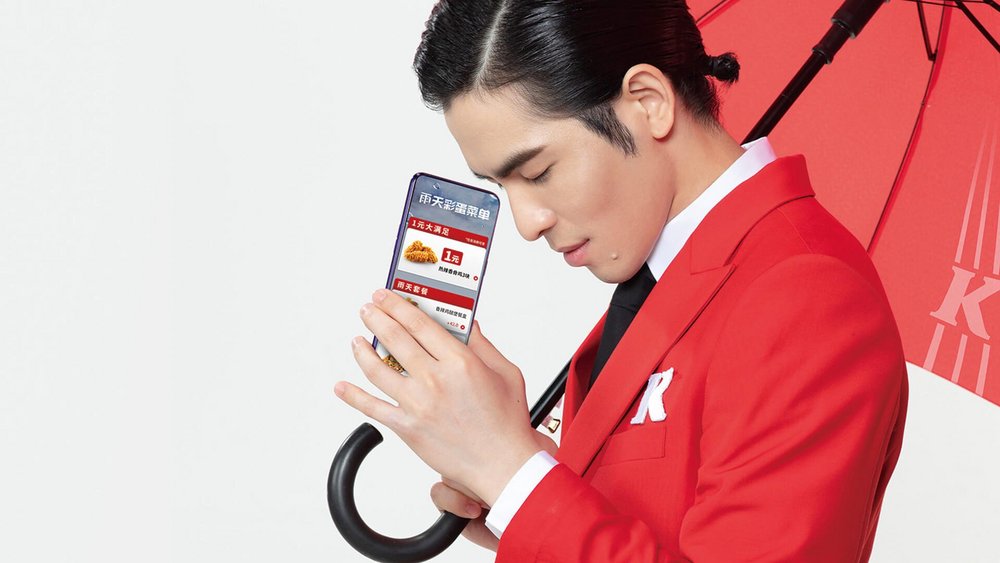 Challenge / KFC China's orders can spike 10% during rainy days resulting in backlogs and delivery delays. With every KFC outlet straining during periods of bad weather, KFC wanted to reduce the pressure on its staff while maintaining its sales growth. But how to solve the chaotic in-store experience brought on by rain?
Solution / KFC China replaced its à la carte menus with simplified discount meal combos which it promoted via KFC's mobile ordering app whenever it rained. The pared-back menu made it easier for KFC to prepare meals on-time, reducing delays and alleviating pressure on the restaurant chain's delivery and in-store staff.
Created by Isobar China, Shanghai, The God of Rain discounted menus were automatically triggered through real-time weather and location data. The fast food chain rolled out the weather-dependent promotions across its 6,000 stores in China.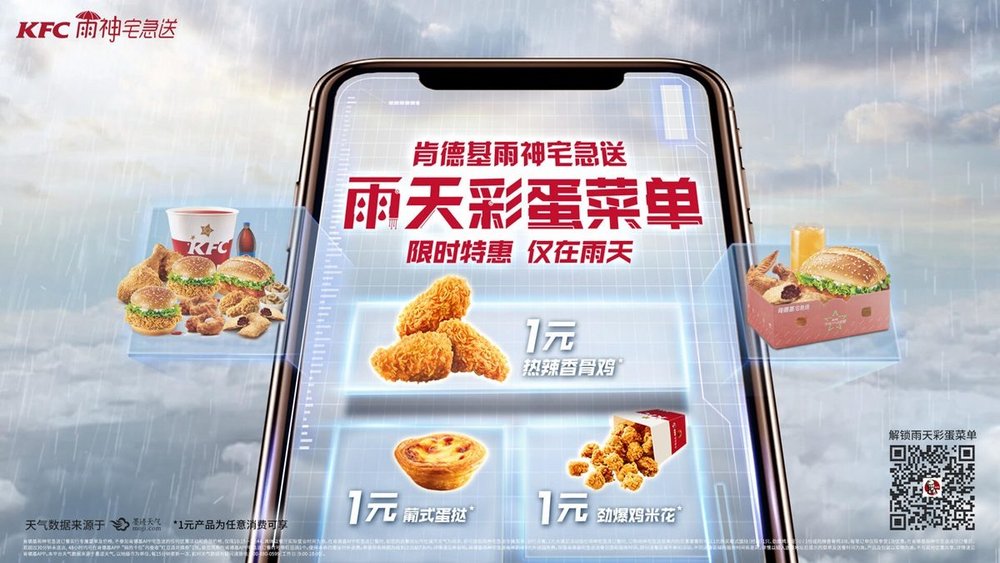 To promote the campaign, KFC China partnered with Taiwanese rock star Jam Hsiao who is jokingly nicknamed 'The God of Rain' because it rained at 83% of his concerts when he toured China.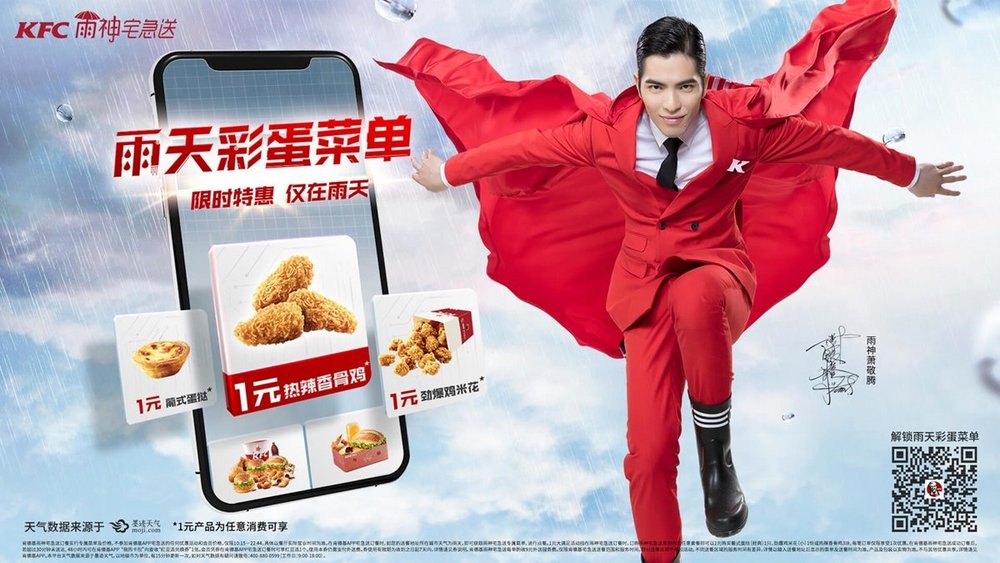 Results / According to the agency, in the first two weeks, more than 850,000 people used the rainy-day menu with more than 200,000 users in one single day. The brand's meal preparation time decreased by 25%, while rain delivery orders increased by 4% and average spend per order rose by 8%.
Contagious Insight 
/
Rain or shine / Convenience is at the heart of this weather responsive campaign that solves a customer pain point as well as a supply issue. KFC China won't be the only restaurant business struggling to cope with order spikes during periods of bad weather. But the chain manages to set itself apart by cutting down on wait times and guaranteeing cheaper prices. In this way, it turns a negative into a positive for its Chinese customers. We've seen plenty of other weather responsive advertising before from brands such as Subway, Prospan and the North Face. However, KFC China's campaign goes the extra mile in terms of scale, integration and use of a world-famous celebrity. Clearly, this is more than just a one-off. It is an effective long-term strategy for dealing with backlogs, engaging consumers and cementing KFC in China's food delivery business, which is worth an estimated ¥579bn ($89.4bn) per year.
Category entry points / The campaign also helps to ingrain the habit of 'having KFC when it rains' among Chinese consumers. In their book How Brands Grow Part 2, Jenni Romaniuk and Byron Sharp, professors at the Ehrenberg-Bass Institute for Marketing Science, advise brands to increase mental availability in consumers by boosting the category entry points – ie, the different circumstances in which customers buy from a brand and its category competitors. KFC China clearly understands that it needs to be in the memory business by associating itself with the weather.
On brand / This is very much in line with KFC China's willingness to embracing the latest technology. A few years ago, the brand had lost relevance by failing to keep up with the evolving digital expectations of its customers. Since then, the brand has undergone a digital transformation in China, putting frictionless payments and innovation at the heart of its model. From this most recent iteration, this strategy continues to pay off today. You can read more about KFC China's foray into technology in our Brand Spotlight, here.
'Young Chinese customers are hyper-connected and rarely use things like cash anymore,' said Steven Li, the former chief marketing officer of Yum China (the group that owns KFC China), in an interview with Contagious. 'Retail companies and brands are now required to create seamless digital experiences for them or risk becoming obsolete.'
Want more Contagious thinking? 
/
Subscribe to the Contagious newsletter to receive a weekly dispatch of campaigns, opinions and research, curated for strategists, creatives and marketers.
Contagious thinking delivered to your inbox 
/
Subscribe to the Contagious weekly newsletter and stay up to date with creative news, marketing trends and cutting-edge research.