Campaign of the Week
26 June 2018
Campaign of the Week: MGM Resorts, Universal Love 
/
Entertainment and hospitality brand reimagines wedding songs and increases positive brand perception among the LGBTQ community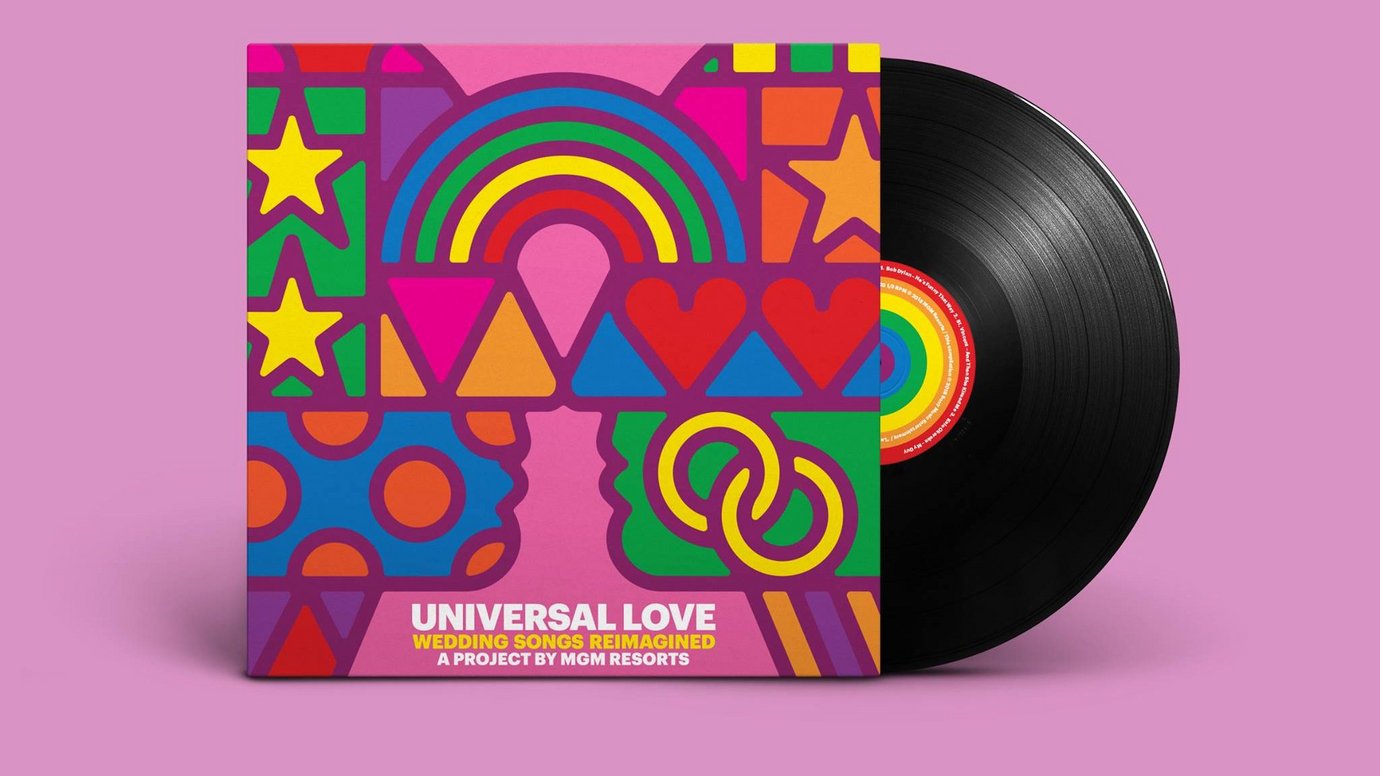 Global entertainment and hospitality brand MGM Resorts has created an album of reimagined wedding songs in support of the LGBTQ community, to give same-sex couples soundtracks for their love stories.
The album, called Universal Love, consists of six new versions of popular love songs with changed pronouns to reflect LGBTQ relationships. For example, the brand enlisted Bob Dylan to recreate his iconic 'She's Funny That Way' as 'He's Funny That Way.' Other artists participating in the project include St Vincent, Kele Okereke, Valerie June, Benjamin Gibbard and Kesha.

Universal Love, created by McCann, New York, was launched on all major online streaming platforms and in a vinyl format.
Musical duo She & Him also joined the project by releasing their first new original music in five years. The artists wrote a song in two versions – She Gives Her Love To Me and He Gives His Love To Me – so that listeners can choose the gender perspective that resonates with them.
Results / The agency reports that Universal Love generated 2.5bn media impressions, with the album ranked in 9th place in the Pop category on iTunes. It also increased positive perception of MGM Resorts among the LGBTQ community by 40%.
Contagious Insight 
/
Differentiation not discrimination / Members of the LGBTQ community can face discrimination while travelling, but with this campaign MGM is indirectly saying that it's committed to making these people feel welcome at its resorts.

Research done by Virgin Holidays (paywall) in 2017 around how LGBT+ couples feel while on holiday revealed that while 84% of straight couples were at ease showing affection to a partner abroad, only one in 20 LGBT+ travellers felt comfortable showing open affection with a loved one while abroad. The same study found that hoteliers played a big role in the issue, with a third of LGBT travellers saying they feared judgement from hotel staff and more than half have had their relationship status questioned, including being offered single hotel rooms and having their beds separated by housekeeping staff.

Making this community feel welcome and accepted is not only good PR, it's good business. According to Google, more than 84% of self-identified LGBT consumers in the U.S. respond favorably to LGBT-friendly advertising and nearly 60% of millennial women on YouTube say they are more likely to remember a brand that's LGBT-friendly.

Not jumping on the bandwagon / MGM is not just promoting a cause of the moment with its Universal Love album. The brand has a long history of supporting the LGBTQ community and that makes this latest campaign seem like an even more welcome embrace of these consumers. For example, more than a decade before same-sex marriage was legalised, same-sex commitment ceremonies were performed at chapels at MGM Resorts' properties. The company also became the first in the gaming and hospitality industry to offer same-sex health benefits to employees, and was a founding partner of the Las Vegas chapter of the Human Rights Campaign in 2004.

'We believe projects like this will help all of us reach a point where seeing the world through the lens of people who happen to be different from us becomes natural and commonplace. It is an immense honor for MGM Resorts to spearhead this inspirational project which celebrates LGBTQ dimensions of the universal emotion of love,' Phyllis James, MGM Resorts' chief diversity & corporate social responsibility officer, said in an official statement.
Want more Contagious thinking? 
/
Subscribe to the Contagious newsletter to receive a weekly dispatch of campaigns, opinions and research, curated for strategists, creatives and marketers.
Contagious thinking delivered to your inbox 
/
Subscribe to the Contagious weekly newsletter and stay up to date with creative news, marketing trends and cutting-edge research.