Campaign of the Week
22 June 2021
Netflix India analyses Spotify and Twitter use to recommend shows 
/
Downloads jump 7% after streaming service partners with Twitter, Spotify and Swiggy to recommend content according to how people use the apps
Challenge / As millions of Indians were stuck at home with no new TV content during the pandemic last year, Netflix wanted to showcase its content library and drive downloads of its app.
Solution / Rather than promote recent releases, Netflix wanted to recommend films and TV shows that matched viewers' moods. Working with Wavemaker India, Bangalore, the streaming platform partnered with Spotify, Twitter and food delivery app Swiggy to deliver recommendations based on what users were listening to, what emojis they were using in their tweets, and what food they were ordering.
The Netflix MatchMaker campaign matched content with cuisine on Swiggy, with a 'Weekend binge menu' for eating while watching films, including things like 'burgers for blockbusters' and drinks for viewing breaks. An order of garlic butter chicken, for example, came with a recommendation to watch Indian comedy Ginny Weds Sunny.
Through an API integration with Spotify, people received Netflix recommendations linked to what they were listening to on the app. And on Twitter, Netflix asked users to tweet an emoji to @NetflixIndia using the hashtag #NetflixMatchMaker. The brand matched more than 862 emojis to Netflix titles, so each tweet was met with a recommendation.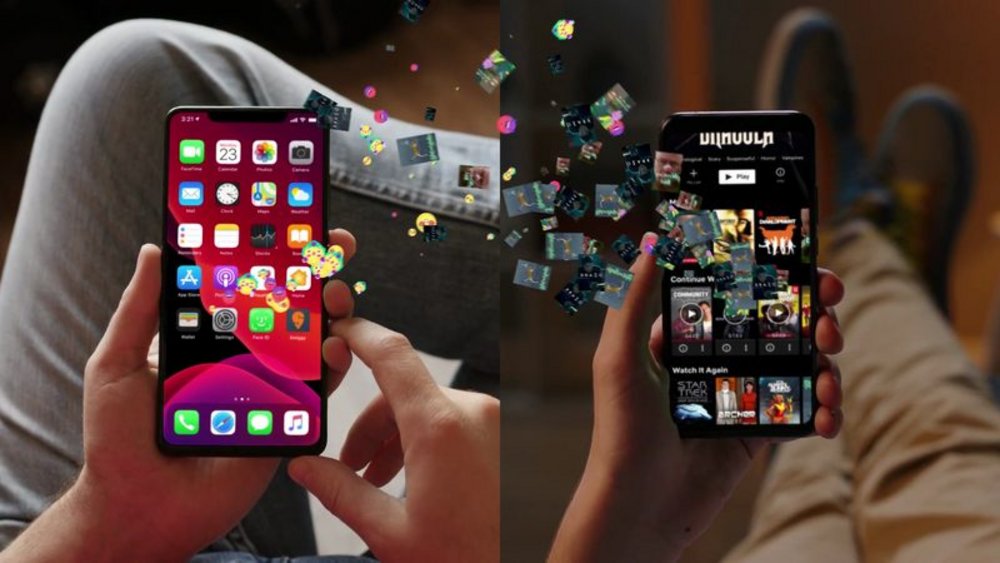 Results / Netflix app downloads increased by 7% and monthly active users were three times the norm. Netflix keyword searches doubled as the campaign generated 413 million impressions, 4.1 million engagements and 2.3 million clicks. Netflix provided 85,000 Twitter recommendations, had 500,000 views on Swiggy, and 200,000 participants on Spotify. Mentions on social media were 99% positive.
Contagious Insight 
/
Streaming saturation / Five years since it first launched in India, Netflix has grown its presence there significantly, with a boost from the lockdowns imposed during the global Covid-19 crisis last year: according to analyst and consultancy firm Omdia, online video subscriptions revenue grew by 142% in India in 2020 'primarily due to the global pandemic', and subscription video revenues rose from $265m in 2019 to $639m at the end of 2020, with Disney+ Hotstar and Netflix accounting for 78% of total online video subscription market revenue. With fierce competition from Disney+ Hotstar, Apple TV+, and local players such as MX Player, ZEE5 and ALTBalaji, Netflix has to appeal to consumers in new ways and in unexpected places. By partnering with Swiggy and Spotify to offer content recommendations to people's moods, Netflix found a unique way to convert time spent on other platforms into time spent with Netflix.
Consumption occasions / Spotify is renowned for its creative use of data (check out our Insight & Strategy with the team behind the brand's Thanks 2016. It's Been Weird campaign) to highlight users' listening habits and make sophisticated recommendations. By leveraging this recommendation feature, Netflix aligns with an existing behaviour of Spotify users and establishes a link between their favourite music and its own vast library of content that the target audience may not have made before. But it's the partnership with Swiggy that really shines, as it taps into the strong link between eating and viewing. 'Bingeing has become many people's favourite way to consume television,' reports NPR. 'But marathon-viewing doesn't just change how we watch, it also affects how we eat.' And while the opportunities for mindless snacking are bad news for our health, Netflix can be as much a consumption occasion for food as it is for film and TV content, making it a valuable avenue for the platform to explore.
Contagious thinking delivered to your inbox 
/
Subscribe to the Contagious weekly newsletter and stay up to date with creative news, marketing trends and cutting-edge research.