Campaign of the Week
8 February 2022
NRMA promotes boat insurance with water-ramp guide 
/
Australian insurer creates integrated safety feature in Google Maps for boat owners
Slipways or boat ramps are ramps on the shore used for moving boats in or out of the water. Some are more difficult to navigate than others, and Australian insurer NRMA Insurance has created a tool to help boat owners pre-prepare for when it comes to reversing their boats down a ramp.
Working with Google Australia, agency Thinkerbell, Sydney, added detailed images of more than 44 boat ramps to Google Street View, enabling boat owners to check out specific ones on Google Street View and in Google 360º.
The Ramp Rater also includes NRMA Insurance difficulty ratings, which are directly embedded onto the Street View photographs of the ramps to help ready boat owners for trickier descents. The ramp rating system is currently rolled out in New South Wales and southern Queensland.
'We are continuing to extend the Ramp Rater application across more ramps each week,' said Zara Curtis, director of content and customer engagement, NRMA Insurance. 'In terms of other applications, it will be based on our customer needs, consumer behaviour in terms of usage of Google Street View and of course, always with a lens of help. We believe there are some really interesting ways that the brand could turn up that meets this criteria.'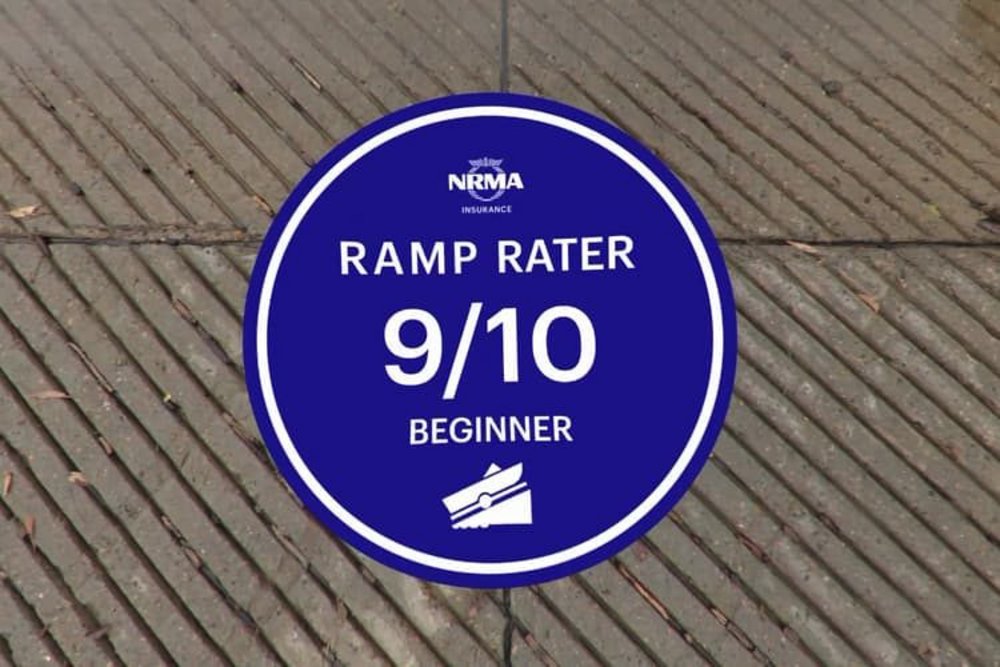 Thinkerbell worked with nautical content creator Jack Murphy ('The Captain') to capture original footage of boat launches from across Australia. Users can click on the ramps to browse other ramps or explore the NRMA Insurance boat ramp online hub for more information on those currently mapped, plus safety tips from Jack Murphy. To promote the campaign, NRMA Insurance is also offering three AU$2,500 (about $1,790) boat prize packs, which can be won by sharing a photo of your boat and a favourite spot to launch.
Ramp Rater is NRMA Insurance's first boat campaign, designed to help Australians protect their boats on and off the water. 'Ramp Rater is part of a broader NRMA Insurance boat campaign, seasonally timed with its recent launch in December, Curtis told Contagious. 'At NRMA Insurance we have access to a substantial amount of data, and in 2020-21 we saw new boat registrations in Australia increase by 80% (source: Boating Industry Association). Boat insurance is part of our niche product offering, though this is the first time we have done an integrated campaign for boat insurance. The insight that the boat ramp is difficult for boaties to navigate, and that it's one of the most stressful experiences of boating really enabled us to anchor each element in this boating truth. The boating community is loving it, and deeply engaging with the campaign and each other around their own experiences.'
Jim Ingram, national chief creative tinker at Thinkerbell, said in a press release: 'We decided to improve boat ramp coverage within Google Street View. Reversing a boat down the ramp can be a daunting experience, which could go wrong at any time. With a little bit of preparation and the added advantage of Ramp Rater, boat owners can rest assured knowing that they're covered for every boat ramp in Australia.'
Contagious Insight 
/
A higher purpose / Every piece of NRMA Insurance work comes back to its simple raison d'être: Help. While this campaign raises awareness of NRMA Insurance's boat insurance, it's also a genuinely helpful tool that boat owners will find useful. By developing something boat owners can benefit from, NRMA Insurance positions itself as the authority on boat safety and as a trusted brand for boat owners. The creative also gives a knowing nod to the target audience: real footage from the back of a boat being reversed into the water is accompanied by the copy, 'You've got this… And we've got you.' By working with a nautical content creator to build the dedicated content hub, NRMA Insurance ensured the accompanying content would be engaging, practical and applicable. For more on how NRMA Insurance's work is driven by its purpose, read our 2021 Brand Spotlight on the firm.
Win-win / NRMA Insurance is in the business of helping people, and helping people is good for business. To prevent customers from having to make claims in the first place, the insurer has created numerous safety initiatives to help people be more proactive and prevent disasters. First Saturday, for example, was launched in August 2020 to encourage Australians to spend the first Saturday of each month taking actions to make their homes safer, to prevent first responders being called to danger. 'We saw so much play in the reactive space to disasters,' said Caroline Hugall, group brand strategy director of IAG (backers of NRMA Insurance), of the campaign.
'After the recent bushfires that destroyed millions of acres of land in Australia, we were one of the biggest rebuilders in the country. And that's our role, that's what people pay us for. But we feel like there's a real opportunity for us to be much more proactive in helping people be more prepared for the big events that are coming and will continue to come with climate change.' Before that came Safety Hub, an app that alerted users to easily preventable disasters and set them a series of safety tasks. With this latest initiative, NRMA Insurance gives boat owners the tools to avoid accidents, promoting its boat insurance cover while also limiting avoidable accident claims.
Contagious thinking delivered to your inbox 
/
Subscribe to the Contagious weekly newsletter and stay up to date with creative news, marketing trends and cutting-edge research.