Campaign of the Week
29 May 2018
Campaign of the Week: Oasis, The Togetherness Bottle 
/
Soft drink brand ridicules purposeful marketing trend with mock product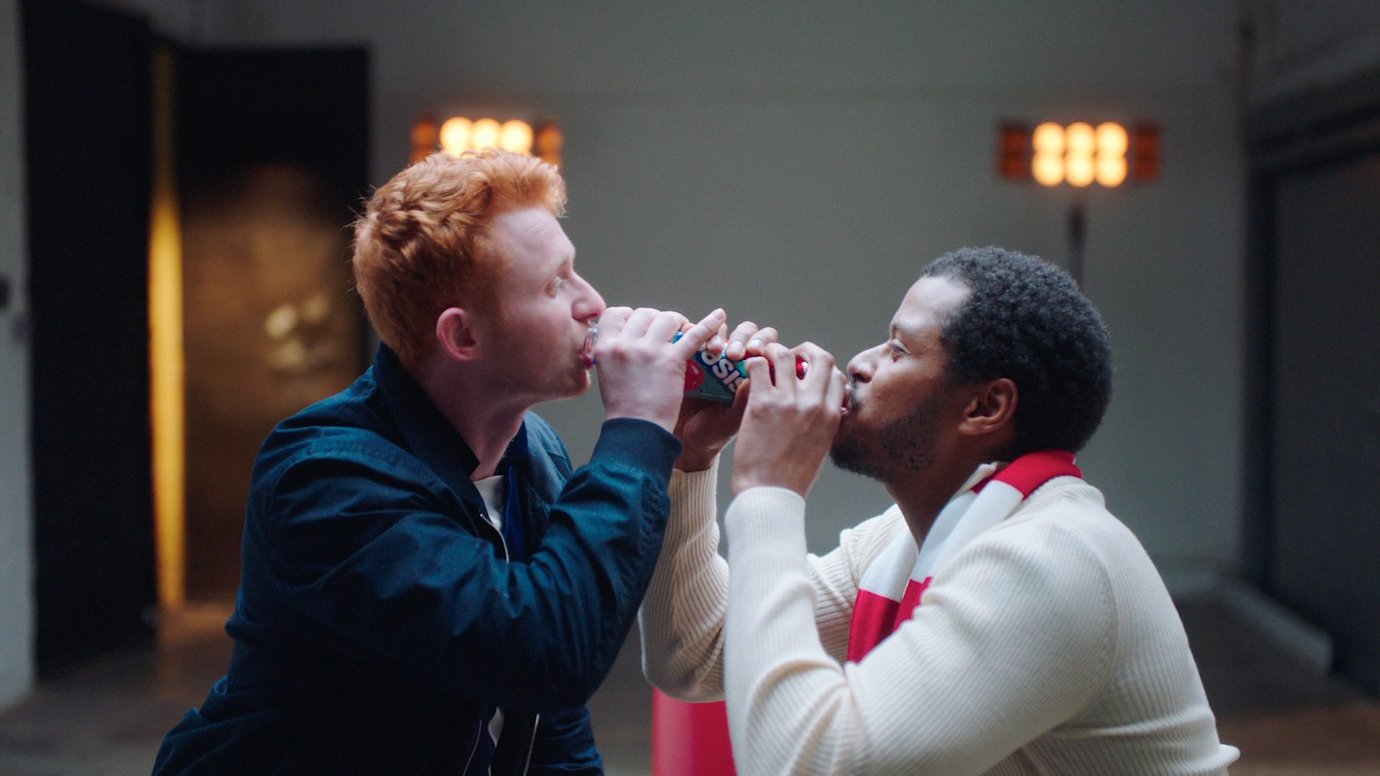 In a bid to appeal to young people, fruit drink brand Oasis has launched a new campaign that mocks the current state of advertising.

The work is centred around the Togetherness Bottle – a bottle with a neck at both ends – which aims to get people to share Oasis together, at the same time.
The Coca-Cola owned brand is announcing the new product with an online video, which, at the start, resembles the tone of campaigns such as Dove's Real Beauty or Heineken's Worlds Apart film. Supposedly strangers are encouraged to share a bottle of Oasis and, when they find the courage to do so and lift the bottle, they discover that it has a neck on both sides. From here onwards, the video shows the ridiculousness of these people trying to enjoy the drink together, at the same time, from the same bottle.
The film ends with the line 'Harmony – just a few billion sales away!', also informing viewers that the bottle can't be found in shops as it doesn't fit on shelves.

The campaign, created by The Corner, London, will be promoted with cinema ads, out of home billboards and online content. On social, people will have a chance to win a Togetherness Bottle and are encouraged to film themselves sharing Oasis with a friend or, even better, a stranger.

The campaign is part of Oasis' long-running #RefreshingStuff marketing strategy, which points out the sometimes ludicrous world of advertising. 'This time Oasis is calling out the latest trend of worthy advertising. Brands acting holier than thou while everyone knows it's all about sales not saintliness,' reads an official press release. 'The brands who claim to be able to bring people together, and solve difference, using the power of their.. beer or oven chips. At least Oasis are going to be honest about it.'
Contagious Insight 
/
Fresh take / Since 2015, Oasis has been brutally honest in its marketing – from calling out every trend marketers jump on to making fun of consumer movements and pop culture. While other brands try to sugarcoat their way into people's minds, Oasis is differentiating itself by keeping its marketing blunt and to-the-point.

For example, a poster in the brand's 2015 summer campaign read, 'You're thirsty. We've got sales targets.' Then in 2017, poking fun at the craze for 'face-swapping', the Coca-Cola-owned business created a Snapchat filter which invited users to open their mouth and 'drink' Sours Oasis which turned their face sour. After a few seconds a big billboard came over their faces saying 'Stop being obsessed with your face and be obsessed with new sour Oasis'. Snapchat reported that the filter was used 4.6 million times on the day of the launch and resulted in 1.8 million views of photos which included the Oasis filter.

In 2017, the brand launched a radio spot and grime music video – a nod to the fact that many businesses used grime songs in its ads to appear cool to young consumers. According to Radiogauge, the campaign resulted in 54% increase in perception of Oasis as a fun brand and 72% increase in brand consideration.
The Togetherness Bottle is another iteration of this strategy. By making fun of the advertising industry and its current obsession with purposefulness, the brand is likely to appeal to today's teens. A global 2017 study by Kantar Millward Brown reveals that gen Z (16-19-year-olds) are more cynical about ads than the generations that precede them. 'It's particularly tricky to get gen Z to engage, because they are highly discriminating and more averse to advertising in general,' reads the report. According to The Corner, teens 'find the majority of marketing tired, predictable and patronising, carried out by brands who talk down at them, treating them like idiots, like they don't realise they're being sold to.'

Purpose weary / While teens are especially skeptical, mistrust in advertising is widespread. In a 2014 survey on millennials' trust and attention by marketing consultancy The McCarthy Group, 84% of respondents said they don't like advertising. On a scale of one to five, people ranked the trustworthiness of advertising and sales at a dismal 2.2.

After years of lofty statements and tear-jerking videos about worthy causes, it's possible that people are getting tired of brand purpose, particularly when the messages feel empty. 'I don't think all brands need to align themselves with something cultural or political or ethical, they need to market their brands. If it genuinely suits them to be political or ethical then that is fine, but I don't agree all brands need to be a Dove,' Nathan Levi, CMO of TotallyMoney, said in a piece for The Drum. 'That is a one off in a way. […] Often brands need to shut up.'

Unless a brand is sincere about wanting to make a difference and prepared to practice whatever it is preaching, purposeful campaigns may fail to resonate or even be called out.
Want more Contagious thinking? 
/
Subscribe to the Contagious newsletter to receive a weekly dispatch of campaigns, opinions and research, curated for strategists, creatives and marketers.
Contagious thinking delivered to your inbox 
/
Subscribe to the Contagious weekly newsletter and stay up to date with creative news, marketing trends and cutting-edge research.