Campaign of the Week
31 August 2021
Reebok targets inner-city youth with basketball court AR tool 
/
Reebok carves a new niche for its brand with an augmented reality tool that maps basketball courts onto car parks and alleys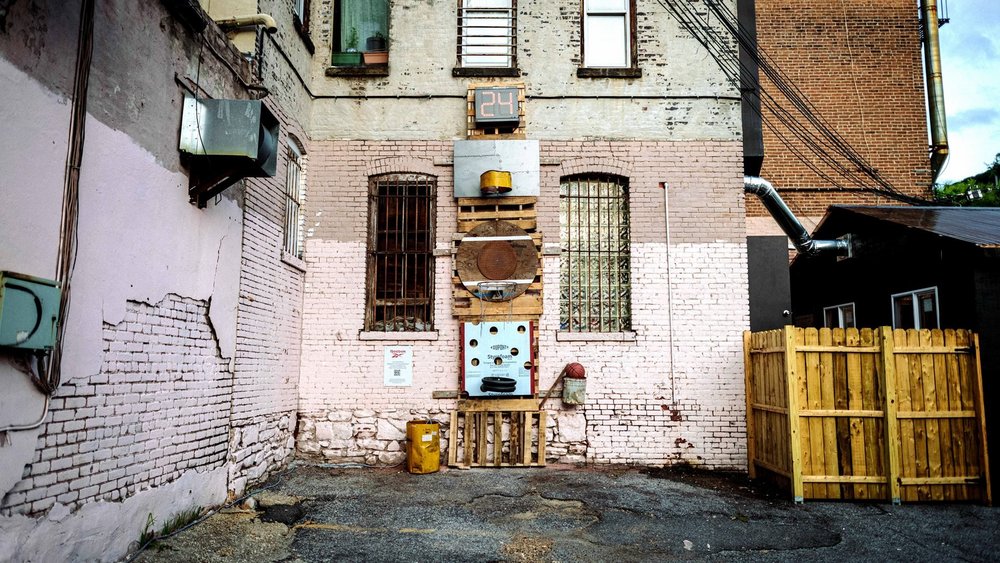 Reebok has published an augmented reality tool that projects basketball court markings onto any space, as part of a campaign celebrating the 'grit and creativity' of city youths.
The Courting Greatness tool uses a mobile phone's camera and measurement features to map the dimensions of a basketball court onto any space big enough to contain them.
With the tool as a guide, users know exactly where to mark the free-throw line or three-point line in chalk or tape, and how high to position a makeshift hoop.
Reebok's AR tool was designed to help city kids who don't have access to basketball courts and want create their own spaces to play in car parks and alleyways.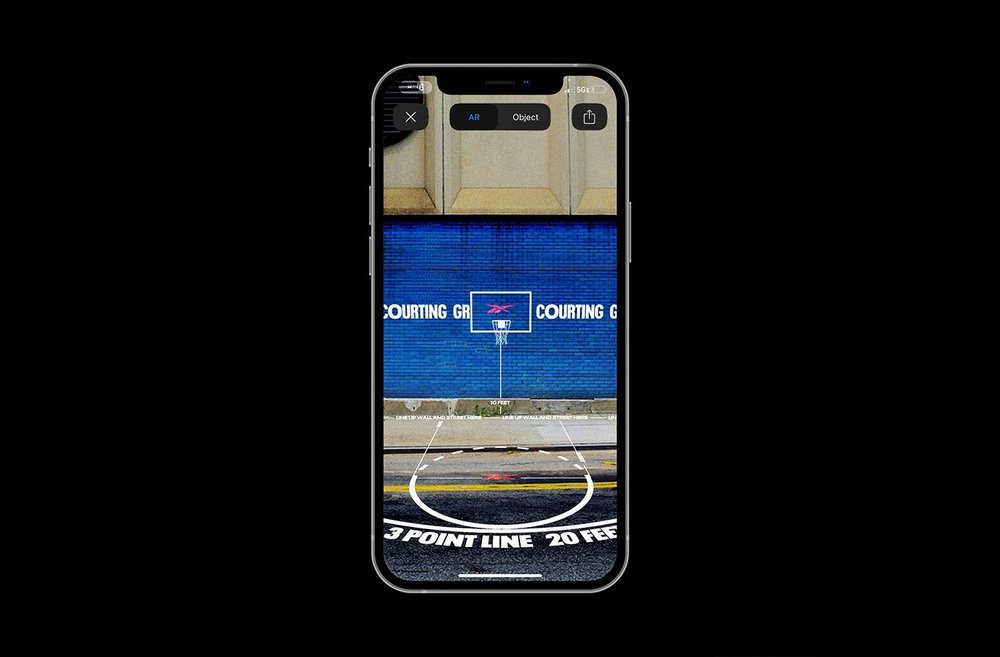 The sportswear brand is using the Courting Greatness campaign to draw attention to its new release, the Question Mid 'Iverson Four', a signature shoe honouring former NBA player (and Reebok-sponsored athlete) Allen Iverson.
Reebok also commissioned art collective New York Sunshine to create a temporary basketball court installation in Brooklyn (see lead image) as part of the campaign. The brand says it will ask artists in major cities across the US to do the same to support other basketball product releases throughout the autumn/winter 2021 season.
Courting Greatness continues the themes established in Reebok's nine-minute brand film, CrateMaster, which was released in July. The commercial 'shines a light on the grit and creativity of inner city youth', according to a release from the brand, and was created by designer Kerby Jean-Raymond, who joined as Reebok's creative director in 2020.
Inga Stenta, Reebok's US head of marketing told Contagious that the campaign allowed the brand to 'build upon our long-standing partnerships with brand icons like Allen Iverson and breathe life into a side of basketball that can often be overlooked because it's not the 'traditional' vision of the sport.'
Contagious Insight 
/
Underdog marketing / Adidas paid €3.1bn ($3.64bn) for Reebok in 2006 and restored it to profitability – but failed to make the brand desirable. This month Adidas announced it was selling Reebok to Authentic Brands Group at a substantial loss.
Neil Saunders, managing director of GlobalData Retail reportedly said Reebok's problem was that it was 'neither seen as the go-to brand for sporting professionals nor for those looking for athleisure fashion and style.'
But Saunders believes the brand has potential to grow if it develops its own 'differentiated offering' and a strong distribution plan.
Courting Greatness looks like an attempt by Reebok to establish a differentiated offering by focusing on inner city youths and the kind of resourceful creativity they bring to sport.
Rather than just proclaim support for its new target audience, the AR tool is a way for Reebok to demonstrate its intentions with something practical and – because it was published as a web tool and not an app that must be downloaded – accessible.
Admittedly, Reebok's new brand position is niche compared with those of Nike and Lululemon, but Reebok is now a niche brand. It had a 1% share of the US sneaker market in 2015, down from 8% in 2006, according to NPD Group estimates, and things probably haven't improved a lot since then.
But, similar to Adidas and its cities strategy, Reebok is likely anticipating that finding credibility among the disproportionately influential urban youth demographic will broaden the brand's appeal.
Want more Contagious thinking? 
/
Subscribe to the Contagious newsletter to receive a weekly dispatch of campaigns, opinions and research, curated for strategists, creatives and marketers.
Contagious thinking delivered to your inbox 
/
Subscribe to the Contagious weekly newsletter and stay up to date with creative news, marketing trends and cutting-edge research.