Campaign of the Week
3 May 2022
Phone re-seller targets Apple Stores with Airdrop ads 
/
Electronics marketplace Back Market Airdropped messages about sustainable tech into Apple stores on Earth Day
According to recent research from the French Environment and Energy Management Agency (Ademe), choosing a refurbished smartphone instead of a new one is 91% less impactful in terms of CO2 emissions, and refurbishing a smartphone requires 91% less raw material and 82% less water than producing a new one. Refurbishing rather than purchasing new smartphones also generates 88% less e-waste.
On Earth Day (22 April 2022), Back Market, the French ecommerce platform that connects trusted refurbishment factories with consumers, teamed up with Paris-based agency Marcel for Hack Market. The guerilla campaign was designed to convince those who were about to buy a new device to choose a secondhand model instead.
Using an Apple feature called Airdrop, which enables Apple device users to send each other files using close-range wireless communication, Back Market broadcast messages to Apple devices in six stores in Paris, Berlin and London. Stationed outside the Apple stores, Back Market was able to Airdrop 4,000 messages to customers browsing the display devices.
Those who accepted the Airdrop request (which appeared as a pop-up message reading, '"Back Market" would like to share the website "backmarket.co.uk"') were served messages like 'This iPhone 12 comes in pink, blue, black and greener. Switch to refurbished' and 'The iPhone you love without the carbon footprint you hate. Switch to refurbished'. The user could then click through to the Back Market website, where they could find a cheaper refurbished model of the product they were considering.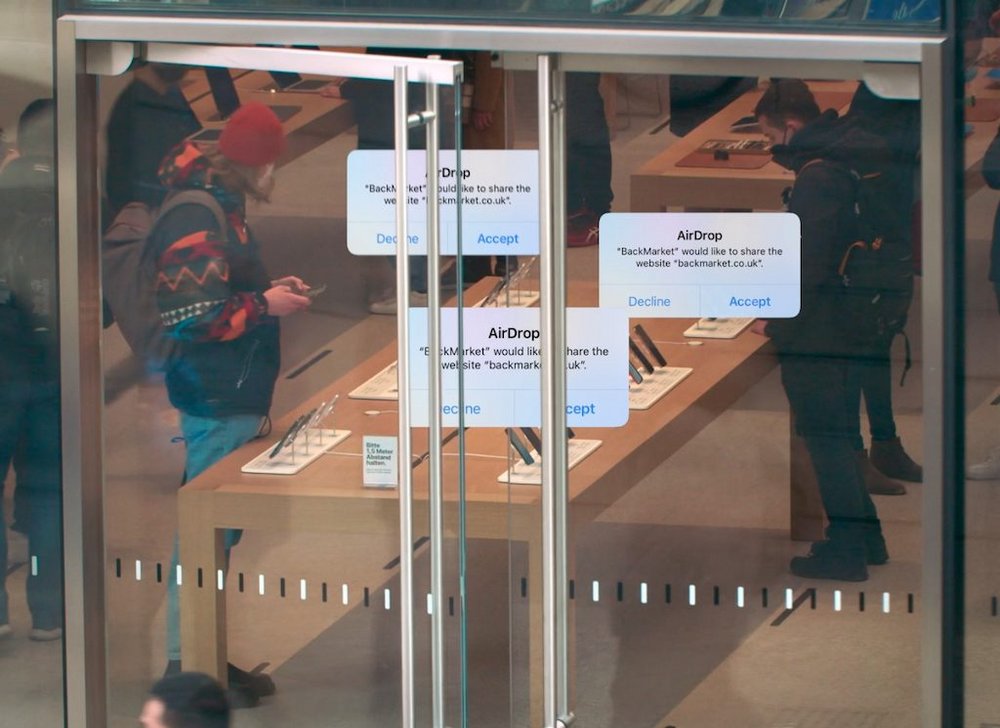 'On one of the agency's walls, there is this quote by [Publicis Groupe founder] Marcel Bleustein-Blanchet,' said Clément Séchet, creative director at Marcel, in a campaign press release. '"At some point, you have to stop being reasonable and dare." So we decided to go further than a traditional campaign by creating a new medium: the display models in the Apple Stores in Paris, Berlin and London. We designed messages to convince customers in the "temple of new" about the huge difference between refurbished and new, which then redirected them to the Back Market website.'
Contagious Insight 
/
Hijackers / In our Back Market Brand Spotlight, Donatienne Vaute, head of communications, notes that as a purveyor of secondhand devices one of Back Market's main challenges 'is building desire for these older products, which is hard when competing with new flashy Apple products'. As a relatively new company with a challenger brand budget, Back Market must continually find inventive ways to educate consumers about the environmental impact of the tech in their pocket. Employing (or 'hijacking') Apple's own technology to broadcast its message is a cheeky move, designed to generate PR and attention. Like Butterkist's recent Here for the Drama campaign and others in our Best of Low-budget collection, Back Market supported the small stunt with a PR push that amplified the campaign's reach far beyond a small in-store stunt and got its message in front of a wider audience.
Tone of voice / Back Market isn't shy about its eco-credentials. Since 2014, through the sale of refurbished smartphones, it claims to have prevented the emission of 580,144,582kg of CO2, the use of 1,878,480,190kg of raw materials, the consumption of 498,015,680,400 litres of water, and the production of 1,274,162kg of electronic waste. But in order to narrow the 'action-intention gap' and get consumers to act in line with their values, it doesn't pay to be preachy. 'We aren't trying to make people feel guilty and we don't have a superhero complex. We still want to be light-hearted in all of this,' says Vaute. Like past Back Market campaigns, such as Keynote Back Market and Refurbished Tweets, Hack Market is tongue-in-cheek, with a serious message at its heart. For maximum impact, Hack Market targeted people at a crucial stage of the purchase journey – consideration. By broadcasting its content to devices within Apple stores, Back Market disrupted a key consideration moment with a more favourable looking offer, making would-be Apple customers think twice about buying new.
Get Contagious Membership 
/
This article was taken from Contagious Online, a constantly updated and fully searchable repository of advertising case studies, in-depth strategy interviews and other resources. To find out more about Contagious Online or to arrange a free trial, click here.
Want more Contagious thinking? 
/
Subscribe to the Contagious newsletter to receive a weekly dispatch of campaigns, opinions and research, curated for strategists, creatives and marketers.
Contagious thinking delivered to your inbox 
/
Subscribe to the Contagious weekly newsletter and stay up to date with creative news, marketing trends and cutting-edge research.