Campaign of the Week
19 April 2022
Train operator hijacks piste cams to promote budget fares to skiers 
/
France's Ouigo places ads in front of ski resort live-stream cameras to tempt winter sports enthusiasts with budget fares
In early January 2022, ski stations in France reopened after an extended period of closure precipitated by the global pandemic. This development triggered a surge in web traffic for ski resort snow cams – online feeds that stream live video footage direct from the mountain. The purpose of these feeds is to give prospective skiers or boarders a heads-up on piste conditions and general crowd levels.
Ouigo, a budget French train operator, sought to capitalise on this sudden attention monopoly by leveraging the live feeds as an impromptu media channel. Working in partnership with their creative agency Rosa Paris, the brand quickly commissioned some bespoke signage that could be placed in the shot frame of snow cams located across two famous ski resorts, L'Alpe d'Huez and Les Contamines. Viewers of the feeds were subsequently surprised with a variety of cheeky messages that advertised how they could get from Paris to the Alps for just €10 ($10.81) with Ouigo.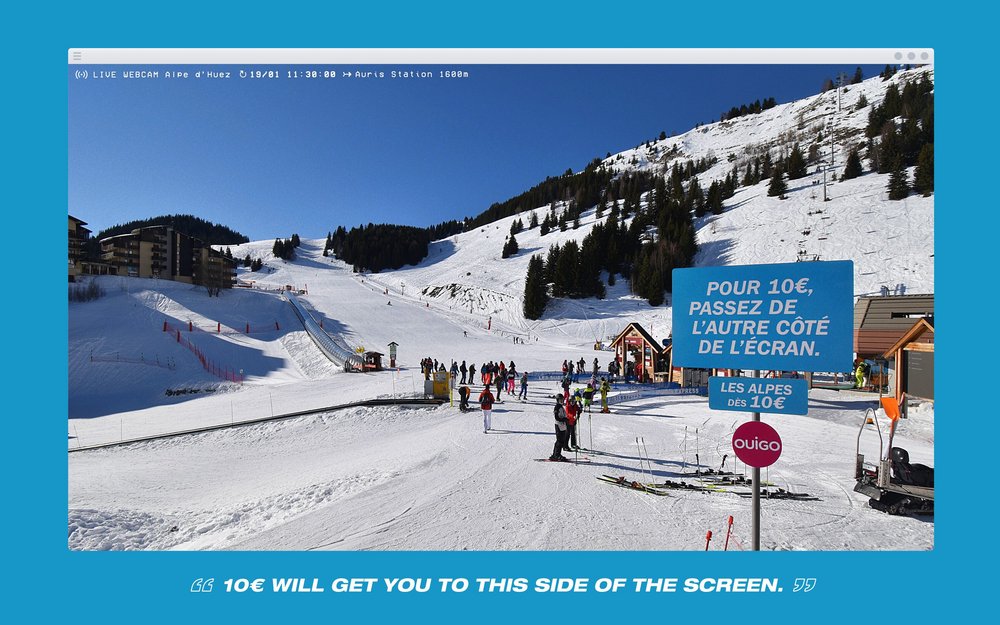 Running for just under a week, the activation encompassed five different copy variations, all designed to provoke daydreamers into action. Visitors to the resorts' live feeds were also able to book their train tickets via the same websites, allowing for a more seamless customer journey. In a statement to Contagious, Rosa Paris underlined the economic and ecological advantages of opting to take the train to the Alps, highlighting how winter sports enthusiasts have a particular interest in mitigating the effects of global warming. Remarkably, emissions from tourists' cars are estimated to constitute between 50-80% of a typical ski resort's carbon footprint.
Results / The hijacked live streams recorded 180,000 viewers over the course of the five-day long activation and earned national news coverage. According to the agency, Ouigo sold 80,000 tickets over the campaign period, which was 60% higher than the target of 50,000.
​​​​​​​Correction 20.4.22 / This story was amended to correct an inaccuracy in the reported results of the campaign, which delivered sales 60% over the target, not a 60% increase in sales.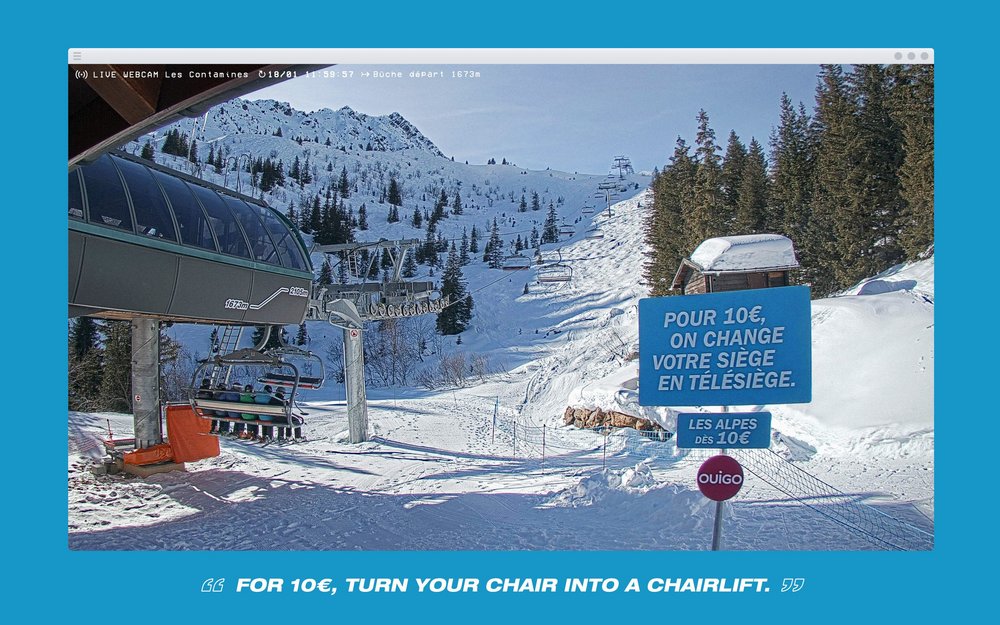 Contagious Insight 
/
Side-tracked / This campaign demonstrates a knowing insight into the mindset and behaviour of its target audience. Snow sport enthusiasts tend to enjoy periodically checking out the live feed from their favourite ski resort, particularly if they're considering a spontaneous trip. The ambient messaging placement catches prospects off-guard, nudging them when they're at their most wistful, and offering them a tangible means to satisfy their craving for pristine powder and crisp mountain air.
Ouigo has some form when it comes to delivering contextual executions alongside innovative media placements. It previously targeted frustrated motorists stuck in traffic on the main road from Paris to Lyon in order to highlight the comparative virtues of train travel.
Attention passengers / In a world increasingly disenchanted with the invasiveness of digital advertising, Ouigo has managed to hit upon a more natural means of capturing online attention. Its custom-made billboards were designed to mimic the signage aesthetic you'd typically see in a French ski resort, making the tongue-in-cheek reveal all the more enjoyable when the viewer clocks it. Importantly, and in contrast to a standard pop-up banner, this form of subversive messaging is impossible to escape – thereby ensuring minimal waste in terms of the overall brand investment.
No frills / The simple execution here aptly reflects the frugal brand values of a low-fares operator. When you have a negligible share of media spend, you've got to focus your efforts on investing in ideas with the potential to earn a disproportionate share of voice. This guerrilla-style stunt is inherently shareable, and the budget savvy target audience is likely to have appreciated the chutzpah involved in 'hacking' a free media channel. All in all, the behaviour is consistent with that of a plucky challenger brand that understands how to appeal to its core demographic.
Get Contagious Membership 
/
This article was taken from Contagious Online, a constantly updated and fully searchable repository of advertising case studies, in-depth strategy interviews and other resources. To find out more about Contagious Online or to arrange a free trial, click here.
Want more Contagious thinking? 
/
Subscribe to the Contagious newsletter to receive a weekly dispatch of campaigns, opinions and research, curated for strategists, creatives and marketers.
Contagious thinking delivered to your inbox 
/
Subscribe to the Contagious weekly newsletter and stay up to date with creative news, marketing trends and cutting-edge research.