Campaign of the Week
14 May 2018
Campaign of the Week: Under Armour, Steph IQ 
/
Sports brand creates real-time mobile trivia game powered by an athlete
Under Armour created a mobile trivia game activated by basketball player Stephen Curry's on-court performance, in a bid to engage customers during the NBA Playoffs.
The Steph IQ app, created by RED Interactive in Santa Monica, goes live during every playoff game when Curry (who is sponsored by Under Armour) hits his first three-point shot. Users then receive a notification with a countdown until the game starts.
Each Steph IQ session is hosted by Bdot, a comedian who impersonates basketball stars. He asks users eight multiple choice questions and gives people 10 seconds to make up their mind.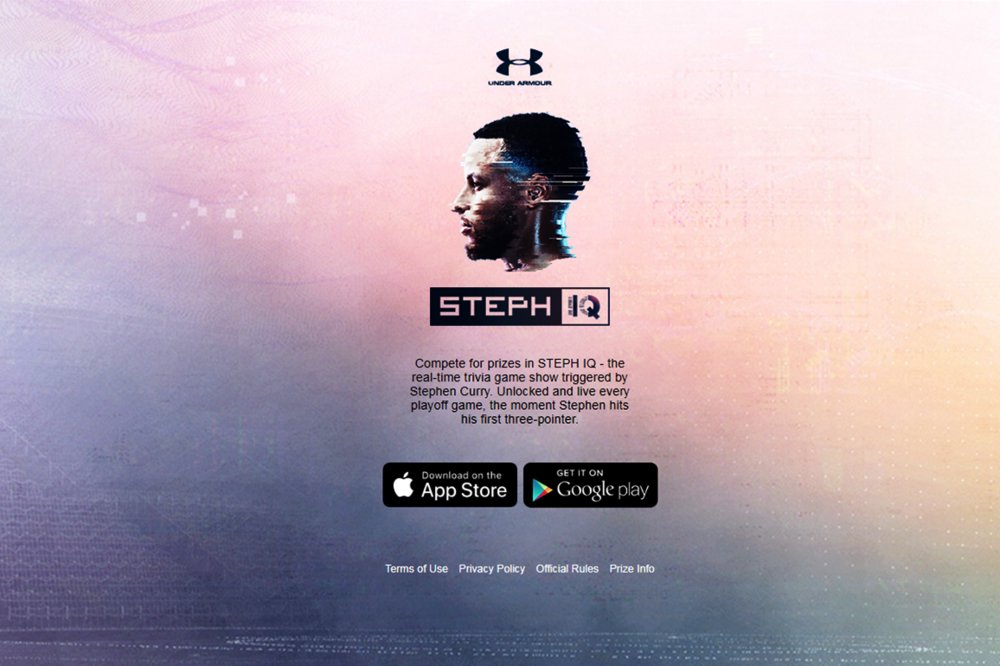 The questions get harder as the game goes on and each incorrect answer or failure to answer means elimination. All the players left in the game at the end, split a prize pool and have the chance to win a main prize through a live raffle. These main prizes include $10,000 in Under Armour store credit and the latest Curry 5 trainers.
The free app is available for both iOS and Android.
Contagious Insight 
/
By appointment / The mechanics of Steph IQ are similar to those of the popular HQ Trivia app. The HQ Trivia game has achieved cult status among young people, with more than 5 million downloads since its launch in August 2017. As we outlined in our coverage (paywall), the appeal of the game is the 'by appointment' format, as it goes live only twice a day for about 15 minutes.

Steph IQ replicates that same thrill and excitement for users. 'We knew that an appointment-based mobile application would increase urgency and inspire the target audience to both play Steph IQ and seek out the Curry 5,' Nikki Shum-Harden, SVP of client partnerships at RED Interactive, told Fast Company.

For more on how marketers can incorporate digital urgency into their campaigns, read our trend on the topic (if you're a Contagious I/O subscriber).

Undivided attention / According to a recent Adobe Digital Insights report, almost half of internet users (45%) are likely to reach for their devices during commercial breaks from sports programming and 36% do so while they're watching sports.
Steph IQ gives consumers a reason to engage with the brand in its own space. 'Steph IQ is one of the first ever mobile games triggered by an athlete's live performance that marries the physical and digital experience of watching a sporting event,' Jim Mollica, Under Armour's head of global consumer engagement and digital marketing, told Fast Company. 'We're using technology and trends in consumer behavior to elevate the dual screen viewing habits and the way fans tune in and engage with Curry's performance.'
Like this article? Share with your network:
Sign up to our weekly newsletter