Campaign of the Week
16 November 2021
Vans builds virtual skate park inside Roblox 
/
Sneaker brand creates virtual skatepark on Roblox
Vans, the footwear and apparel brand, has created an interactive skateboarding experience on gaming platform Roblox.
Visitors to Vans World can explore a virtual skatepark inspired by real-world destinations, including the Vans Off the Wall Skatepark in California. Here, they can practice skating tricks, and compete in challenges and races. Players can also customise their Roblox avatar with Vans-branded shoes, apparel and accessories, and design their own virtual skateboard.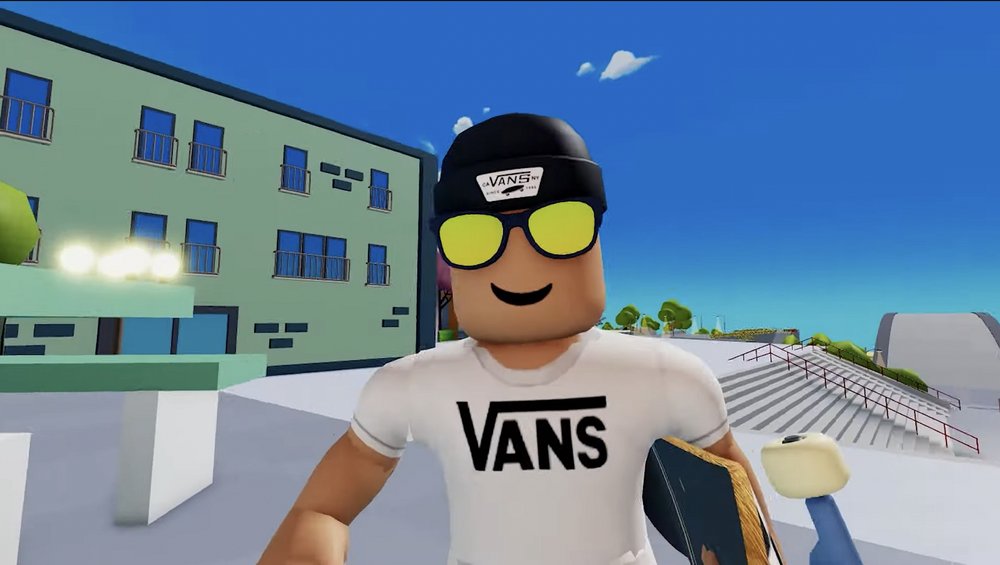 Gamers get access to one free virtual Vans item upon entering the game and then have to spend Roblox's online currency (Robux) to buy further items.
Vans World was designed with the Gang Stockholm, a Roblox game development studio.
Contagious Insight 
/
Getting blocky with it / Roblox, which has more than 46 million daily users, is a platform where people can play all kinds of user-generated games. It is particularly popular with children, in fact October marked the first time that Roblox counted that more than half of its userbase was over the age of 13. Despite this young-skewing audience, several decidedly grown-up brands, including Gucci and Hyundai, have experimented with branded virtual experiences on Roblox.
What makes Vans World stand out from previous brand partnerships, is that it was designed to be a permanent virtual space on Roblox – the Roblox version of the Gucci Garden Archetypes installation in Florence was only accessible for two weeks.
'Brands should be thinking about this [Roblox] as you do with social media,' Christina Wootton, vice president of brand partnerships at Roblox, told Fast Company. 'You launch a channel on social platforms and you don't just post once and expect your followers to stay there and be engaged. You really have to think of it as a commitment.'
Virtual spending / Vans World is an example of how brands can capitalise on the growing appetite for virtual goods to create a new revenue source. Already, in the first quarter of 2021, players spent the equivalent of $652m buying digital goods with Roblox's virtual currency, Robux. When Gucci created its Gucci Garden Roblox experience, one user bought a limited-edition Gucci bag for about $5 and then re-sold it for more than $4,100, more than the bag costs in real life.
In-game spending on virtual goods is expected to increase from $109bn in 2019 to $129bn in 2021, according to L'Atelier BNP Paribas. 'The virtual economy,' John Egan, CEO of L'Atelier BNP Paribas, told Bloomberg, 'is one of the greatest economic opportunities of our generation. It represents a huge opportunity for companies in any sector. Sports, tourism, entertainment and especially finance.'
Vans is not only getting people to spend money on virtual branded items but it is also giving people a chance to virtually sample its products, giving them a taste for the real thing. The shoe customisation feature is based on the one Vans offers on its webstore, meaning after players customise their shoe on Roblux they could then purchase it in real life.
Creative expression / Not only is Vans World a fun, engaging experience, it's also true to what Vans is about as brand. Skateboarding is a key part of Vans' heritage and the customisation elements of Roblox bring to life Vans' Off the Wall brand purpose – which it identifies as 'thinking differently and embracing self-expression'.
'Individual expression is deeply embedded in skate culture, and Vans has been supporting and enabling this exact type of creativity for more than 50 years,' said Nick Street, vice president of global integrated marketing at Vans. 'With the Vans World experience on Roblox, we are empowering creative expression in the digital world, bridging the gap between virtual and real-world fashion and sports in an accessible, inclusive way.'
Want more Contagious thinking? 
/
Subscribe to the Contagious newsletter to receive a weekly dispatch of campaigns, opinions and research, curated for strategists, creatives and marketers.
Contagious thinking delivered to your inbox 
/
Subscribe to the Contagious weekly newsletter and stay up to date with creative news, marketing trends and cutting-edge research.