Cannes Contenders 2022 (Pt.2) 
/
The Contagious team predicts which campaigns will storm the Palais at Cannes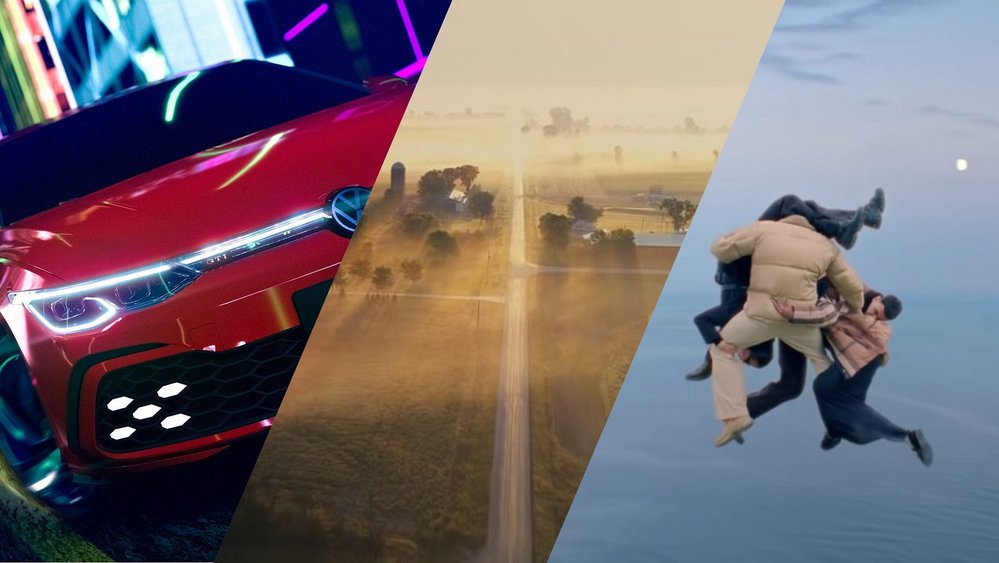 The Cannes Lions International Festival of Creativity is around the corner, which means it's time for our writers and strategists to put their necks on the block and predict what's going to win.
We're not interested in Bronze or Silver Lions here. These are the campaigns that we think will take home Golds and Grands Prix at the Palais later this month.
Apple / 911 
/
It takes guts not to show your product in your ad. Particularly if your product is a snazzy smartwatch from a tech company that has long prided itself on its second-to-none design capabilities.
I love Apple's 911 spot precisely because the Series 7 Smartwatch the brand is promoting is nowhere to be seen. In that regard, the campaign strategy is reminiscent of Shot on Iphone, which of course won the Outdoor Grand Prix in 2015. In both cases, instead of boasting about the hardware, Apple is showing off what its devices can do – here, by featuring real audio of people calling emergency services on their watches because they couldn't access their phones.
It's an ad, but it's also a gripping story and how often can you say that? In just 60 seconds, the content masterfully takes the viewer on a journey from panic to relief as the three victims in life-or-death situations are rescued. Some might argue that there is something slightly distasteful about featuring real emergency calls in an ad, but the authenticity is what makes this spot so emotionally resonant. It's a powerful, beautifully crafted spot that showcases what Apple does best: think different.
By Chloe Markowicz, editor
EOS / Bless Your F*ing Cooch / Mischief @No Fixed Address 
/
OK folks, prepare for some Creative Commerce catnip, artfully delivered through the unexpected medium of – checks notes – intimate grooming!
The back story: TikToker Carly Joy (@killjoyy) posted a clip sharing with her followers 'the secret for how to bless your fuckin' cooch'. The secret involved drugstore shaving cream Eos and a failsafe guide to bump-free depilation, promising to reward viewers with – and I quote – a 'smooth-ass hooha'.
Millions of views later it was clear that something was up, and the folks at Mischief @No Fixed Address swung into action. As a thank-you for her valuable endorsement, Carly was sent an Eos care package with the products rebranded as 'Cooch Blessing Cream' and her smooth-shaving instructions quoted verbatim on the packaging, smooth-ass hooha and all. Cue another TikTok moment as she unboxed the delivery, and a stampede to buy the limited edition line when it dropped in Target stores across the US.
Bless Your F*ing Cooch is a lesson in how to parlay a fleeting moment into something more tangible – and why language and intensity trump grammar and manners every time.
It's basically the 'Yes, AND…' of improvisational marketing, a masterclass in slightly sweary creative can-do-ery that gladdens my heart every time I think about it.
By Katrina Stirton Dodd, editor at large
Volkswagen / Golf Ad Break Championship / Tribal and DDB Sydney 
/
Ever picked up your phone while watching TV? Of course you have. And you're not alone, apparently 68% of us use our phones while watching TV.
Volkswagen (heroically, in my opinion) chose not to fight that fact and instead created an activation designed to complement TV-watching by adding a layer of anticipation. In short, it created a mobile racing game you play during ad breaks by scanning a QR code for the chance to win a car.
The idea is genius, but the integrated execution is what makes it stand out. The real-time, collective, competitive experience created urgency during TV ad breaks, and rather than leave participation to chance the brand used other touchpoints, like OOH, to amplify the idea, and created a site where people could practice ahead of the race, learn about the car, as well as find out when and where the next ad would air.
With this campaign, VW evolved how we interact with advertising by offering alternative opt-in experiences in lieu of traditional, one-way formats. Surely a shoo-in for a Lion.
By Becca Peel, senior strategist
Burberry / Open Spaces 
/
'Freedom allows us to be creative, to dream, to be anything or anyone,' says Riccardo Tisci, chief creative officer of The Burberry Group. That concoction of freedom, exploration and creativity was beautifully captured in a film released by the brand towards the end of last year, called Open Spaces.
Directed by French directing quartet Megaforce, with visual effects and photoreal CG by The Mill/MPC, the film features a group of Burberry-clad models taking flight through the British countryside. Hoisted by invisible cranes, the friends are flung through expansive skies and fields and sparkling sea, boundless and weightless as they pull towards and away from each other.
Set to original string music by Ryan Lott, the film ends with the group magnetically pulled together, suspended above the cliffs of the Jurassic Coast. Unless VFX is your bread and butter, there's nothing particularly clever to say about Open Spaces – it's just a beautiful piece of creative that you'll want to savour.
By Phoebe O'Connell, writer / analyst
Change The Ref / The Lost Class / Leo Burnett, Chicago 
/
Let me just come right out and say it: The Lost Class shouldn't be winning a Grand Prix at Cannes this year because, quite frankly, it's a stunt that shouldn't need to exist.
But sadly, given the events in Uvalde, Texas, last month, the campaign's message about the need for gun law reforms in the US is as important as ever.
Last June, Change The Ref, a charity that lobbies for gun legislation through creative stunts, duped David Keene, the former president of the National Rifle Association, and John Lott, the author of More Guns, Less Crime, into giving a graduation commencement speech to 3,044 empty white chairs, each one representing a high-school senior killed by a gun in the US.
This harrowing campaign recently picked up the highly coveted Black Pencil at D&AD's 2022 awards, an indication that it's likely to resonate with judges at Cannes, too. But who I think Change The Ref really wants to win votes from is the US congress, so we don't need to keep adding more and more empty chairs to the back of the graduating ceremony of The Lost Class.
By Sunil Bajaj, writer / analyst
Corona / Plastic Fishing Tournament / We Believers, New York 
/
In these heady days of purpose-packed award festivals, it's hard to stand out with a sustainability idea. The one-of-a-kind stuff tends to be stunty, while the stuff that moves the needle tends to fall in the slower, steadier camp. Plastic Fishing Tournament finds the sweet spot, as unique as it is impactful. It's creative, it's tangible, and perhaps most importantly, it nails the buzzword everyone is looking for in Purpose campaigns: scaleable.
By leveraging fisherpeople in markets around the world, Corona created an event that tackles a global problem in a hyper-local way, with messaging deeply rooted in the brand and its long-running sustainability priorities. For those on the ground, it's a boon for struggling tradespeople and a sign that the brand understands the plight right there in their harbor. For those watching from afar, it's a clever take on an environmental issue, and a restatement of Corona's sustainability bona fides all around the world. Corona is far from the first brand to talk about plastic in the ocean, but with this campaign they managed to do it in a way that makes waves.
By Chris Barth, lead strategist
Samsung / iTest / DDB Tribal Aotearoa Auckland 
/
What's the best way to deal with your arch-enemy? Tease them. Make a joke of their strength. Know them better than they know themselves.
The Samsung iTest does all three and makes it look effortless. The campaign is built around a particularly tricky challenge: breaking through the cultish loyalty of iPhone users and getting them to try out the Galaxy UX. But how do you run a sampling campaign when your target audience simply refuses to engage with a competing device? You make their precious bloody iPhone into a Trojan horse, delivering the Samsung experience right into their hands – and then watch as they help it go viral.
Visiting the iTest website prompted iPhone users to install a web app that put a demo of Samsung's Android-based interface right at their fingertips. When the MacRumors site reported the story, curiosity took over… From a single paid social ad in New Zealand to 10 million app downloads, this story has everything: rivalry, cunning, sass, earned media, paid media, virality and wit.
Huge props to the team at DDB Tribal Aotearoa Auckland – and surely a MASSIVE bonus for whoever made the case study video. You can feel the glee in every line.
By Katrina Stirton Dodd, editor at large
Save It, See It / Michelob ULTRA / Gut, Miami 
/
If you watch any preppy influencer on the up and up, they'll likely sign off their content with a plea to like, share and subscribe. But the CTA that often gets overlooked on social media is the 'save' button, which when clicked on Instagram, is a signal to the algorithm that a user finds the content valuable.
This insight, along with the fortunate coincidence that the Instagram save button looks like its logo, is what motivated low-calorie beer brand Michelob ULTRA to encourage people to click on the save button to support specific content on the platform. But what makes this campaign worthy of praise and being awarded highly at Cannes is who Michelob ULTRA chose to support through this hijacking opportunity – female athletes.
In competitive and professional sports, women are frequently paid less, given less exposure and have less access to sponsorships than their male counterparts. This is why for Women's Equality Day on August 26 2021, the brand created the persuasive, participative and powerful Save It, See It campaign – which saw a 2,500% increase in saves of women athletes' content, according to the brand.
It's refreshing, bold and distinctive. Just as AB InBev would describe a cool pint of Michelob ULTRA beer.
By Sunil Bajaj, writer / analyst
Get Contagious Membership 
/
Contagious Online is a constantly updated and fully searchable repository of advertising case studies, in-depth strategy interviews and other resources designed to help you achieve winning ideas fast. To find out more about Contagious Online or to arrange a free trial, click here.
Want more Contagious thinking? 
/
Subscribe to the Contagious newsletter to receive a weekly dispatch of campaigns, opinions and research, curated for strategists, creatives and marketers.
Contagious thinking delivered to your inbox 
/
Subscribe to the Contagious weekly newsletter and stay up to date with creative news, marketing trends and cutting-edge research.