Creativity
Contagious Team
/
10 June 2021
Cannes Contenders 2021 (part one) 
/
The Contagious team predicts the big winners at this year's Cannes Lions International Festival of Creativity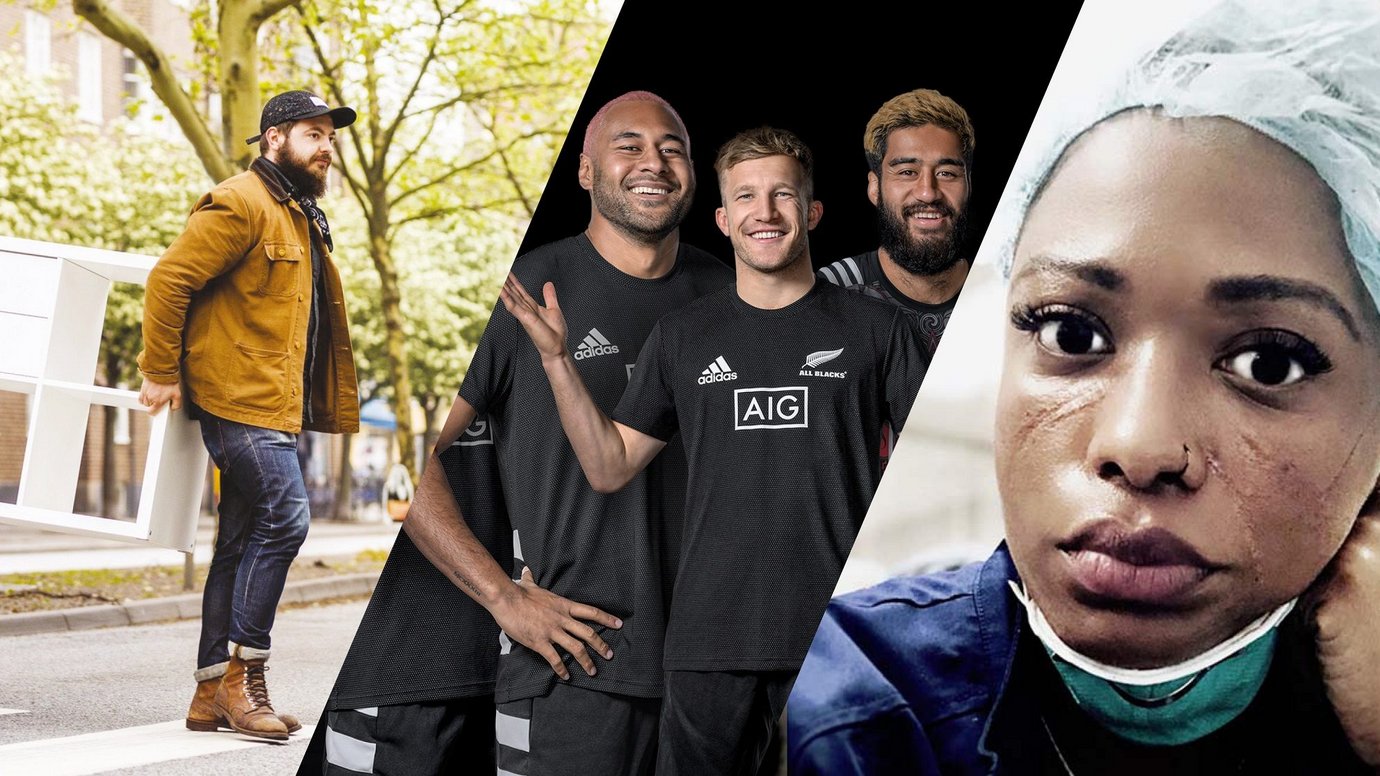 If bookies took bets on Cannes Lions, we reckon our Contenders list would be the industry's hottest tip sheet.
We've combined thorough, year-round research into the world's best advertising with arrogant faith in our own good taste to predict the big winners at this year's International Festival of Creativity.
We're not interested in the Bronze and Silver also-rans here. These are the campaigns we think will storm the Palais (virtually, of course) and come out clutching Golds or Grands Prix.
ASB's Borrow the All Blacks by With Collective, Auckland 
/
You're a small business owner. Covid 19 is waging war on the local economy. Worries about footfall and cash flow start to mount. In this moment of crisis, what could a large financial services brand do to help you? Pump out a 'we're all in this together' commercial featuring schmaltzy stock images set to a Sunday School travesty of a rock anthem? Or donate the services of a hot creative agency and some famous athletes to star in an ad campaign for your beleaguered company?
Auckland bank ASB chose the benevolent route. As official partners of New Zealand's national rugby teams, the brand was entitled to use a percentage of the players' time for promotional opportunities. But instead of blowing its own marketing trumpet, ASB co-opted the All Blacks to feature in ads for 100 small businesses, in hope of stimulating trade.
The 'Borrow The All Blacks' initiative was quite the logistical feat. It saw ASB donate media space, advise on strategy and fund the services of its agency, the With Collective, to produce all 100 ads. One of the selected small businesses – Grizzly Supplies – saw a 6,800% increase in social traffic, while bookings at theme park Spookers went up by 21%. SMEs contribute 26% of New Zealand's GDP, so this was a genuinely proactive exercise, echoing the brand's historical positioning of 'helping Kiwis grow.'
By Paul Kemp-Robertson, founder and chief brand officer
Dove's Courage is Beautiful by Ogilvy, Toronto & London 
/
Abandoned city streets, office workers in their kitchens, kids in pillow forts. This montage was in dozens of generic spots that came out in April 2020, when brands were desperate to show that they were 'here for you' in these 'uncertain times'. It was against this backdrop that Dove launched its Courage is Beautiful campaign. The TV and online spot stood out by focusing on brave frontline healthcare workers in a series of emotive photographs showing the markings on their skin caused by their PPE.
'We weren't jumping on a bandwagon,' said Hannah Wren, head of strategy for Dove at Ogilvy. 'We were putting forward a point of view built on empathy, diversity, authenticity, and action.'
Authenticity is one of those words that can veer into meaningless marketing jargon, but here it absolutely expresses why this campaign is so powerful. These were images of real hospital workers taken by photojournalists rather than commissioned for the brand. The campaign was true to Dove's long-standing celebration of 'real beauty'. And crucially, this wasn't just lip service, as the brand was donating skincare products and funds for protective equipment in the markets where the ads ran. This isn't yet another heart-wrenching campaign, it's spot on for the brand that made it and that's why it's my Cannes contender.
By Chloe Markowicz, editor
Mastercard's True Name by McCann New York 
/
While some of my colleagues have put themselves on the line with their predictions, I'm going with the safe bet – on an initiative that has already been shortlisted for not one but two Cannes Lions. A win for True Name will round out a successful few months for Mastercard, which has already taken home two best-in-show awards at the Clios and the highest honours at D&AD.
True Name is a feature that allows for people's chosen names to appear on the front of bank cards. Which isn't as straightforward as it sounds. Normally, there's a huge amount of bureaucracy involved when it comes to changing the name on your card. Because of fraud precautions, the paperwork can pile high and costs can add up, too.
This is a particular pain for those in the LGBT+ community whose legal names do not reflect their true identities. Indeed, a deeply moving spot by McCann New York, released alongside the launch of the feature, shows how much this change can mean for transgender and non-binary people, to help them avoid humiliation, harassment, and even violence.
Since its introduction in 2015, the Glass Lion gong has been given to some big industry favourites, from Fearless Girl to Bodyform's Blood Normal. For its genuine, game-changing move to defend against discrimination, Mastercard deserves to have its name added to that list.
By Amelia Markham, strategist
Burger King's Moldy Whopper by Ingo Stockholm, David Miami, Publicis Worldwide 
/
In February 2020, Burger King rocked adland by breaking the most important rule in the advertising playbook – make the product look good.
Burger King wanted to promote removing artificial preservatives from its Whopper sandwiches across Europe and the Americas. So the fast-food chain released ads showing its hero product naturally decaying over the course of 34 days.
It turned adland's stomachs. 'One of the worst ads I've seen in a long time', said one commentator. 'This is a terrible decision and shows BK doesn't understand how advertising works,' added another.
Despite the damning reviews, the campaign resulted in a 26% increase in quality perception for Burger King, 8.4 billion impressions and 1.4 million minutes of view time for the video on Facebook. But, most delicious of all, there was a 14% increase in sales.
As Fernando Machado, Burger King's former global CMO told us: 'Getting criticised is an intrinsic part of being successful. You shouldn't be afraid of that. It's much better than doing mediocre or average work that becomes irrelevant'.
And we agree.
If this campaign doesn't add a gem or two to Burger King's already well-decorated crown, we'll eat our hats – but we draw the line at a decomposing hamburger.
By Bethan Ashman, writer
Ikea's #BuybackFriday by Edelman, London 
/
However much people claim to care about the environment, the same old messaging about melting ice caps and extreme weather conditions doesn't seem to have the impact that it used to. So any brand that manages to cut through and drive tangible change when it comes to the planet gets a big green tick from me.
Importantly, with Ikea's #BuybackFriday campaign, the brand didn't shine a light on its own sustainability mission (which is impressive, by the way). Rather, the initiative empowered other people to do their bit to help, however small. And identifying those easy-yet-meaningful moments in which to take action has been the crux of Ikea's environmental communications strategy ever since.
With the deluge of sustainability work that we see from brands – and the miniscule proportion of them that actually make a difference – I'm placing my bet on Ikea's #BuybackFriday campaign to win at Cannes.
By Lauren Perry, advisory and content assistant
Xbox's Beyond Generations by McCann London 
/
Contagious correctly predicted that Microsoft's Xbox would win big at Cannes in 2019 with its Changing the Game Super Bowl spot. This film, which showed how Xbox's Adaptive Controller made gaming more accessible for disabled children, deservedly took home the Brand Experience and Activation Grand Prix.
We predict another successful year for Xbox and McCann London for Beyond Generations – an initiative that shifts the gaming console's benevolent focus from kids to senior citizens.
According to the brand, one in three seniors in the UK suffers from loneliness. To demonstrate gaming's power to connect people, Xbox created two documentary films about elderly people reconnecting with teenage relatives via gaming. The brand also ran a ReBoxing initiative, encouraging people to gift their unused Xbox consoles to older relatives, while Xbox also donated consoles to retirement homes across the UK.
If all that doesn't convince you, Microsoft is the 2021 Creative Marketer of the Year at Cannes and two of the past three winners of that award have also bagged a Grand Prix, so the odds are good.
By Sunil Bajaj, writer
Bodyform's Womb Stories by AMV BBDO, London 
/
Sequels are typically far worse than the original, but in the same way that 2021's A Quiet Place Part II masterfully evolves 2018's A Quiet Place, Womb Stories is a worthy successor to the Bodyform campaigns of the past half-decade.
And what a legacy to live up to. 2016: Red.fit, Gold Lion. 2017: Blood Normal, Grand Prix. 2019: Viva La Vulva, Titanium Lion.
But Womb Stories is easily the equal of its predecessors. The ad takes everything that has made previous iterations powerful – emotion, craft, insight, cultural resonance – and pushes further. Rather than perpetuating the status quo, Bodyform unapologetically plants itself at the front of women's health by normalising well-trodden ground (red blood, female grooming, same-sex couples) and driving the conversation into new spaces like endometriosis, miscarriage and menopause.
This is the type of work every marketer wishes they were making and I have no doubt it'll win (BIG) at Cannes this year. But more than anything, I'm just looking forward to what they come up with next.
Becca Peel, Strategist
Cannes Deconstructed 
/
Want to know about the best work and key trends from this year's Cannes Lions International Festival of Creativity? Book a Contagious Cannes Deconstructed briefing for your team and we'll deliver a week's worth of festival insights in one hour. These can be delivered in person (depending on Covid restrictions) or virtually. Contact [email protected] for more information.
Want more Contagious thinking? 
/
Subscribe to the Contagious newsletter to receive a weekly dispatch of campaigns, opinions and research, curated for strategists, creatives and marketers.
Contagious thinking delivered to your inbox 
/
Subscribe to the Contagious weekly newsletter and stay up to date with creative news, marketing trends and cutting-edge research.