Cannes Lions: Creative B2B Winners 2022 
/
Sherwin Williams wins inaugural Grand Prix for Speaking in Color voice recognition tech
The first Cannes Lions Creative B2B jury today awarded its Grand Prix to Sherwin Williams for its Speaking in Color digital service, created by Wunderman Thompson, Minneapolis.
The paint manufacturer's natural-language-powered web app invites users to speak verbal prompts into the website, suggesting experiences of memories – such as 'hiking' or 'canyon walls' – or places – such as 'lavender fields' or 'Iceland'. An AI search algorithm then analyses millions of images to create a personalised colour palette. Users select a near match from the suggested colours and are able to refine, again via voice, using amendments such as 'Let's add a little bit more green'. Once a final result is confirmed, the site creates a colour code and suggests complementary colours.
The service is designed for architects and aims to help them find colours they may have in their minds but might otherwise find hard to articulate.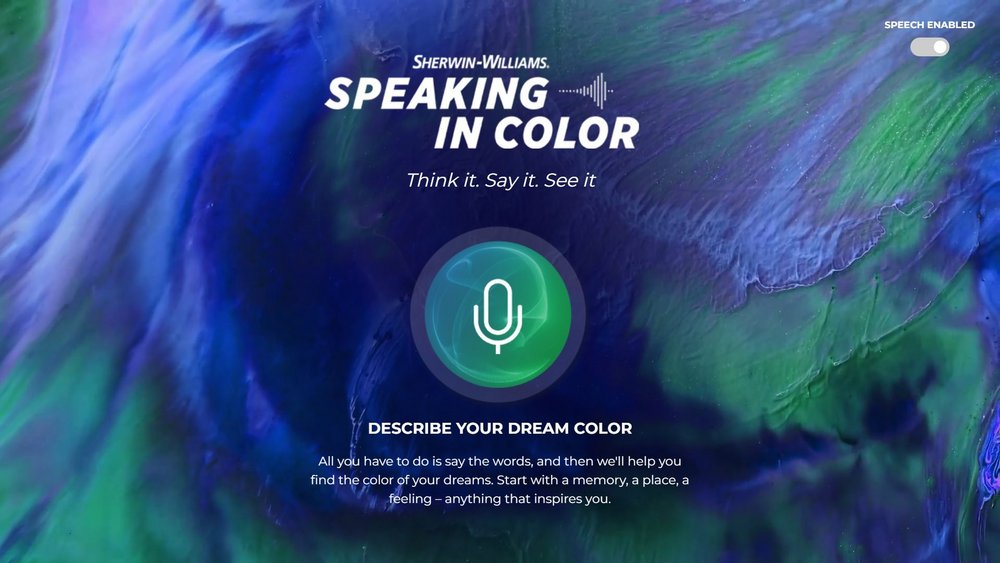 The Grand Prix was one of 14 entries awarded from a shortlist of 36 entries, in what was the first outing for this category. Speaking at a press conference earlier today, jury president and CCO of Doremus, Paul Hirsch, explained that Speaking in Color took the top prize because 'There was a great idea behind it. There was a great strategy behind it. B2B often follows in the wake of B2C in many ways – whether it's ideas or trends. What [Sherwin Williams] developed here was a brand experience specifically tailored for a very niche target market but the implications are going to be explosive. It's going to start in B2B and it's going to be adopted by B2C in a second.'
Creative B2B Gold Winners /
A Song for Every CMO for Spotify by FCB New York
Reduce the Ride for D'Ieteren by Happiness, Brussels
Piñatex for Dole + Ananas Anam by L&C New York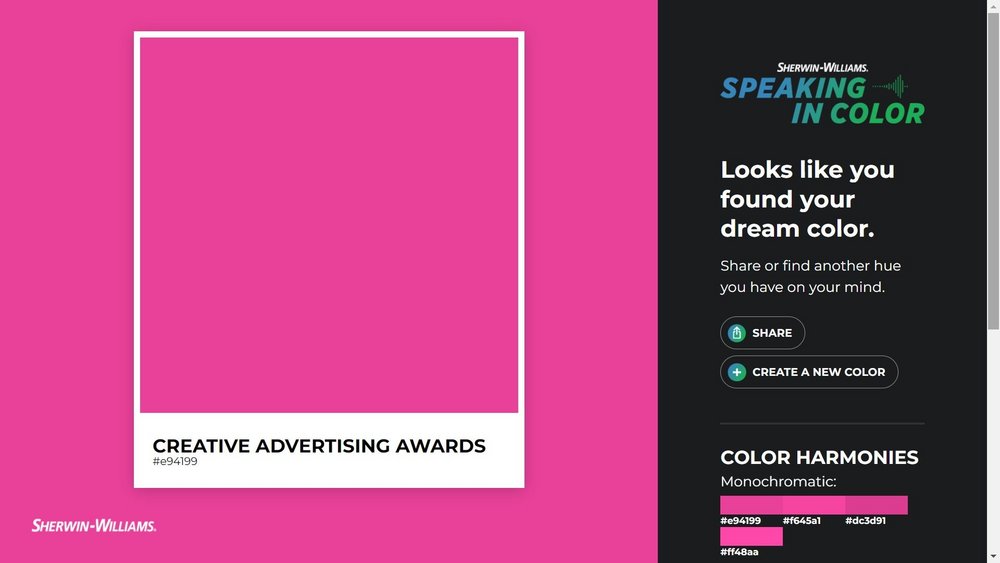 Cannes Deconstructed /
Want to know about the best work and key trends from this year's Cannes Lions International Festival of Creativity? Book a Contagious Cannes Deconstructed briefing for your team and we'll deliver a week's worth of festival insights in one hour. These can be delivered in person (depending on Covid restrictions) or virtually. Contact [email protected] for more information.
Contagious thinking delivered to your inbox 
/
Subscribe to the Contagious weekly newsletter and stay up to date with creative news, marketing trends and cutting-edge research.