Creativity
Chloe Markowicz
/
22 June 2021
Cannes Lions: Media Winners 2021  
/
Two Grands Prix were awarded in the Media category at the 2021 Cannes Lions International Festival of Creativity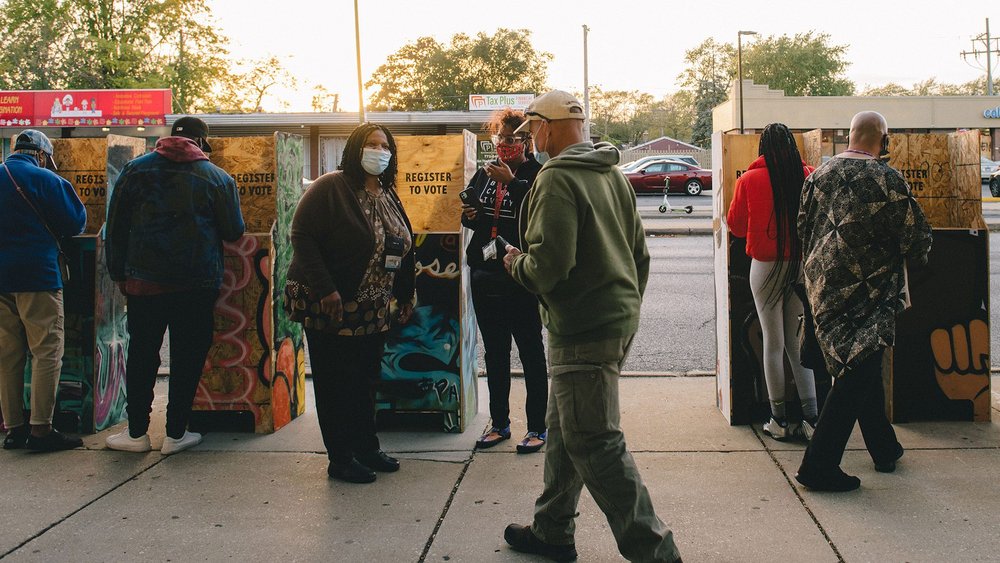 A campaign encouraging Black Americans to vote and another helping Pakistanis register as citizens were the big winners in the Media category at Cannes this year.
The City of Chicago won a Grand Prix for its campaign that transformed the plywood boards that had barricaded businesses during the Black Lives Matter protests into voting booths, mobilising citizens in minority neighbourhoods to register to vote. The Boards of Change campaign, created with FCB, Chicago, preceded record numbers of Chicago voters in the 2020 election.
Telenor Pakistan won the other Media Grand Prix for its app that made it easy for disenfranchised, rural Pakistanis to register as citizens.
The telco's Naming the Invisible by Digital Birth Registration campaign enabled people to bypass existing paper-based processes and gain access to essential state services. Telenor worked with Ogilvy Pakistan in Islamabad on the app, and said that it resulted in a 300% increase in birth registrations.
Gold Lions Winners /
Media That 'Eats' Pollution for Volkwagen UK by PHD, London
Addressing The 'No Fixed Address' Problem for HSBC UK by PHD, London and Wunderman Thompson, London.
Invisible Petitions for We Will Stop Femicide Platform by TBWA\Istanbul
Michelob Ultra Courtside for AB InBev's Michelob Ultra by FCB, New York
#NoKidsInCages for Raices by Badger and Winters, New York
Raising Profiles for The Big Issue and LinkedIn by FCB Inferno, London
Cold Tracker for Castle Lite (AB InBev) by Promise, Johannesburg
Your Data is your Data for S-Group, done in-house
The Bread Exam for Spinneys Flour and The Lebanese Breast Cancer Foundation by McCann Paris
Chicken Wars for Popeyes Louisiana Kitchen by GDS&M, Austin
Cannes Deconstructed 
/
Want to know about the best work and key trends from this year's Cannes Lions International Festival of Creativity? Book a Contagious Cannes Deconstructed briefing for your team and we'll deliver a week's worth of festival insights in one hour. These can be delivered in person (depending on Covid restrictions) or virtually. Contact [email protected] for more information.
Want more Contagious thinking? 
/
Subscribe to the Contagious newsletter to receive a weekly dispatch of campaigns, opinions and research, curated for strategists, creatives and marketers.
Contagious thinking delivered to your inbox 
/
Subscribe to the Contagious weekly newsletter and stay up to date with creative news, marketing trends and cutting-edge research.