Cannes Lions: Sustainable Development Goals Winners 2021 
/
Doconomy's 2030 Calculator takes the Grand Prix in Sustainable Development Goals category at Cannes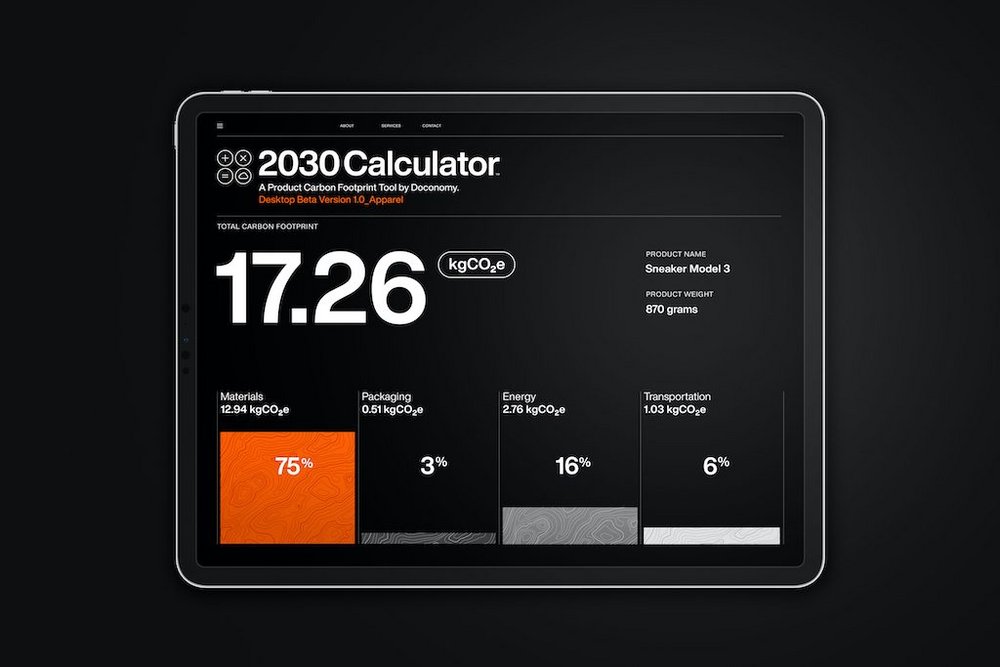 Doconomy's The 2030 Calculator, which enables fast and reliable calculations of products' carbon footprints, has been awarded the Grand Prix for the Sustainable Development Goals category at Cannes this year.
The Swedish impact-tech startup's tool generates products' carbon footprint calculations, fundamental to carbon labelling, in minutes, making it easier for brands and manufacturers to be transparent.
Doconomy co-founder and head of innovation Johan Pihl compares carbon labelling to the introduction of calorie content to food packaging. 'What happened over time was that people gained a better understanding,' he told Contagious in an interview last year, adding that Doconomy's goal here is similar, 'to get consumers aware on a basic level how products differ on impact, making them understand that, accumulated over a year, it determines their overall individual carbon footprint. And that's what we want to accomplish. A collective awareness of the impact of consumption.'
Earlier this year, Doconomy partnered with challenger bank Klarna to bring carbon impact calculations on all transactions to 90 million users, while it has also teamed with Mastercard to develop a carbon calculator that banks can integrate into their apps.
Gold Lion Winners 
/
The Commitment for CCWD by VMLY&R Brazil, Sao Paulo
Naming the Invisible by Digital Birth Registration for Telenor Pakistan by Ogilvy Pakistan, Islamabad
#​​​​​​​StillSpeakingUpDeepTruth for Propuesta Cívica + Reporters Sans Frontieres by Publicis Mexico, Mexico City & Publicis Latvia, Riga
Cannes Deconstructed 
/
Want to know about the best work and key trends from this year's Cannes Lions International Festival of Creativity? Book a Contagious Cannes Deconstructed briefing for your team and we'll deliver a week's worth of festival insights in one hour. These can be delivered in person (depending on Covid restrictions) or virtually. Contact [email protected] for more information.
Want more Contagious thinking? 
/
Subscribe to the Contagious newsletter to receive a weekly dispatch of campaigns, opinions and research, curated for strategists, creatives and marketers.
Contagious thinking delivered to your inbox 
/
Subscribe to the Contagious weekly newsletter and stay up to date with creative news, marketing trends and cutting-edge research.