Promoted content
Contagious Contributor
/
11 February 2020
Challenger is a mindset disrupting the status quo 
/
PHD, a global creative media network, and brand consultancy eatbigfish partnered at Most Contagious and looked at challenger stories that went beyond the David vs Goliath cliché.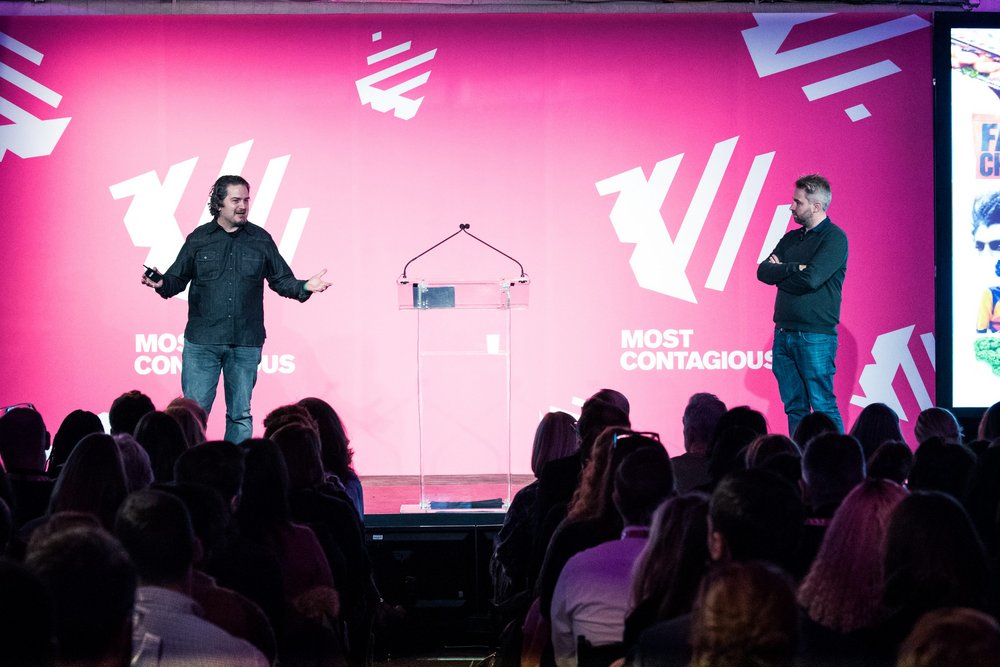 'We're living in a golden age of challenger brands' declared Nick Geoghegan, Strategy Director at eatbigfish, at Most Contagious New York 2020.
Together with Will Wiseman, Chief Strategy Officer at PHD Media US, Geoghegan detailed how twenty years after publishing Eating the Big Fish (which helped popularise the concept of challenger brands), the industry has been submerged by a new wave of challengers, yet there are still many who misunderstand what being a challenger brand means.
'Across geographies and markets,' Geoghagen explained, 'we're seeing hundreds of new businesses emerging, adopting the old ways of doing things, showing that there is a new path to growth that doesn't just rely on following an incumbent and doing the same old things with a smaller budget.'
Instead, Geoghegan stated, brands of all sizes are adopting a challenger mindset and changing how industries do business.
To illustrate, Geoghegan pointed to several stereotypes, like 'challengers are small and emerging' or 'digital by design' or 'direct to consumer brands'. All of these are as wrong as they are dated.
Instead, he argued, challenger is a mindset, not something based on age, size or industry. This mindset can take many forms: from the Enlightened Zagger (challenging common and accepted contemporary culture) to the Irreverent Maverick (rebelling against complacency, seriousness or narrow mindedness). In total, there are 10 different strategies that challenger brands use to present themselves. Ultimately, Geoghegan states, 'It's about making an indelible mark.'
Wiseman then explained the five patterns of how challenger brands interact with media.
Incumbents look outside themselves – to their audience – for inspiration. Challengers, get their inspiration from within, and use who they are to inspire as many people as possible
Will Wiseman, PHD Media
The first pattern, described by Wiseman as choosing effectiveness over efficiency, is about focusing more on the top-line outcomes rather than bottom-line costs. "Efficiency," said Wiseman, "is about using as little resource as possible to achieve your goals. Effectiveness is about achieving your goals as powerfully as possible."
The second pattern Wiseman mentions is how these brands 'jump straight in, safe in the knowledge that they know who they are and what they want to accomplish.' In short, they prioritise attitude over audience. "Incumbents look outside themselves – to their audience – for inspiration. Challengers, get their inspiration from within, and use who they are to inspire as many people as possible."
This led to the next pattern: creativity over relevance. Challenger brands of all persuasions put creativity first, confident that the rest will follow; they do not compromise in trying to be different things to different groups.
The following final patterns shared on the day were more human-focused: technology beneath the surface having a more human take on how technology fits into the brand strategy, with tech being better described as humanising rather than innovative. Whilst share of distinctiveness, not share of voice, shows how creating a greater sense of value for consumers leads to a greater share of culture, leading to a greater share of the market as a result.
Overall, eatbigfish and PHD's message was clear: challenger is a mindset, not a size or an age. Any brand can be a challenger brand and embracing challenger thinking can accelerate brands and business growth.
Like this article? Share with your network:
Sign up to our weekly newsletter