Promoted content
8 December 2021
Powerful Posters 
/
Clear Channel gathered ad industry leaders to explore the rules and rewards of best-in-class outdoor advertising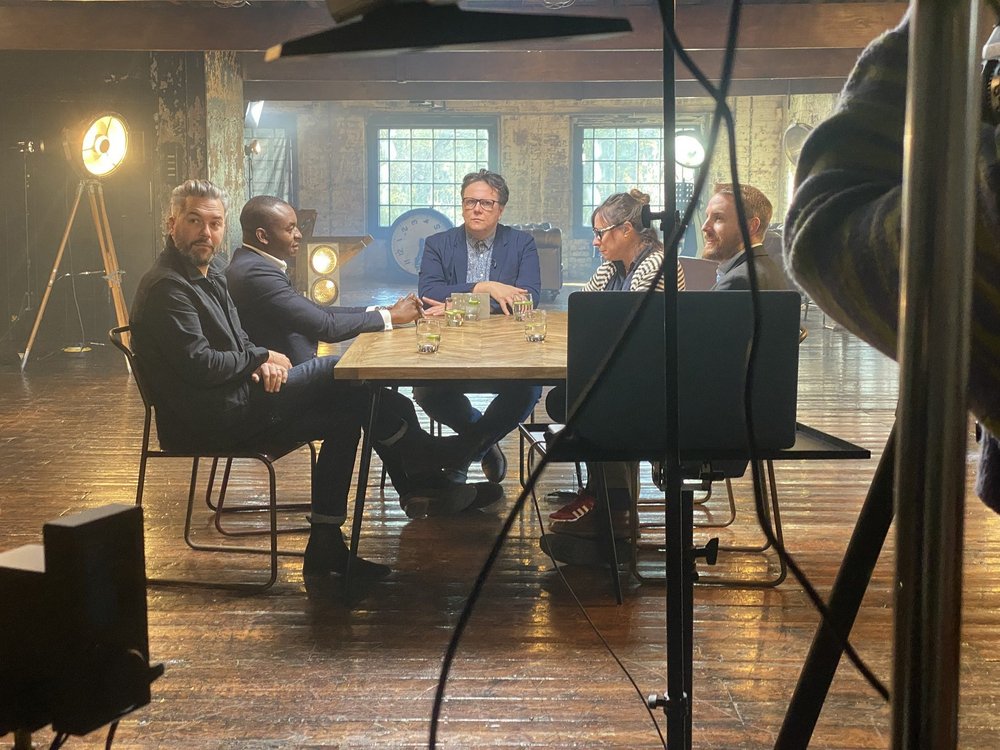 As part of Clear Channel's Powerful Poster series, Contagious co-founder and chief brand officer Paul Kemp-Robertson sat down with a panel of industry experts to discuss the creative canvas of outdoor advertising and the opportunities that OOH offers. He was joined by Uncommon co-founder Nils Leonard, Universal McCann chief strategy officer, Enyi Nwosu, Grey London creative director and head of art, Costanza Rossi, and Mike Follet, managing director at eye-tracking company Lumen Research.
Exploring the creative rules and strategic insights around achieving best-in-class out-of-home campaigns, the roundtable was split into four categories: the cultural role of out of home; the power of simplicity; context and environment; and communication and craft.
The cultural role of out of home 
/
'We absolutely love outdoor, it breaks all the rules of today's fast and temporary and fractured digital culture.' – ​​​Tor Myhren, VP of marketing communications, Apple.
Uncommon's Nils Leonard was unequivocal about the impact of OOH. 'When you think about making things that might outlast yourself, outdoor is one of the key ways to do that. Posters somehow and always have become synonymous with a time.'
This should guide brands on how to approach outdoor, he said. 'The point is to try and make something that someone will stop and actually take a photo of, and images, posters are just immortal. I just want for a brief moment someone to stop and hold their phone up – that should almost be our goal for great outdoors.
The power of simplicity 
/
​​​​​​'Make it simple, make it memorable, make it inviting to look at.' – Leo Burnett
There are certain rules to outdoor, said Grey London's Costanza Rossi, but they are always the same: create simple, striking images. 'There are certain things that you simply cannot do without,' she stated, with Leonard adding: 'If it captures the imagination, people will talk about it, they'll feel it, they'll share it. I do think just keeping that boldness and bravery in is incredibly important.'
Context and environment 
/
​​​​​​'If you want your advertising to be more effective, remember, it's not just what you say, it's where you say it.' – Sir John Hegarty.
Universal McCann's Enyi Nwosu dug into the importance of immediately connecting with culture and what's going on in people's lives, highlighting the physical sites themselves, and how advertising money flows into those sites to help communities. 'That money helps regeneration, that regeneration touches people.' He went on to stress not treating outdoor as a catch-all. 'We should think about outdoor within its many constituent parts. Where there's less dwell time you have to think about that message because it is going to be consumed in no more than two seconds flat. If it's in a mall, you might want to think about it differently because someone's in a different frame of mind.'
Communication and craft 
/
'Be a detective and a psychiatrist, before allowing yourself to be an artist.' – Mary Wells Lawrence
Getting to the nub of the matter, the talk turned to creativity. 'What I love about the best bits of writing is they'll say something incredibly provocative without using a single provocative word,' said Leonard. 'That's the exercise, you boil it down and boil it down.'
And on the question of how best to use outdoor media to elicit an emotional response from consumers, Nwosu said 'connect to culture, be relevant, and even use the visual cues of "If I can see it, I can be it." And for diverse communities in particular, that's really important.'
Rossi explained how OOH can be the ideal medium to stress test an idea: 'When you have a concept. Everyone says "yeah, start doing the poster and see if it works". Because if it was on a poster, the chances are that you're going to do a good TV ad, but if you can't summarise everything in one shot, I don't think the concept is very strong.'
As for measuring the impact of an outdoor ad, Follet was clear: 'Posters are the last broadcast medium. If clients and agencies try hard enough, you can measure the economic benefit of these things. It's the elegant, simple, funny, brilliant, creative, that leads to more sales. And it's the busy, ugly, boring, creative, which gets ignored, which doesn't work.'
To view the full roundtable discussion video click here.
Contagious thinking delivered to your inbox 
/
Subscribe to the Contagious weekly newsletter and stay up to date with creative news, marketing trends and cutting-edge research.