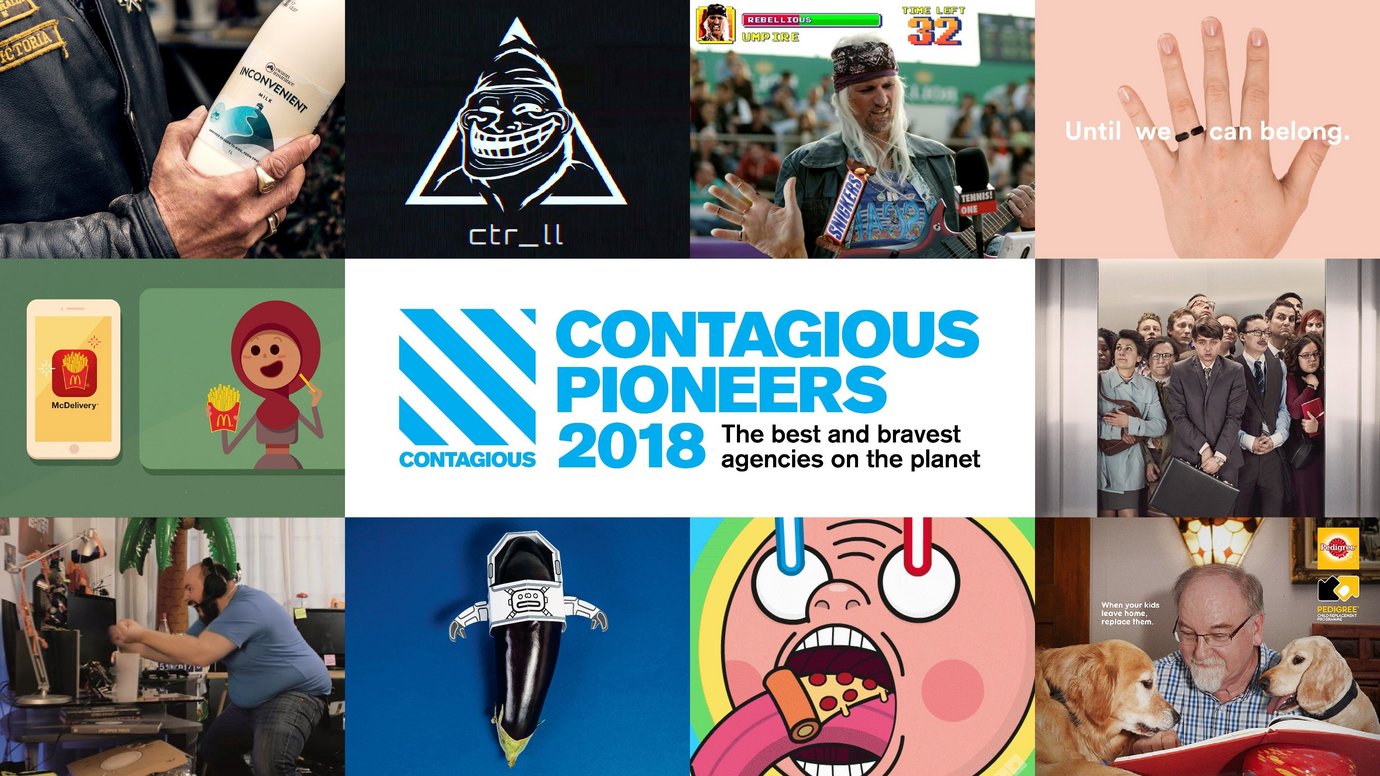 creativity
Contagious Team
/
23 January 2018
Contagious Pioneers 2018: The Work 
/
Our favourite work from the 2018 Contagious Pioneers – this year's best and bravest agencies on the planet
We've just announced our 2018 Contagious Pioneers – our list of the top 10 best agencies throughout the world. The list is compiled from the campaigns featured on Contagious I/O throughout the past 12 months.
Below, we celebrate some of the most creative and effective campaigns created by our esteemed list of 2018 Pioneers.
1. Saatchi & Saatchi London / Deutsche Telekom: The Lenz App
To celebrate the launch of the new Gorillaz album, Deutsche Telekom worked with Saatchi & Saatchi, London, to turn the world into a digital canvas. Anyone who downloaded The Lenz app could point their mobile phone camera at anything magenta-coloured (the telco's brand colour) to see virtual artwork, watch videos and hear new music from the band. 'The reach of the brand becomes more than the colour at the bottom of an ad,' said the agency's creative director Will John, in an interview on Contagious I/O. 'Anything in that colour can become a piece of communication.'
2. McCann, Bucharest / Vodafone: Undiscovered
Differentiation is a perennial challenge in the low-interest telco category, but Vodafone hit its urbanised Romanian audience right in the heart with a campaign that reconnected them with their rural heritage. This weekly series of Facebook Live broadcasts beamed a sprightly group of elderly artisans, designated by the Ministry of Culture as 'Living Human Treasures', from their far-flung villages straight into the newsfeeds of a national audience longing to feel more in touch with their traditions. I/O subscribers should check out our Insight & Strategy interview with McCann Bucharest here.
3. Clemenger BBDO, Melbourne / Airbnb: Until We All Belong
Belonging is central to Airbnb's business, and so Clemenger BBDO worked with designer Marc Newson to develop and promote an incomplete ring that Aussies could wear to pledge their support for marriage equality. The agency reports that the first batch of rings were claimed in less than 24 hours, but, more importantly, Australia legalised gay marriage in December 2017. I/O subscribers can read our in-depth case study on how Airbnb is becoming a community-powered super brand here.
4. CHE Proximity Melbourne / Swann: Inconvenience Stores
To give young motorcycle owners an excuse to ride their bikes, insurer Swann worked with CHE Proximity in Melbourne to create four Inconvenience Stores: corner shops in scenic locations a few hours' drive away from big Australian cities. 'We wanted to give people a reason to switch by demonstrating that Swann understands them,' Nathan Rogers, senior planner at CHE Proximity, told us in an interview on Contagious I/O. And when the first shop opened, 50 bikers rode the two hours to pick up their Inconvenience milk, chocolate and toilet paper.​
5. Colenso BBDO, Auckland / Pedigree: Child Replacement Programme
When children leave home for university or a job in a new city, their parents can feel the pangs of an empty nest. So, pet care brand Pedigree used this insight to create a campaign that helped mums and dads move on after their kids move out by adopting a pup. The Child Replacement Programme boosted sales by 16%, increased adoption enquiries by 824% and generated an ROI of 4.5:1. An in-depth case study on Pedigree's strategy to grow the market by promoting dog ownership is available to Contagious I/O subscribers here.​
6. Iris Worldwide, London / Domino's Gifeelings
To boost Domino's presence on dark social in the UK, the brand worked with Iris Worldwide to create hundreds of fun, pizza-related GIFs. By analysing more than a year's worth of social data, the team discovered that Domino's occupies the emotional territory 'joy'. 'Our ambition was to allow pizza fans to express the inexpressible. To create a new Domino's language,' Hayley Tillson, senior digital marketing manager at Domino's, told us in an interview for Contagious I/O. GIFEELINGS delivered a staggering ROI of 1:93. ​
7. HumanSeven [Les Gaulois], Paris / Hop! Air France: Run To Mum
HOP! Air France recently partnered with Adidas to encourage more young people living away from home to visit their mum and dad. Parents could purchase a pair of Adidas sneakers, which also contained a free Youth Pass loyalty card, and were then instructed to send only one trainer to their offspring, so kids had to travel home to receive the other shoe. The campaign, by Les Gaulois in Paris – now known as HumanSeven – generated a 282% increase in sales of young person's tickets. I/O subscribers can read our interview with the creative team here.
8. TBWA\Raad Dubai / McDonald's: Promoticon
McDonald's Arabia recently launched an update for its mobile app that helped boost mobile orders. The brand regularly changed the icon of its McDelivery app to some of its most popular menu items, and customers who ordered through the app could then get that item for free. TBWA\RAAD in Dubai reports app downloads increased by 80% and the average percentage of orders increased by around 200% across the region. I/O subscribers can read our Insight & Strategy interview here. ​
9. Impact BBDO Dubai / Snickers: Pre-roll Videogames
If you thought all the possible variations on You're Not You When You're Hungry were exhausted, think again. Earlier this year, Impact BBDO Dubai refreshed Snickers' classic slogan with gamified pre-roll ads. These took advantage of the familiar concept, but were built to suit the pre-roll format. The execution was simple, yet effective and proved engaging enough to achieve a 92% average view rate – 78% above the industry average. An in-depth case study on the Snickers 'You're Not You When You're Hungry' strategy is available on Contagious I/O here.
10. Marcel, Paris / Hépar: #ChezMoiOnDit
In France, every region has a euphemism for emptying one's bowels. So, working with Marcel, water brand Hépar created a one-minute film that honoured eight of the best. #ChezMoiOnDit (which roughly translates to 'we say') became a trending topic on Twitter with 1.3 million views and 1,800 tweets. The video also received 1.2 million views and 1,300 shares on YouTube, with 6,000 people submitting their own bathroom expressions online. This campaign first appeared on Contagious I/O in March 2017.
Like this article? Share with your network:
Sign up to our weekly newsletter