Creativity
Luísa Fedrizzi
/
17 March 2021
Contagious Spotlight on Latin America: Carnival & IWD 
/
The Contagious team in Brazil picks its favourite campaigns from across Latin America, highlighting the creativity and strategy that makes the work relevant and interesting.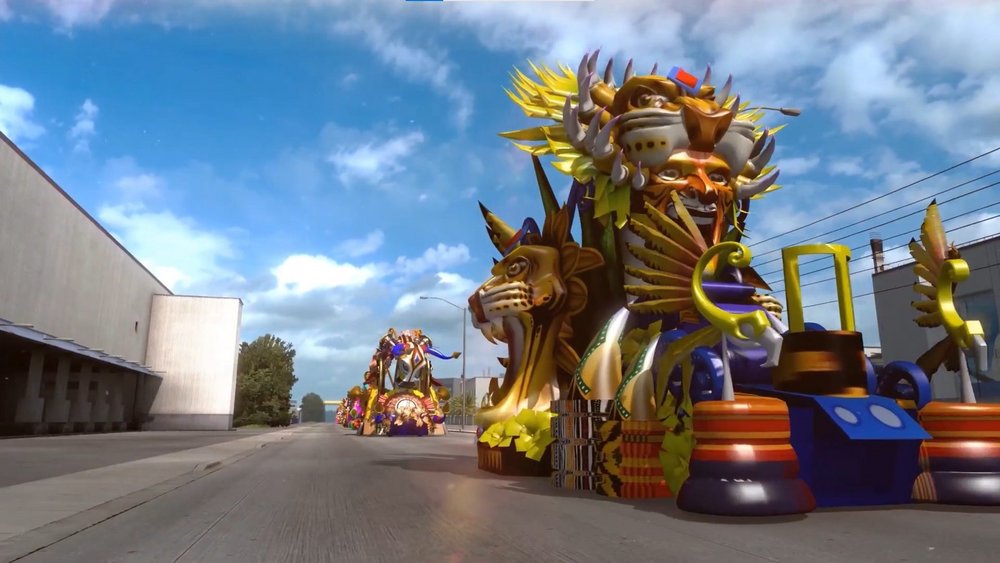 Much of Latin America was under pandemic restrictions for two recent important dates, Carnival and International Women's Day. Below we highlight some examples of brands that navigated various restrictions and social demands to create campaigns around each event.
Cerveza Aguila, Carnival Simulator / Circus/MediaMonks, Colombia 
/
Beer brand Cerveza Águila created a virtual Batalla de Flores carnival parade because Colombia's Covid-19 restrictions prevented the real festival from taking place.
Working with Circus/MediaMonks and renwowned carroza artist Hernando Arteta, Águila recreated the carrozas (floats) and the streets of Barranquilla (where the festival usually takes place) within the American Truck Simulator videogame.
'In order to bring these types of ideas to the table, having a platform-centric, "social first" thinking is essential,' said Ana Oseguera, managing director of Circus/MediaMonks Colombia. 'That's why this piece is relevant on two fronts. On one hand, it creatively filled a huge void that was left behind by the absence of Carnival this year, and at the same time, we used an existing platform with an already relevant usage behavior.'
The virtual parade took place on February 22 during a live event, and it can be found on the social networks of Cerveza Aguila and Carnaval de Barranquilla.
Contagious Insight 
/
New traditions / Summer pandemic restrictions have hit South Americans especially hard, not just because of the weather and the more collective, aggregating culture of many of the countries in the region, but also because it's the time for Carnival parties. The cancellation of the Batalla de Flores (for the first time in its history) has been symbolic of the hard times we're going through.
By turning this dark moment into a creative opportunity to build something new, Cerveza Águila might be recreating a tradition in a way that sticks, running in parallel with the street carnival once it resumes.
Carnaval Cidade Alta 2021 / Monobloco + Outplay + Druid 
/
In the face of similar pandemic restrictions, Brazilian carnival band Monobloco recreated one of its performances inside an online version of Grand Theft Auto (GTA).
This was the first time in 21 years that Monobloco didn't get to crowd Brazil's streets for Carnival, but instead it was headline entertainment at a two-day digital event, sponsored by Tinder, Trident and Engov (brands that created their own experiences and activations, like afterparties, during the event).
The digital event was hosted in Cidade Alta RP, Brazil's largest GTA role-playing server. Approximately 100 Brazilian gaming influencers took part, live-streaming the event on platforms like Twitch and YouTube.
Contagious Insight 
/
New platform, new people / Even though Monobloco's carnival parties attract a large audience in Brazil, the virtual experience gave them – as well as the brands sponsoring the event and the publisher Rockstar Games – the opportunity to connect with new groups of people that would otherwise not be present in their events or playing GTA.
According to gaming news platform START, over 280,000 people watched the performance on streaming platforms, giving all involved a way to get closer to gaming audiences, and offering Rockstar the chance to show that it's game is not just about violence.
'The heart of our carnival will always be face-to-face, but we will certainly adopt this expansion of communication that the virtual world produced during this period of the pandemic,' said Celso Alvim, founder and director of Monobloco.
Accessible entertainment / Brazil is a huge country and the famous Carnival parties are usually held in big cities, which are not accessible to most people. Taking one of those headline performances to a virtual environment, open to players and viewers from all over the country, is an interesting and contemporary way to make it more accessible.
Streamer Renata Giovanna, for example, spent the carnival within the game. She lives in a small town, and said that, because of that, has never had a 'real carnival' experience. 'I was with my friends and I was safe at home. This virtual version made me feel a little bit of what the party is like. It was wonderful in many ways, and I would love to participate again next year,' she told START.
Hershey's, HerShe / BETC Havas + Plano Feminino, Brazil 
/
Hershey's created a campaign to support female artists on International Women's Day, leaning on the fact that it's brand name contains the words 'her' and 'she'.
Eight female artists (photographers, dansers, writers etc) were selected to feature on the packaging of Hershey's chocolate, which included a QR code that could be scanned to unlock a virtual reality content experience. The brand also invited women to share their art and their talent on social media using the hashtag #HerSheGallery.
Partnering with consultancy Plano Feminino, Hershey also offered over 30 hours of workshops to offer artists help with the business and marketing aspects of their art.
Contagious Insight 
/
Collectable chocolate / By featuring artists and their work on the packaging, Hershey's elevates its traditional and accessible chocolate bars: they taste just as good as always, but they look extra special. The art gallery approach is complemented by the opportunity to purchase the products online, individually or in a collectable pack with all eight artists highlighted in the campaign. That adds a sense of exclusivity to the product, which translates into a new appeal to consumers.
A particular lens on feminism / Championing causes on big dates, such as the International Women's Day, frequently makes brands' actions and speeches all look and sound the same. Here, Hershey's finds its own angle to approach the issue – art, and specifically art as a profession.
According to a report by sociologist Taylor Whitten Brown for The Art Market 2019 report, works by female artists comprise a small share of major permanent collections at art institutions, while at auction, women's artworks sell for significantly less compared with men's. Only two works by women have ever broken into the top 100 auction sales for paintings – despite women being the subject matter for approximately half of the top 25. In different types of art galleries, women's work has a listing price that can be 16% to 30% lower than men's, and music industry data shows a similar situation. According to research by Pitchfork, in 2018 seven out of 10 artists on festival bills were men or all-male bands, while women represented only 19% of the artists on major festival lineups across the world.
When Hershey's decides to champion not only women artists in their many forms and creative expressions, but also the professionalisation of their work, it positions itself as a supporter of a group that can potentially build a really strong brand platform.
Like this article? Share with your network:
Want more Contagious thinking? 
/
Subscribe to the Contagious newsletter to receive a weekly dispatch of campaigns, opinions and research, curated for strategists, creatives and marketers.
Get our weekly newsletter 
/
Subscribe to the Contagious newsletter and stay up to date with creative news, marketing trends and cutting-edge research.