Contagious Team: Cannes Contenders (part one) 
/
With Cannes Lions around the corner, here are half of the campaigns and creative ideas that the Contagious team thinks should win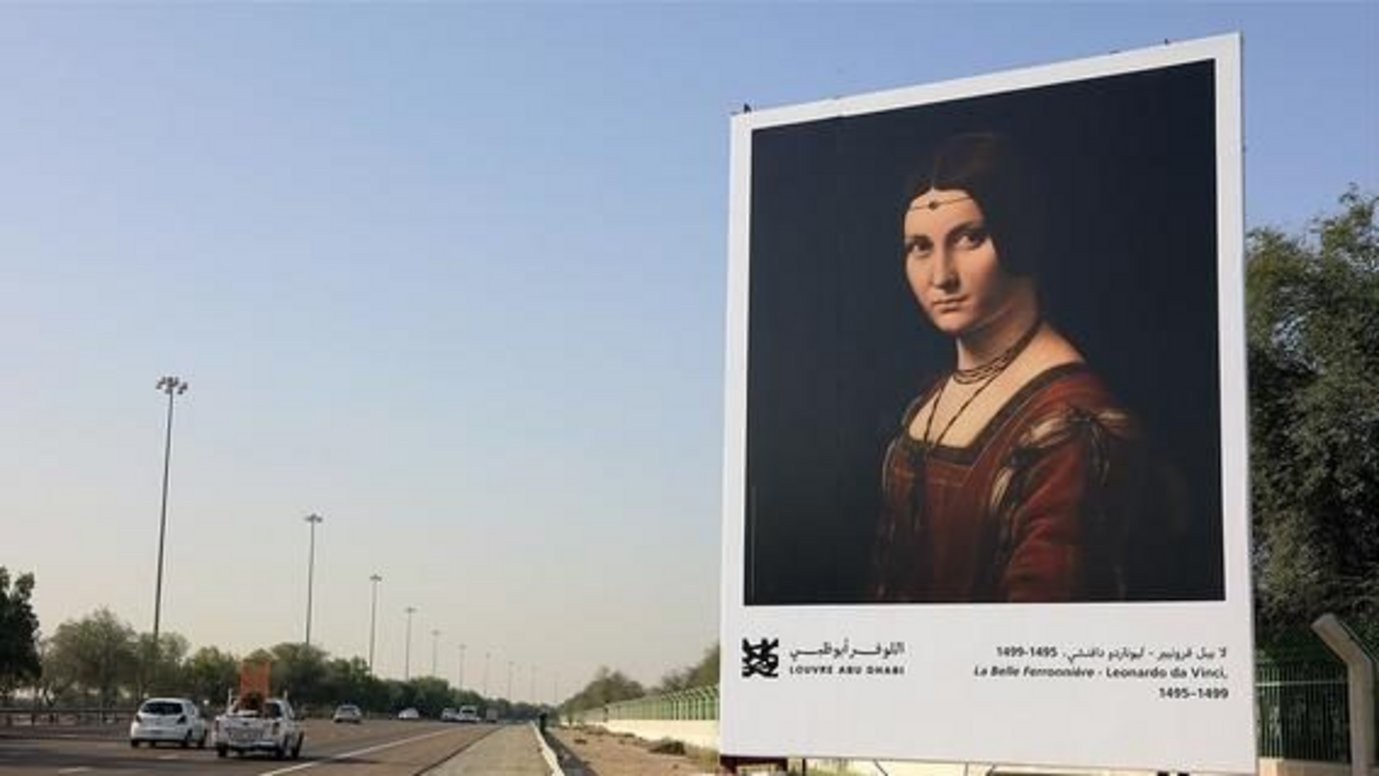 With the International Festival of Creativity coming up soon, we share what we'd be fighting for if we were on a Cannes Lions jury, from internationally renowned favourites to more niche dark horses.
Alice Franklin / researcher / writer
The Louvre Abu Dhabi / The Highway Gallery
Abu Dhabi, home to Ferrari World, Marina Mall, Yas Island and the Louvre. Sorry, what? Seriously - Abu Dhabi is, quite honestly, the last place I would have guessed for the Louvre's expansion. The original in Paris is a world icon, renowned for its breadth of collections dating back to the 12th century, while Abu Dhabi, until about 50 years ago, was a handful of idyllic fishing villages and is now known for its towering 21st-century skyscrapers. So, how do you create interest for a major museum in a modern city with no prior art history? Cue The Highway Gallery.

In February 2018, TBWA\Raad created a roadside exhibition showcasing 10 pieces from the museum's collection on a radio-guided tour down the E11 highway. Each masterpiece was plastered on 9x6m billboards and fitted with radio-jamming technology, automatically playing a 30-second backstory when vehicles approached the art.

When TBWA/Raad was researching the campaign, it found that people in the UAE weren't going to museums because they didn't like them, but because they didn't know what was in it for them. So the agency gave the 12,000 cars that drive down the E11 highway each day a little taster of all the things they were missing, because as they told us: 'if you don't know about something, how can you love it?'

The Highway Gallery was able to capture the minds of people outside of the Louvre's traditional audience in a way that was easy to digest, while finding an exciting way to innovate within a traditional medium. And it worked: during the running month of the campaign, engagement with the Louvre Abu Dhabi's social media accounts rose by 1180%, gaining more than 30 million impressions. The client was so impressed, it even extended the campaign for an extra week. A little intrusive? Perhaps. Effective? Confirmed.
Contagious I/O subscribers can read our in-depth interview with TBWA\Raad here.
James Swift / staff writer
Burger King / Whopper Neutrality
Burger King really has no right to wang on about net neutrality. I've been to many Burger King restaurants and not one of them left me with the impression that this is a brand with either technological or political savvy. And yet, when Burger King tackled Internet Service Provider regulation with its Whopper Neutrality campaign (created by David, Miami) my cynicism went out the window. Burger King got behind an issue that united its 'cool millennial' target audience, and used its formidable marketing budget to create an entertaining campaign that – according to The Verge – demonstrated a more nuanced understanding of net neutrality than most members of Congress. The ad got tons of free press and no one complained that Burger King was preaching or had overstepped its mark – and people love doing that. Burger King is an anomaly in this way. Every time the brand dips a toe into an issue (be it bullying, LGBT equality – even world-fucking-peace) it manages to do it with such charm, fluency and enthusiasm, that few seem to mind that this is a private-equity owned fast-food chain nakedly demanding attention by proffering moral positions. That's the power of good creative ideas writ large.
Anna Chapman / senior strategist
Lacoste / Save Our Species
One of the first rules in branding is NOT to mess with your logo. But in the fickle world of fashion, brands have been subverting the rule book lately (see Diesel's Deisel pop up store during New York fashion week).
The campaign I want to talk about does more than just mess with the logo of a classic French brand heralded by polo-shirt fans, 80's football casuals and Kanye West.
Save Our Species messes with it 10 times!
Lacoste, with BETC Paris, successfully transformed its iconic croc into 10 endangered species, while supporting the International Union of Conservation Nation AND causing a furore in the excitable world of fashion.
And the brand did more than create a limited run: it cleverly matched the number of shirts to the population size of that species.
A 2017 Mediacom study found 63% people think brands should be socially responsible and will pay more for ethical products. What's super smart about this campaign is that you can't even buy one of the limited-edition shirts because they sold out within hours. It's all about the buzz.
So, the scarcity principle not only makes these shirts more desirable, it mirrors and draws attention to the rarity of the species they're trying to protect.
Katrina Dodd / head of trends
Nike / Nothing Beats a Londoner

I feel weird bigging-up this campaign. For one thing I'm Scottish, and the South-East's fabled self-obsession usually elicits a reflexive eye-roll. For another, I've just been feeling more Adidas lately, and the German brand's business results and social profile suggest I'm not alone.

So while the Portland sneaker brand might still officially be the biggest in the world, in my head it's assumed underdog status.

Maybe that's why Nothing Beats a Londoner resonated. It may have had its fair share of stars and athletes, but if you blinked you'd miss them (cue an incredulous cycle of double-takes and replays) – if, of course, you recognized them at all. It's one thing to spot Mo Farah and Harry Kane, but the perfectly-pitched cameos from Jorja Smith, Big Shaq, Giggs and Little Simz that passed me by were gleefully clocked by my teenage son (an actual LDNR).

And that was the point. In this ad, 'the Talent' was outnumbered and outshone by the locals and locales not typically seen on screen, an unstoppable succession of London's less celebrated up-and-comers from every sport, borough and background, including a pressurized posh kid rowing on the Thames. It made running through Peckham seem heroic. It put the fans before the brand . And it put Skepta on a Boris Bike. This, my friends, is advertising.
Paul Kemp-Robertson / co-founder
AIG Insurance / Pride Jersey
I'm a rugby fan. My son made it to county level, which means I've had my fair share of muddy touchlines and boozy clubhouses, and watched games from rank amateur to internationals at Twickenham. It's a tough, brilliant sport, built on the principles of fair play and mutual respect. But it is not without its controversies and macho overtones. The London School of Economics was forced to disband its men's rugby club for homophobic and misogynistic behaviour, and earlier this year Australian full-back Israel Folau was censured for an Instagram comment stating that God's plan for gay people was 'Hell…unless they repent of their sins.'
That's why the Pride Jersey is such a powerful, evocative symbol against discrimination. Designed by TBWA\Hakuhodo to form part of insurance firm AIG's multi-million dollar sponsorship of New Zealand rugby, these limited-edition All Blacks shirts are made from a special fabric that, when stretched, reveal the full spectrum of the rainbow – the symbol for diversity and inclusion.
AIG's Diversity Is Strength campaign supports cultural, gender and sexual diversity, and disability inclusion. The motive behind the Pride Jersey is to ignite a conversation against prejudice and anti-foreigner sentiment in Japan.
Kristina Dimitrova / writer / researcher
KFC / FCK

Last year, I chose Skol's Reposter campaign as my favourite because the brand acknowledged its mistakes in the best possible way. It's a similar case with my chosen idea this year.

In February 2018, KFC's new logistical partner (DHL) failed to supply fresh poultry to its restaurants, which forced hundreds of these outlets to close, leaving customers shocked and hungry for fried chicken. The reaction from the public was so severe that law enforcement officials in various cities had to remind them that this was not a police matter.

To manage the crisis, KFC ran a full page print ad in UK newspapers The Sun and Metro apologising for the mishap, changing the letters in its logo from KFC to FCK.

What do you do when you fuck up? You own it. If you think this humble print ad, created by Mother, London, is a tiny teeny thing no one will notice, think again. It's timeliness and blunt copy made the ad a must-share online, with industry folk and the public praising the brand for owning its misfortunes. What's even smarter though, is that this crisis presented KFC with an opportunity to tell its food story: DHL was only able to create such a mess because the brand relies on daily deliveries of fresh poultry to make its meals. A brilliant lesson on how to turn a PR catastrophe on its head.
Contagious thinking delivered to your inbox 
/
Subscribe to the Contagious weekly newsletter and stay up to date with creative news, marketing trends and cutting-edge research.