Creativity
Luísa Fedrizzi
/
18 February 2021
Contagious Spotlight on Latin America 
/
Every fortnight, the Contagious team in Brazil highlights their favourite campaigns from the Latam region
Welcome to the Contagious Spotlight on Latin America, highlighting campaigns from the region that exhibit creative and strategic brilliance.
In our inaugural edition, we analyse campaigns from Brazil, Argentina and Paraguay that span the travel, personal care and alcohol sectors.
Flybondi, Save your destination / Geometry Argentina, Buenos Aires 
/
​​​​​Argentinian low-cost airline Flybondi transformed its bookings website into an ecommerce platform to support entrepreneurs during the country's national lockdown.
The participating companies were selected from Flybondi's four most popular domestic travel destinations in Argentina: Jujuy, Bariloche, Salta and Córdoba.
Prospective customers can use Flybondi's revamped website to order textiles, tea and dulce de leche.
The campaign was created to encourage people to purchase local items from travel destinations in advance of their trips – which they will be able to collect when visiting the destination at a later date - and support entrepreneurs from different regions of the country by providing them with a much-needed cash injection during the Coronavirus pandemic.
Contagious Insight 
/
Helping the little guy / Flybondi has reframed its efforts to stay afloat as an action to protect the jobs and livelihoods of those affected by the slump in global tourism. Since the products must be collected in person upon arrival at the destination, Flybondi ensures the new ecommerce platform isn't simply used to buy local goods without purchasing a flight. And as countries start to reopen and people start to make plans again, Flybondi's campaign offers consumers not just a flight, but something to look forward to.
A true local / Flybondi's primary routes are domestic, except for a few large cities in neighboring countries such as Uruguay and Brazil. If an international airline were to recreate a similar initiative, it struggle with local nuances and global tourists would be less likely to participate. Flybondi's customers are mostly Argentinian, which helps the campaign establish an emotional connection by highlighting the struggles of their own countrymen and women.
Rexona, #ISweatWhen / EnergyBBDO, São Paulo 
/
Deodorants and antiperspirants deal with something which is a source of discomfort and embarrassment. But at the same time, we all know sweating is normal, especially in stressful situations. That thought drove Rexona to invite six Brazilian influencers to participate in the Channel Swap Challenge #ISweatWhen (#EuSuoQuando), in which they take over each other's platforms to talk about subjects in which they have no expertise.
To put Rexona's Clinical Aerosol to test, the campaign creates situations that represent sweat triggers for a group of well-known YouTubers.
Contagious Insight 
/
Everyone's problem / According to research conducted by Unilever, about half of the Brazilian population has faced a situation where their level of sweat has been 'above average', which may be related to nervousness and anxiety. The campaign highlights that connection and shows the effect of stressful situations, making the strategy a great way to address a taboo while also creating relatability between the audience and the celebrities of today.
No boring product demonstrations / The challenge of showing a product's functional features can seem like a dull one for marketers, but there's a creative approach to be found in any brief. By moving from features to benefits, Rexona finds a contemporary narrative to show why its product adds value to people's lives, meeting their needs in a positive way. By working with famous and relevant creators, the brand makes it not only more interesting but also more effective: research from Media Kix shows that 89% of marketers say ROI from influencer marketing is comparable to or better than other marketing channels.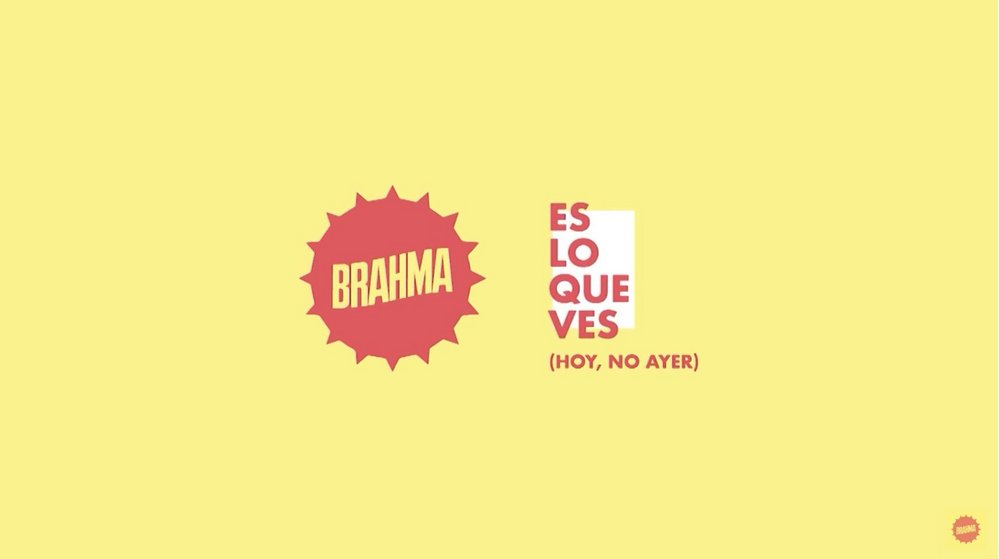 Brahma, What you see today / Grey Argentina, Buenos Aires 
/
To mark the International Day for the Elimination of Violence against Women (November 25th), Brahma beer in Paraguay made a public commitment: to not repeat the mistakes it made with past commercials. For a long time, the brand (and almost all the other beer brands) put women in a roles that objectified them.
To show directly how its advertising had been based on harmful stereotypes, Brahma took a 2009 commercial called Wide Mouth (Boca Ancha) and edited it in such a way that it did not have a single second of sexist content. As a result, the piece became super short, accentuating the message that '90% of that commercial could not be aired today.'
Contagious Insight 
/
Better late than ever / It's not a new thing that beer brands are reviewing their past advertising, and we could definitely say that it took Brahma Paraguay longer than it should have to address the issue. But Paraguayan history has held onto its culture of machismo, making the country one of the drivers of what the Latin American Network Against Gender Violence classified as a 'feminist emergency'. In that context, it's an important move to have a brand as popular as Brahma breaking the silence.
Erase/replace / Behaviours are perpetuated by habits and cultural paradigms, which are fed and sustained every day in many (sometimes) simple forms. By eliminating all previous sexist content from their social media channels, saying it no longer represents the brand, Brahma is also helping to break the cycle of violence.
Like this article? Share with your network:
Want more Contagious thinking? 
/
Subscribe to the Contagious newsletter to receive a weekly dispatch of campaigns, opinions and research, curated for strategists, creatives and marketers.
Get our weekly newsletter 
/
Subscribe to the Contagious newsletter and stay up to date with creative news, marketing trends and cutting-edge research.