Promoted content
12 July 2021
The Great Outdoors: Cannes Lions 2021  
/
Louise Stubbings, creative and partnerships director, Clear Channel outlines how outdoor media can change the world around us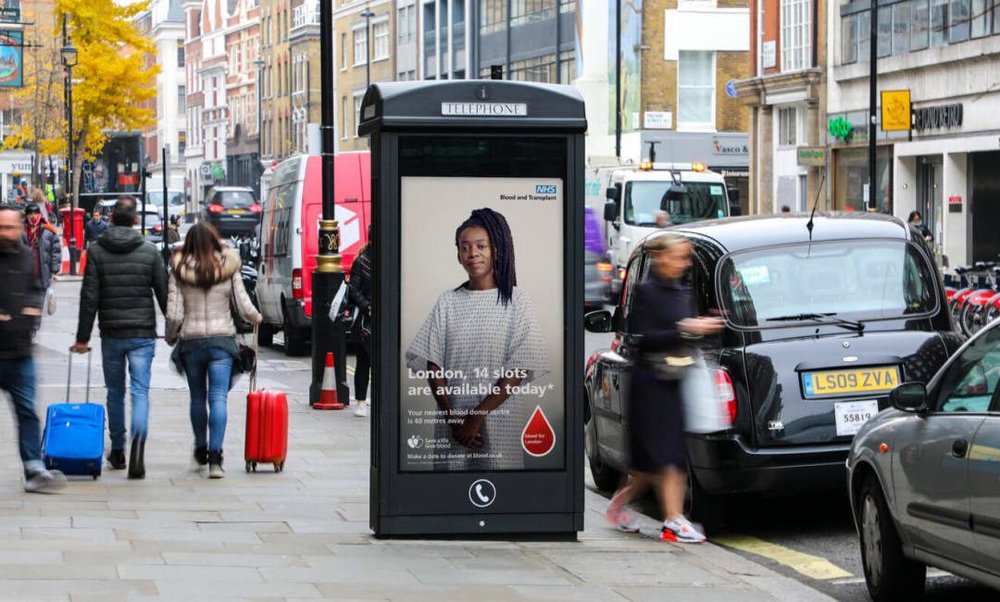 Out-of-home advertising is the ideal platform to raise awareness of key issues and causes, to spark debate and ultimately change behaviour, maintains Louise Stubbings, Clear Channel's creative and partnerships director.
'By its very nature, it is one of the most inclusive channels,' she said. 'We talk to anyone and everyone, don't discriminate via search terms or overindex on certain audiences through our editorial.'
Stubbings was speaking at Contagious' The Great Outdoors/Cannes Lions 2021 live stream on 17 June in partnership with Clear Channel.
Reviewing a challenging but creatively rich year for OOH, key issues don't come much bigger than a pandemic, and Stubbings highlighted some of the brand reactions to Covid. Whether it was KFC's tongue-in-cheek blurring of 'finger lickin'' from its 'finger lickin' good' slogan, Tesco living its brand values by letting the elderly know that the first hour of opening would be for them only, or HSBC's bus stop activation showcasing its partnership with Shelter to promote its new No Fixed Address bank account, brands excelled at using OOH to spread the good word.
'Clearly it was hard to market Out of Home when we were all being told to stay at home, said Stubbings, 'but some brands lent into that challenge and delivered some incredible creative thinking targeted at the 50% of people who couldn't work from home.'
A particularly encouraging trend that Clear Channel identified over the past year, she added, is 'marketers considering how to really talk to everyone, to connect with all the nuances that exist among us all, that it is no longer enough to appeal to one big homogenous group, and it's been joyous to see'.
Pointing to the striking OOH for Lloyds Bank's He Said Yes and Simply Be's Skintones, Stubbings stressed that such 'simple, no-brainer type changes are making a huge difference on our streets and to the lives of the people that are seeing them'. For He Said Yes, 'a simple removal of the traditional "s" allowed a whole group of people to feel seen and appreciated', while for Simply Be 'the addition of a simple letter can make all the difference when it comes to inclusion'.
Exemplifying this kind of inclusive work, NHS Blood and Transplant's blood donation campaign brought together the best of what OOH can do when it targets the right audience at the right time with a message that speaks to them because it has been carefully crafted – all underpinned with technology to make it work harder. Evaluating the digital OOH, Stubbings noted: 'Incorporating a number of different dynamic triggers – location, time of day, day of week – alongside appointment data, the NHS blood donation campaign not only puts incredibly targeted messages out, letting people know how many people are giving blood, alongside how many appointments are available close by, they also showed images [of people] that had their lives saved by blood donors, and chose which pictures were shown in which areas depending on what type of blood was in short supply there. So they spoke directly to the people who had the ability to help through the people who had been helped before. A genuinely thought-provoking campaign.'
Stubbings concluded that there is a feeling of responsibility that feels new. 'Brands are really considering their role in changing behaviour in order to make the world a better place to live.'
The OOH vaccine campaign by all the main UK broadcasters is a clear example of this shift. 'Their reaction to Covid was to come together and ensure all of their collective audiences had access to the same honest information regarding vaccinations all at exactly the same time.' Meanwhile the BBC hijacked its own billboard to show the coming effects of the climate crisis.
The business case for inclusive campaigns like this is clear – they give rise to better engagement and over time increase profit. But where do brands start? Stubbings' advice was clear: 'Speak to the community that you want to speak to. It's such a simple thing. But you shouldn't make assumptions that you know what someone else will want to see, if you're trying to talk to a distinct group of people.'
Contagious thinking delivered to your inbox 
/
Subscribe to the Contagious weekly newsletter and stay up to date with creative news, marketing trends and cutting-edge research.