Creativity
Contagious Team
/
12 November 2021
The Most Contagious Campaigns of 2021: part 1 
/
Every year the Contagious team reviews thousands of campaigns in search of the best examples of commercial creativity from around the world. This list represents the best of the best – the 25 most innovative, effective and attention-grabbing campaigns that we encountered in 2021.
Danish Road Safety Council, Helmet is Always a Good Idea (& Co, Copenhagen) 
/
To show Danes that there's nothing prissy about wearing a helmet, the Danish Road Safety Council turned to the country's glorious and violent heritage. In a spot that looks more like a clip from an HBO series than your average PSA, burly Viking Svend is admonished by his wife that he can 'go looting and pillaging' all he wants as long as he wears protective headgear. The absurdity of a tough-as-nails Viking leader complaining that his helmet makes his scalp itch drums home the silliness of people's excuses for not taking safety precautions.
Outdoor ads and displays in bike stores hammered the message home when cyclists were either on their bikes or thinking about biking. Meanwhile, a partnership with the National Museum helped prove that if helmets were good enough for their ancestors 1,000 years ago, they're probably good enough for modern Danes. After seeing the film, 4% of non-helmet-wearers bought a helmet.
Guinness, Welcome Back (Abbott Mead Vickers BBDO, London) 
/
The brief for Welcome Back was to persuade Brits to choose Guinness as their first post-lockdown pint when pubs reopened in May, and AMV BBDO nailed it.
The agency's concept of a world where everything resembled a pint of the black stuff captured our longing to return to normality without resorting to sentimentality.
But Welcome back wasn't just a great campaign, it was a flex. It was Guinness luxuriating in the spoils of a world-class brand.
Few marketers are in possession of an asset so distinctive that people will recognise it in images of dustbins and socks and garden gates. And even fewer have a backlog of ads so famous and well-liked that they can create a sense of occasion just by bringing an old slogan out of retirement.
Welcome Back is a masterclass in what is possible when you invest in a brand over a long time. Good things come to those who wait, indeed.
Learn more about this campaign at Most Contagious.
Reddit, Superb Owl (R/GA, New York) 
/
In late January with the Super Bowl just a fortnight away, Reddit had no plans to advertise during the big game. But after the members of its Wall Street Bets forum made international headlines by acting in concert to inflate the price of GameStop shares, costing hedge fund managers who had shorted the stock billions of dollars, Reddit decided to react.
The website quickly pulled something together on a shoestring budget: a long-copy TV ad styled as a technical glitch that was broadcast in five-second spots on local channels around the US. Five seconds was nowhere near enough time to read the ad, but that was the point: it forced people to pause their TVs or use Google to try to make sense of what they just saw, resulting in the spot becoming the second-most searched on the night. Touch down, Reddit.
Learn more about this campaign at Most Contagious.
Canesten, Vagina Academy (AnalogFolk, London) 
/
Vaginas. More than half of us have them, yet there's a great deal of mystery and shame attached to the female anatomy. In Brazil, a key market for women's intimate health brand Canesten, it's taboo to openly discuss vaginal health, with one in four women ashamed to even say the word 'vagina'. Last year, to add insult to injury, the country's far-right president, Jair Bolsonaro, introduced abstinence-based sex education to help lower teenage pregnancy rates.
Presented with this barrier to people seeking treatment, Canesten enlisted Analogfolk, London, to create Intensivão Da PPK (Vagina Academy): a TikTok 'school' where Brazilian influencers, and experts on vaginas, psychology and body positivity delivered engaging, stigma-shattering lessons about intimate health, which was viewed 44 million times. Hats off to Canesten for tackling a sensitive topic in the face of government censorship and prioritising women's safety over playing it safe.
Learn more about this campaign at Most Contagious.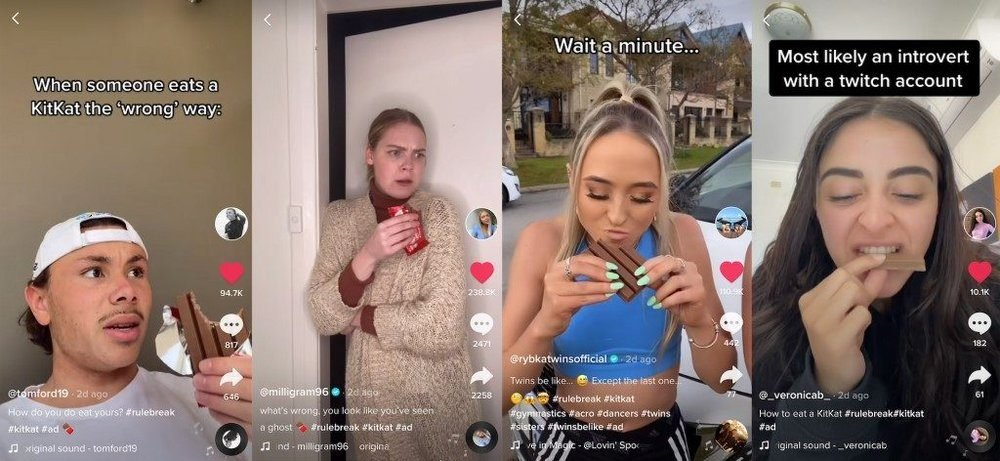 KitKat / Have A Bite (Wunderman Thompson Australia, Sydney) 
/
We've seen many attempts at engaging TikTok's youthful and numerous user base over the past year, and most have fallen flat. But KitKat in Australia hit the right note when it stirred a heated debate.
The best way to eat a KitKat is a much discussed topic, with Buzzfeed polls and Reddit discussions devoted to the matter. One article even suggested that a woman should end a relationship based on her partner's eating preference. The brand decided to add fuel to the fire and worked with influencers on TikTok who challenged people to weigh in on the argument. It was simple enough, but what made this campaign effective is that KitKat didn't manufacture something and shoehorn it into TikTok. Instead, it kept its ear to the ground and responded to a conversation that was already happening.
Learn more about this campaign at Most Contagious.
Most Contagious 2021: Get Your Passes 
/
Want to learn more about world-class commercial creativity? At our virtual Most Contagious events, we distil a year's worth of advertising trends, topics and campaigns into a week of meticulously curated talks to help you steal a march on your competition.
Join us at Most Contagious UK & Europe between 29 Nov–3 Dec, or for Most Contagious USA between 6–10 Dec.
Want more Contagious thinking? 
/
Subscribe to the Contagious newsletter to receive a weekly dispatch of campaigns, opinions and research, curated for strategists, creatives and marketers.
Contagious thinking delivered to your inbox 
/
Subscribe to the Contagious weekly newsletter and stay up to date with creative news, marketing trends and cutting-edge research.