Promoted content
8 December 2021
YouGov's Best Brand Improvers of 2021, USA 
/
YouGov's chief revenue officer, Scott Horowitz, reveals which brands have shown the biggest improvement in positive consumer brand perception over the past year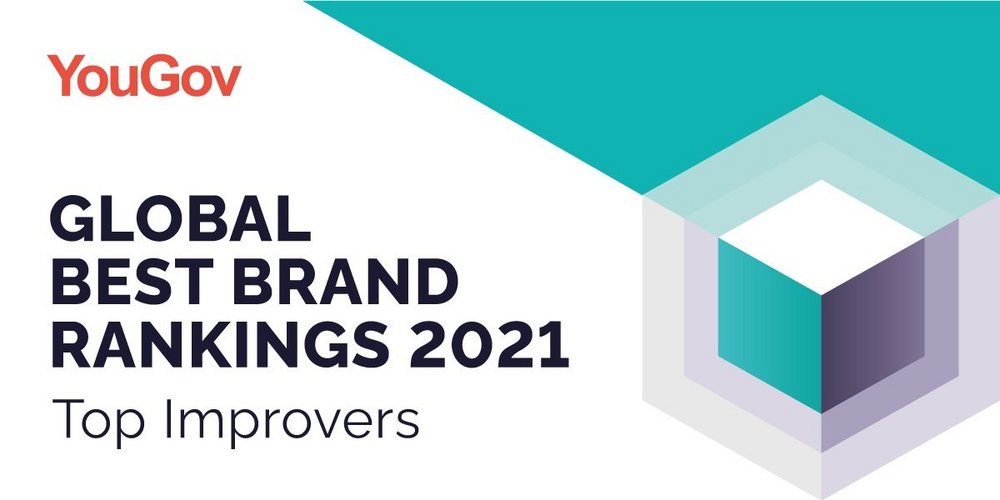 YouGov BrandIndex is the authoritative measure of consumer brand perception, produced by monitoring hundreds of sectors and more than 20,000 brands around the world. The Best Brand Rankings are decided by a score based on six brand health metrics tracked in BrandIndex: Quality, Value, Impression, Reputation, Recommend and Satisfaction.
This year, the USA's top ten brands that have improved their score most year-on-year include five from health and pharma, four from CPG, and one media and content brand, explained YouGov's Chief Revenue Officer Scott Horowitz, at Most Contagious.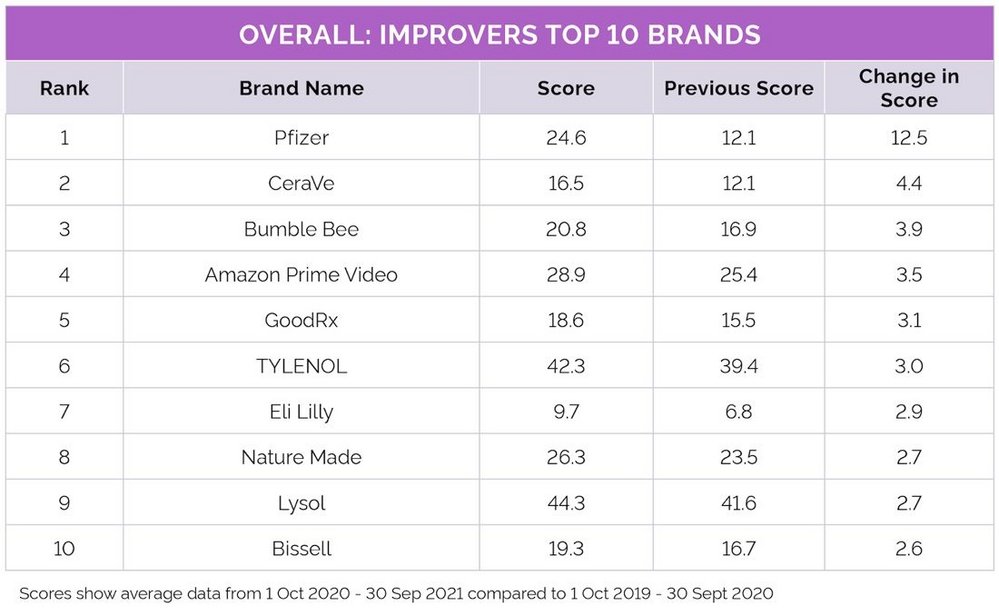 At number ten was Bissell, the 140-year-old vacuum cleaner manufacturer, which saw an increase in brand Impression after its successful "More Than Messes" campaign.
Another brand cleaning up in the rankings was Lysol, whose metrics soared after the launch of its B2B offering, Lysol Pro Solutions, in July this year. 'Cleaning and disinfectant products continue to benefit from the renewed focus on cleanliness spurred by the pandemic,' pointed out Horowitz.
Next in was vitamin and supplement brand Nature Made, which recently turned fifty years old. The brand flourished amid a focus on health, wellness and immunity brought about by the pandemic, with its biggest uplifts in Impression, Quality and Value. In seventh place was pharmaceutical brand Eli Lilly, which similarly saw a sustained increase in brand health over the past two years, doubling its BrandIndex score, said Horowitz.
In sixth place, over-the-counter pain relief brand Tylenol was another beneficiary of the pandemic, with an average brand health score exceeding that of the previous year. Breaking into the top five was yet another healthcare brand: GoodRx who saw its biggest consumer perception uplifts in Recommend, Value and Quality.
The fourth most improved brand was Amazon Prime Video. 'As people have found themselves spending more time at home, it comes as no surprise to see an in-home entertainment option performing really well,' said Horowitz. The streaming service scored highest for Satisfaction, Impression and Quality, with its biggest increases likely coming from a brand campaign around the debut of Coming 2 America.
Next up was Bumble Bee, which was established in the 19th Century. The seafood company recently redesigned its packaging and launched its first major ad campaign in years, which had positive results across all metrics, said Horowitz. 'Their steady growth can be attributed to investment in the Bumble Bee brand.'
In second place, trendy skincare brand Cerave saw its BrandIndex score more than double over the past two years, most notably in Impression, Quality, and Recommendation. 'This success is a direct result of tapping into culture via TikTok influencers,' as well as 'constant conversations through mentions on Reddit and YouTube,' said Horowitz.
The most improved brand in the US this year was Pfizer. 'Not just another healthcare brand, but definitely one of the most prominent household names today,' said Horowitz. 'With the roll-out of its FDA-approved vaccine, Pfizer has tremendously increased its overall BrandIndex score, from 12.1 to a whopping 24.6 points,' he added. 'It's no surprise that Pfizer had a great year, but it's staggering just how great.' Do you think your brand could feature as one of nations Top 10 brands next year?
Want to learn about what's fueling today's most resonant brands, and how consumers feel about yours?
Get in touch with YouGov to see how your brand compares against the competition in your markets. Grab the free full global rankings lists, including the 10 top brands and 10 most improved brands in 20+ markets here.
Contagious thinking delivered to your inbox 
/
Subscribe to the Contagious weekly newsletter and stay up to date with creative news, marketing trends and cutting-edge research.