Promoted content
8 December 2021
YouGov's Best Brand Improvers of 2021 
/
YouGov's VP of data products, Charlie Taylor, reveals which brands saw the biggest improvement in consumer brand health in 2021, and why.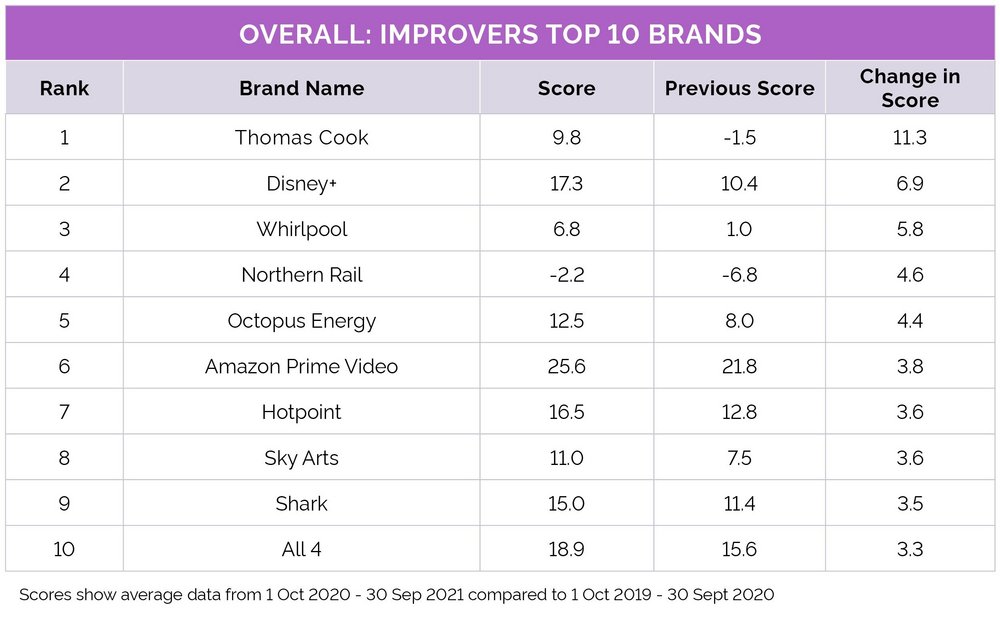 Every year YouGov looks at the brands that have shown the biggest improvement in positive consumer brand perception in the UK.
YouGov monitors hundreds of sectors and more than 20,000 brands around the globe with its BrandIndex tool. The Best Brand Rankings are decided by a score based on six brand health metrics tracked in BrandIndex: Quality, Value, Impression, Reputation, Recommend and Satisfaction.
At Most Contagious, Charlie Taylor, VP of data products at YouGov, revealed the UK's top 10 brands that have improved their score compared with the previous year and explained which underlying metrics, strategies and tactics drove UK brand health across 2021.
In tenth place was All 4, Channel 4's video-on-demand (VoD) service. 'This last year All 4 have had a lot of hype for a strong lineup of shows including the hit It's a Sin, which attracted an average audience of 2.3 million viewers per episode and was Channel 4's biggest drama to launch in three years among young viewers,' said Taylor. This is reflected in uplifts to Quality, Satisfaction and general Impression metrics.
Another high scorer was Shark, a brand of vacuum cleaners, air purifiers and hair-dryers. 'Three home appliance brands have made our top 10 improvers this year, perhaps reflecting the increased time the consumer has been spending at home and a focus on modern conveniences,' Taylor said.
In eighth place was Sky Arts, which increased its audience by 50% after moving away from being part of Sky TV's subscription package and launching as a free service last year. Sky Arts' live paint-along show, Portrait Artist of the Week, reached 4.6 million people.
The second appliances brand to make the top ten was Hotpoint, which saw large uplifts in general brand Impression, Quality and Reputation. 'During the pandemic, many consumers reignited a love for cooking at home, and this played nicely with Hotpoint's Fresh Thinking campaigns, which focused on reducing household food waste and demonstrated [Hotpoint's] range of cooking and cooling appliances,' said Taylor.
At number six was Amazon Prime Video, which registered its biggest improvements for Satisfaction, Impression and Quality. 'Last year saw Amazon Prime Video benefit from a successful continued expansion into streaming of live sports – such as the final of the women's US Open, the most streamed tennis match on Prime Video ever,' said Taylor. In at five: Octopus Energy, the British renewable energy group specialising in sustainable energy, which benefited from a large increase in brand awareness and is now recognised by three in five consumers. '70% of the public now believe in man-made climate change, compared to less than 50% in 2013,' added Taylor.
Coming in at number four was Northern Rail, which was re-nationalised in March 2020. Since then, its brand health scores have shown notable improvements, suggesting a positive consumer response to the change in ownership, said Taylor. Home appliance brand Whirlpool, number three, saw impressive increases across BrandIndex brand health metrics despite a challenging start to 2020.
The two most improved brands reflect two major trends of 2021, streaming and travel.
Disney+, in at second place, launched in March 2020, and has 'gone from strength to strength,' said Taylor. 'Clearly this has been a good year for in-home entertainment.'
In first place, after relaunching as an online travel agent, was Thomas Cook. 'The travel industry took a huge hit during 2020, but Thomas Cook registered an 11-point increase in brand health in 2021,' said Taylor. 'As many countries have re-opened their borders, the brand health of Thomas Cook seems to be heading back to pre-COVID levels.'
For more and to see where your brand placed, click here.
Want more Contagious thinking? 
/
Subscribe to the Contagious newsletter to receive a weekly dispatch of campaigns, opinions and research, curated for strategists, creatives and marketers.
Contagious thinking delivered to your inbox 
/
Subscribe to the Contagious weekly newsletter and stay up to date with creative news, marketing trends and cutting-edge research.