Is collaboration a buzzword or the ad agency model of the future? 
/
As agencies are bombarded by competition from all sides, Patrick Jeffrey outlines how they can restructure to protect themselves against getting burnt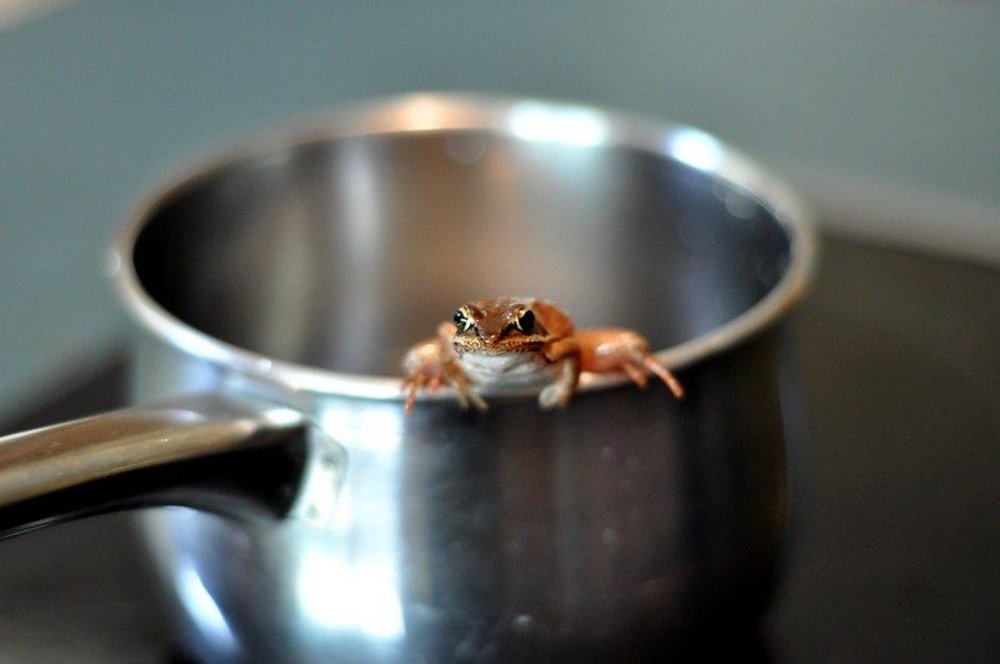 I'm sure many of you have heard the fable about the frog and the boiling water.
If not, it goes like this: Throw a frog into a pan of hot water and it'll jump to safety. But put that same frog in cold water and then slowly turn up the heat, and it will stay put, oblivious of the threat to its life, until it has been boiled alive.
Pretty gruesome, right? Well, luckily for old Kermit, it's also total bollocks. But even though it isn't scientifically accurate, I think it's the perfect fable for the ad industry right now.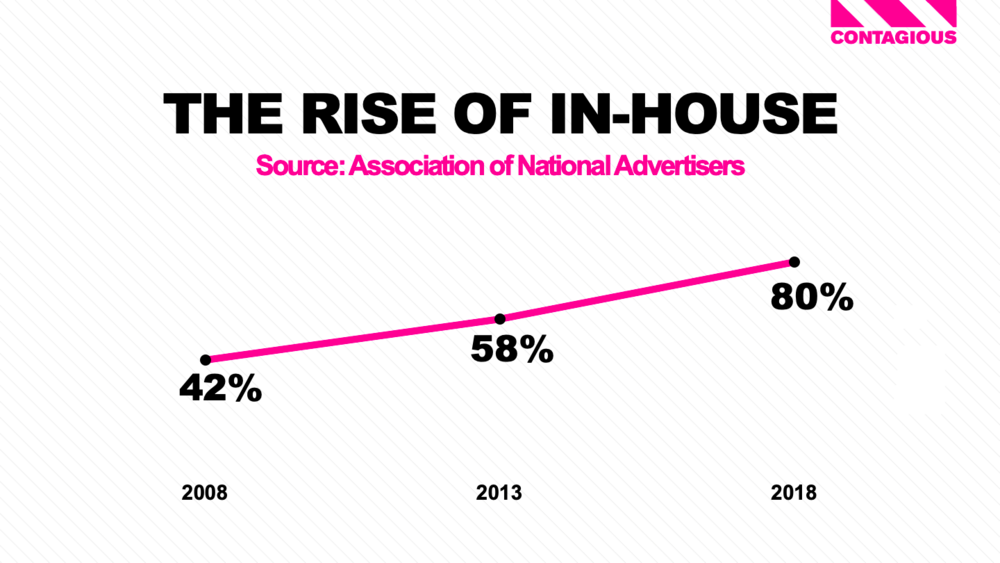 As tech companies and consultancies encroach on creative agencies; as production houses build direct relationships with clients; and as in-housing continues, agencies are simply staying put in the water.
Outgoing Publicis CCO Nick Law summed up the bleak situation when he told us that: 'If change doesn't happen soon in our industry then we're fucked. It's as simple as that.'
But these warnings have been raised countless times before – and I'm not here to twist the knife any further. Instead, let's focus on solutions.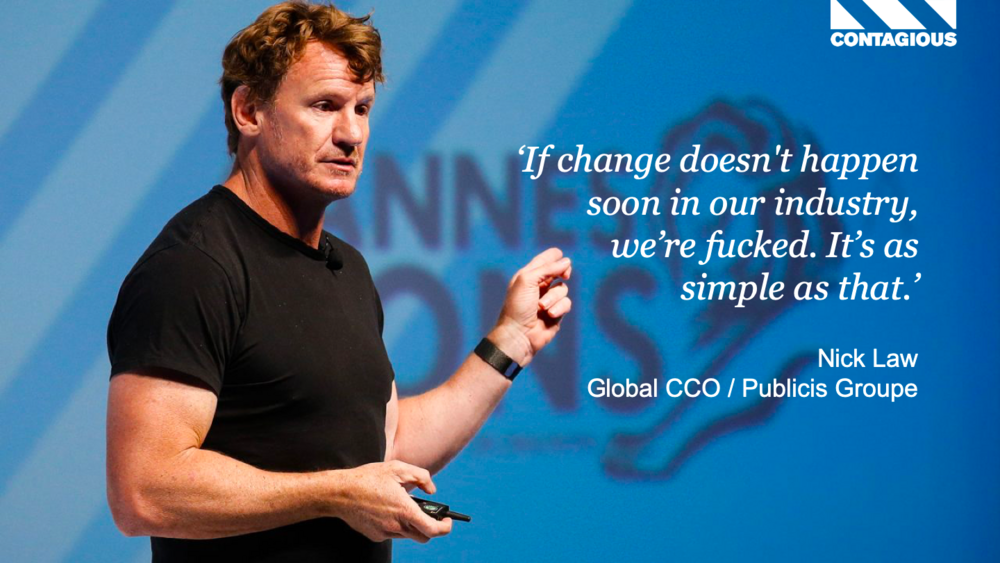 Collaborate and listen 
/
We were recently commissioned by The Newtons Laboratory – an ambitious independent agency in Greece – to give our perspective on what the future of the ad agency might look like.
We mapped four areas that we believe hold the key to a bright future for agencies and in this article, I want to touch on one of the gnarliest and least understood of these: collaboration.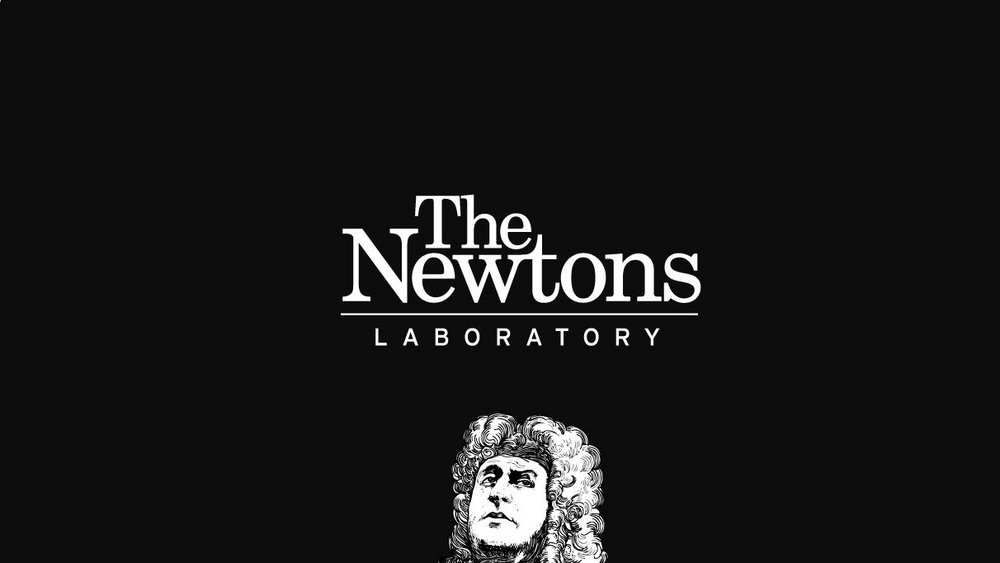 In a recent interview in the back of a taxi, industry legend Sir John Hegarty said: 'Our industry has got to have faith in creativity and be driven by creative people. We've got to get back to that and stop rabbiting on about collaboration, for fuck's sake.'
Many will agree with his point. Collaboration feels like it belongs with terms like 'agile', 'holistic', and '360' in the Dictionary of Absolute Meaningless Buzzwords (an industry best-seller).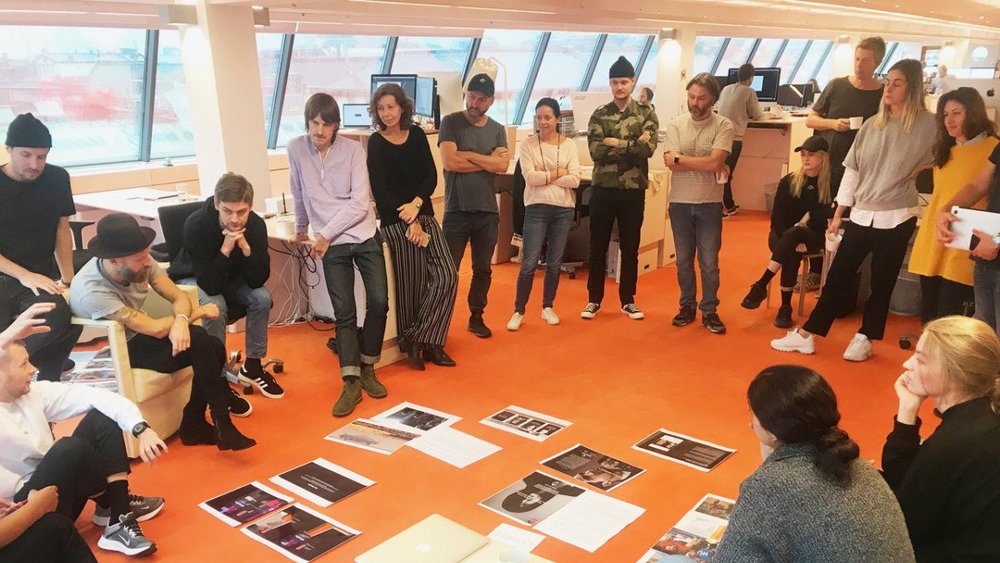 But collaboration is what some of the greatest agencies on the planet claim as their secret sauce. Head to Droga5's website and you'll be greeted by a message that reads: 'We solve problems through creativity and collaboration.' Forsman & Bodenfors' site explains that the agency is a 'global creative collective', whose 'truly collaborative way of working has over the years unlocked continuous creative excellence.'
Indeed, Forsman is revered for fostering this incredibly collaborative culture. Every project team is expected to show their ideas so anyone in the organisation can comment and share their opinions. 'The Floor', as it's known, started as a physical space where people laid out their ideas and everyone crowded around (see image above). It now exists both online and in the real world.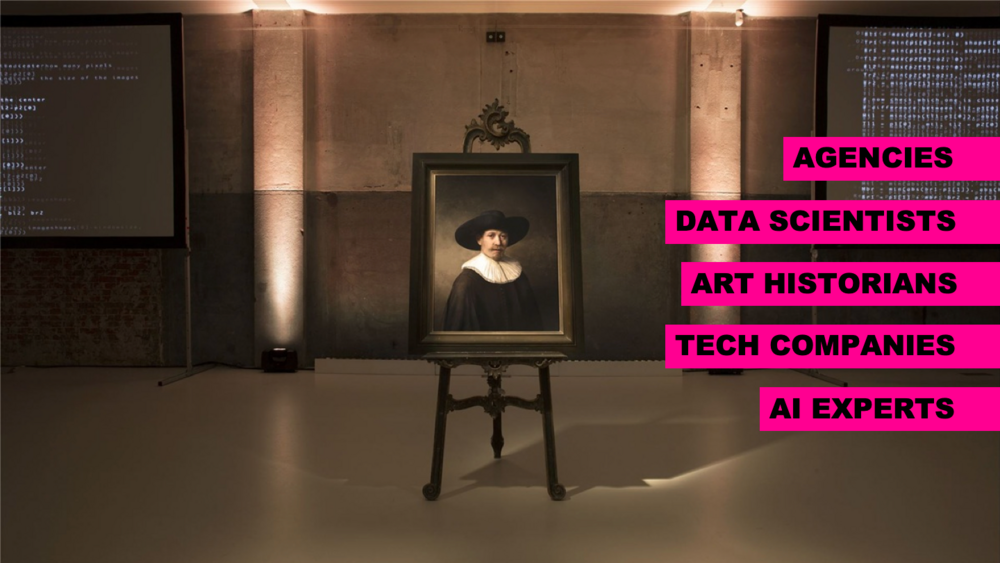 It's also hard to ignore the importance of collaboration in the work that's winning awards. Many of the recent big winners at Cannes have relied on partnerships with experts outside of our industry to create truly original work. Whether it's Meet Graham (which involved artists, car crash specialists and trauma surgeons), The Next Rembrandt (machine vision experts, art historians, data scientists) or even this year's big story, Whopper Detour (software engineers, app developers, geo-location experts).
Collaboration is at the heart of successful agencies and successful work. If we look at our industry's innovators, three clear ways to collaborate emerge.
1: In-housing 
/
This is probably the most obvious one: hire people with a diverse range of skills directly into your organisation. Forsman, for example, has created The Factory in Gothenburg, which boasts more than 80 specialists: from motion designers and production managers to image retouchers and interface developers.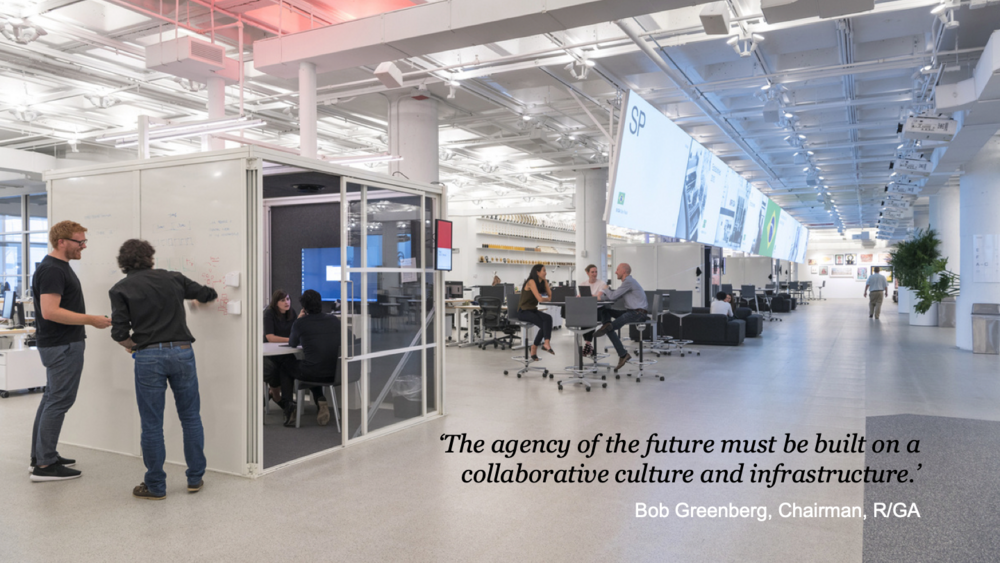 R/GA, another forward-thinking agency, has a similarly impressive range of specialists under its roof. 'The agency of the future must be built on a collaborative culture and infrastructure,' Bob Greenberg, the agency's founder, said in a recent interview.
Most agencies, though, don't have the financial muscle of R/GA or Forsman. So this kind of Hollywood model, with everyone under one roof, simply isn't feasible.
2: Collectives 
/
That's where the next option comes into play: the idea of forming collectives with like-minded companies and partners. Over the past couple of years, prominent industry figures have broken away from big agency networks to create companies such as the Fawnbrake Collective, the Harbour Collective and the Beyond Collective. These are shaking up the status quo by operating as small, concentrated core units with vast connected networks of specialists.
One of these collectives, Uncommon, was co-founded by members of the former leadership team at Grey London (Nils Leonard, Lucy Jameson, Natalie Graeme). They view the collective model as a way to work with brilliant creative people, without the bureaucracy of traditional networks.
'Today there's a bunch of brilliant people who love advertising, but they've got a side hustle too, and they want a lifestyle that allows them to accommodate both,' Jameson, Uncommon's CEO, recently told Campaign. The data also seems to support this. According to a survey in the US by GoDaddy, 50% of American millennials now have a side hustle.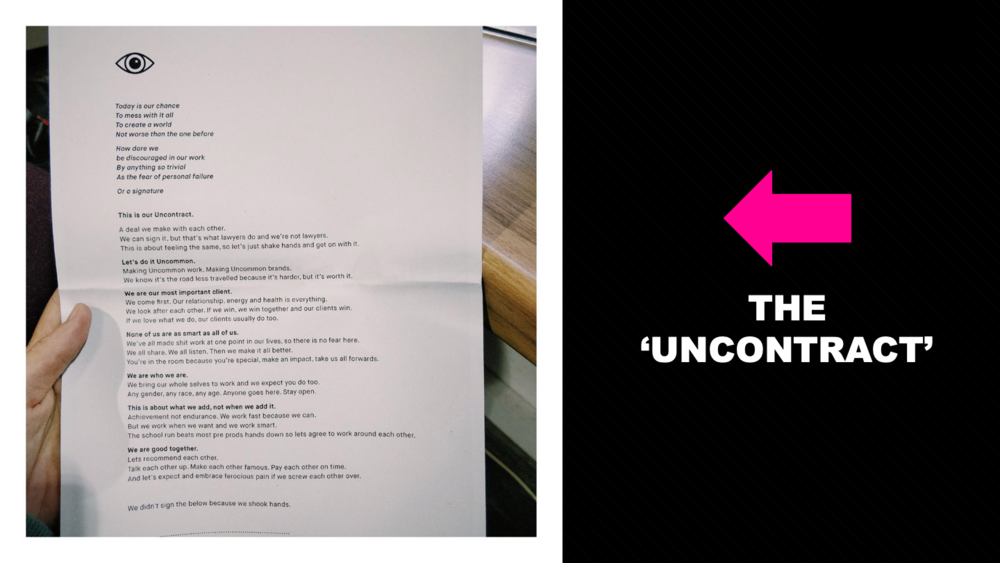 Uncommon has set itself up to take advantage of this shift. The agency has done away with contracts that tie skilled creators into working exclusively with them. Instead, an 'uncontract' is offered: a promise made by collaborators to treat each other with decency, no lawyers necessary.
And that seems fairly typical of the collective model: create a thriving network of people who share passions and get them to work cooperatively together in a less structured way.
3: Crowdsourcing 
/
And then there's the third collaboration route: the crowd. This has surged in popularity in recent years, probably due to the fact that more brands are looking to create content on a daily (or even hourly) basis. Los Angeles agency 72&Sunny's new influencer division, called Sundae, encourages anyone with more than 10,000 social media followers to sign up to its crowdsourcing initiative. The agency can then ask this network to submit ideas and, if picked, will fork out anything from $50 and $10,000.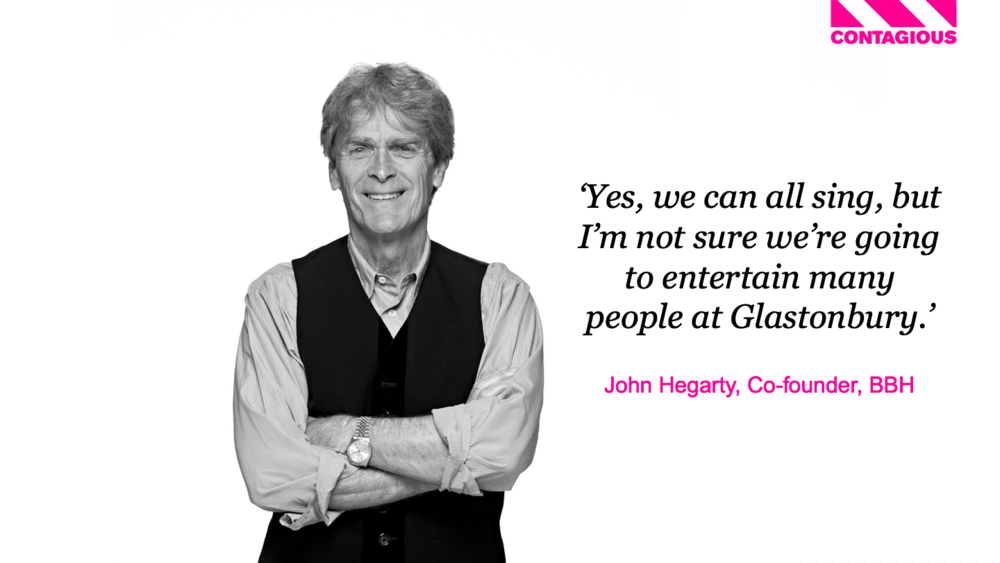 AMV BBDO in the UK has a similar kind of studio, called Flare, which is a network of creatives, influencers, filmmakers, producers and directors. It was established last year to 'bring the benefits of the crowd,' according to the agency's head of content, Nick Price.
It's probably fair to say that crowdsourcing most riles Hegarty ('Yes we can all sing, but I'm not sure we're going to entertain many people at Glastonbury'). But startups from outside adland – such as Bulbshare – are also setting up platforms to link creative challenges with smart collaborators. So, agencies can either add them to the long list of competitors trying to eat their lunch, or they can own the space themselves.
Gluing it all together 
/
So what does this mean for the future model of ad agencies. If I had to predict something, I'd envision three concentric circles. At the centre is a strong nucleus of core disciplines, responsible for winning new business, creating the culture, recruiting the best talent, overseeing the creative, managing clients and dictating the strategy.
On the outside there's a vast network of collaborators. For the richest and most successful agencies, this might be a huge in-house team. But for most agencies this is likely to be a collective or a crowd, available on demand.
And linking these two circles together is a network of orchestrators, or producers: people who can craft internal teams, who understand creativity and the creative process, and who can build the agency's network of collaborators. These are effectively the glue sticking the old-world model to the new world.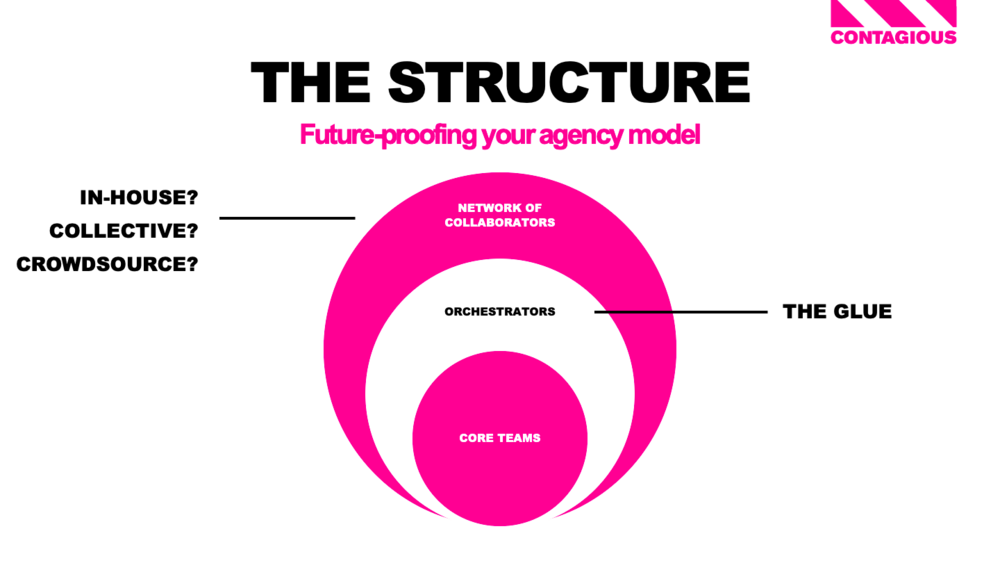 I'm aware that I'm over-simplifying a complex landscape; I'm only offering it as a thought starter. As I mentioned earlier, the biggest problem is inactivity. Too many agencies are carrying on as usual, refusing to acknowledge that the water around them is reaching boiling point.
So whatever you decide to do, just make sure you're not that frog.
Contagious is a resource that helps brands and agencies achieve the best in commercial creativity. Find out more about Contagious membership here.
Want more Contagious thinking? 
/
Subscribe to the Contagious newsletter to receive a weekly dispatch of campaigns, opinions and research, curated for strategists, creatives and marketers.
Contagious thinking delivered to your inbox 
/
Subscribe to the Contagious weekly newsletter and stay up to date with creative news, marketing trends and cutting-edge research.