Campaign of the Week
Contagious I/O
/
3 March 2020
Label asks customers to return old clothes for sustainable fashion ads 
/
Fashion label features old items in new campaign to urge people to swap fast fashion for longevity
Spanish fashion label Adolfo Dominguez has launched its latest sustainably-minded campaign, Ropa Vieja (Old Clothes).
The brand sells high quality apparel in the 'affordable luxury' category and has a longstanding commitment to sustainable consumption. As in previous campaigns, Adolfo Dominguez urges its audience to think before they buy.
The integrated campaign, created with Madrid-based agency China, encourages people to purchase timeless and durable items rather than buy into the throw-away culture perpetuated by fast fashion.
First, the brand put out a request on social media for those who own and wear Adolfo Dominguez items that they bought between 20 and 40 years ago. The recovered items were then modeled and showcased in the campaign, alongside messages like 'This suit is 40 years old.' Each image was accompanied by the tagline 'Buy clothes that last longer than trends'.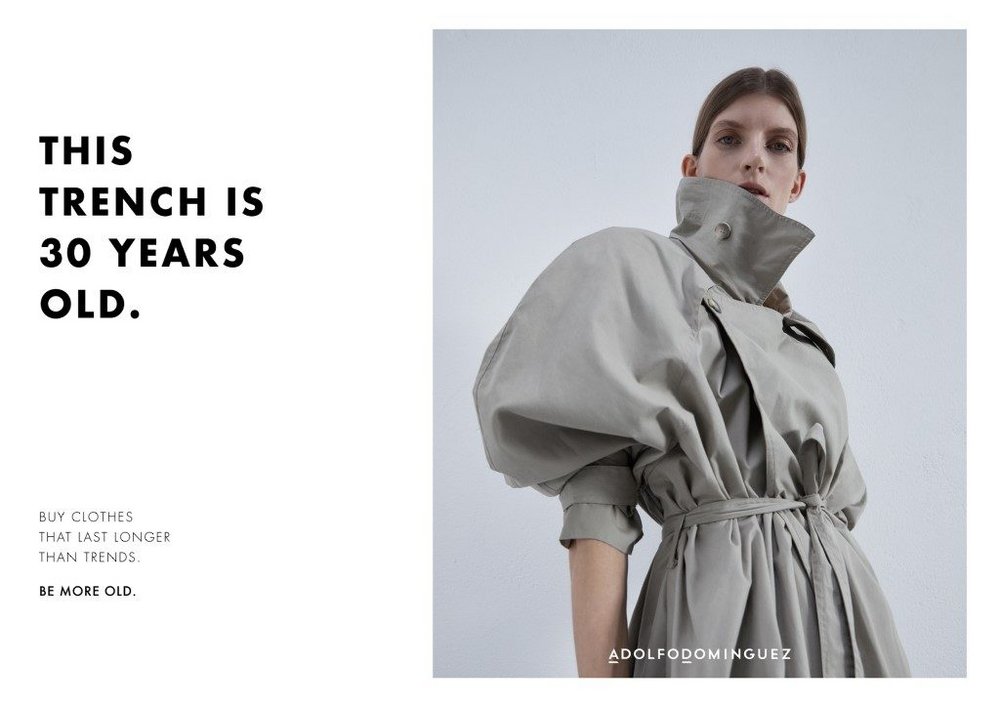 The campaign launched ahead of Spain's Goya Awards (pre-Oscars arts and film awards ceremony) last month, and saw 84-year-old actress Benedicta Sánchez wearing an Adolfo Dominguez outfit from 1990 as she accepted the award for best actress. Other celebrities at the event were also kitted out in clothes from the brand's historic archive, and a selection of the items recovered will be reissued in a limited collection made at Adolfo Dominguez's atelier in northern Spain.
In the next phase of the campaign, the Ropa Vieja movement will continue as the brand launches a challenge on social media asking people to find the oldest piece of clothing they own and share it online in support of more sustainable shopping.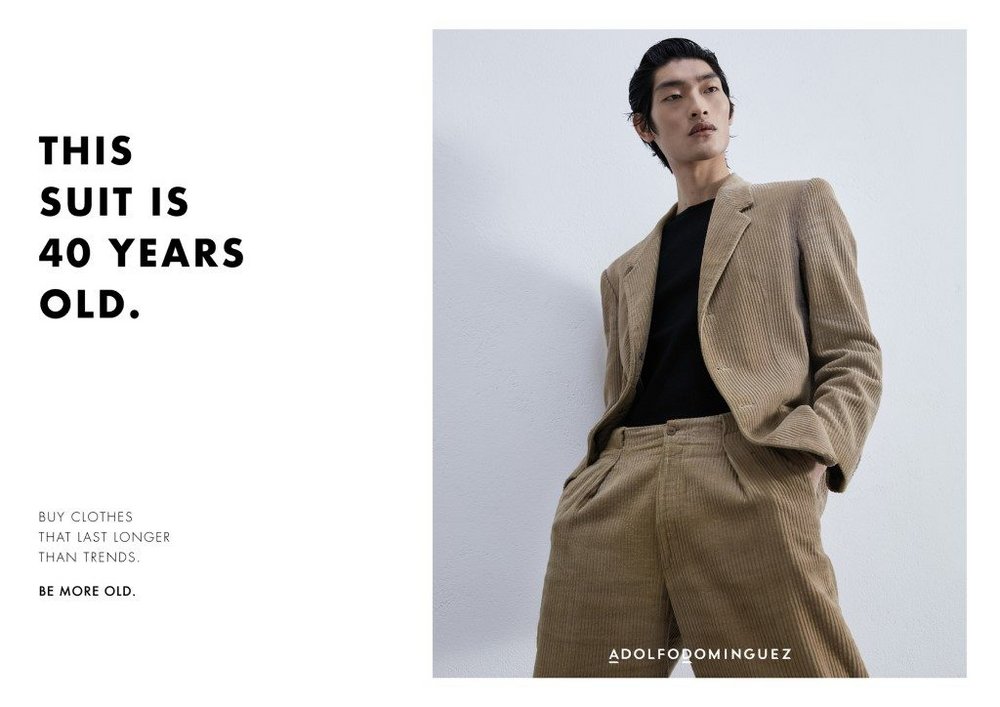 Contagious Insight 
/
Think before you buy / As Contagious editor Chloe Markowicz outlined in her Consumption Crisis talk at Most Contagious last year, we now buy more than ever and throw away more too: in Britain alone, we send 300,000 tonnes of clothing to landfill each year, and in the US, according to The Wall Street Journal, people now buy five times more clothing than they did in 1980. Last year, a survey commissioned by UK charity Barnado's estimated that Britons would spend £2.7 billion on summer clothes that would only be worn once. With Ropa Vieja, Adolfo Dominguez challenges the dangerous perception that clothing is disposable and reminds consumers that they should be looking for quality and durability when they shop. The campaign is right on brand for Adolfo Dominguez, whose previous campaigns include 'Be more old' ('Sé más viejo') and 'Think. Then buy' ('Piensa. Luego compra') and is a reminder that sustainable shopping doesn't mean compromising on style, but rather picking timeless pieces over trends. By featuring decades-old garments in this campaign the brand offers buyers something of a guarantee – the sheer length of time that Adolfo Dominguez's real clients have owned the items is a mark of their quality and timelessness.
Pre-worn power / Adolfo Dominguez is not alone in calling for more conscious consumption: we recently reported on how second-hand apparel marketplace Tradera combined warnings about the impact of the fashion industry in promotions of its own second-hand wares, and on how Carlings has experimented with digital fashion in the name of sustainability. Babywear startup UpChoose and US fashion resale store Thredup have also focused on repurposing and recycling, but it's important to see a fashion brand put the emphasis instead on durability and longevity. We've seen some great examples of this strategy from Patagonia, from its 'Don't Buy This Jacket' ad and Common Threads initiative in 2011, to the 'Worn Wear' scheme under which it buys back its customers' old clothes to refurbish and resell. As Patagonia's VP of environmental initiatives told Fast Company at the time, 'You couldn't have a program like Worn Wear without products that are really durable [...] It just wouldn't work. This isn't something that some fast-fashion company could probably embrace very effectively.' The same goes for the Ropa Vieja campaign: the proof of the quality and durability of Adolfo Dominguez clothing is in the pictures of 30-year-old coats and sweaters.
This was first published on Contagious I/O, our online intelligence tool. To find out more click here.
Like this article? Share with your network:
Want more Contagious thinking? 
/
Subscribe to the Contagious newsletter to receive a weekly dispatch of campaigns, opinions and research, curated for strategists, creatives and marketers.
Get our weekly newsletter 
/
Subscribe to the Contagious newsletter and stay up to date with creative news, marketing trends and cutting-edge research.