The 6 things that weren't advertising that got us talking in 2018 
/
The Contagious team gives you their insights into the things, people and moments that defined this year
The festive season loves a list as much as a mince pie and a resolution so the Contagious team has taken stock of the year with a snapshot of the things, people and events that left an indelible mark on 2018.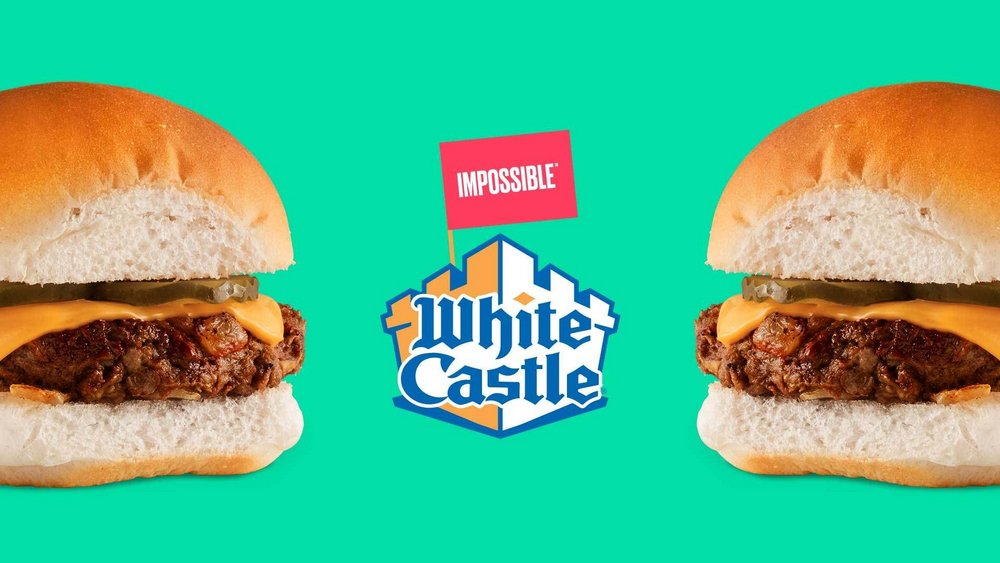 The New Veganism 
/
Open the fridge door and you'll see an impostor. It calls itself milk but, according to Oatly, 'It's like milk but made for humans'. But plant milk isn't the only product that's converting consumers to veganism: alternatives have boomed this year. In the UK spending on meat-free foods is set to rise from £572m ($723m) to £658m by 2021.
Vegan dishes, including burgers made from plant-based 'meat' substitutes that bleed, are creeping onto menus and into supermarkets.
Vegans were once social pariahs but now top influencers are quick to hashtag their commitment to the diet. Like with the bleeding burgers, veganism 2018-style is a modified hash, one that's more nuanced than banishing animal products forever.
In January 68,000 people committed to a month-long Veganuary, many were flexitarians who want to eat less meat and dairy. Climate change, health, animal welfare, Beyoncé – there are many admirable reasons why people are going vegan. Affordable lab-grown 'clean' meat is still a few years away from becoming mainstream; meanwhile we're losing our appetite for everyday meat eating. The future is vegan, some of the time.
By Anna Chapman, senior strategist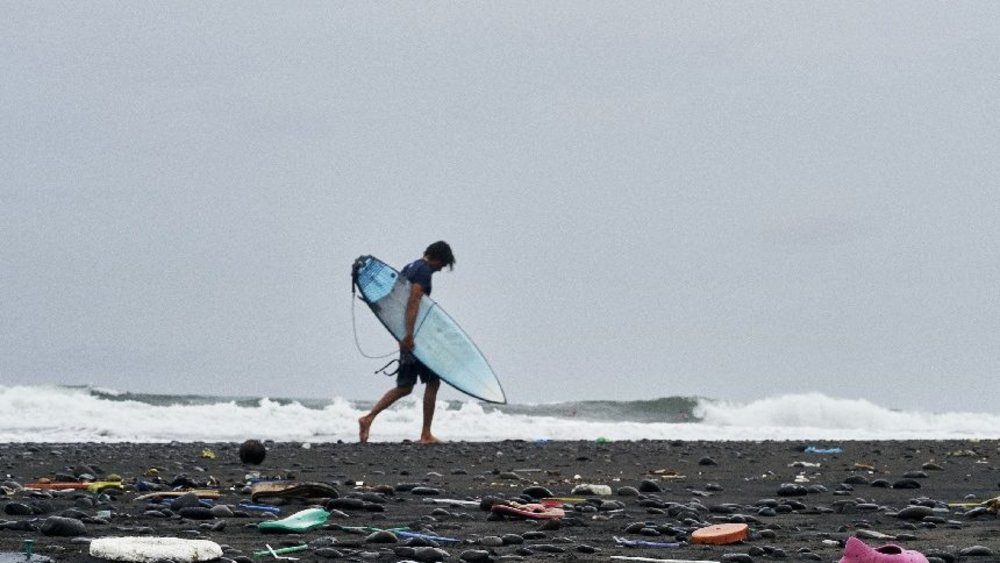 The 'Blue Planet II' Effect on Plastic Waste 
/
My vote for Most Contagious Thing of the Year goes to a piece of content that sparked conversation, changed attitudes and generated behaviour change unlike anything else I've ever seen. My vote goes to Blue Planet II.
This originally aired in the UK last autumn, quickly becoming the most watched and talked about show of the year. But in 2018, the show's impact went well beyond impressive viewing figures. Shocked by the final episode – which showed turtles getting tangled in shopping bags, albatrosses choking on washed-up toothpicks and sperm whales eating huge pieces of plastic – people felt compelled to change. Searches for 'plastic recycling' rose 55% overnight and politicians rallied: environment secretary Michael Gove said he felt 'haunted' by the episode and prime minister Theresa May referred to the show when she announced the government's 25-Year Environment Plan. 'Our goal is eliminating all avoidable plastic waste,' she said in January 2018.
Looking beyond Britain's borders, countries from Canada to Taiwan, France to Australia, also committed to bans on straws, bags and other single-use plastics. Brands got involved, too. United Airlines and Disney banned straws, Carlsberg and Corona ditched plastic rings on cans, and 250 organisations – including Unilever, Coca-Cola and Nestle – committed to reduce waste as part of the New Plastics Economy Global Commitment. Blue Planet II didn't just raise awareness about the problem. It kicked us all in the guts and compelled us to start making a difference. And at a time when it feels harder than ever to cut through the clutter, it's heartening to see that words, pictures and a powerful narrative can still change the world.
By Patrick Jeffrey, head of advisory, UK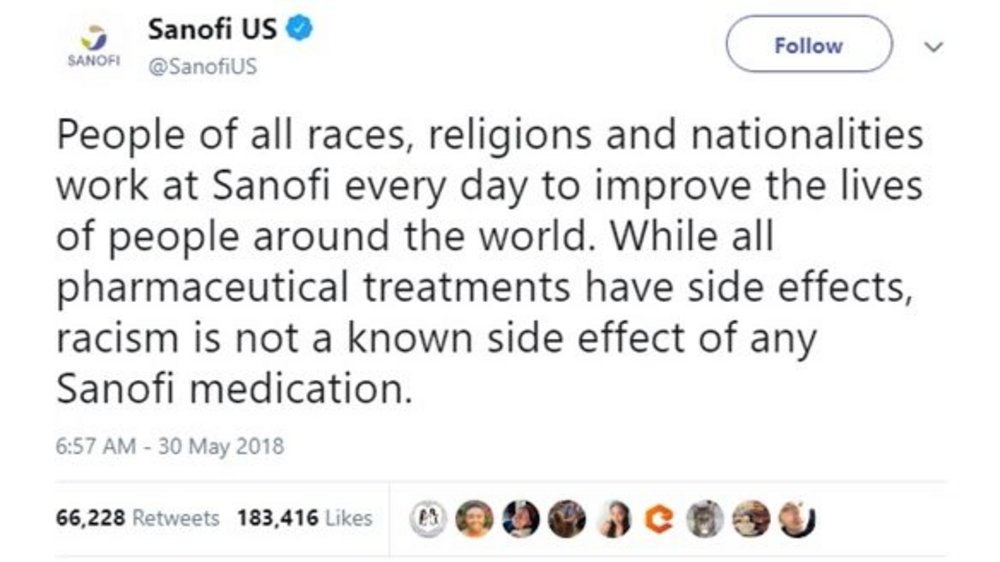 Roseanne Barr, The Racist tweet and Ambien 
/
Late one Wednesday night in May, American actress Roseanne Barr sent out a racist tweet. Shortly after, she deleted it.
In its place, she explained that she'd been 'Ambien tweeting'. The sleeping pill, she appeared to claim, was what led her to compare a part-African American woman to 'the Muslim brotherhood' and 'Planet of the Apes'. No one seemed to believe her, and she was promptly sacked from the re-booted 2017 show Roseanne.
This could have been a PR disaster for Ambien because, as we've learned these past few years, no matter how ridiculous and unlikely something seems, it can still happen. But Sanofi (Ambien's parent company) took action. Many might have told Sanofi not to respond, that acknowledging the accusation only gave it more credence, but Sanofi's Twitter manager ignored such advice (assuming they were given it) and sent out a tweet anyway: 'People of all races, religions and nationalities work at Sanofi every day to improve the lives of people around the world. While all pharmaceutical treatments have side effects, racism is not a known side effect of any Sanofi medication.' That tweet was retweeted 66,000 times and Liked more than 183,000 times, no mean feat for a brand whose last 10 tweets have only received 11 retweets and 62 Likes combined. So, here's to averting a potential PR disaster, and here's to Ambien.
By Sophia Epstein, staff writer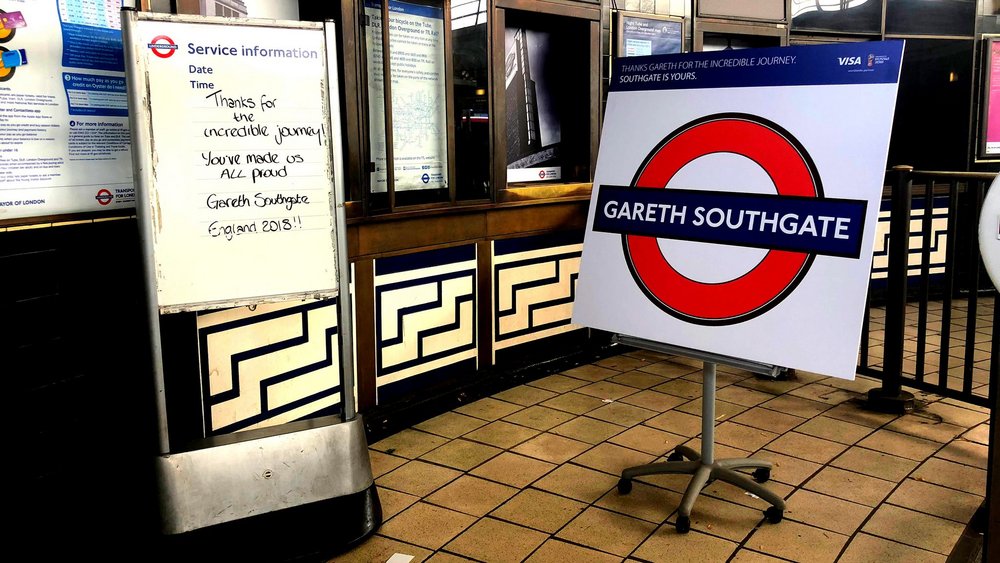 Gareth Southgate Coming Home 
/
Gareth Southgate wasn't the man that many people wanted as England manager when he was appointed in 2016. But, it turns out, he was the one that the miserable and much-maligned Three Lions needed. And for a few short weeks during the World Cup, in 2018's sizzling-hot summer, he just about managed to be the man that a whole country, battered and bruised by Brexit divisions, needed, too.
Having remodelled the team around a humble generation of players who cut their teeth on loan in lower leagues, he urged them to break with the dead-weight legacy of the recent past and to, with hashtag-friendliness, "attack the tournament" and "write your own history". The result? Dank memes, bumper waistcoat sales, extremely useful newspaper articles outlining precisely how to sing It's Coming Home and, of course, an emotional run to the semi-finals.
It wasn't all sunshine, though. Raheem Sterling's experiences at the hands of the press were an appalling reminder of some of the prevailing views in England writ large in mass media. Sterling's impactful response (a direct, brave and brilliant article in the The Players Tribune) showed that same media how its once all-consuming power is now on the wane.
It might be a stretch, but perhaps the most we can take out of Gareth Southgate's young, diverse, tenacious, optimistic, hard-working side is the glimpse of modernity it offered (albeit through the rather limited lens of men's football). A smidgen of hope in troubled times. Thank you, Gareth.
By Dan Southern, strategy director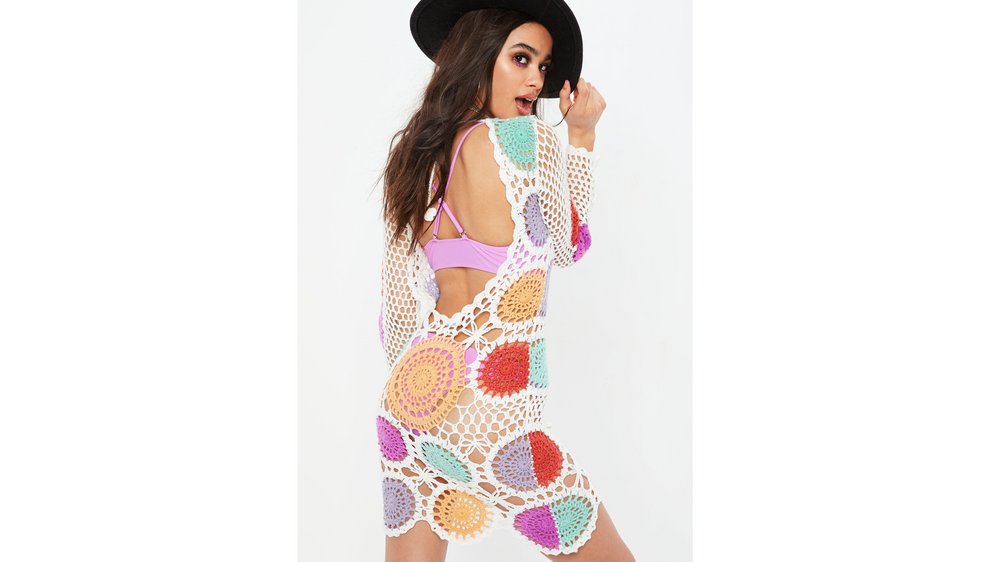 Dani Dyer's Dress on Love Island​ 
/
Every year has its most Contagious look, a garment seared into the collective consciousness for years to come. For 2018 that look will NOT be the exquisite simplicity of Meghan Markle's beautifully-tailored, Hepburn homage of a wedding dress. No. It will be the crochet doily number [pictured above] worn by Dani Dyer [pictured below], one half of #JackAndDani, the winning couple from reality TV sensation Love Island. Sales of the dress spiked by 9,300% after Dani appeared in it on the show, a surge enabled by a sponsorship mechanism of rare perfection, designed and executed with considerably more care and attention than the frock in question.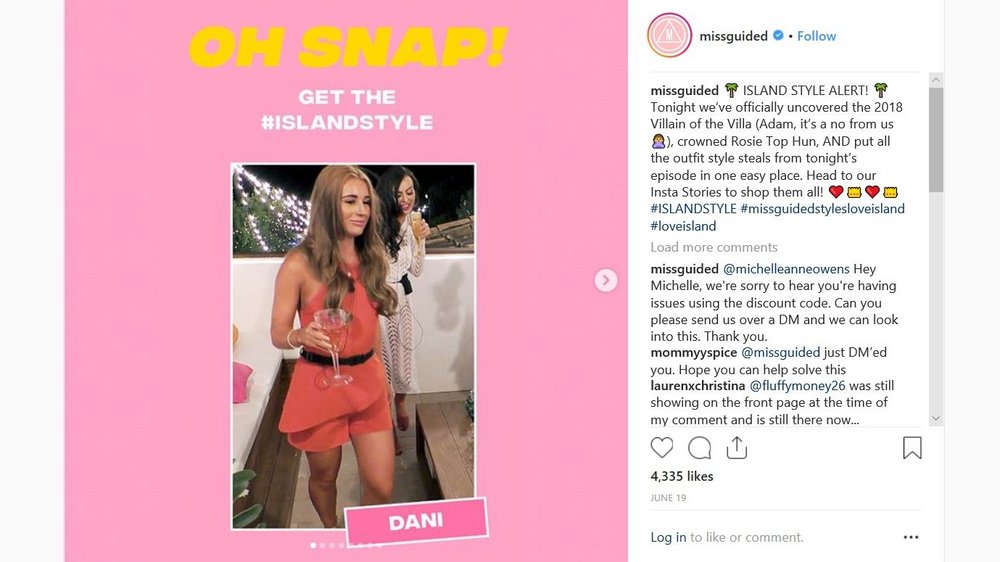 A partnership with Missguided gave the female cast access to an ever-updating wardrobe supplied by the fast fashion brand. The dedicated Style Section on the show's must-have app (downloaded around 3.5 million times) corralled every item they wore and made them instantly shoppable, driven by each episode's intrigue and precision-incentivised by timely social promotion and offers.
Props to Monterosa, the brains behind the Love Island app and the defacto dons of monetising the fan experience. Props to Missguided for understanding the opportunity and nailing it. And props to people's princess Dani Dyer, queen of crochet and bright spot in the year-round winter of Britain's bullshit Brexit discontent.
By Katrina Dodd, head of trends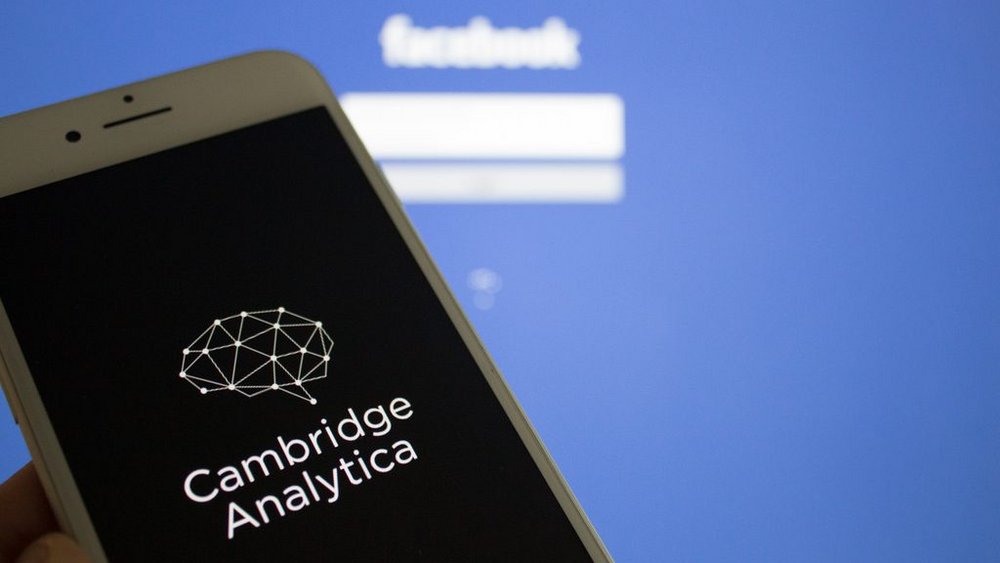 The Cambridge Analytica Facebook Scandal​ 
/
Advertisers have been banging on about 'big' data for years without quite knowing what it means or what it's for, but in 2018 it felt like the whole world joined in with the fuggy and unedifying discussion.
In March the Guardian and New York Times broke the most high-profile data scandal to date with their investigation into how Cambridge Analytica harvested Facebook data for nefarious political means, and it feels like the social media behemoth has been on the back foot ever since. Then in May the European Union's General Data Protection Regulation came into effect and forced companies throughout the continent to confront their own inertia in relation to information gathering (although the legislation did spawn some surprisingly funny memes, so swings and roundabouts).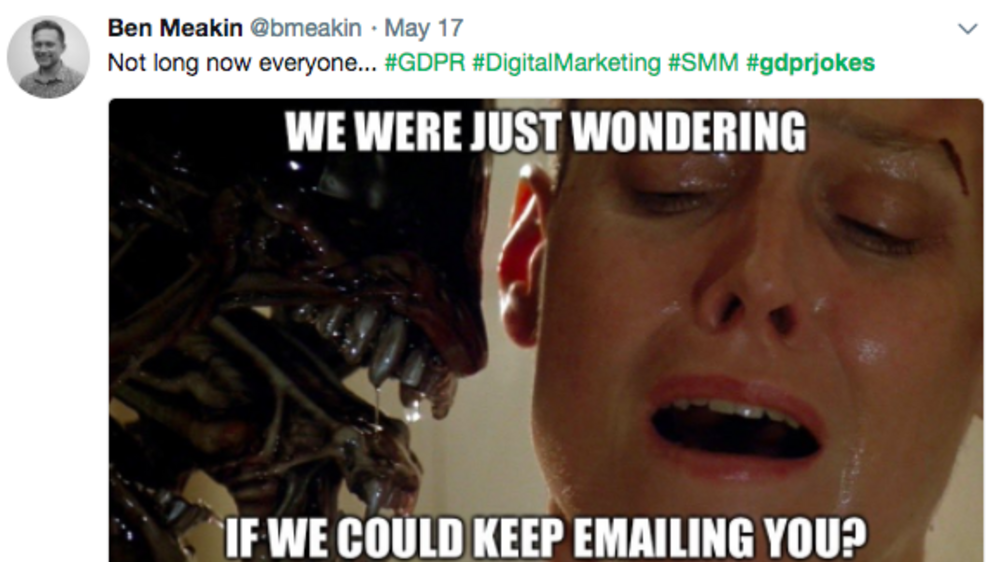 The year was also peppered with stories about hackers stealing data, the most mind-bogglingly egregious of which was the Marriott breach that affected half a billion of its customers.
Without doubt, 2018 was a significant year for data, but I'll be damned if I have a clue about what any of it ultimately means, or how people's relationship with the information they give freely for the enrichment of others will change as a result of it. Still, if nothing else, we at least settled one thing: data is definitely big.
By James Swift, senior writer
Contagious thinking delivered to your inbox 
/
Subscribe to the Contagious weekly newsletter and stay up to date with creative news, marketing trends and cutting-edge research.