Campaign of the Week
Contagious I/O
/
22 September 2020
Australia mints 'Donation Dollar' to boost pandemic giving 
/
The Royal Australian mint creates new coin to prompt citizens to give to charity amid a drop in donations
This article was first published on Contagious I/O, our online intelligence tool. To find out more click here.
On International Charity Day (5 September) The Royal Australian Mint is launching the Donation Dollar, the world's first legal tender currency designed to be donated.
The AU$1 coins can be spent like any other money, but are stamped with the message 'Donation Dollar: Give to help others'. The Royal Australian Mint has minted 3.5 million so far, and will make 25 million in total – roughly one for every Australian.
The launch is supported by an integrated campaign by Saatchi & Saatchi, Melbourne, with film and social, as well as earned media facilitated by Publicis Groupe agency, Herd MSL, Sydney. With endorsement from the Community Council of Australia (a collective of more than 50,000 charities), Donation Dollar aims to counter the decrease in donations during the pandemic.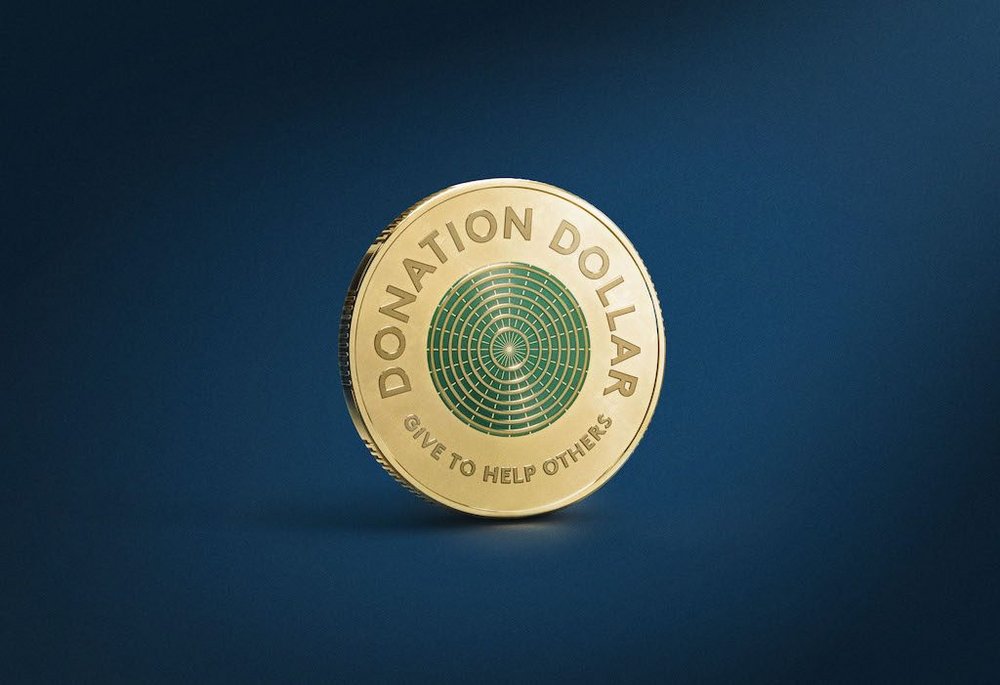 The coins are designed to encourage small donations; if every Australian gave just one Donation Dollar a month, an additional $3bn could be raised for charities over 10 years.
In a press release, Mark Cartwright, The Royal Australian Mint executive general manager of marketing, sales and innovation, said, 'We do hope that the Donation Dollars act as a gentle reminder that as individuals we have the power to help those that are doing it tough – the act of giving these dollars, multiplied over and over for many years, has the potential to make a significant contribution to the lives of many.'
More information about the initiative can be found on a dedicated microsite, along with the campaign film, promotional materials and resources on fundraising for schools, charities and families.
Contagious Insight 
/
Generosity loops / The campaign press release for Donation Dollar explains that each coin is designed to be a simple reminder to donate, and that 'each one in circulation will create its own loop of generosity'. By attaching a cause to something many Australians already carry around with them in their pockets – small change – this campaign simplifies the act of charitable giving. Stamping a reminder on the money itself emphasises how easy it is to donate to charity – and shows that no matter how small a donation is, every coin counts.
Nudge, nudge / The reframing of pocket change as a potential charitable donation plays on the concept of nudge theory; with simple reminders or framing devices, small choices can lead to real change. Rather than lead a fundraiser or donation drive, The Royal Australian Mint is (literally) putting the power to donate in the hands of every Australian.
In some ways the initiative is similar to NRMA's First Saturday campaign, recently covered by Contagious, in that it rebrands something that already exists, compelling people to think of that thing differently: for NRMA it was reimagining the first Saturday of the month as a chance to safety-proof your home. Here, it's giving a dollar coin another name to get people to stop and reflect on who might need that money most.
Talking points / Like any new currency, the Donation Dollar coins are bound to spark conversation between those who come across them and with so many in circulation the coins will hopefully become a regular reminder to donate to charity. Even if getting a coin doesn't immediately spark a donation, it's a statement of intent to make compassion a part of daily interactions. As a whole the initiative will help drive awareness of the charities that are struggling to survive as a result of the pandemic.
Want more Contagious thinking? 
/
Subscribe to the Contagious newsletter to receive a weekly dispatch of campaigns, opinions and research, curated for strategists, creatives and marketers.
Contagious thinking delivered to your inbox 
/
Subscribe to the Contagious weekly newsletter and stay up to date with creative news, marketing trends and cutting-edge research.